Wednesday, 26 October 2022
THIS MORNING: UAE, Egypt mark 50 years of ties + School is NOT out
Good morning, friends, and welcome to another very busy news day. We're stuffed to the gills this morning, so we're going to jump right in.
THE BIG STORY HERE AT HOME this morning: The state's Egypt Economic Conference wrapped yesterday. Cabinet has a long to-do list that needs both focus and phasing. The gathering looks like it could become an annual thing: Prime Minister Moustafa Madbouly suggested yesterday that the next iteration could take place in 1H 2023. We have chapter and verse in the news well, below.
ALSO- President Abdel Fattah El Sisi talked all things economy in a talkshow appearance last night just hours after he and the PM spoke at the closing session of the conference.
AND- A Cairo gathering of gas exporting countries put a shot over the European Union's bow yesterday as ministers slammed the European Union's bid to put price caps on natural gas.
DRIVING THE AGENDA TODAY-
Egypt and the UAE will host a three-day gathering starting today to mark 50 years of bilateral ties. Today will feature an economic forum with attendees including ministers, senior officials and business leaders from the two countries. We've been told to expect that a who's who of the business community will be on site.
Egyptian + Emirati business leaders kicked events off early yesterday: UAE government-backed investment platform Investopia and the International Finance Corporation hosted a business forum to discuss bilateral investment in the private sector, Emirati state news agency WAM reported.
PSA- Keep your umbrellas at hand: There's a 50% chance of more light rain in Greater Cairo today, according to the national weather service (though our favorite weather app is only predicting clouds). It should still be relatively warm, with highs of around 27°C and lows of 19°C.
FACT CHECK- Schools aren't off for the day. The cabinet in a statement denied rumors that the nation's schools will take the day off due to bad weather.
ALSO- Empowering the South: Green Economies and Climate Resilience takes place at the Greek Campus today. Speakers at the conference include former deputy prime minister Ziad Bahaa El Din, Egypt climate czar Mahmoud Mohieldin, and International Cooperation Minister Rania Al Mashat. You can register for the event here.
---
There's no one BIG STORY ABROAD leading the front pages of the international business press this morning:
Dems losing control? With two weeks to go until the midterm elections, Reuters and the New York Times say polling data has US President Joe Biden's Democrats scared they could lose control of both the House and the Senate.
Nadir in US-Saudi relations: Davos in the Desert has captured the interest of the global business press, with the New York Times offering more on how US-Saudi relations became so strained in recent months, Saudi's energy minister criticizing the US's bid to tamp down oil prices and the suggestion in the Grey Lady that Biden's spat with KSA could threaten Dems in the midterms. The Wall Street Journal, meanwhile, is claiming that things have gotten very personal between Joe Biden and Saudi Crown Prince Mohamed bin Salman.
COUNTDOWN TO COP27 (11 days to go)-
Egypt wants Sunak to honor the UK's climate pledges despite economic turbulence: Egypt's top climate diplomat has urged newly-elected British Prime Minister Rishi Sunak to stick to the country's climate pledges despite an incoming recession. "We know that there are challenges, economic challenges that are there, facing the UK and other countries, but we hope that those challenges do not lead to backsliding on the pledges," Ambassador Mohamed Nasr reportedly told Sky News.
Still banging the green finance drum: Nasr said developed nations don't have a lack of funds to address climate change, but that the challenge is finding the "political will and the commitment" to deliver on climate finance pledges.
AND- Could King Charles make an appearance after all? Egypt is still hoping that the British monarch, who has long campaigned for environmental causes, could show up in Sharm El Sheikh, Nasr is quoted as saying. King Charles had reportedly been advised by former PM Liz Truss not to attend the summit.
MEANWHILE- A showdown over climate finance is brewing in the run-up to Sharm El Sheikh: Nasr isn't the only one calling on developed countries to step up on climate finance to less wealthy nations — or risk jeopardizing the credibility of the entire COP process. Enterprise Climate has the full story this morning.
MARKET WATCH-
The world is in its "first truly global energy crisis" — and that could turbocharge the switch to renewables, International Energy Agency (IEA) chief Fatih Birol said yesterday. OPEC's decision to cut 2 mn barrels of oil supply per day is "risky" given pressures on the energy markets, but the upshot is that new renewables capacity is growing faster than expected, Reuters quotes Birol as saying. Enterprise Climate has more.
Europe looks to have averted a winter gas crisis (for now): A mild October and successful bidding for extra LNG cargoes by European governments mean gas stockpiles are almost full and prices have fallen to less than a third of their summer peak, Bloomberg reports.
It's not over till the thermostats go on: Much still depends on how harsh the European winter will be once it begins in earnest, and how geopolitical energy tensions play out. February gas futures are trading at a 44% premium to November, meaning the markets expect supply snarls to persist.
MORNING MUST READ-
One crypto article to rule them all: Bloomberg's brilliant finance columnist Matt Levine has written 40k words for the business information service, breaking down everything you'll ever need to know about digital currencies.
Among the good crypto questions Levine poses, and tries to answer: "What is this for? Where did all this money come from? If you're building the future, what is the actual work you're doing? If you're building the future, why does it seem so grim and awful?"
CIRCLE YOUR CALENDAR-
An IMF delegation will land in Cairo in the first week of November to continue loan talks, Jihad Azour, the IMF's director for the Middle East and Central Asia, said earlier this week.
Law firms Matouk Bassiouny and Freshfields Bruckhaus Deringer will hold a webinar on 2 November that will spotlight COP27's potential impact on businesses globally. Register for the webinar here.
Check out our full calendar on the web for a comprehensive listing of upcoming news events, national holidays and news triggers.
---
CORRECTION- We incorrectly reported yesterday that the purchase of a 4.7% stake in EIPICO was the Public Investment Fund's first acquisition in Egypt's pharma sector. The wealth fund had previously accumulated a stake in Rameda Pharma that now stands at 11%. The story has since been updated on our website. H/t Kareem G.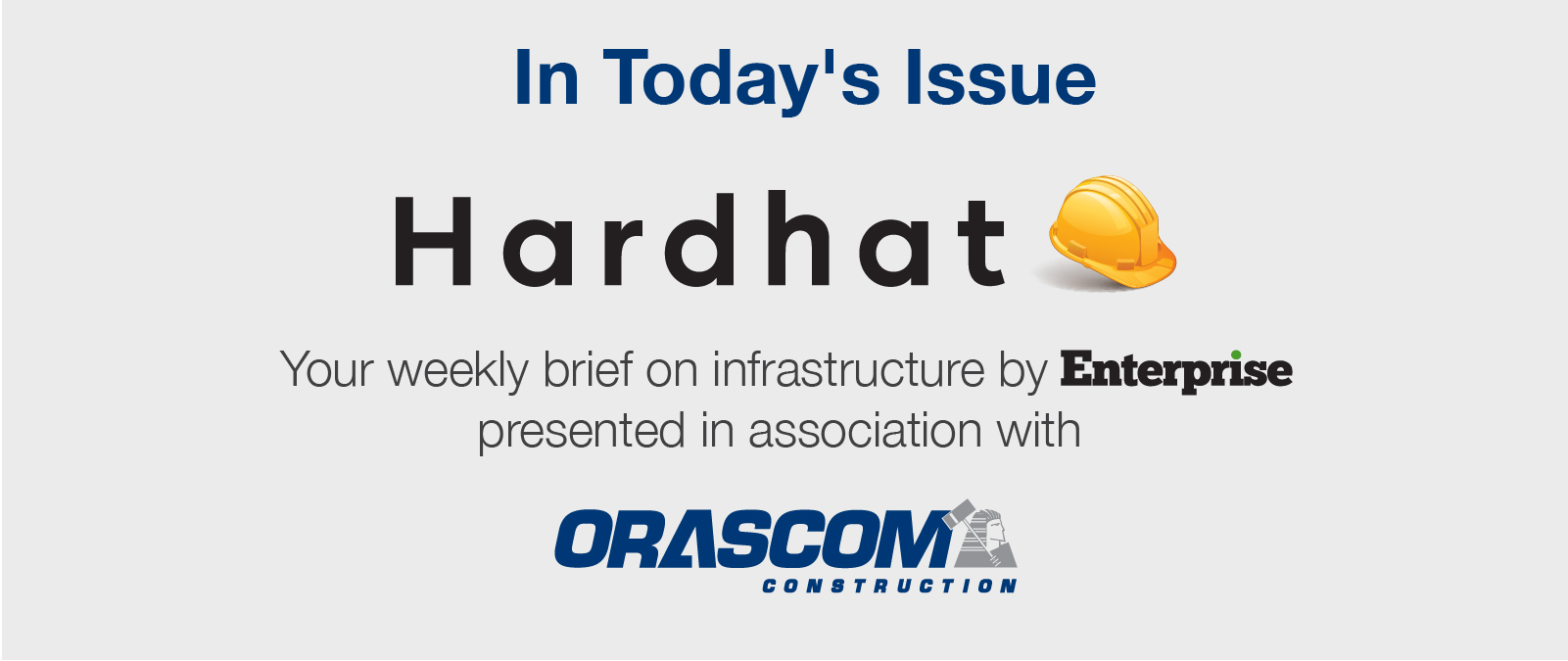 *** It's Hardhat day — your weekly briefing of all things infrastructure in Egypt: Enterprise's industry vertical focuses each Wednesday on infrastructure, covering everything from energy, water, transportation, and urban development, as well as social infrastructure such as health and education.
In today's issue: Could our new capital be ready to host the 2036 Olympics?