Monday, 3 October 2022
THIS MORNING: Saudi's PIF makes a splash on an otherwise quiet Monday
Good morning, wonderful people, and happy Monday. On an otherwise very quiet day on the domestic front, Saudi's sovereign wealth fund steals the show with another major acquisition here in Egypt.
THE RUNDOWN- KSA's Public Investment Fund (PIF) has acquired 34% of consumer electronics and household appliances retailer BTECH from impact investor DPI in a transaction that proves you can generate earnings in Egypt as a foreign investor even when the FX rate moves against you. We have an exclusive interview with BTECH CEO Mahmoud Khattab in this morning's Coffee With column, below.
How well did our friends at DPI do on the transaction? As you'll read below, BTECH is a very different company today than it was when DPI invested back in 2016. It not only has the widest brick-and-mortar footprint in its segment, it's now an e-commerce powerhouse (having built up from zero) and a fast-rising consumer finance player. Yes, we saw devaluation during DPI's six-year holding period. The greenback was changing hands at EGP 8.80 in the official market on the July 2016 day that DPI announced its investment. Today's FX rate: 19.59. But in the same period, BTECH's net income is up 10x and revenues have grown 5x. That means DPI has generated superior returns in USD terms, regardless of whether you're valuing it based on a multiple of revenue, EBITDA or net income.
---
WATCH THIS SPACE- Are we lining up investment from Kuwait? President Abdel Fattah El Sisi received a delegation of Kuwaiti investors headed by the president of the Kuwaiti chamber of commerce yesterday, Ittihadiya said in a statement. The investors were reportedly interested in renewable energy, tourism, real estate, industry, and healthcare, the statement read. El Sisi made a televised appearance to welcome the delegation (watch, runtime: 3:35). There's been speculation in recent months that Kuwait could send inflows our way, following in the footsteps of its Gulf neighbors who have pledged some USD 22 bn in investment to help shore up our economy amid global headwinds.
PSA- It's official: We're heading into a long weekend. Both the public and private sector will take this Thursday, 6 October, off in observance of Armed Forces Day, the cabinet said yesterday in a statement. And for those who usually work Saturdays, this coming Saturday, 8 October, is also an official holiday to mark the Prophet Muhammad's birthday.
---
FROM THE HOUSE- House Economic Committee gets new head: Accountant and businessman Mohamed Soliman will replace Ahmed Samir as chair of the House Economic Committee for the new legislative cycle, House Speaker Hanafi Gebali announced yesterday. Samir stepped down after he was appointed trade and industry minister in August. Soliman is a prominent figure in the pro-government Mostaqbal Watan party, which controls 316 of the 596 seats in the House. This comes one day after MPs returned from summer recess to kick off a new legislative season.
Need to get up to speed on the House? We have a rundown on the most business-relevant bills before lawmakers this season.
The heads of other business-relevant committees will remain unchanged: We have the who's who of parliamentary committee heads.
The House meets for its next session on Sunday, 16 October.
---
Gov't, CBE send further signals they're working together on imports + the FX logjam: President Abdel Fattah El Sisi yesterday met with Prime Minister Moustafa Madbouly and Central Bank of Egypt (CBE) Governor Hassan Abdalla, according to an Ittihadiya statement, in the latest sign of significant (but not untoward) policy coordination between the executive branch, government and the central bank to help the country squeeze through the current economic bottleneck. El Sisi asked the central bank to work on new initiatives to attract foreign investments to Egypt. The president also asked the CBE to follow up on imports, a week after saying he expects the government to solve import challenges facing manufacturers within two months.
HAPPENING TODAY-
Eight Austrian water companies are here to talk investment: Headed by Austria's ambassador to Egypt and the VP of the Austrian Chamber of Commerce, a delegation will meet with government officials and local business leaders on 3-5 October to discuss investment in Egypt's water, wastewater and desalination projects, the Austrian embassy in Cairo said (pdf) over the weekend.
HAPPENING THIS WEEK-
The IMF will release its latest economic outlook on Wednesday, and the chances are it's not going to be pretty as tightening financial conditions, an energy crisis in Europe and rising geopolitical tensions over Ukraine weigh on the global economy. The Fund and the World Bank will hold their annual meetings in Washington, DC, next week, from 10-16 October.
THE BIG STORY ABROAD-
The global business press is leading this morning with plans by OPEC+ to cut oil output by more than 1 mn barrels per day. The cartel could announce the move to prop up falling oil prices at its meeting on Wednesday, Reuters reports, citing OPEC sources.
Oil near 2022 lows: Brent Crude climbed 2.5% overnight on the news to USD 81.47 / barrel, but was well above USD 100 / barrel from March through July of this year. Oil has sagged below USD 90 / barrel for the first time since the start of the war in Ukraine on fears of a global recession and a strengthening USD.
The news won't be welcomed by the US, Canada or Europe who are all eager to bring oil prices down to curb soaring domestic inflation as they continue to try to hurt Russia's oil exports. Gulf producers gave into demands by Western powers and ramped up production over the summer, but in a shock move OPEC+ indicated last month that it would begin to curb supply starting October.
Europe is bracing for a cold winter: The continent is likely to suffer a colder winter with less rain and wind than expected, stepping up energy demand and making it harder to generate power from renewable sources amid a sweeping shortage of hydrocarbons, the Financial Times reports, citing the European weather forecasting agency.
A SURPRISE DISPATCH FROM THE DEPT. OF GOOD NEWS- VC firm 83North said yesterday it has reached a USD 400 mn close for its latest fund, a raise which comes as limited partners around the world pull back from the asset class amid economic uncertainty and a sell–off in public tech stocks. The Israeli-British firm has secured additional funding from existing partners, bringing its total capital under management to more than USD 2.2 bn, it said, adding it will deploy the money in companies across Europe, Israel and the US.
COUNTDOWN TO COP (35 days to go)-
The UK's King Charles III will not be attending COP27 in Sharm El Sheikh in November, Buckingham Palace confirmed, according to the BBC. The palace had reached an agreement with the British government that Charles would not attend after seeking the "advice" of PM Liz Truss, palace officials said, responding to reports that Truss had "ordered" the king — who has long campaigned for environmental causes — not to attend. Reuters and Bloomberg also had coverage. There's speculation in some corners of the UK press corps is that Buckingham Palace leaked the news to lash back at Truss.
Our friend Hussein Abaza, CIB's CEO and managing director, has joined the advisory board of the Glasgow Financial Alliance for Net Zero (GFANZ), which aims to decarbonize the assets of financial institutions. (Statement)
Meet COP's younger sibling, COY17: Sharm El Sheikh will host the 17th UN Climate Change Conference of Youth (COY17) just before COP27, from 2-4 November. Youts can apply here through 10 October to attend.
The two-day Arab Climate Forum kicked off yesterday: The gathering, opened by Environment Minister Yasmine Fouadaims to bring Arab governments together to coordinate positions and present a united front on climate change ahead of COP27, according to a statement.
CIRCLE YOUR CALENDAR-
UPCOMING NEWS TRIGGERS- Here are some data points and news triggers to be on the lookout for in this month:
PMI: We'll know how Egypt's private sector fared in September when S&P Global drops its latest PMI release tomorrow (Tuesday, 4 October). The downturn in activity looked to be easing in August when businesses told the survey that demand and output were rising on the back of slowing inflation.
Foreign reserves: The Central Bank of Egypt (CBE) should be out with September's foreign reserves figures later this week. Reserves remained flat at around USD 33.1 bn in August, having fallen 20% since March due to headwinds caused by the war in Ukraine and tightening financial conditions.
Inflation to notch new highs? Analysts are expecting inflation to have continued rising in September due to the weakening EGP after reaching highs not seen since November 2018 in August. We'll find out when Capmas and the CBE release the figures next week.
---
Check out our full calendar on the web for a comprehensive listing of upcoming news events, national holidays and news triggers.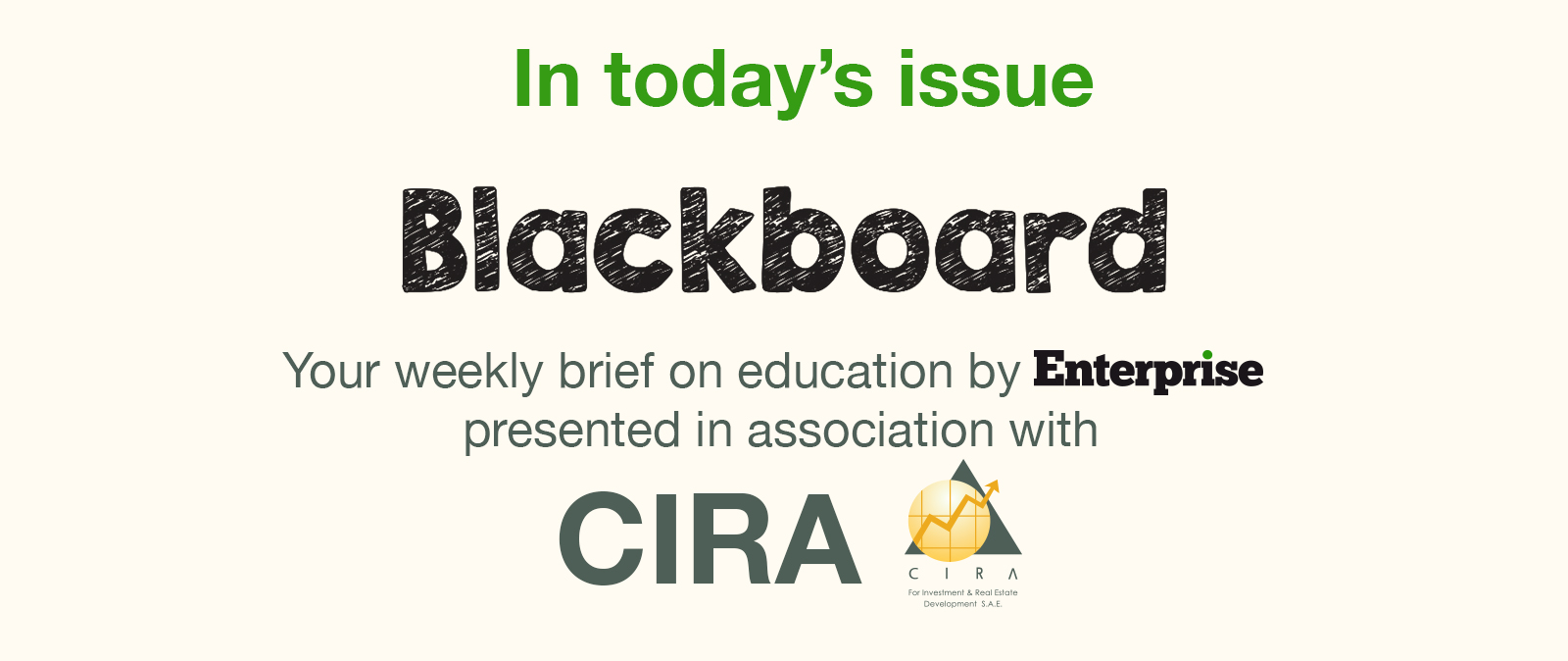 *** It's Blackboard day: We have our weekly look at the business of education in Egypt, from pre-K through the highest reaches of higher ed.
In today's issue: A fresh report from the World Bank says we need to invest more heavily in our public education system.
ICYMI- Missed this week's Inside Industry? In our weekly vertical exploring all things industry and manufacturing, we looked at how import restrictions have led to a shift in consumer behavior as customers move to buy more local products for their availability and more affordable price points.