Monday, 26 September 2022
Optimism still abounds, even if things didn't go as planned
The Enterprise Fall Reader Survey says: 2022 isn't panning out how many of you had hoped — but you're still an optimistic bunch. At the start of the year, more than three-quarters of you expressed optimism that 2022 would bring better business conditions to Egypt — even after broadly agreeing that 2021 was a good year to do business here. That was before the outbreak of war in Ukraine hit the global economy. In the time since, we've seen investors punch out of emerging markets, inflation spiral, the EGP slide more than 20% against the greenback, and the imposition of import restrictions that are weighing heavily on businesses.
Nine months into the year, most of you agree that 2022 hasn't lived up to expectations, with 70% of respondents saying that this year hasn't been good for business.
It's not hard to understand why: A whopping 89% of respondents agree that domestic economic conditions are directly affecting their business, with only 8% appearing to be unscathed.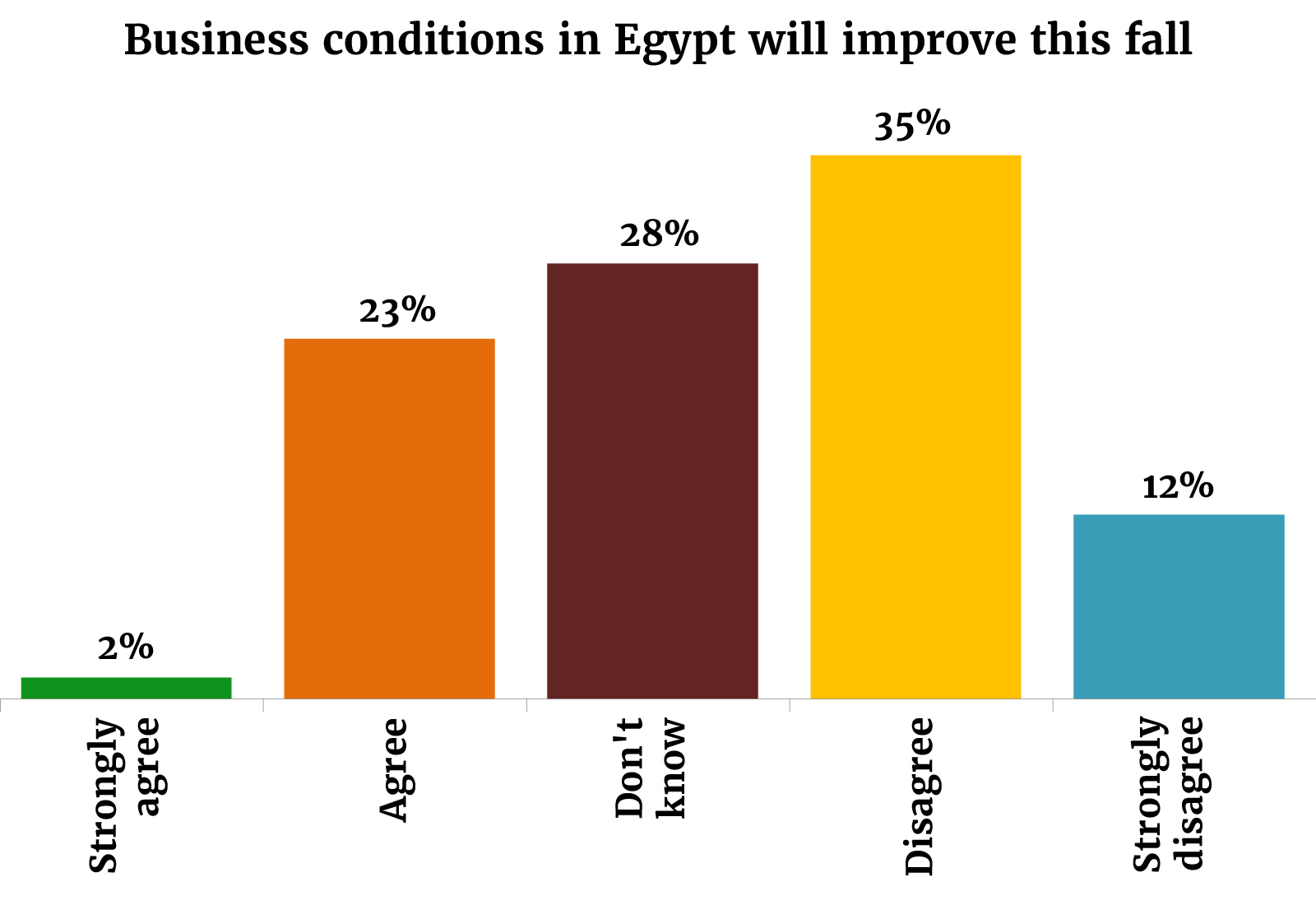 You're realistic that many of the issues facing Egypt's economy will take time to resolve — meaning business conditions are unlikely to improve soon. Nearly half of you (47%) don't think that business conditions will improve before 2022 is out and 28% don't have clarity on what 4Q will bring. That's more than the 25% of you who believe the final quarter of the year will see the tide turning.
But your long-term outlook is much more optimistic: Almost half (48%) of respondents believe that 2023 will bring better conditions for the business community. But with import restrictions in place and the FX situation still unclear, a full one third of you don't have enough visibility to make a call about '23.
That optimism also (mostly) carries through to how you view your competitive advantage: Thirty-nine percent think their companies will do better than the competition in six months. That's less bullish than the 69% of readers who had the same sentiment at the beginning of the year, but only 10% of you think you'll be doing worse than the competition. The broad majority (47%) are on the fence, saying things will likely remain unchanged — or they're not certain what the future holds.
Respondents are split nearly exactly down the middle on whether they will commit fresh investment in Egypt over the next six months, with 40% saying it is either likely or highly likely, and 39% saying it's just not in the cards.
On average, your peers think the EGP will settle at 22.12 to the greenback. Most of you see the EGP slipping further against the USD as you prepare your 2023 budgets, with 85% of you expecting to see the USD : EGP exchange rate above where it stands today. The bulk of you (64%) see the rate somewhere between EGP 21-24, while 8% think we're in for an exchange rate of above EGP 24 / USD 1. There's a small optimistic minority (7%) budgeting for the EGP to remain relatively stable or even rally.
The current high-interest environment also plays a role in determining investment plans: More than one-third of you (36%) say you need to see the Central Bank of Egypt cutting interest rates by anywhere between 100-300 bps to help you unlock CAPEX spending. Twelve percent need even more, saying interest rates need to be 300 bps lower to allow for new investments.
So, what's been on your mind? The top concern cited by survey respondents is access to foreign currency. Twenty-two percent see Egypt's FX situation — including requirements the Central Bank of Egypt imposed earlier this year for importers to use letters of credit (L/Cs) to purchase non-essential items amid a shortage of greenbacks — as the biggest problem facing their business today. Exactly two-thirds of you (66%) agree that your business is presently affected or constrained by poor access to FX.
Tied for number 2: 19% of respondents said red tape and regulations as their biggest headache — a figure that has remained steady since the beginning of the year (indeed, since we began this survey years ago). Your sentiment on the Madbouly Cabinet appears to have shifted somewhat, with 62% of you seeing the council of ministers as unsympathetic to the needs of business. At the beginning of the year, 45% of you said you felt cabinet was in tune with the needs of business.
The same with inflation: 19% of you said rising prices weigh the most on your business. Interestingly, although it wasn't the biggest issue cited by the majority of you, 88% of respondents agree that inflation is impacting their business.
Supply chain and procurement issues come in next, with 11% of respondents naming that as the biggest hurdle. Access to credit and the interest rate environment follows closely after (10%). Other problems like finding and retaining talent — which has been a persistent complaint among businesses — and taxation have largely fallen down the list of priority issues, with less than 10% of you citing either of these as the biggest thorn in your side.
How the times have changed: We've officially said goodbye to the pandemic, as a mere 1% of you cited health concerns or restricted mobility due to covid-19 as a top-of-mind concern. That's a sea-change from the 27% of you who had covid-19 issues as their biggest issue two years ago. Speaking of covid-19, 37% of you have carried over some sort of hybrid work model from the pandemic years, while 56% of readers are fully back in the office.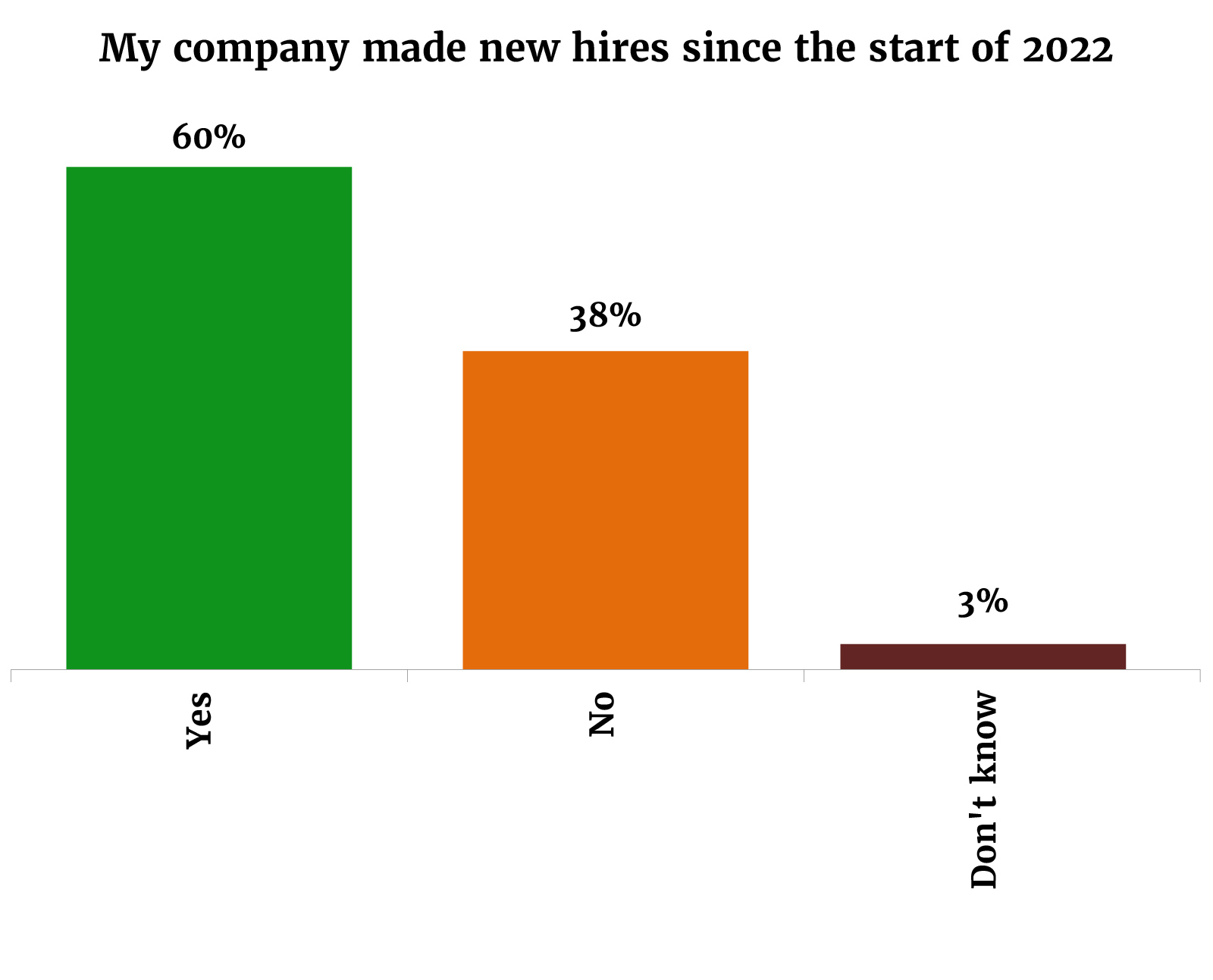 These problems didn't stop you from hiring staff this year… Sixty percent of survey takers said their company made new hires in 2022, while 38% haven't grown their teams.
…And isn't leading many of you to cut the proverbial fat on your teams: Nearly three-quarters (73%) have held off on layoffs or otherwise cutting staff since the beginning of the year. Twenty-four percent of you, however, reported downsizing your teams this year.
But you're not necessarily going to grow your headcount: A slightly larger number of you (54%) are pausing on making new hires this fall or next year than those of you (51%) who are planning on hiring additional staff.
Sixty-four percent of respondents said their companies gave out annual raises last year — and y'all were pretty generous. The majority (47%) of those of you who did raise wages last year handed out a 10-14% increase, while 26% handed out 15-20% raises.
More of you are compliant with the national minimum wage for the private sector than was the case at the beginning of the year: Only 21% say your companies need to raise salaries to be compliant, down from 27% at the beginning of the year.
It appears the streak of M&As will cool down in the months ahead: Only 38% of you have a positive outlook on M&A in your industry, while 18% don't see much consolidation ahead. A quarter of you are uncertain of what to expect as far as M&As are concerned.
And the outlook for FDI is mixed: Some 35% of readers see new foreign investments coming into their industry in 2023, compared to the 60% of you who saw FDI inflows in the cards for 2022. One-third of readers have written off FDI for their industry in 2023 and 23% are unsure.
But your expectations for IPOs are pretty high: Sixty-nine percent of readers see IPOs happening in Egypt in 2023, compared to 28% who aren't holding their breath for new paper. At the beginning of the year, 41% of readers expected to see an IPO happening in their industry this year.
After a dearth of listings, the EGX might be seeing fresh IPOs thanks to simplified listing regulations: So far, the EGX has only seen Macro Group's EGP 1.3 bn IPO. Five or six private sector companies are "in serious talks" with the EGX about possibly listing on the bourse, EGX Chairman Ramy El Dokany said earlier this month, attributing their interest to newly-introduced rules that make listing procedures a bit simpler. State-owned institutions could also bolster Egypt's IPO pipeline, as the government is working to reboot its privatization program through the Sovereign Fund of Egypt's new pre-IPO fund, which will offer stakes in state-owned companies to strategic investors and sovereign funds ahead of listing them on the bourse.
A positive note to end on: You're taking the environment seriously. Thirty-eight percent of polled readers reported their company is taking steps to measure their carbon footprints — and actively try to reduce it. A smaller number of you (20%) said this isn't the case.