Tuesday, 20 September 2022
THIS MORNING: Egypt's talks with the IMF to wrap "soon"
Good morning, wonderful people, and hello from day two of the EFG Hermes One on One investor conference in Dubai. We try reasonably hard around here not to fall back on hyperbole, but: The excitement in the air is palpable. Investors and issuers are delighted by the fact that they're finally speaking face-to-face after more than two years of suffering through Zoom / Teams / Google Meet / Webex / whatever.
Among the highlights yesterday: EFG's live research poll, the only one we know of in frontier emerging markets. The poll capped an opening session that included an on-stage interview with DFM boss Helal Almarri and opening remarks from our friend Karim Awad, group CEO of EFG Hermes Holding. We have a rundown on the poll in this morning's news well, below, and we'll have more from the conference for you tomorrow.
WATCH THIS SPACE #1- Egypt-IMF talks will "be completed soon," says senior IMF official. Loan talks between Egypt and the IMF are "in continuous progress," according to Jihad Azour, IMF director for the Middle East and North Africa, who told Bloomberg Asharq that they will be completed "soon." Azour did not indicate how much we will be borrowing, saying only that the amount will be set "when the negotiations are over." Talks between the fund and Tunisia on a similar type of facility are also nearing an endgame, Azour said.
Six months and counting: Egypt has been in negotiations with the IMF since March in a bid to secure financial assistance following the economic shocks brought on by Russia's war in Ukraine, rising interest rates in advanced economies, and a off in global-risk financial markets. Neither the IMF nor Madbouly government officials will say how much we're looking for, though officials including Finance Minister Mohamed Maait have said the sum will be significantly lower than the USD 15 bn that some analysts have forecast.
With or without an IMF loan, EFG Hermes reckons Egypt has covered most of its funding needs for the next 18 months: Egypt should be able to cover most of its external financing needs for the next 18 months, EFG Hermes Head of Research Ahmed Shams El Din told Asharq from Dubai. Shams El Din said we should be able to bring in USD 15-20 bn through tourism receipts, foreign direct investment, and other sources of foreign currency, including the Suez Canal. Securing an IMF loan would be a "certificate of quality" for the economy, he added.
WATCH THIS SPACE #2- The US might have something to say about our plans to link with Mir: Egypt could risk running afoul of Washington's sanctions regime on Moscow if it moves forward with plans to allow Russia's Mir payment system to operate in the country. The US Treasury last week published guidance warning financial institutions against using the payment system and said that it could impose sanctions in response.
The message has already caused one overseas bank to rethink its plans: Turkey's largest private bank, Isbank, has stopped processing payments through the system while it assesses the US' warning, it told Bloomberg.
SOUND SMART- We're not the only ones looking to link up with Mir. In addition to Turkey, the system is being tested in the UAE.
---
HAPPENING TODAY-
Live, from New York, it's the UN General Assembly: Foreign Minister Sameh Shoukry is in the Big Apple for the UNGA. Shoukry started high-level talks in the US yesterday, speaking with officials including the foreign ministers of India, Cyprus and the Netherlands, and the US envoy to Yemen.
The general debate starts today and finishes next Monday: President Abdel Fattah El Sisi will deliver an address at the event. It's not clear when, though: The full schedule is still TBA.
Transport Minister Kamel El Wazir is in Germany for talks with industry players and heads of German companies working on projects in Egypt. El Wazir toured Siemens' plant in Krefeld, where trains for the high-speed railway project will start being manufactured in November, the ministry said in a statement.
The Federal Reserve kicks off its two-day policy meeting today amid rising economic uncertainty and market volatility surrounding the pace at which it's raising interest rates. The central bank is widely expected to announce a third successive 75-bps hike when the meeting wraps tomorrow on the back of last week's disappointing inflation data. An increase of this magnitude would take the Fed Funds Rate to its highest level since March 2008.
FOR TOMORROW-
Intellectual property strategy coming: Egypt will launch its intellectual property strategy tomorrow. World Intellectual Property Organization (WIPO) Director-General Daren Tang will make an appearance at a ceremony being put on to launch the program.
LATER THIS WEEK-
The Central Bank of Egypt will meet to discuss interest rates on Thursday, and the signs are pointing towards a third hike of 2022. Six of seven analysts and economists surveyed in our regular poll expect the Monetary Policy Committee to raise rates as inflation rises and the EGP continues to weaken.
Make that seven of eight: HC Securities sees the central bank raising rates by 100 bps on Thursday and another 100 bps in the November meeting due to Egypt's deteriorating external position and expectations for inflation to accelerate in the coming months.
THE BIG STORY ABROAD-
Queen Elizabeth II's funeral yesterday is dominating the headlines in the global press this morning: Reuters | AP | BBC | NYT | Washington Post | Bloomberg | FT.
MEANWHILE- Sri Lanka to face its creditors: Sri Lanka will present to its foreign creditors on Friday its plans for restructuring its debt and the objectives of the USD 2.9 bn bailout agreed with the IMF last month, Reuters reports. Sri Lanka defaulted in May on its debt for the first time in its history, plunging the country into a severe financial and economic crisis. The country owes more than USD 50 bn to external creditors.
CIRCLE YOUR CALENDAR-
Our friends at HSBC are hosting an energy transition webinar series next Tuesday-Thursday, 27-29 September. The series will look at the "latest climate analysis in relation to the global energy market and transition to net zero" in six different sessions covering energy security, what is required to ensure the success of COP27, financing and investment needs for the energy transition, and the scaling up of renewables in the region, among other topics. You can register for the series here.
WANT MORE on the region's energy transition? Catch this op-ed in EnterpriseAM by HSBC's Group Head, Center of Sustainable Finance and Head of Climate Change Middle East, North Africa and Turkey, Zoe Knight on to the capital that's needed to help drive that shift.
A Spanish business delegation will be in town next Tuesday and Wednesday (27-28 September) for the Egypt-Spain Multilateral Partnership Forum, organized by the Spanish Institute for Export and Investment, according to a press release (pdf). The two-day conference will include seminars and panel discussions on trade and investment in transport, energy, and water with Egyptian ministers and representatives from government bodies, alongside officials from international financing institutions and Spanish Secretary of State for Trade Xiana Méndez Bértolo. The agenda for the conference is available here (pdf).
GITEX Global is being held at the Dubai International Convention and Exhibition Center from 10-14 October. The event, which is running under the theme "enter the next digital universe," will bring together players in Big Tech to discuss AI, cybersecurity, blockchain, the metaverse, and more.
Check out our full calendar on the web for a comprehensive listing of upcoming news events, national holidays and news triggers.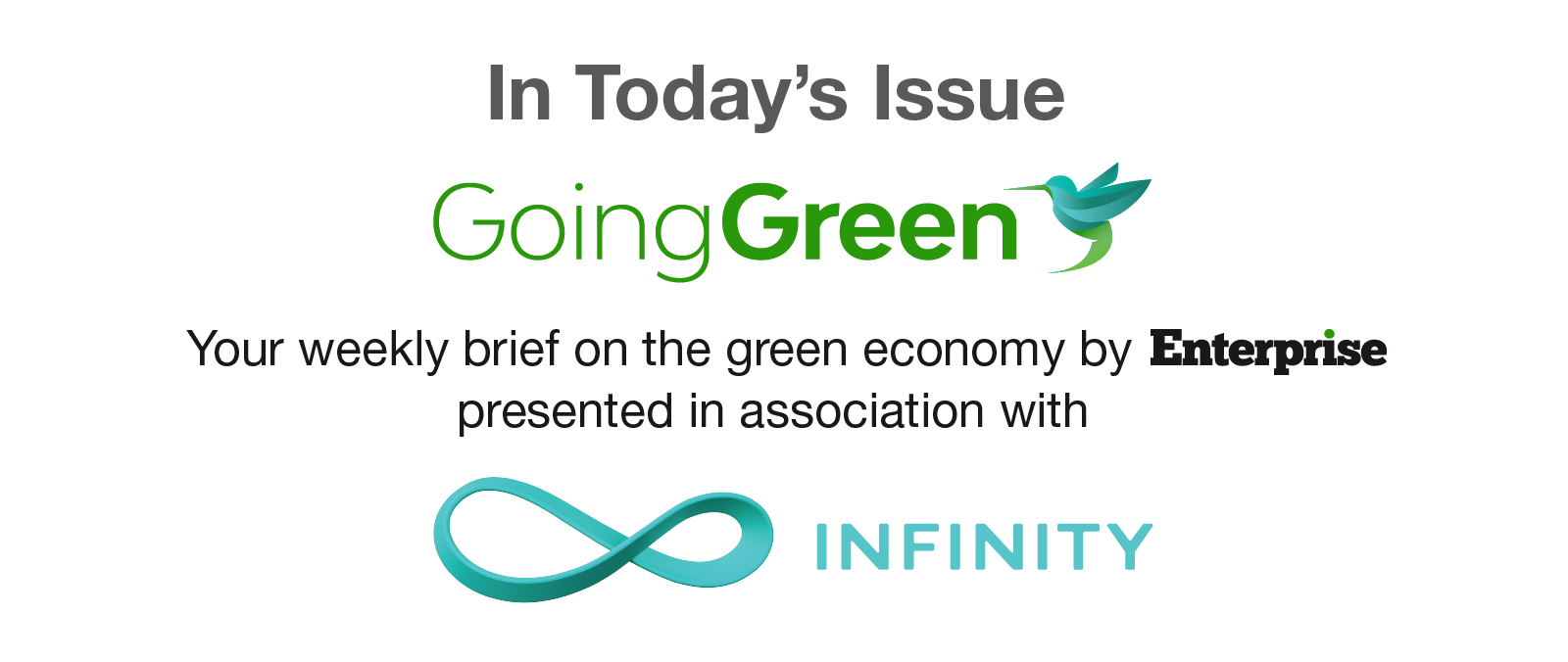 *** It's Going Green day — your weekly briefing of all things green in Egypt: Enterprise's green economy vertical focuses each Tuesday on the business of renewable energy and sustainable practices in Egypt, everything from solar and wind energy through to water, waste management, sustainable building practices and how you can make your business greener, whatever the sector.
In today's issue: Private solar stations could cut down on electricity costs for homeowners and small businesses, but are upfront costs and a lack of space or permissions prohibiting them from making the switch?