Monday, 12 September 2022
THIS MORNING: AmCham lunch feat. Dr. Mahmoud Mohieldin today
Good morning, friends. We have a brisk, newsy issue for you this morning.
THE BIG STORY HERE AT HOME remains the crisis at Capiter. The new parlor game: Trying to guess which high-profile startup is next.
The story hasn't moved forward much since yesterday: Interim CEO Majid El Ghazouli told Al Hadath Al Youm (watch, runtime: 4:00) last night that the board of directors hasn't taken a formal decision to liquidate the company. Dismissing the news of layoffs, he said Capiter is in the process of examining acquisition and investment offers by foreign investors who are still interested in the startup. Asked about the allegations of financial impropriety against the company's founders, Mahmoud and Ahmed Nouh, he said simply that "the law will take its own course."
Keep it all in context: Yes, more than a handful of startups are suffering as venture capital funding slows down. Some won't make it. But that doesn't mean that all of their founders are crooks. Business failure is a messy thing — and a topic we (as a community) are not used to discussing in public. It's entirely possible for a business to fail without a founder absconding with funds. In fact, companies routinely fail despite the best efforts of execs and of the boards that are ostensibly in place to keep those execs on the straight and narrow.
EGP WATCH- The EGP continued yesterday its very slow crawl toward a new record low, slipping to EGP 19.39 from EGP 19.36 on Thursday. The currency has now fallen by 22.9% against the USD since the devaluation in March and is closing in on the 19.56 mark set in December 2016, when it overshot against the greenback following that fall's sharp devaluation.
PSA- Apple's iOS 16 is out today. You can download it by going to Settings > General > Software Update if you're on an iPhone 8 or newer device. Among the new features worth checking out are customizable lock screens (you can have more than one — with widgets, if you like), a new notifications experience on your lockscreen, the ability to edit or un-send iMessages (with caveats), and Passkeys (a cross-platform technology that promises to do away with passwords). You can check out iOS 16's full set of features here.
HAPPENING TODAY-
Our friend Dr. Mahmoud Mohieldin will join the good folks at AmCham for a luncheon from 1-4pm CLT. Dr. Mahmoud will by speaking in his capacity as UN climate change high-level champion for Egypt. The special luncheon meeting at the Nile Ritz Carlton is open to AmCham members and their guests. Non-members can register to watch here.
Consoleya and Cairo Angels are hosting a business meet-up focusing on Nigeria's tech ecosystem and how it compares with Egypt's startup scene. Tarek Shahin (CI Capital's chief investment officer), Biola Alabi Media CEO Biola Alabi, and Ibrahim Sagna (Afreximbank's global head of advisory and capital markets) and take part in a panel discussion moderated by Aly El Shalakany, CEO of the Cairo Angels Syndicate Fund.
HAPPENING THIS WEEK-
Domty deadline day: Shareholders in cheesemaker Domty have until Wednesday to sell their shares to Expedition Investments, as part of its mandatory tender offer for 34% of the company. Expedition sweetened the deal by upping its offer price by 10% last week, which we cover in more detail in this morning's news well, below.
B Investments is going to have to make up its mind over TotalEnergies Egypt by Thursday: The private equity player has the right to preempt a bid by Abu Dhabi energy giant Adnoc to acquire a 50% stake in the company, which expires on Thursday.
Check out our full calendar on the web for a comprehensive listing of upcoming news events, national holidays and news triggers.
THE BIG STORY ABROAD-
Ukraine builds on recent battlefield gains: Ukraine is continuing to push Russian troops back in Kharkiv province, the country's army chief said yesterday.
And Moscow responds: Russia struck power stations and other civilian infrastructure in response to the Ukrainian counteroffensive.
The latest from Ukraine is on all the front pages this morning: AP | Reuters | WSJ | Bloomberg | FT | NYT | Washington Post.
The Egypt-International Cooperation Forum (Egypt-ICF) wrapped on Friday. The three-day conference saw a slate of news on climate finance to the African continent: International Cooperation Minister Rania Al Mashat launched a guidebook to
COP27 climate finance efforts, the EBRD pledged up to USD 1.3 bn for local clean energy projects, and officials proposed ways to address spiraling green borrowing costs. For the details on everything that happened in the final two days of the conference, catch this morning's edition of Enterprise Climate.
ICYMI-
Missed this week's Inside Industry? In our weekly vertical exploring all things industry and manufacturing, we looked at how industrial stocks have been performing on the EGX.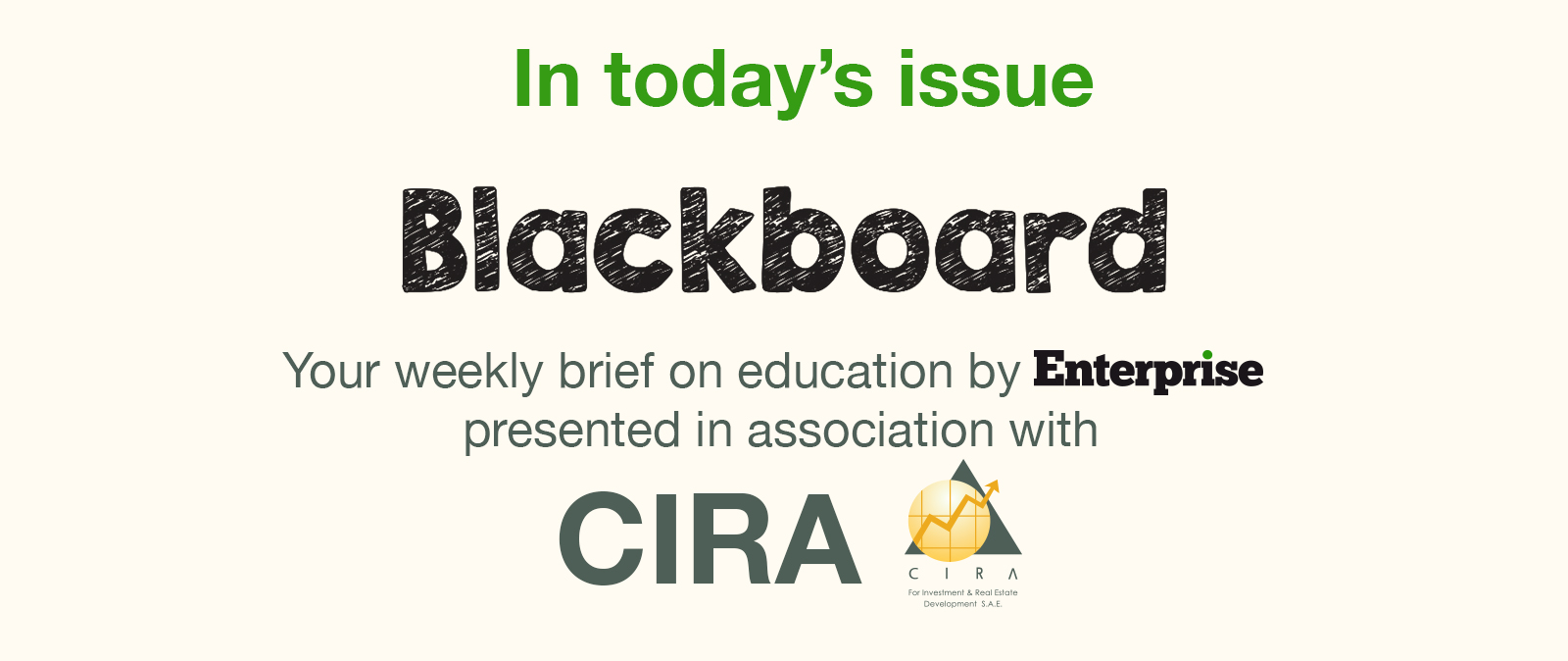 *** It's Blackboard day: We have our weekly look at the business of education in Egypt, from pre-K through the highest reaches of higher ed. Blackboard appears every Monday in Enterprise in the place of our traditional industry news roundups.
In today's issue: We look at how education stocks have been performing on the EGX.