Monday, 5 September 2022
THIS MORNING: It's PMI day + Abdalla, cabinet are working on monetary and fiscal policy as IMF talks continue
Good morning, nice people. The last weekend of summer is now behind us (almost-officially in the US and Canada, where today is the labor day holiday — and just-about-officially in Egypt, if the atmosphere in Sahel is any barometer) and it shows in a very light news day today.
THE BIG STORY HERE AT HOME- Hassan Abdalla and his team at the central bank continue to chart a way forward out of our current FX, inflation and other challenges.
Abdalla and Prime Minister Moustafa Madbouly were talking monetary and fiscal policy again yesterday at a meeting involving senior cabinet ministers and central bank officials, according to a cabinet statement. The sit-down covered the latest on talks with the International Monetary Fund (IMF) for an assistance package, the impact of rising inflation on businesses and consumers, and steps that Finance Minister Mohamed Maait's team have recently taken to accelerate the release of goods piled up at Egyptian ports.
The Abdalla bounce in short-term EGP bonds continued yesterday: Yields on three-month treasuries fell for the second auction in a row yesterday, declining 20 bps to 15.85%, according to central bank data. Yields had inched down to 16.07% last week which some traders attributed to Hassan Abdalla's appointment as CBE governor.
But yields on one-year bills continued to rise: Indications that policymakers could soon make a move on the EGP and hopes that an agreement with the IMF could be close haven't had an impact on one-year yields, which have risen almost 60 bps since the beginning of August. The rate inched up to 16.91% from 16.88% in an auction yesterday.
SMART POLICY #1- Bank boards won't be required to meet quite as often, according to a Central Bank of Egypt circular (pdf) out yesterday that said boards will now have to meet at least six times a year. Bank boards were previously required to hold at least eight meetings every year under a 2019 decree. This is smart: The nation's banks are exceptionally well-regulated by the CBE (and have been for the better part of two decades). Eight meetings a year was just needless overhead for C-suite folks and non-exec directors alike.
SMART POLICY #2- The Saudi central bank has brought in a crypto chief to manage its digital assets program in an indicator that Riyadh is looking to compete with the UAE, which has positioned itself as a global hub for the crypto industry, Bloomberg reports.
Hassan Abdalla has a hell of a lot on his plate right now — and we're hardly crypto fanboys here at Enterprise. But when he and the good people at the CBE come up for air, we're going to be hoping they (cautiously) re-think the regulator's approach to crypto, which in the Amer days was effectively this.
---
*** You have just a few more days to tell us how you're feeling about your business and the wider economy. We'll have the results for mid-month — just in time to give you a sense of what everyone else is thinking heading into budget season. Make your voice heard in our Fall Reader Survey. It won't take more than a few minutes to complete.
---
HAPPENING TODAY-
It's PMI day: S&P Global will publish August's data measuring activity in Egypt's non-oil private sector. The private sector contracted for the 20th consecutive month in July as high inflation continued to weigh on output and demand. Look for the PMI here at about 6:15am CLT.
Palestinian President Mahmoud Abbas will be in Cairo ahead of an Egyptian-Palestinian summit on Tuesday. The two sides will discuss the situation in Palestine and the possibility of releasing Palestinian prisoners in Israeli custody. Egypt played a key role in brokering last month's ceasefire following clashes between Israel and Gaza militants.
OPEC+ meets to set output policy amid a wave of uncertainty in the markets that has resulted in the longest streak of monthly drops in crude prices since the pandemic, Bloomberg reports. Most analysts and traders surveyed by the business newswire expect the oil cartel to keep output steady. Brent crude futures are currently trading at around USD 93 a barrel — down nearly a quarter on their June peak.
The board overseeing the National Dialogue will hold its next meeting, choosing rapporteurs for all of the committees and subcommittees of the social, political and economic tracks. It will also work on topics of discussion for the dialogue.
HAPPENING THIS WEEK-
We're expecting some sort of announcement from the government on how it plans to proceed with its privatization program, according to comments given to the media by Finance Minister Mohamed Maait last week. This came on the same day as the Prime Minister Moustafa Madbouy met with the heads of the EGX and the Financial Regulatory Authority to discuss plans to sell stakes in state-owned enterprises on the bourse.
---
THE BIG STORY ABROAD-
Europe's energy shock is getting most of the attention in the global front pages this morning as energy traders predict a volatile start to the week following Gazprom's shuttering of the Nordstream 1 gas pipeline last week. Reuters, Bloomberg, the New York Times, and the Financial Times are looking at how European leaders could respond to the deepening crisis as the effects of the sanctions war with Russia threaten to shutter heavy industry across the continent. The Wall Street Journal, meanwhile, is cheering the growth slowdown in China, suggesting that it will help to calm soaring inflation elsewhere in the world.
iSheep, rejoice: Expect the IPhone 14 Pro line to be the star of Apple's annual event on Wednesday, with the upscale products poised to have significant upgrades, including a faster A16 chip, an always-on display screen, a whooping 48-megapixel rear wide-angle camera system, and a larger battery, according to Bloomberg. The iPhone 14 Pro will also see some modest design changes, including to its sensor notch. The event is set to see the unveiling of two standard iPhone 14 models, a high-end Apple Watch Pro and upgraded new Airpods Pro.
Wait, no Macs or iPads? Nope. Conventional wisdom is that we'll have to wait until October, but that new machines with M2 chips will be on offer.
THE LONG VIEW-
The 2020s could be even more terrible than the 1970s: Comments made by historian Niall Ferguson over the weekend are getting attention in the global business press. Speaking to CNBC at the Ambrosetti Forum in Italy, Ferguson warned that the current political and economic turbulence could be worse than the 1970s — a decade characterized by energy shocks, stagflation and political and civil unrest.
"The ingredients of the 1970s are already in place," Ferguson said, drawing parallels between events over the past two years, the loose fiscal and monetary policies of the late 1960s, and the 1973 war. The difference, he said, is that the current war in Ukraine is lasting longer than the Arab-Israeli war, making the energy shock more severe. "Why shouldn't it be as bad as the 1970s?" he said. "I'm going to go out on a limb: Let's consider the possibility that the 2020s could actually be worse than the 1970s," he said. The story got ink in CNBC and MarketWatch.
ICYMI-
Missed this week's Inside Industry? In our weekly vertical exploring all things industry and manufacturing, we sat down with Arab Alloys CEO Medhat Nafei to discuss his company's plans to set up a EGP 1 bn ferroalloys industrial complex in the Suez Canal Economic Zone.
CIRCLE YOUR CALENDAR-
Check out our full calendar on the web for a comprehensive listing of upcoming news events, national holidays and news triggers.
*** WE'RE LOOKING FOR SMART, TALENTED PEOPLE to help us build some very cool new things. Today, we run two daily publications, one regional publication, five weekly industry verticals, and a monthly newsletter designed to make our readers feel just a bit smarter.
We have tons more in the pipeline — come help us build new publications. We offer the chance to work in a fast-paced newsroom on a broad range of topics and in a variety of formats. Our goal is simple: To create value for our growing community of >199k readers by telling stories that matter.
We're looking for editors who want to run publications and teams, editors to help reporters craft stories, and talented reporters. Egyptian and foreign nationals alike are welcome to apply. So are job-switchers: If you're an equities analyst tired of the rat race, we're a great place to come work.
Apply directly to jobs@enterprisemea.com and mention Patrick in your subject line.
Or hit this link for more information. It's worth it — trust us.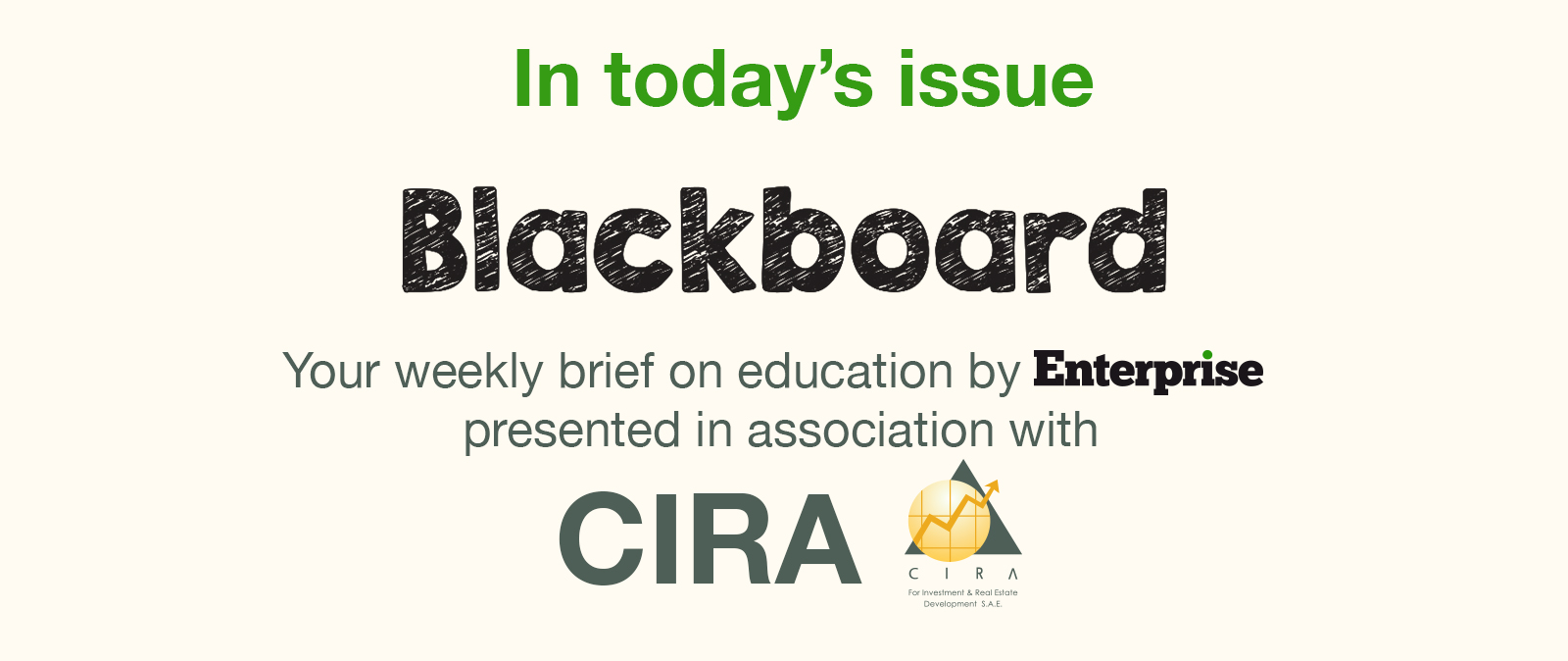 *** It's Blackboard day: We have our weekly look at the business of education in Egypt, from pre-K through the highest reaches of higher ed. Blackboard appears every Monday in Enterprise in the place of our traditional industry news roundups.
In today's issue: We look at the growing investor interest in Egypt's preschool sector.