Tuesday, 30 August 2022
When oil washed up on Dahab's shores, local residents jumped into action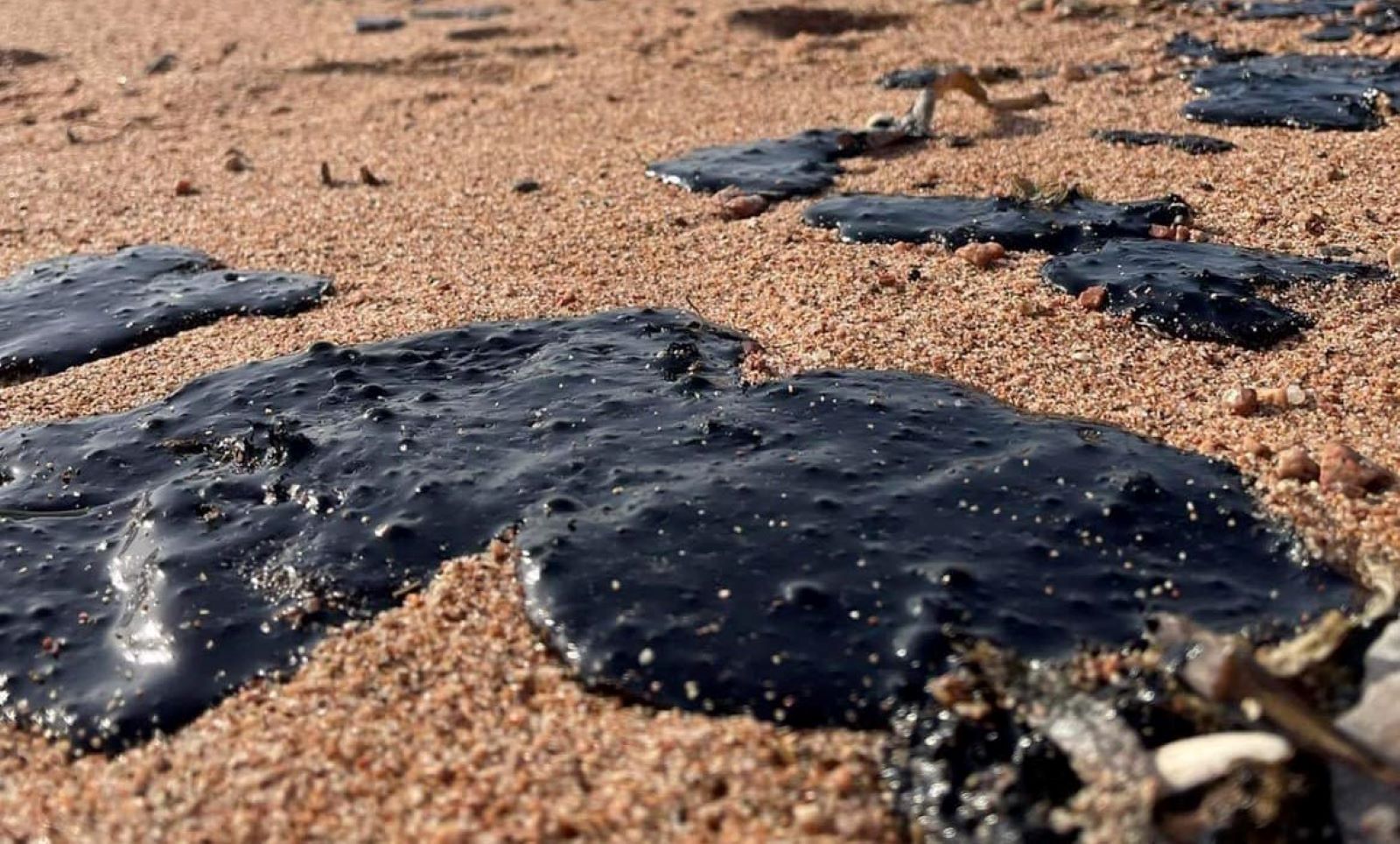 A minor oil spill in the Gulf of Aqaba hit Dahab's shores. Community organizers and local authorities helped clean it up. In mid-August, photos were posted to social media showing parts of Dahab's coastline dotted with thick patches of crude oil, reportedly the result of an oil spill from a vessel in Jordan's Aqaba Port. Volunteers and local environmental organizations have since led efforts to scrub the oil off the South Sinai town's shores, which sustain an abundance of marine life and are a huge draw for tourists.
The local community stepped up fast: Volunteer environmental initiative Eco-Dahab and the Tourism Ministry's Diving and Water Sports Chamber raised the alarm on August 16, posting photos of the spill to social media alongside warnings not to enter the water.
Locals immediately took to scraping and shoveling what they could off the beach into plastic bags. "These were all individual efforts at first so we started to organize those that were already cleaning," Nadine Wahab, founder of Eco-Dahab, told Enterprise. "We made sure they knew what to do. We spoke to consultants, we got gloves, shovels and started using 19-liter water containers with the tops cut off to store the oil we removed," Wahab says.
Teamwork makes the dream work: The Environment Ministry-affiliated Salam Center for Combating Marine Pollution in Sharm El-Sheikh surveyed the area and undertook immediate damage control, according to a ministry statement. Some 50 members of the local community pitched in to remove oil from the beach, while Dahab's local authorities contracted the private cleaning company that deals with the town's waste management to take the contaminants to landfill. "Day by day we learned how to better facilitate this community response, in coordination with the government," Wahab tells us.
Where the oil hit: The area visibly impacted is a stretch of about 1.5 km along Dahab's coast where clumps of crude oil had accumulated on shore, according to the Environment Ministry. That includes the neighborhoods of Eel Garden, El Assala and Zarnouk — from which some 4 tons of crude-oil contaminated waste was collected and transported to landfill, the ministry said.
And where it came from: The oil appears to have been carried on currents from Jordan's Aqaba port, where an oil spill earlier this month leaked some 11.4 tons of crude oil from a docked tanker into the Gulf of Aqaba. Tidal movements caused most of the spilled oil to settle in the port of Aqaba itself, an environment and tourism official reportedly told the Jordan Times, though he added that "small traces of the polluting matter [reached] beaches at the three neighboring countries surrounding the Gulf of Aqaba [Egypt, Saudi Arabia and Israel]."
Investigations are ongoing on both shores: Officials from the South Sinai protectorates have collected samples of the oil, which are being analyzed at an Environmental Affairs Agency lab in Suez to determine their source ahead of potential legal action against those responsible, the Environment Ministry said. Meanwhile, Jordanian authorities are carrying out their own "judicial investigation" into the Aqaba spill, with preliminary findings suggesting it was the result of "technical failures" on the Palauan-registered vessel Flower of Sea. Jordan has also submitted an incident report on the spill to the Regional Organization for the Conservation of the Environment of the Red Sea and Gulf of Aden (PERSGA).
We don't yet know the extent of the damage in Dahab. But crude oil contamination is no joke: Crude oil is toxic and can seriously harm people and animals unlucky enough to inhale, ingest, or touch it, Dr. Mahmoud Hanafy, professor of marine biology at Suez Canal University and scientific advisor to the Hurghada Environmental Protection and Conservation Association (HEPCA), tells Enterprise. The implications of oil spills for marine life including seabirds are dire, and can render fishing stock unsafe for human consumption, Dr. Hanafy explains.
And once oil has spilled, it sticks: Skimming oil off the ocean's surface in the immediate aftermath of the spill can remove about 40% of contaminants at best, according to the US National Oceanic and Atmospheric Administration. It's even harder to clean an oil spill once it reaches the shore because it has spread out across a wider area and is much more difficult to extract from sand than water.
The spill highlights the need for closer ties with our neighbors when it comes to conservation: "For the oil to have made it to our shores from the other side of the Gulf Aqaba, it had to travel about 150 km—that's a lot of time to have remedied the problem had we been notified of it sooner," Hanafy says.
Oil pollution is likely a wider problem — but more research is needed: Tankers transport mns of tons of hydrocarbons through the Suez Canal every year — so "there's no doubt that some of that material has seeped into the sea over the years," Hanafy says. What we don't know is what impact small-scale contamination events have had on marine ecosystems in Egypt. "It's a very understudied area of research," he adds.
For now, it's safe to reenter Dahab's waters — but the local community is on standby. "We aren't experts, [but] we are lucky that there seem to be very little residual effects of the oil spillI," Eco-Dahab's Wahab says. The group continues to keep a close eye on the worst-hit areas to make sure no more oil washes up. "We're asking people to be aware of any sight, smell or taste of oil in the water, just to be safe," she adds. "If anything like this were to happen again in the future, the community is more connected to official channels and we'll be prepared to more quickly coordinate a response."
---
Your top green economy stories for the week:
Management consulting firm Boston Consulting Group has been named exclusive consulting partner for the COP 27 summit, during which it will provide "analytical capabilities and industry insights."
Seven international companies have signed early agreements to build facilities that will produce mns of tons of green fuel in the Ain Sokhna Industrial Zone.
South Korea's state nuclear power company has signed a KRW 3 tn (USD 2.2 bn) contract with Rosatom to supply equipment and help build the 4.8 GW Dabaa nuclear plant.