Monday, 22 August 2022
THIS MORNING: Egypt to host five-way regional summit today + Our wheat import bill could be a lot less than we originally thought
Good morning, wonderful people, and welcome to the new-normal for August: A busy morning for news with lots of investment, FX policy, and M&A news to keep us busy, whether we're reading in Cairo, on the coast or from foreign shores. All three topics have legs, we think, and we're going to be adding more investment (and likely political) news to the mix later this morning:
Egypt will today host a five-party summit bringing together the leaders of UAE, Bahrain, Jordan, and Iraq in New Alamein, Extra News reports (watch, runtime: 0:37), citing what it says is an Egyptian source with first-hand knowledge of the plans. On the agenda are "various regional and international challenges," the broadcaster said.
Four of the five countries involved are spearheading a new regional industrial partnership: Egypt, the UAE, Jordan and Bahrain are collaborating on a new regional industrial strategy that will see the four countries embark on joint industrial projects in strategic sectors to strengthen supply chains and increase production. Former Deputy Foreign Minister Mohamed Hegazy made the point in a televised interview last night, telling Al Hayah Al Youm's Lobna El Assal that the gathering will lay the foundations for a closer alliance that will strengthen regional food and energy security, and unlock investment (watch, runtime: 7:02). The question on our minds: What are the odds of Iraq being announced as the fifth member later today?
UAE President Sheikh Mohammed bin Zayed Al Nahyan was the first to land in New Alamein, holding a meeting with El Sisi yesterday, according to an Ittihadiya statement. The pair discussed regional and international issues of common interest, with their bilateral talks focusing on cooperation to boost sustainable economic development, the statement read.
PRIVATE SCHOOLS are debating what to do after the Education Ministry said over the weekend that the opening date for international schools under its jurisdiction would be 18 September. Two high-profile schools we spoke with yesterday said they would likely push their official opening dates to 18 September from much earlier in the month (and would look at doing class work online before then) while a third said it was still mulling what to do in light of the ministry's decision. Association-owned and embassy-affiliated schools seem to be continuing as scheduled. Cairo American College led the nation back into the classrooms when it opened last Wednesday.
GET CLIMATE FINANCE for your business from the UK government: As the clock ticks down to COP27, the Climate Finance Accelerator (CFA) is hosting a webinar today to introduce its plans to support low-carbon projects in Egypt. The CFA, backed by the UK government's International Climate Finance (ICF), is a four-year technical assistance program designed to "develop a sustainable pipeline of bankable and investment-ready, low-carbon projects and identify suitable financing options." The webinar is aimed at investors and developers involved in low-carbon projects in Egypt and will discuss climate finance, the CFA's plans for Egypt, and the benefits of taking part in the program. The webinar takes place today starting at 11:30am CLT. Register here.
ALSO HAPPENING TODAY- The launch event for the global ClimaTech Run competition for tech entrepreneurs, hosted by USAID-backed Business Egypt, takes place at Le Lac du Caire at 5pm CLT.
PSA- Don't follow the government's new rules on electricity use? You could get fined: Businesses that do not abide by the recent measures to cut public electricity consumption will receive fines of around EGP 4k if they ignore initial warnings, Assistant Local Development Minister Khaled َQassem said on Masaa DMC last night (watch, runtime: 10:56).
FOR READERS OF A CERTAIN AGE- After a 40-year absence, the DeLorean is making an electric comeback, according to CNN. With no details on specs or pricing, the DeLorean is mostly banking on name recognition from the 1980s movie franchise Back to the Future with its all-electric prototype Alpha5. All the newly-revived brand says it will do is put a version of the Alpha5 into production soon.
Speaking of Back to the Future: "Tom Wilson, who played Biff Tannen in 'Back to the Future,' wrote a song about answering the same fan questions for 30+ years and it's one of the greatest things available on the internet." (Twitter) (That last bit might be a little bit of hyperbole, but…)
FROM THE DEPT. OF GOOD NEWS- We could be paying less for wheat this fiscal year after all: The resumption of Ukrainian grain exports has pushed wheat prices down to less than what the government penciled into the FY 2022-2023 budget, potentially wiping bns of USD from Egypt's import bill this year, CNBC Arabia reports. Prices per ton are now averaging USD 272, about 18% less than the USD 330 per ton assumed in the state budget, and closer to the USD 255 per ton penciled in last fiscal year's budget, according to the broadcaster. Easing grain shortages and growing fears of recession in advanced economies have caused wheat futures to fall more than 40% from record highs in mid-May.
DATA POINT- Emirati investment in Egypt rose almost 170% y-o-y to USD 1.9 bn in 1H FY2021-2022, according to data (pdf) from statistics agency Capmas out yesterday.
THE BIG STORY ABROAD-
The war between Russia and Ukraine is back on all the front pages this morning after the daughter of Alexander Dugin — a prominent far-right political theorist and key Putin ally — was assassinated in a car bomb attack in Moscow on Saturday. Russia is yet to explicitly blame Ukraine for the killing. Kyiv has denied involvement. (AP | Reuters | NYT | Washington Post | WSJ)
CIRCLE YOUR CALENDAR-
A delegation of Turkish businessmen and manufacturers is scheduled to visit Cairo tomorrow to talk investment and cooperation, Al Mal reports. The delegation includes investors in sectors including agricultural equipment, automotive components, textiles and garments, food and beverage, consumer goods, and building materials.
The delegation's visit comes as Egypt and Turkey are moving towards warming ties after the two countries had cut ties in 2013 due to strategic and ideological differences between Cairo and Ankara. The visit also comes days after Turkish President Recep Tayyip Erdogan said he wants his country to take its ties with Egypt to the "highest level."
The Union of Arab Banks is organizing a forum on money laundering and terrorism financing in Sharm El Sheikh from 1-3 September. Participating institutions include the Central Bank of Egypt and the Federation of Egyptian Banks, among others.
Check out our full calendar on the web for a comprehensive listing of upcoming news events, national holidays and news triggers.
ICYMI-
Missed this week's Inside Industry? In our weekly vertical exploring all things industry and manufacturing, we looked at what the textiles and garments industry thinks of the state's ownership policy for the sector.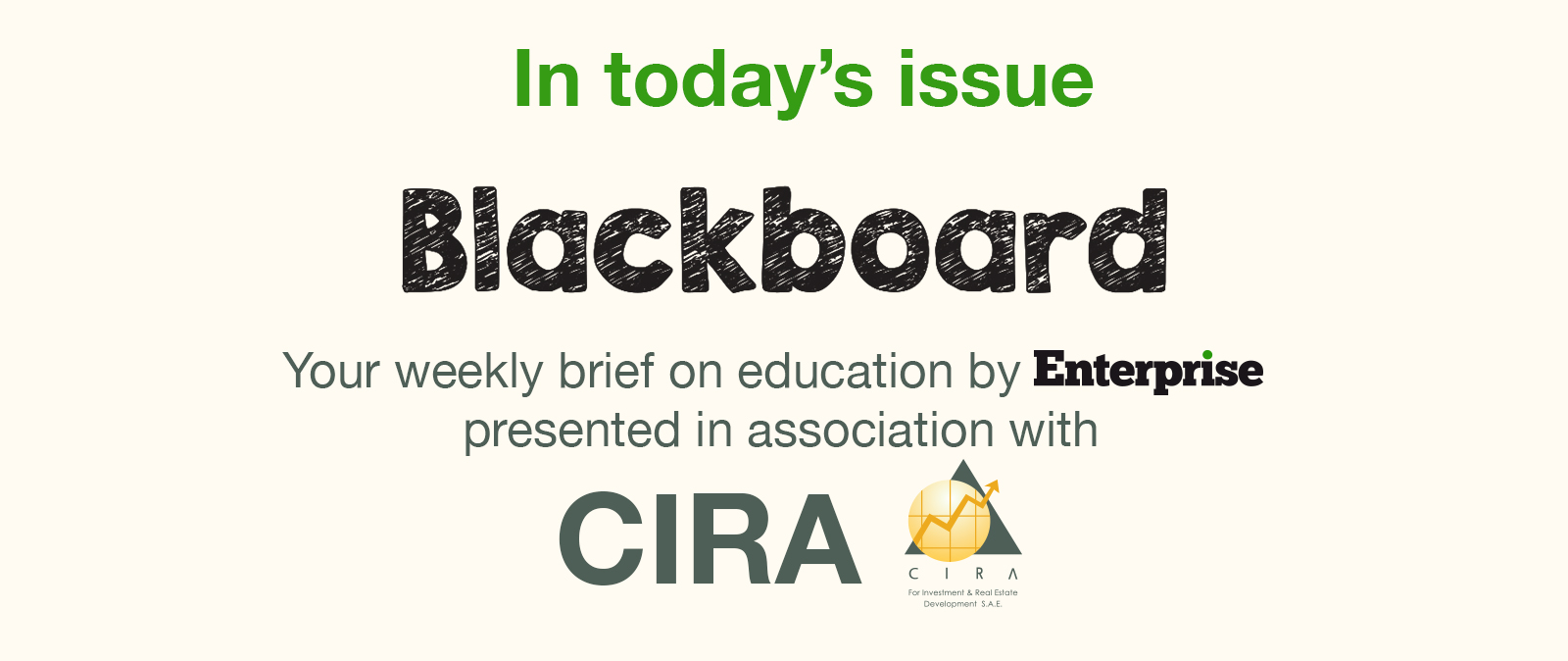 *** It's Blackboard day: We have our weekly look at the business of education in Egypt, from pre-K through the highest reaches of higher ed. Blackboard appears every Monday in Enterprise in the place of our traditional industry news roundups.
In today's issue: Last week, stakeholders in the education sector took part in consultations with the government on its privatization strategy. We got in touch with some of the key players to find out more about the discussions.