Sunday, 14 August 2022
THIS MORNING: Negm rules out near-term EGP devaluation + Is Qatar's wealth fund about to follow ADQ + PIF into the EGX?
Good morning, friends, and welcome to an exceptionally packed Sunday. We're going to jump right in
No imminent EGP devaluation: That was the message delivered by CBE deputy governor Gamal Negm in an interview with the state-run Middle East News Agency yesterday. Egypt's foreign currency shortfall narrowed to USD 400 mn in July from USD 3.9 bn in February due to the central bank's move to restrict imports, eliminating the need for "a significant reduction" in the exchange rate "in the next stage," he said. Negm made the comments a few days after Bloomberg came out with a piece detailing recent forecasts by analysts, who expect the currency to fall anywhere between 5% and 23% against the greenback due to rising external pressures.
FACT CHECK- Tarek Amer has no plans to step down before his second term ends in November 2023, Negm told the news agency, apparently in response to posts making the rounds on social media and the tabloid press.
WHAT'S HAPPENING TODAY-
Out with the old, in with the new: The new ministers appointed to the cabinet by President Abdel Fattah El Sisi over the weekend will be sworn in at Ittihadiya today. We have the full story on who's in and who's out in this morning's news well, below.
The Madbouly government's public consultations on its state ownership policy continue today, with representatives from the financial services sector weighing in. Every Sunday, Tuesday, and Thursday see workshops on how privatization plans will affect specific industries. You can find more details on the schedule of the meetings here.
Ghazl El Mahalla IPO: The retail portion of Ghazl El Mahalla's mini-IPO wraps today.
CHANGE OF SEASONS- We have about three weeks of summer left. Kids at Cairo American College lead the charge, heading back to school this coming Wednesday, 17 August — and signaling that the end of summer is nigh. BISC and NCBIS go back on 28 August, AIS follows on 1 September, and Alsson on 4 September. Public schools go back on 24 September. Enjoy the relatively smooth morning commute while it lasts, folks…
---
WATCH THIS SPACE- First ADQ. Then PIF. Now QIA? The alphabet soup of Gulf sovereign wealth funds eyeing investment in Egypt is about to get longer if a report in Al Borsa late last night pans out. Citing people it says have knowledge of the matter, the newspaper claims that the Qatar Investment Authority is in talks with the Sovereign Fund of Egypt (SFE) to purchase stakes in several Egyptian companies in the fintech and renewables sector, including EGX-listed e-payment firms Fawry and e-Finance. The acquisitions could go through within a few weeks, they claimed.
The PIF isn't done… A few days after investing USD 1.3 bn in four EGX-listed firms, the Saudi Public Investment Fund (PIF) is interested in purchasing equity in Egypt Aluminum (EgyptAlum) and the new hotels company "within weeks," the newspaper says. The fund could purchase the stake in EgyptAlum through a USD 215 mn capital increase, it added. Then-Public Enterprises Minister Hisham Tawfik had said earlier this year that the state plans to sell a 25-30% stake in EGX-listed EgyptAlum to a strategic investor — and also plans to offer a stake of up to 25% in the company it will create through a merger of seven or eight state-owned hotels.
…and neither is ADQ: The Abu Dhabi-based wealth fund is apparently interested in increasing its stake in Misr Fertilizers Production Company (Mopco), the newspaper claims. ADQ acquired 20% of the state-owned fertilizers company in April and reportedly wants to buy another 10-15%, they said. This would make the company majority foreign owned, coming a few days after the PIF acquired 25% of its shares.
THE BIG STORY ABROAD-
The international press continues to feature prominently the stabbing of Booker-prize winning author Salman Rushdie at a literary event in New York state on Friday. The author is still being treated in hospital, with his agent saying he is on a ventilator, is likely to lose the use of one eye, and has sustained stab wounds to his liver. A 24-year-old man is in police custody for the attack. Rushdie has been the target of death threats — including an Iranian fatwa calling for his killing — since the 1988 publication of his book The Satanic Verses, considered disrespectful by some to Islam. The Financial Times, the New York Times, the Associated Press and the BBC have more.
The global business press are mourning the passing of former co-CEO of Deutsche Bank, Anshu Jain, who died on Friday aged 59 after a five-year battle with cancer. Jain served as co-CEO of the leading German bank between 2012 and 2015, before his contract ended after it was hit with a series of regulatory issues and fines. His most recent role was as president of US financial services firm Cantor Fitzgerald. (CNBC | Financial Times | Bloomberg | Reuters)
The Road to COP27: As the clock ticks down towards the all-important COP27 climate conference, Narrative PR is hosting a series of web talks with the organizers, leaders and policymakers shaping the agenda in Sharm El Sheikh this November. UN climate envoy and IMF executive director Mahmoud Mohieldin spoke about climate financing and Egypt's massive renewable energy potential a few weeks ago. Environment Minister Yasmine Fouad also spoke about how COP27 gives Egypt a chance to showcase its progress and move forward on partnerships in critical industries. Fouad now shares details around the themes and the physical setup of the summit, which will include a "green zone" for civil society, youth organizations and private companies exhibiting their work. Cultural events — including performances and an international fashion show — are also set to run over the course of the summit.
Breaking down the agenda: The climate summit will include a finance day dedicated to discussing innovative financing methods and how developed countries can fulfill a target to provide USD 100 bn of climate finance annually, as well as a water day to tackle the effects of climate change on water resources, Fouad said. The agenda also includes an agriculture day to discuss the issue of food security.
Watch the full interview here (runtime: 6:21).
---
CIRCLE YOUR CALENDAR-
MNHD shareholders have the final word on SODIC takeover bid: Madinet Nasr Housing and Development will hold a general assembly meeting on Tuesday, 16 August, to decide whether to allow SODIC to conduct due diligence ahead of a potential takeover.
Interest rates: The Central Bank of Egypt will meet to discuss interest rates next Thursday, 18 August.
National Dialogue: The board of trustees overseeing the National Dialogue will hold its next meeting on 27 August. On the agenda: Choosing the rapporteurs for all of the committees and subcommittees of the social, political and economic tracks, and preparing the agenda and topics of discussion for the dialogue.
The Madbouly government will on 1 September begin rolling out new measures designed to bolster the social safety net. Prime Minister Moustafa Madbouly met with ministers yesterday to lay out the timeline for implementing emergency social protection measures to support vulnerable citizens amid surging inflation, cabinet said in a statement.
What's on the table: The government is planning to add another 450k families to the Takaful and Karama program and raise the personal income tax exemption threshold to EGP 2.5k from EGP 2k, meaning hundreds of thousands of low-earning workers will not pay income taxes.
Check out our full calendar on the web for a comprehensive listing of upcoming news events, national holidays and news triggers.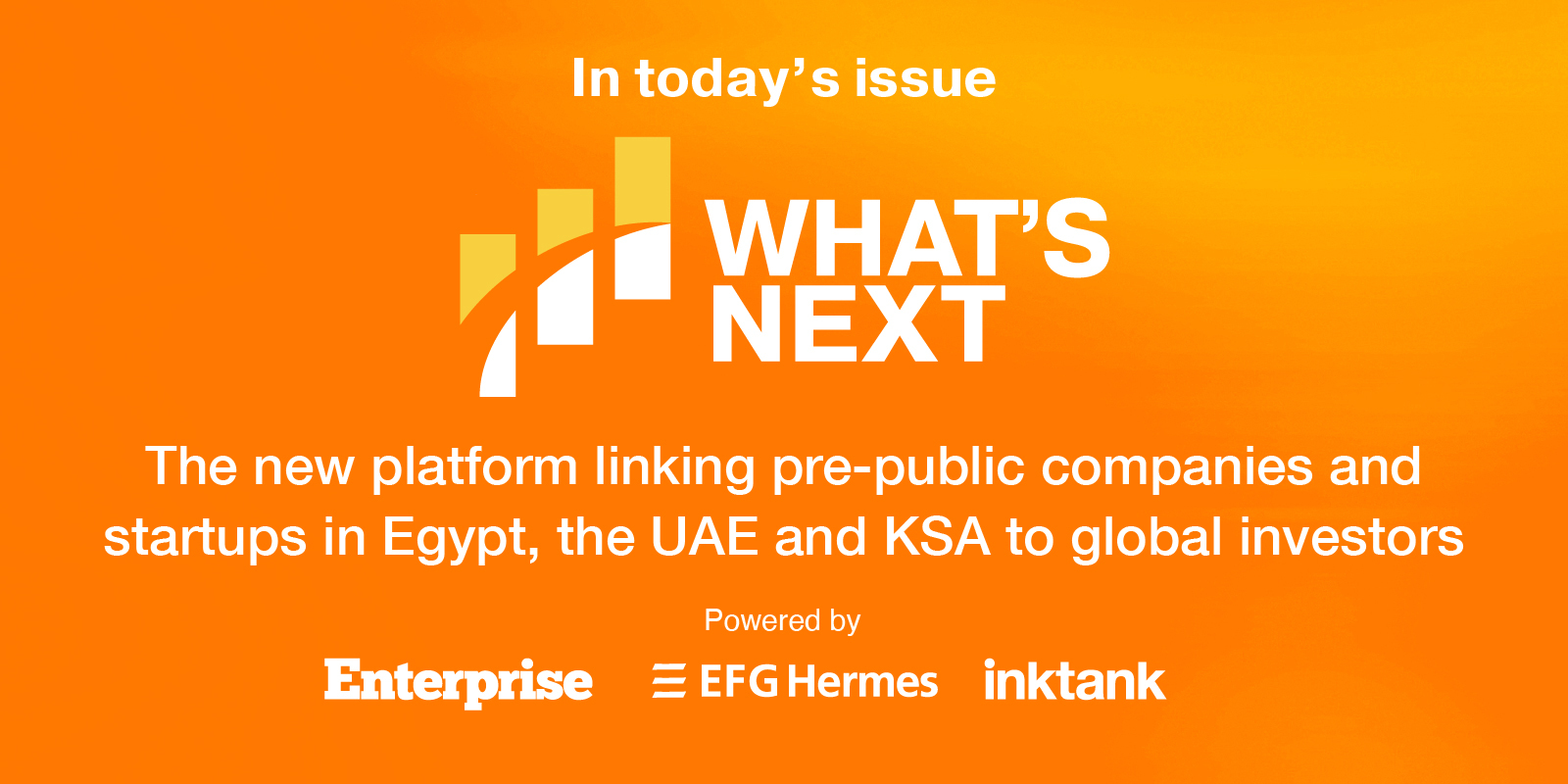 *** It's What's Next day: We have our weekly deep-dive into what makes and shapes pre-listed companies and startups in Egypt, the UAE and KSA, touching on investment trends, future sector insights and growth journeys.
In today's issue: Earlier this year, Nasdaq-listed mass transit firm Swvl announced it is expediting its timeline to hit profitability by slashing headcount, streamlining operations and cutting the proverbial fat. This change will see the firm shift its operations to focus more on its B2B services and discontinue some unprofitable B2C services. Altogether, the shift is an adjustment of the company's business model, which followed the standard ride-hailing business structure of narrow (or negative) margins that are partially offset by more profitable segments, while relying on venture capital and public equity investments to stay afloat.