Wednesday, 3 August 2022
THIS MORNING: We have a big news day ahead of us + China prepares for huge military drills in response to Pelosi Taiwan visit
Good morning, wonderful people. We have a particularly packed issue for you on this very beautiful morning — and the promise of another busy news day to come — so let's jump straight in:
WHAT'S HAPPENING TODAY-
Our friends at Chimera should find out today how much of Beltone Financial they have acquired via a mandatory tender offer. Shareholders have until today to subscribe to Chimera Investment's MTO for the financial services firm. The Abu Dhabi-based outfit has already locked in a 56% stake in Beltone after Orascom Financial last week agreed to sell its shares. Chimera is offering to pay EGP 1.485 per share for up to 90% of Beltone, valuing it at around EGP 690 mn.
It's PMI day: We'll get an idea of how the private sector fared in July when S&P Global releases its latest purchasing managers' index (PMI) shortly after we hit "send" on this morning's issue. The index fell to its lowest level in two years in June as surging inflation hit demand and output. We'll also be getting PMI figures for Saudi Arabia and the UAE at the same time as Egypt's figures drop. You can find them all here once they're released.
OPEC+ is meeting today: Will it raise production? The most we're going to get is a small increase in supply — and even that may be a long shot, according to what sources have told the business press. Most of the sources that talked to Reuters dismissed an output hike as unlikely while delegates speaking to the Wall Street Journal say the choice is between freezing production at current levels or a small increase. The meeting comes amid pressure from the US on oil producers to push down on prices which have remained above USD 100 a barrel since Russia invaded Ukraine in February.
How much more capacity is there? Saudi Arabia appears to have heeded the Biden administration's demands for more crude, and last month pumped the most since April 2020 after raising output by 180k barrels a day, according to Bloomberg. All in all, OPEC added another 270k barrels a day to global supply during the month, with the UAE and Kuwait also raising output to offset shortfalls in other countries such as Nigeria, Iran and Angola.
It's the second day of the Egypt- and UN-led regional climate roundtable in Addis Ababa, Ethiopia: The event — the first of five regional roundtables being held around the world ahead of COP27 in November — brings together African climate negotiators and global officials to discuss climate finance for three days in the Ethiopian capital. COP27 President Sameh Shoukry, Mark Carney (UN climate envoy and co-chair of the Glasgow Financial Alliance for Net Zero) and UN Deputy Secretary-General Amina Mohamed are among those in attendance.
National Dialogue board will talk about the economy: The board of trustees overseeing preparations for the National Dialogue will meet tomorrow to discuss the economic agenda.
THIS WEEK-
Egypt is set to sign an MoU later this week with a Chinese home appliances manufacturing company to build an industrial zone in Egypt with "huge investments," according to a cabinet statement out yesterday. No further details were disclosed.
Erdogan + Putin to talk Ukraine grain pact on Friday: Russian President Vladimir Putin will meet his Turkish counterpart, Recep Tayyip Erdogan, on Friday to discuss the agreement the two countries signed with Ukraine to resume grain exports from the war torn country via the Black Sea, Putin's spokesman, Dmitry Peskov, told reporters, Bloomberg reports. The meeting, which will take place in the Black Sea resort city of Sochi, will see the two leaders "synchronize watches on the subject of the effectiveness of this mechanism for exporting grain from Ukrainian ports," Peskov said.
SPEAKING OF THE WHEAT PACT- The first vessel to carry grain out of Ukraine since Russia's invasion has arrived safely in Turkey, Turkey's Defense Ministry said yesterday. The ship, carrying 26k tons of grain, had left the port of Odesa on Monday morning. A delegation from the Joint Coordination Centre (JCC) in Istanbul is expected to inspect the ship today, the ministry said.
Another vessel could be heading out of Ukrainian ports today: "We hope that there will be some more outbound movement tomorrow," UN spokesman Stephane Dujarric told reporters in New York, according to Reuters. About 27 ships are currently loaded at the three Ukrainian ports and ready to go, Dujarric said. Turkey expects one grain ship to leave Ukraine every day as long as the agreement between Ukraine and Russia holds up, a senior official told the newswire.
Remember: Ukrainian exports are still in a "trial period," with a limit of three ships a day traversing the new safe-passage corridors established as part of the country's pact with Russia and Turkey. Officials hope that exports could rise to as much as 3 mn tons a month in the next four to six weeks if all goes well.
THE BIG STORY ABROAD-
Will Pelosi's visit to Taipei provoke another Taiwan Straits Crisis? That's the question being raised across the global media this morning after the US House Speaker flew to the disputed island yesterday in defiance of Beijing, which had threatened to respond militarily to the provocation. Beijing's initial reaction to her landing was limited to banning imports from Taiwanese food brands. But the People's Liberation Army is now preparing to hold live-fire naval drills in waters surrounding the island, significantly raising tensions between the two countries and increasing the likelihood of a military confrontation. (AP | Reuters | Politico | Bloomberg | FT | WSJ | NYT | Washington Post)
MARKET WATCH-
Fed officials are trying to ward off complacency in the financial markets as the idea that the central bank is about to slow the pace of interest rate hikes takes hold. Bond yields fell and stocks surged last week after Chairman Jerome Powell said that the central bank will likely reduce the size of its rate hikes going forward, a reaction policymakers have tried to reverse this week by making clear that large increases are still on the table for future meetings. The Fed has raised rates by 150 bps since June in what is the most rapid tightening of policy since the 1990s. Officials this week warned the market that the central bank is "nowhere near" done tackling inflation and that it will need to see "very compelling evidence" that inflation is coming down before reversing course. Bloomberg and the Wall Street Journal have more.
Did the markets get the message? The response to the hawkish comments saw the USD surge 1%, yields spike, equities slip and gold futures fall.
Take all predictions with a pinch of salt: A lot can happen between now and the Fed's next meeting, which won't take place until late September. All it takes is a single inflation print to alter the direction of policy (the June meeting is a great case in point).
CIRCLE YOUR CALENDAR-
We're on the lookout for a number of key macro figures this week and next:
Foreign reserves figures for July will likely be released at the end of this week or the beginning of the next;
Inflation data for July will land on Wednesday, 10 August.
The Central Bank of Egypt will meet to discuss interest rates on Thursday, 18 August.
Check out our full calendar on the web for a comprehensive listing of upcoming news events, national holidays and news triggers.
***
WE'RE LOOKING FOR A SMART, TALENTED HEAD OF PEOPLE to help us develop and deliver a comprehensive people strategy to help grow Enterprise and our sister company, Inktank Communications. Attracting and retaining top talent is the lifeblood of our business — are you the right person to help us do it?
WHO YOU ARE- Our Head of People is responsible for aligning HR practices with business objectives and works alongside some very smart people, including our C-level and leadership teams, to design and develop HR strategies and monitor their effectiveness. Candidates should have at least 10 years of experience in human resources, with extensive knowledge of key HR disciplines including performance and talent. We are looking for someone who isn't afraid to challenge, innovate, experiment, and move at a fast pace — not to mention creating some very cool new things to drive people engagement and improve a high-performance culture.
INTERESTED IN APPLYING? To apply for the Head of People, drop us a line at jobs@enterprisemea.com and mention "Noha" in your subject line — she's our outgoing Head of People and the first person who's going to be reading your application. Please send a solid cover letter telling us a bit about who you are and why you're a good fit for our team. We want to see your CV, but the most important thing is a cover letter that makes us want to pick up the phone and give you a call.
***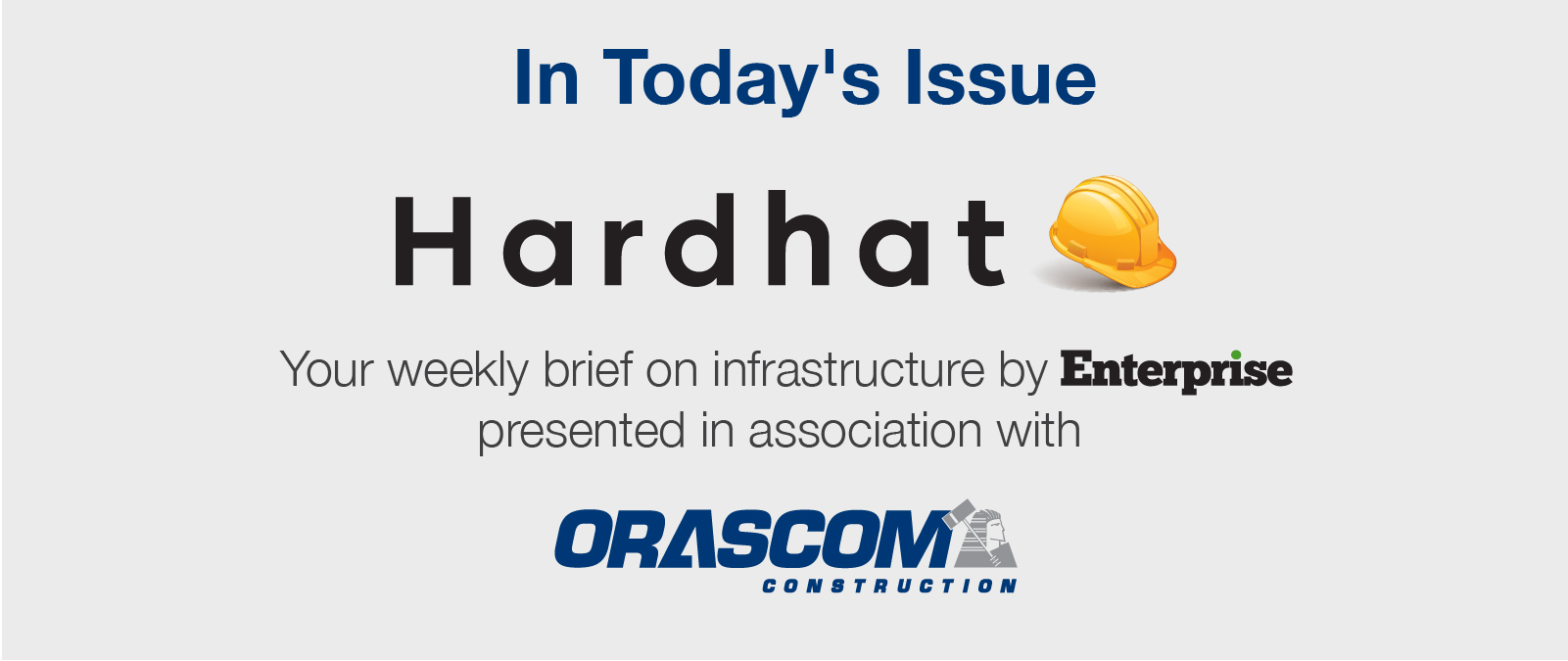 *** It's Hardhat day — your weekly briefing of all things infrastructure in Egypt: Enterprise's industry vertical focuses each Wednesday on infrastructure, covering everything from energy, water, transportation, and urban development, as well as social infrastructure such as health and education.
In today's issue: We take a look at the government's Provincial Capitals Development Project, Darah, which has been designed by the government's Urban Development Fund to generate more housing and improve the quality of services and infrastructure in often forgotten capital cities in governorates outside of Cairo. With a price tag of some EGP 120 bn in its first phase, the project is slated to bring about a certain kind of urban renewal we've seen take form in various places around Cairo in recent years, to more governorates around the country.