Wednesday, 20 July 2022
THIS MORNING: No weekday holiday for 23 July Revolution + Is a Ukraine-Russia commodity export agreement in sight?
Good morning, wonderful people. Before we get underway this morning, we have an (unfortunate) programming note:
** Enterprise's website went down late yesterday afternoon thanks to the failure of a key third-party service we use to keep our home on the web up and running. As of dispatch time this morning, the site was back up and appeared to be stable. That said, there's the risk that service may be intermittent over the next few hours as the service restores.
** We're deeply sorry for the inconvenience to both our readers and advertisers. You folks are the reasons we do this every day and the people who help us keep the lights and A/Cs on around this place.
---
PSA- No weekday holiday in observance of the 23 July Revolution: Saturday will be a national holiday in observance of the 23 July Revolution, according to a cabinet statement, with both the public and private sector taking the day off. That means the government will not be pushing the holiday to a weekday. Since 2020, Egypt has observed most mid-week holidays on Thursdays regardless of the day on which they fall and may also move those days to Sundays.
It could well be that our next (and final) holiday of 2022 is not until Thursday, 6 October given that Islamic New Year falls this year on Saturday, 31 July. Well keep you updated as we find out, everyone.
---
WATCH THIS SPACE- The gov't is prepping new measures designed to bolster the social safety net. Prime Minister Moustafa Madbouly met with ministers yesterday to discuss the implementation of emergency social protection measures announced last week to support vulnerable citizens amid surging inflation, cabinet said in a statement.
What's on the table: The government is planning to add another 450k families to the Takaful and Karama program and raise the personal income tax exemption threshold to EGP 2.5k from EGP 2k, meaning hundreds of thousands of the working poor will not pay income taxes, Madbouly announced last week. Ministers yesterday discussed the proposed eligibility criteria for inclusion in the program, cabinet said.
---
THE BIG STORIES ABROAD- There are a few stories getting the global business press talking this morning:
Netflix's 2Q earnings, which were bad but not as bad as everyone was expecting. Cue 7% share price bounce in after-hours trading yesterday. (WSJ | CNBC | Bloomberg | FT)
Twitter 1, Musk 0: A US judge handed Twitter an early legal victory over Elon Musk yesterday after she agreed to Twitter's request for a speedy trial to determine the fate of the social media platform. Twitter is suing the tech bn'aire after he abruptly walked away from his USD 44 bn acquisition bid, and wants to force him to go ahead with the purchase. (FT | Reuters | Bloomberg | WSJ)
Elsewhere: Yesterday's record temperatures in the UK is front page news everywhere (AP | Reuters | FT | WSJ | NYT), and the US broadsheets are back to covering the January 6 hearings (NYT | Washington Post)
SIGN OF THE TIMES- Cash is once again king as fund managers cut allocations to equities to the lowest level since Lehman melted down back in '08. We have chapter and verse in this morning's Planet Finance, below.
(MAYBE) GOOD NEWS FOR EGYPT?- A Russia-Ukraine wheat export agreement is close: Russia and Ukraine are approaching an agreement that will see Russia lift its months-long blockade of the Black Sea ports, releasing 22 mn tons of wheat, corn and other commodities trapped on the Black Sea coast, sources familiar with the matter told the Financial Times. Moscow has said it will not target the ships, and the countries have agreed to monitor cargoes as they travel through the Black Sea. The catch: Ukraine is not yet satisfied that Russia will not attack Odessa if it agrees to demine the area — and so reportedly isn't buying Moscow's offer.
NOT-SO-GOOD NEWS FOR US- Ukraine's farmers could sow up to a third less wheat and barley this season, the country's agriculture minister has warned.
BAD NEWS FOR EUROPE- A total shut-off of Russian gas could send several European countries into severe recessions, the IMF warned yesterday. Italy, Hungary, Slovakia and the Czech Republic would face economic contractions of as much as 6% if Europe's gas supplies were not shared while the impact on Germany and Austria would be "less severe but still significant."
Thankfully, Gazprom appears to be deciding against hitting the kill switch: The Russian energy giant will resume gas flows through the Nord Stream 1 pipeline when it finishes maintenance tomorrow, Reuters and Bloomberg reported yesterday, citing people familiar with the matter. Fears have grown in recent days that Moscow will choose to tighten the screws on the energy-starved continent and turn off the taps when the 10-day maintenance period ends. The pipeline ships more than a third of Russian gas exports to the EU, and has been running at 40% capacity in recent weeks as Russia ramps up the tit-for-tat energy war with Europe. "They [Gazprom] will return to the levels seen before July 11," one of the sources told Reuters.
CIRCLE YOUR CALENDAR-
The national dialogue board is set to meet again before the end of the month, marking its third meeting since the board convened earlier in July, dialogue general coordinator Diaa Rashwan said at a presser last night. The board refrained from setting a specific date for its upcoming meeting in efforts to give its members time to discuss the issues brought up. The third meeting will see the board decide on heads and members of the three political subcommittees it agreed on during yesterday's meeting.
IDG to host cultural festival with sustainable waste in focus at Alamein: Our friends at Industrial Development Group (IDG) are hosting a cultural festival at their eco-sustainable industrial park, e2 Alamein, on the North Coast, according to a statement (pdf). The "Locale" festival, which IDG is hosting in partnership with Art d'Egypte, will include showcase nine art installations made with recycled materials to raise "awareness around waste management and
encouraging waste prevention, reuse, and recycling behavior." The event launches this Thursday, 21 July and runs through the summer.
Calling tech startups: Universities of Canada in Egypt-based incubator DMZ Cairo has opened applications for its second eight-month incubation program for tech startups, which begins in November, according to a statement (pdf). The incubator — which is backed by the Academy of Scientific Research and Technology and the National Technological Incubators Program — is accepting applications for the cycle until 29 September.
Check out our full calendar on the web for a comprehensive listing of upcoming news events, national holidays and news triggers.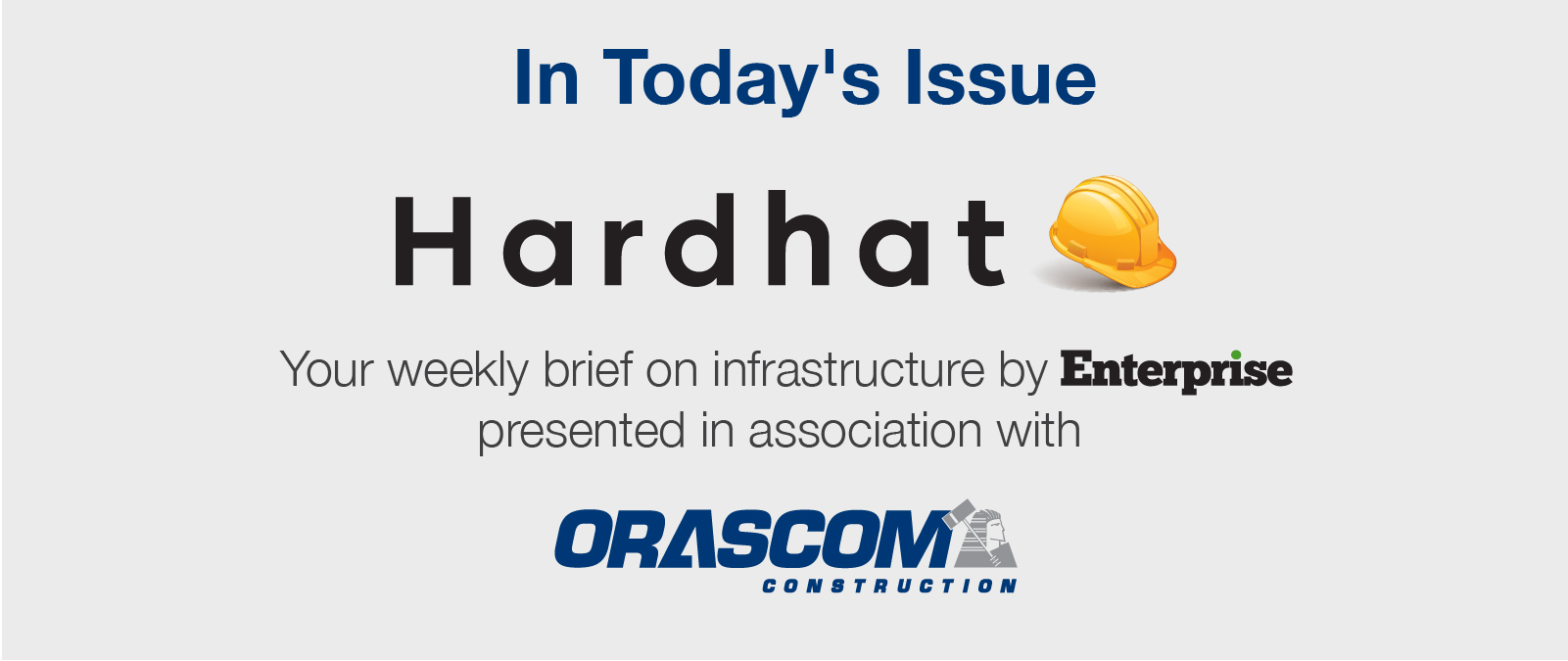 *** It's Hardhat day — your weekly briefing of all things infrastructure in Egypt: Enterprise's industry vertical focuses each Wednesday on infrastructure, covering everything from energy, water, transportation, and urban development, as well as social infrastructure such as health and education.
In today's issue: The MENA region is expected to see energy investments grow by some USD 879 bn between 2022 and 2026, according to a recent Apicorp report. That's a 9% increase from the group's projection for 2021-2025, which forecasted some USD 805 bn of investments during the five-year period.