Sunday, 26 June 2022
THIS MORNING: From our first event to the G7 summit, climate is in focus today
It's looking like another week packed with new, ladies and gentlemen, with the House of Representatives looking to get done with as much of its legislative agenda as it can before the summer recess. Meanwhile, the Madbouly cabinet is pressing ahead with its consultations on privatization.
Oh, and we got some good news today from the auto sector, which has seen a dearth of good news of late.
And it's a short week, too, as the nation takes Thursday off in observance of the 30 June Revolution. Prime Minister Moustafa Madbouly confirmed over the weekend that public and private sector workers will take the day off.
** BUT BEFORE WE GET STARTED, we're very excited to announce our first official event. Longtime readers will know we often hold lunches and breakfasts with small groups of readers. We're going much bigger later this year.
This fall, we're gathering an exclusive group of CEOs, C-suite officers, finance folks and more to talk about how we'll finance green projects in Egypt in the wake of COP27. The idea is to keep the conversation going post-COP and dive into the nitty gritty of the financing tools, laws, projects, problems and ideas that will be necessary to drive a fundamental shift in our economy.
Want to learn more? Drop us a line. Whether you're interested in attending or want to discuss how to put your brand front and center, reach out to us on climatex@enterprisemea.com.
Stay tuned for more details…
---
THE BIG STORY here at home has to be the Central Bank of Egypt (CBE) choosing to hold rates during last Thursday's crucial Monetary Policy Committee (MPC) meeting. While the decision came as a surprise to some, most of the economists we polled had predicted the move as May's inflation data was below expectations. And while the Fed had raised rates earlier this month for the first time in four years, the CBE does see inflation as being transitory. Not to mention the government emphasizing reliance on FDI over hot money in the past week. We break down what the CBE said in today's Economy section.
Competition Act debate continues this week: The House Economic Committee will meet today to discuss the contentious amendments to the Competition Act (also known as the Antitrust Act), which give greater powers to the Egyptian Competition Authority (ECA) to regulate M&As. After spending last week discussing proposed amendments to the Competition Act, officials from the central bank, the Financial Regulatory Authority (FRA), the EGX, and the Egyptian Competition Authority (ECA) had been ironing out differences of opinion on the proposed amendments (likely over jurisdictions).
Where's the beef? These have largely been settled, said Ahmed Samir, who chairs the House Economic Committee. There are some differences outstanding between the FRA and ECA and today's discussions are hoped to put these to bed, he said. Once that's done, the committee is expected to prepare its report on the amendments and debates.
WHAT'S HAPPENING TODAY-
The government is holding another round of public consultations today over the state ownership policy document — which will govern how the state plans to exit key sectors of the economy. Every Sunday and Tuesday will see workshops on how privatization plans will affect specific industries, with each Thursday reserved for workshops with the House of Representatives or the Senate, along with think tanks.
Today's sector? Electronics manufacturing, according to the cabinet's online platform for the consultations.
FOR TOMORROW-
Will President Abdel Fattah El Sisi travel to Oman tomorrow? El Sisi will hold talks with Omani officials over a two-day visit to the country that kicks off Monday, according to the state-run Oman News Agency (ONA, which cites a statement from Oman's Diwan of Royal Court.
Amcham AGM: Our friends over at Amcham will hold their annual general meeting tomorrow at the St. Regis Cairo Hotel. Finance Minister Mohamed Maait will address the gathering.
---
The Road to COP27: As the clock ticks down towards the all-important COP27 climate conference, Narrative PR is hosting a series of web talks with the organizers, leaders and policymakers shaping the agenda in Sharm El Sheikh this November.
Mohieldin talks investments versus loans: Mahmoud Mohieldin, the special envoy of the UN Secretary General, executive director at the IMF, the UN Climate Change High-Level Champion for Egypt and one of the leading figures building support for COP27's agenda, makes a second appearance in the talks to call for ramping up investments in renewable energy projects rather than relying on debt. The world needs to implement USD 4 tn-worth of renewable energy projects, which has become an easier task seeing as climate mitigation technology has seen its cost decrease 85-90% over the past decade, he added.
What we've been doing right: Egypt has a huge potential for renewable energy projects and has signed several MoUs with international companies in the past period, he said. He also pointed out the importance of implementing other climate mitigation initiatives such as recycling and industrial optimization to reduce emissions. Separately, Mohieldin also gave a shout out to the Decent Life initiative which is now incorporating climate mitigation projects as part of its multi-year infrastructure investment plan designed to develop the country's rural areas.
You can watch his segment here (watch, runtime: 07:51).
Speaking of COP27 and financing, African nations are worried the climate commitments could actually hinder development, as concerns over carbon emissions take precedent over developing countries' growth using traditional energy sources, several leaders said at the African Energy Forum in Brussels on Thursday, Reuters reported. "At COP27, we are expecting the G7 and all developed countries to consider in the energy transition letting African countries develop gas which finances electricity for our citizens and helps industrialize our countries," said Senegalese Vice Petroleum Minister Cheikh Niane. COP26 in Glasgow failed to deliver financial support to developing countries to mitigate and adapt to the effects of climate change.
COP 27 will focus on agreements to finance fuel and power projects, especially climate-friendly ones like ramping up green ammonia for shipping in the Suez Canal, said Ayman Soliman, CEO of the Sovereign Fund of Egypt. "We want to do projects and to unlock financing … we've been trying to speak the language of the rest of the world but now the world needs to look at us and speak our language."
---
THE BIG STORY ABROAD continues to be the US Supreme Court's landmark ruling on Friday that overturned Roe v. Wade, removing women in the country's constitutional right to abortion and paving the way for states to enact abortion bans. Demonstrators have flocked to the court to protest the ruling. Abortion now already is or is soon to become illegal in at least 16 US states. The story is getting ink everywhere: Reuters | AP| NPR | New York TImes | Washington Post.
MARKET WATCH-
More signs that the EU's rift with Russia is imperiling Europe's green transition: Germany will propose a delay at the G7 summit kicking off today to a prior commitment to stop financing overseas fossil fuel projects by the end of 2022, Bloomberg reports, citing people it says are familiar with the issue. Per a draft text seen by Bloomberg, Germany wants to push the group of wealthy nations to "acknowledge that publicly supported investment in the gas sector is necessary as a temporary response to the current energy crisis." Germany is among the nations with most to lose if Moscow withdraws its gas supply to Europe, which sources some 40% of its gas from Russia. The G7 summit runs from today until Tuesday in Bavaria.
CIRCLE YOUR CALENDAR-
Key stats from OPEC drop Tuesday: The oil cartel will release its annual statistical bulletin on Tuesday, 28 June, the organization announced in a press release. The flagship publication provides data on the global hydrocarbons industry, with a focus on the 13 OPEC member countries. Market watchers will be paying close attention to the figures this year, given rising energy prices brought on by a major supply-demand imbalance, the ongoing energy crisis in Europe, and ever-louder calls to transition away from polluting fossil fuels.
The deadline for companies to submit bids for the redevelopment of the National Democratic Party headquarters is this Thursday, 30 June.
The government's fuel pricing committee will likely meet to review fuel prices as part of its quarterly review sometime next week.
The national dialogue to set Egypt's political and economic roadmap will also kick off next week. President Abdel Fattah El Sisi had called for the dialogue in April. Check out our explainer on the dialogue, its agenda, participants, and targeted outcomes here.
Check out our full calendar on the web for a comprehensive listing of upcoming news events, national holidays and news triggers.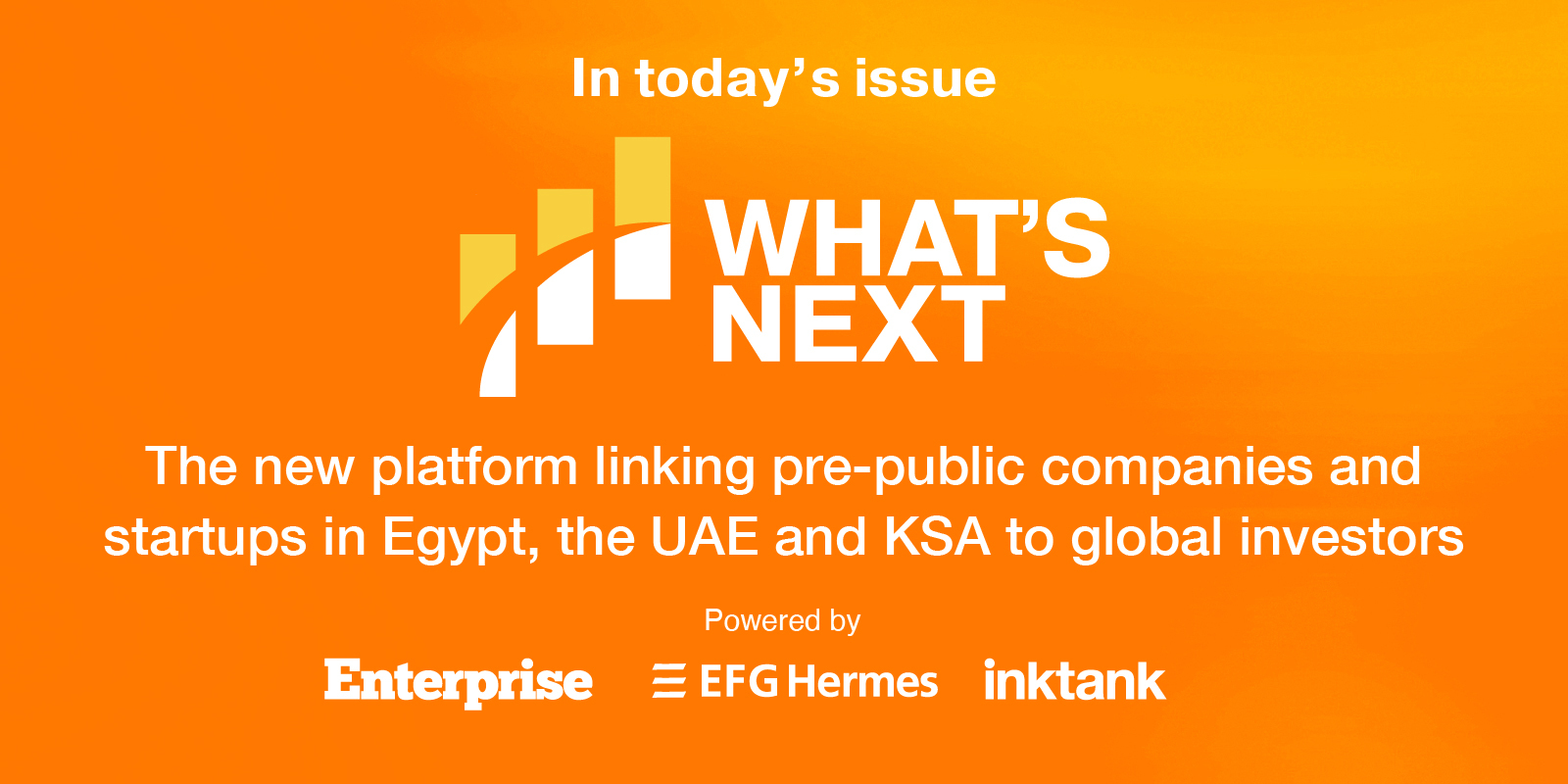 *** It's What's Next day: We have our weekly deep-dive into what makes and shapes pre-listed companies and startups in Egypt, the UAE and KSA, touching on investment trends, future sector insights and growth journeys.
In today's issue: 2021 was a bumper year for fintech funding in Egypt, with total investments in the sector more than quadrupling to USD 159 mn from 2020. Now, CBE-backed initiative Fintech Egypt released its Fintech Investment-Focused Landscape Review, which looks at what went down in the first half of this year.
***
WE'RE LOOKING FOR SMART, TALENTED PEOPLE to help us build some very cool new things. Today, we run two daily publications, five weekly industry verticals, and a monthly newsletter designed to make our readers feel just a bit smarter.
We have tons more in the pipeline — come help us build new publications. We offer the chance to work in a fast-paced newsroom on a broad range of topics and in a variety of formats. Our goal is simple: To create value for our growing community of >199k readers by telling stories that matter.
We're looking for editors who want to run publications and teams, editors to help reporters craft stories and talented reporters. Egyptian and foreign nationals alike are welcome to apply. So are job-switchers: If you're an equities analyst tired of the rat race, we're a great place to come work.
Apply directly to jobs@enterprisemea.com and mention Patrick in your subject line.
Or hit this link for more information. It's worth it — trust us.
***