Monday, 6 June 2022
THIS MORNING: FAB isn' t looking to buy Banque Misr or United Bank
Good morning, friends. We hope your week is off to a great start.
THE BIG STORY here at home: Our latest PMI reading shows that the non-oil economy contracted for the eighteenth consecutive month in May on the back of global inflationary pressures — which could also put a pin in the state's IPO plans.
But there's plenty to be optimistic about, too: Plans to sell stakes in state-owned firms to strategic investors haven't yet been scuppered by global headwinds, SFE boss Ayman Soliman says. A new company that will control a smattering of state-owned hotel assets could be up first and is attracting interest from the Saudi sovereign wealth fund and its Gulf neighbors.
And that's not all for fresh investment news: We have more details on what the government had to say about the private sector's role in greening the economy at last weekend's Islamic Development Bank meetings in Sharm El Sheikh, and more on the USD 10 bn industrial partnership between the UAE, Jordan and us.
Meanwhile in M&A, a former Beltone exec looks to be making a play for his former employer, backed by an undisclosed roster of investors.
FOR THE RECORD- First Abu Dhabi Bank (FAB) isn't looking to acquire a stake in Banque Misr or United Bank, FAB Egypt CEO Mohamed Abbas Fayed told CNBC Arabia in an interview (watch, runtime: 7:20). Any reports on ongoing acquisition talks between FAB and the banks are unfounded, he said, adding that any potential new M&A would be officially declared through the proper channels. FAB recently called off its bid for a majority stake in frontier emerging markets financial services powerhouse EFG Hermes, citing challenging global market conditions.
WHAT'S HAPPENING TODAY-
It's the second day of Africa Health ExCon at Al Manara International Conference Center, Egypt International Exhibitions Center, and the St. Regis Almasa Hotel in the new administrative capital. The event wraps tomorrow.
There's no one BIG STORY ABROAD dominating the front webpages of the global business press this morning. That said, many are focused on the oil markets — which have once again spiked to pass the USD 120-per-barrel mark after Saudi Arabia hiked the price of its key crude to Asian markets as covid lockdowns in China recede. Saudi Aramco will in July sell a barrel of its Arab Light crude to Asia for USD 2.10 more than in June, Bloomberg reports – USD 6.50 above its benchmark, and a much bigger hike than the USD 1.50 increase analysts were expecting.
MEANWHILE- France is looking to our Emirati friends to plug the oil and diesel gap as the EU turns away from Russian fossil fuels, Bloomberg writes. And we have more on all the latest in the oil and gas markets in today's Planet Finance section, below.
CIRCLE YOUR CALENDAR-
NEWS TRIGGERS you'll want to keep an eye on as the new month gets underway:
Foreign reserves figures for May should be announced sometime this week;
Inflation figures for May are due out on Saturday, 9 June (from state statistics agency Capmas) and Sunday, 12 June (central bank figures);
The Central Bank of Egypt holds its policy meeting on Thursday, 23 June.
Technology conference Tech Invest 4 will take place on Tuesday, 7 June at the Grand Nile Hotel in Cairo.
LATER THIS MONTH- The Aswan Forum for Sustainable Peace and Development is scheduled (pdf) for Tuesday and Wednesday, 21-22 June under the theme "Africa in an Era of Cascading Risks and Climate Vulnerability: Pathways for a Peaceful, Resilient and Sustainable Continent." You can register for the event here.
Check out our full calendar on the web for a comprehensive listing of upcoming news events, national holidays and news triggers.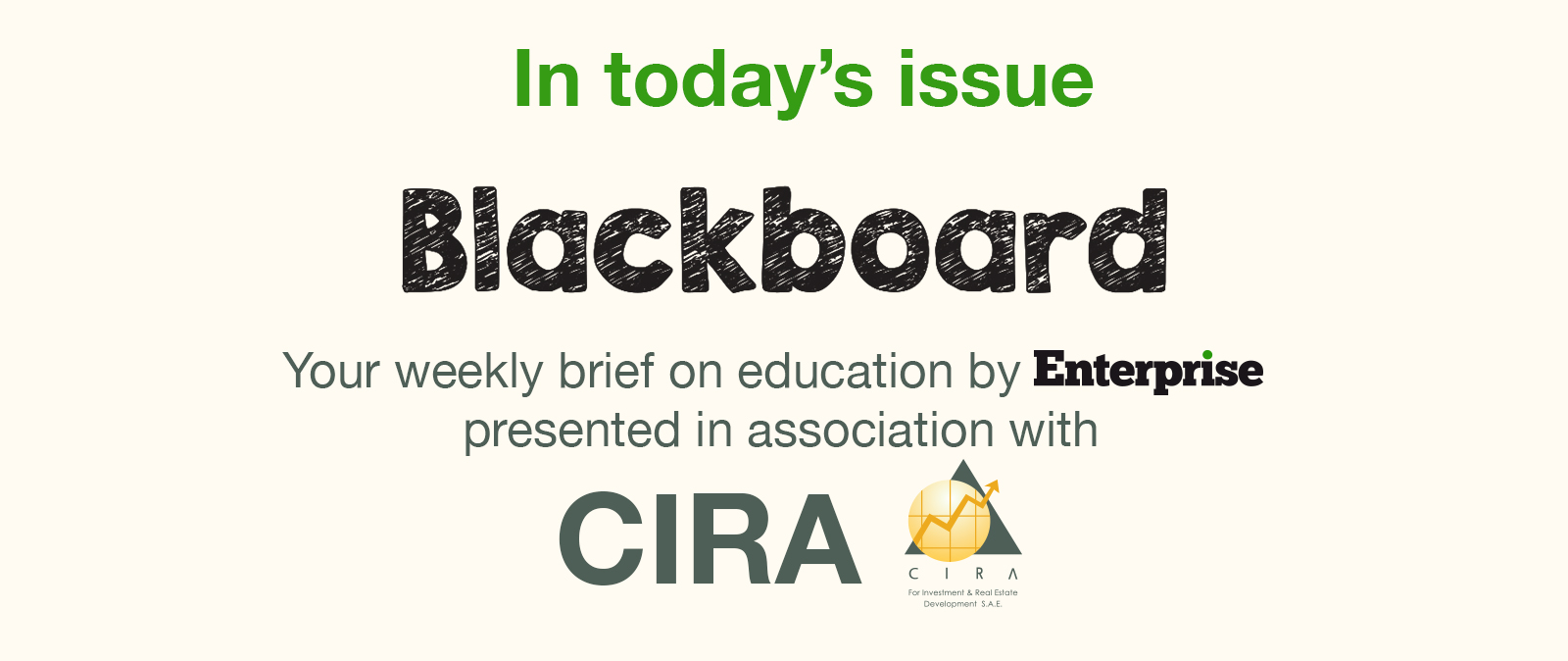 *** It's Blackboard day: We have our weekly look at the business of education in Egypt, from pre-K through the highest reaches of higher ed. Blackboard appears every Monday in Enterprise in the place of our traditional industry news roundups.
In today's issue: Education stocks slipped during the first quarter of the year, defying the traditional wisdom that the sector is resilient in the face of external shocks. Despite previously proving its defensive mettle during the height of the covid-19 pandemic, EGX-listed education service providers all saw their share prices fall in the first three months of 2022, underperforming the benchmark EGX30.