Wednesday, 25 May 2022
THIS MORNING: The US is reportedly mediating an agreement over Tiran + Sanafir; Rania Al Mashat + Ghada Waly speak at Davos today
Good morning, friends. We're past hump day, but there's lots of work in sight before we can declare victory and slide into the weekend.
SIGN OF THE TIMES #1- The EGP has eased almost 2% against the greenback over the past two days. The USD was changing hands at EGP 18.55 yesterday, down from EGP 18.30 on Sunday.
SIGN OF THE TIMES #2- CIB has launched two new high-interest certificates of deposit: A three-year certificate at a 13.5% rate, and a four-year 14.0% certificate. The minimum deposit is EGP 100k.
WHAT'S HAPPENING TODAY-
It's Day #3 at Davos: The third day of the World Economic Forum (WEF) in Davos will see more discussions on the current geopolitical uncertainty, the future of globalization, poverty reduction and climate change.
Representing Egypt: International Cooperation Minister Rania Al Mashat will join two panel discussions on how globalization can survive the current global crises (13:00 CLT) and efforts to cure infectious diseases (17:30 CLT). Former social solidarity minister and current executive director of the US Office on Drugs and Crime Ghada Waly will discuss internet safety in a session in the afternoon (13:15 CLT).
Defense Minister Mohamed Zaki is in the Democratic Republic of Congo (DRC) today to hold talks on strengthening military ties, the Armed Forces said in a statement yesterday.
---
LISTEN TO OUR PODCAST ON WHAT AI CAN MEAN FOR YOUR BUSINESS. Last month, we explored how the government has made artificial intelligence a national priority. We spoke with the former ICT Ministry's advisor for AI Sally Radwan about the government's national AI strategy and how it is being implemented (Part 1 | Part 2).
In another of our podcast roundtables, we sat down with the companies building AI systems in Egypt to get a bird's eye view on what's happening in the sector: Who's adopting it, how they're going about it, and what challenges they're facing.
You can catch the episode on our website here (listen, runtime: 44:01), or tune in via Apple Podcasts | Anghami | Google Podcasts | Spotify). Or you can read edited excerpts of our conversation here.
MARKET WATCH-
Saudi Arabia has no intention of pumping more oil and bringing down prices: That was the main message delivered by the kingdom's Foreign Minister Prince Faisal bin Farhan, who told the World Economic Forum (WEF) yesterday that it had done "what it can" to calm volatility in the oil markets, Bloomberg reports. "As far as we are aware there is no shortfall of oil," he said. "It's much more complex than just bringing barrels to the market … Our assessment is that actually oil supply right now is relatively in balance."
The US, UK and other countries have pleaded with Riyadh in recent weeks to up its supply and bring down prices, which have remained above USD 100 a barrel since late February when Russia invaded Ukraine.
When will stocks bottom out? Not before the Federal Reserve eases its tightening cycle, Goldman Sachs says in a note cited by Bloomberg. The Fed isn't likely to loosen its grip and switch to monetary easing until the US economy enters a recession, the bank adds. "Monetary policy has historically stopped tightening about three months before equities bottom, and shifted to easing about two months afterwards," Goldman Sachs strategist Vicky Chang wrote. The value of equities has been slipping since the Fed halted its stimulus and began tightening monetary policy in a bid to curb inflation, raising interest rates by an aggressive 50 basis points earlier this month. Major US indices have either entered a bear market (like the Nasdaq) or are teetering on the brink of one.
MORNING MUST READ-
Is the US mediating an agreement between Egypt, the KSA and Israel that could pave the war for normalization of Saudi-Israeli relations? That's according to Axios, which cites five US and Israeli officials with knowledge of the matter. According to the report, the Biden administration is working with the countries to finalize the transfer of Tiran and Sanafir islands from Egypt to Saudi Arabia, a move that it believes could open the door to warming ties between Riyadh and Tel Aviv. The US hopes to finalize the agreement ahead of the US president's upcoming trip to Israel ⁠— and possibly Saudi ⁠— in June, sources say.
REMEMBER- Egypt agreed to hand over control of the two Red Sea islands to Riyadh back in 2017, but a final agreement has remained elusive in the years since as the two countries wait on Israel's sign-off. Tel Aviv has a say in what happens with the islands under the terms of the 1979 peace treaty, in which Egypt pledged to guarantee Israeli ships access to the Tiran Straits.
THE BIG STORY ABROAD- Yet another mass shooting is dominating the front pages in the US this morning. Nineteen children and two adults were murdered yesterday when an 18-year-old gunman opened fire in a Texas elementary school. (AP | Reuters | NYT | Washington Post | WSJ)
CIRCLE YOUR CALENDAR-
The Madbouly government will hold public consultations on its privatization plans over three months, according to a cabinet statement out yesterday. "We as a government are ready to hear all opinions and approaches because our objective is the interest of the country and the advancement of the economy," PM Moustafa Madbouly said at a Cabinet meeting.
We got our first look at its policy document last week: The government intends to fully withdraw from as many as 79 industries over the next three years as part of plans to restructure the economy in favor of the private sector, according to a draft copy of its state ownership policy document obtained by the local press last week. The final version of the document is expected to be published before the end of this month.
The Fin Expo Egypt is kicking off tomorrow and will run until Thursday at the Intercontinental Citystars. The expo will feature over 25 companies exhibiting their fintech products and services with 3k visitors expected.
El Gouna International Squash Open 2022 will kick off on Friday and run until the following Friday, 3 June. The competition will feature some of Egypt's top seeds including world #1 Nouran Gohar and world #2 Ali Farag (who just earned the PSA squash championship cup). The prize pool for each of the men's and women's competitions is USD 180k.
Check out our full calendar on the web for a comprehensive listing of upcoming news events, national holidays and news triggers.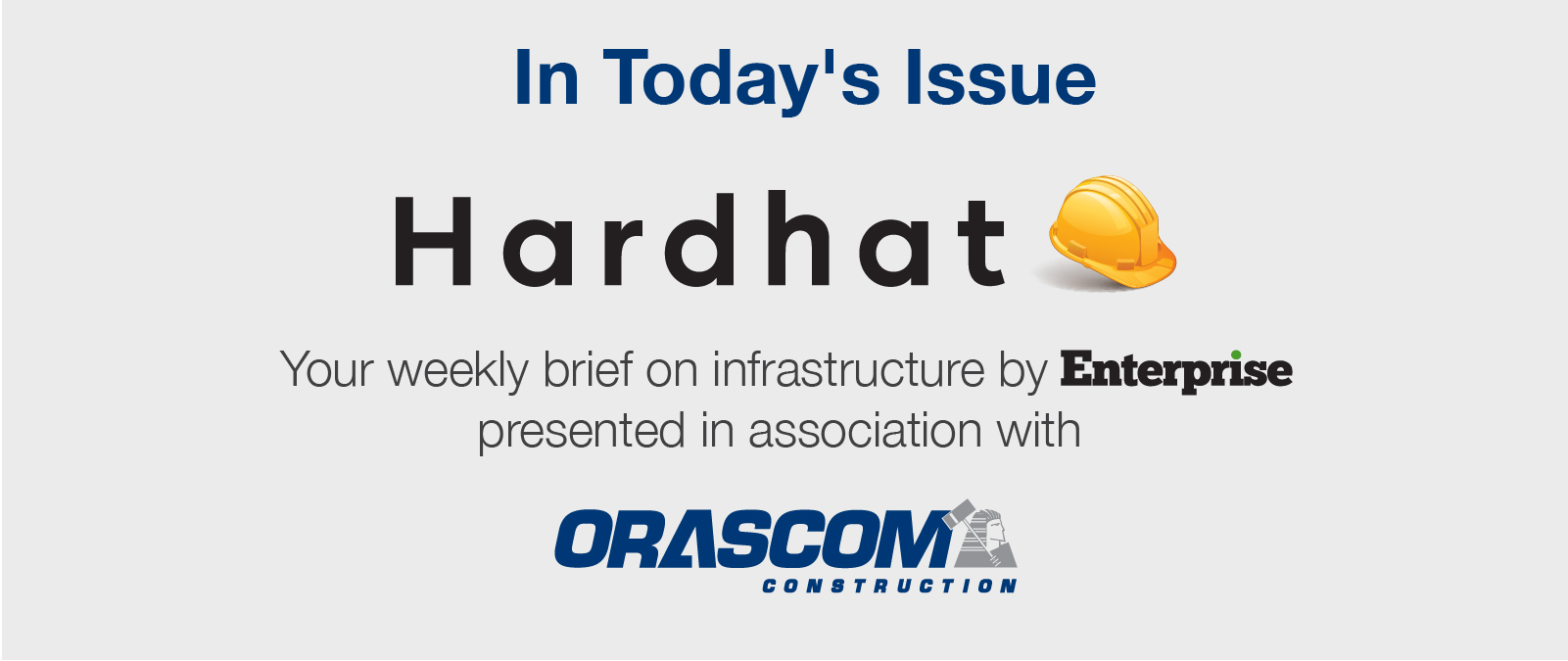 *** It's Hardhat day — your weekly briefing of all things infrastructure in Egypt: Enterprise's industry vertical focuses each Wednesday on infrastructure, covering everything from energy, water, transportation, and urban development, as well as social infrastructure such as health and education.
In today's issue: We continue our coverage of the USAID Alternative Finance conference with one of the liveliest and engaging panel discussions we've seen in a while. This time, the focus was squarely on Egypt's PPP framework, with the various stakeholders defining their roles in the framework and what they would like to see the other party do more of.