Sunday, 15 May 2022
THIS MORNING: It's interest rate week; UAE President and Abu Dhabi ruler Sheikh Khalifa bin Zayed Al Nahyan dies, 73; Global stocks on worst run since '08
Good morning, friends, and welcome to what is shaping up to be an exceptionally busy week. But first:
UAE President and Abu Dhabi ruler Sheikh Khalifa bin Zayed Al Nahyan died this weekend at age 73, after nearly two decades leading his country. Abu Dhabi Crown Prince Sheikh Mohammed bin Zayed Al Nahyan was elected yesterday as the country's third president. The story was everywhere over the weekend, including: BBC | The Guardian | CNN | Bloomberg | NPR.
President Abdel Fattah El Sisi headed to the UAE yesterday to offer his condolences to MBZ, according to an Ittihadiya statement. Egypt has declared a three-day mourning period for Sheikh Khalifa starting Friday. Our condolences to all of our readers in the Emirates.
---
WHAT'S HAPPENING TODAY-
The PM could deliver a major policy announcement as early as today: Prime Minister Moustafa Madbouly is set to announce new measures to increase private investment and tackle the economic crisis caused by the war in Ukraine this week. A cabinet statement said last week that the prime minister would give a press conference "early" this week to unveil his government's plans, which are expected to include new incentives for attracting foreign direct investment and increasing the role of the private sector in the economy. The announcement was initially expected early last week.
A huge US "GreenTech business mission" arrives in Cairo today: More than 40 US companies arrive for three days of meetings today to kick the tires on green investment and potential business partnerships in sectors ranging from energy to healthcare, agriculture, aviation, construction and water resource management. The high-level delegation will meet with members of the business community and senior government officials, including Prime Minister Moustafa Madbouly and other members of cabinet. The mission is being organized by AmCham and the US Chamber of Commerce.
Senior reps of US financial institutions will hold a special briefing on financing tools for green projects in Egypt available from US agencies. The briefing takes place tomorrow at the Nile Ritz-Carlton and is open to both members and non-members of AmCham provided you have registered here.
ALSO IN TOWN THIS WEEK: Saudi Crown Prince Mohamed bin Salman, according to an unconfirmed report on the talk shows last week.
IT'S INTEREST RATE WEEK- Expect the Central Bank of Egypt (CBE) to raise rates by up to 200 bps when the Monetary Policy Committee meets on Thursday.
Six of seven analysts and economists featured in our customary poll expect policymakers to hike rates in response to rising inflation and volatility in emerging-market assets, with five telling us that the central bank could raise them by up to 200 bps. The survey came in the wake of fresh inflation figures that showed consumer prices accelerated beyond expectations in April, hitting a near-three-year high of 13.1%.
---
EGP WATCH- The EGP continued to strengthen against the greenback on Thursday, jumping to USD 18.38 to the greenback from EGP 18.44 on Wednesday, according to central bank data. The EGP gained almost 1% on the USD in the last two days of the week, after having slipped 17.5% since the devaluation of the currency in the middle of March.
What's driving the moves? Recent announcements on remittances, higher Suez Canal revenues, and a lower trading of the USD could be responsible for recent gains, economist Hany Genena told Kelma Akhira's Lamees El Hadidi last night (watch, runtime: 8:23). Speculation that the government may be nearing a new financing agreement with the IMF could also be helping the currency, he said, suggesting that this could have given the banks "courage" to provide further access to FX to the public.
---
ALSO COMING UP- Egypt will sign contracts for the second and third phases of our high-speed railway with Siemens by the end of May, Transport Minister Kamel El Wazir said yesterday. The German conglomerate signed a USD 4.5 bn contract with the government last September for the first phase of the line, which will run 660 km between Ain Sokhna and Marsa Matrouh. The later phases will link Cairo, Aswan, the North Coast and the Red Sea running 1.8k km across the country.
COVID WATCH- Egypt saw an average of five new covid cases per day last week, down from eight a week earlier, according to Health Ministry figures released yesterday. Egypt also saw daily average fatalities fall to three, down from four the week before. Around 34.7 mn people are now fully vaccinated and almost 2.9 mn have received their booster shots, according to the statement.
MORNING MUST-READ- Mahmoud Mohieldin is ringing the alarm on climate change — very, very loudly. In his role as the high-level UN climate change champion, Mohieldin and colleague Nigel Topping are out with a short, hard-hitting op-ed that calls for clear action on four points:
New finance to help emerging markets adapt to (and mitigate) climate change;
Less reliance on debt to make those investments;
Expansion of ins. coverage, "the absence of which makes climate impacts more expensive for the most vulnerable countries";
"Projectising everything" to turn climate commitments into real action.
READ- We are at a crossroads: This is a moment of massive decision and consequence, whether we choose to see that or not.
THE BIG STORY ABROAD-
The global business press is losing its mind over the crypto apocalypse with the Wall Street Journal running with a long take headlined How more than USD 1 tn of crypto vanished in just six months. The FT, meanwhile, asks in The week that shook crypto whether "The failure of a once-hyped stablecoin has sparked serious questions over the functioning of the entire crypto market."
When the tide goes out, it's clear who wasn't wearing a swimsuit, ladies and gents.
A mass shooting in Buffalo, New York, is all over the front pages this morning. Ten people lost their lives in the attack, which the police have said may have been racially-motivated. Everyone from the AP and Reuters to the New York Times and the Washington Post has the news.
A plot twist in the Musk-Twitter saga: Elon Musk announced that his USD 44 bn Twitter takeover is "on hold" in a tweet on Friday, saying that he is waiting for the company to clarify the volume of fake accounts on the platform. Twitter shares plunged as much as 25% in pre-market trading on the tweet before paring losses after Musk clarified that he is "still committed" to the acquisition, Bloomberg reports. Shares closed down 9.7% at USD 40.72 on Friday, well below Musk's USD 54.20 per share offer.
Is the guy in Ankara trying to play spoiler on Finland and Sweden joining NATO? Hot on the heels of Finland suggesting it will apply to join the military alliance "in days," Turkish President Recep Tayyip Erdogan said his government is "not favorable" to Finland and Sweden joining NATO due to alleged past support for Kurdish militants, the Associated Press reported. Joining NATO requires unanimous approval by existing members.
MARKET WATCH-
Global stocks are now on their longest losing streak since the 2008 financial crisis after falling for the sixth consecutive week amid more concerns over inflation, a potential US recession triggered by tightening policy, covid-19 lockdowns in China, and the Russia-Ukraine war, the Financial Times reports. The FTSE All-World index fell another 2.2% last week, equalling the six-week losing streak that coincided with the mortgage crisis that came close to collapsing the US financial system in 2008.
It was mostly downhill on the EGX, which despite seeing slight gains on Sunday and Wednesday, lost 3.3% during the week. The benchmark EGX30 index fell 1.6% during trading on Thursday, leaving it down 10.6% year-to-date.
Things were no better stateside: US shares also recorded their sixth-straight week of losses despite a relief rally on Friday that was unable to recover losses suffered during a sharp sell-off earlier in the week. The S&P 500 index fell 2.4% last week — narrowly avoiding falling into a bear market — and the tech-heavy Nasdaq (already in bear territory) slid a further 2.8%.
From the department of FFS: "There is only one way out of this inflationary period we are currently experiencing — and that is a slowdown in economic activity," one portfolio manager told the FT.
SIGNS OF THE TIMES-
The infant formula shortage in Egypt has nothing to do with a parallel shortage making headlines in the United States. Egyptian parents are grappling with a shortage of baby formula and a concurrent 15-20% price hike, Ala'a Masouleety's Ahmed Moussa (watch, runtime: 4:26) said last night. Pharmacists Moussa interviewed said the shortage is due to the segment's reliance on imports.
SOUND SMART- The US shortage is a case study of what happens when localization groes wrong, Wall Street Journal writes. High import tariffs and exclusive government contracts to supply formula to welfare programs have limited the US baby formula market to a handful of major domestic players. That means that when local manufacturer Abbott — which accounts for more than 40% of the US formula market — was forced to make recalls and shut down a plant over a health and safety scare, it triggered nationwide shortages.
MEANWHILE- The cooking oil crunch continues: Axios breaks down what the global shortage of cooking oils means for countries from the UK to India after the war in Ukraine coupled with Indonesia's palm oil export ban threw global supply chains into turmoil.
"Does anyone have an iPhone charger?" That plaintive refrain of iSheep everywhere could go the way of the dinosaurs, as Apple tests iPhones that ditch the current Lightning port for the industry-standard USB-C, Bloomberg reports, citing sources it says are in the know.
CIRCLE YOUR CALENDAR-
Need to get your head around the new e-receipt system? Lynx Strategic Business Advisors are following up their recent webinar on e-invoicing with a session introducing the Finance Ministry's new e-receipt system, which is set to officially roll out on 1 July. The webinar will feature FinMin tax development advisor Yasser Taymour, as well as reps from Talabat, Jumia, Yoco, and the World Bank. It takes place on 18 May at 12:00-1:30pm CLT. Register here.
Check out our full calendar on the web for a comprehensive listing of upcoming news events, national holidays and news triggers.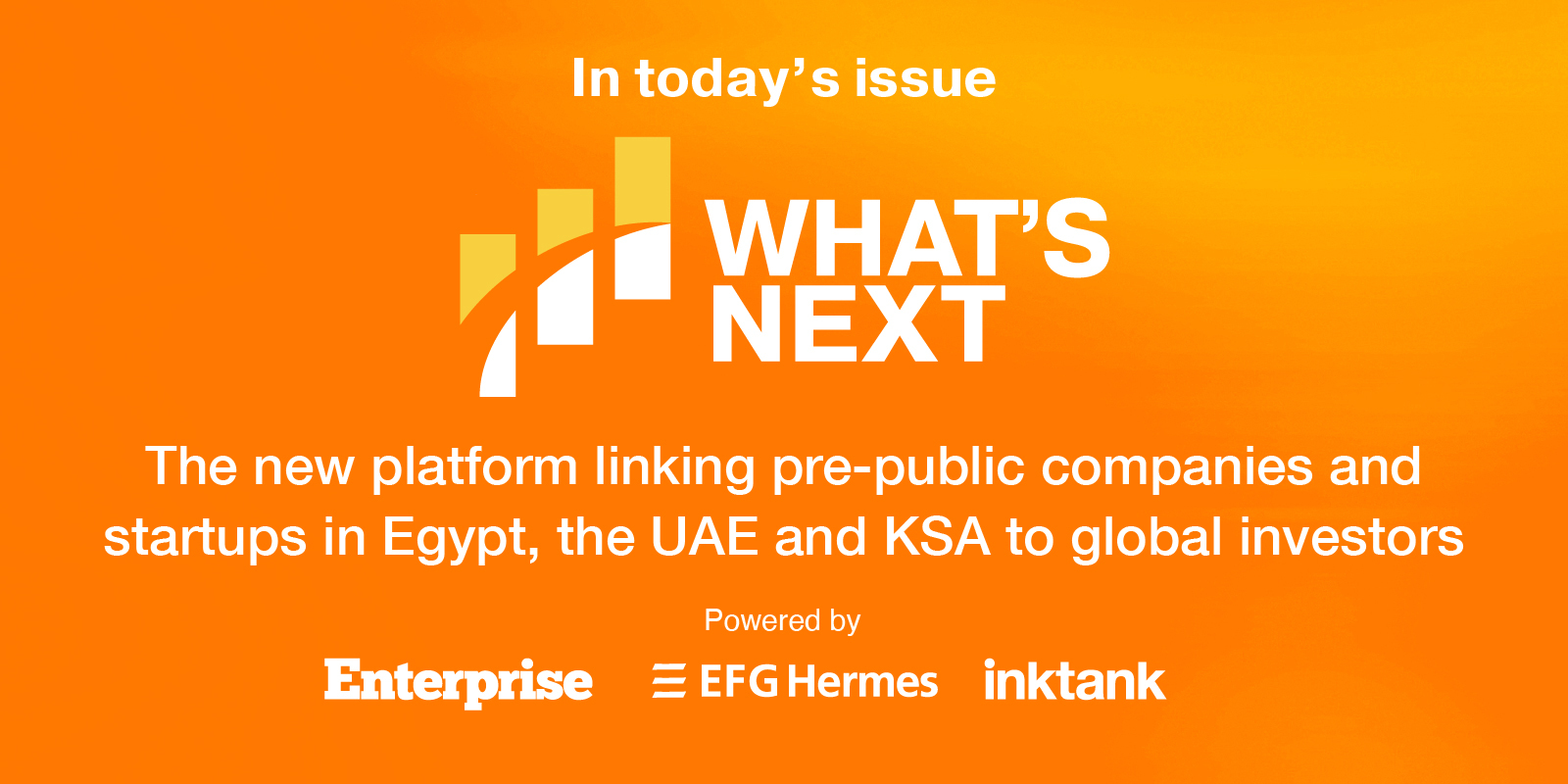 *** It's What's Next day: We have our weekly deep-dive into what makes and shapes pre-listed companies and startups in Egypt, the UAE and KSA, touching on investment trends, future sector insights and growth journeys.
In today's issue: Leading local VCs tell us what they think of the in-the-works regulatory changes designed to lure venture capital to directly invest in the country. All in all, the sentiment is positive: the new rules could help attract FDI into the country and encourage local startup owners to incorporate their businesses at home instead of going abroad. Yet implementation is a concern, with some voicing skepticism about whether the kind of transformational change targeted by policymakers is feasible.