Monday, 9 May 2022
THIS MORNING: A big economic announcement from Madbouly today? Also: Foreign reserves were largely stable month-on-month in March
Good morning, everyone, and welcome to a news day that is all about what the fallout from Vladimir Putin's war in Ukraine means to us. The Madbouly government is expected to hold a presser today on how it is facing down the economic impact of the war. This comes as inflation continued to damen business activity in April and as the government works overtime to source key commodities including wheat.
We have coverage of all of this and more in this morning's news well and our roundup of Last Night's Talkshows, below.
PSA- It's going to be hot today. Look for the mercury to hit about 35°C today in the capital city and 28°C in Alexandria.
WHAT'S HAPPENING TODAY-
Can we expect a major policy announcement from the PM today? Cabinet told us yesterday to expect a press conference from Prime Minister Moustafa Madbouly at the beginning of this week to announce new details of the state's response to the economic turmoil caused by Russia's war in Ukraine.
Infrastructure, energy, health, education and the digital transformation top the list of sectors to which cabinet wants to attract fresh foreign and domestic investment through what it called "urgent measures." The PM signaled last month that the government would announce a strategy to privatize state-owned firms and boost private-sector participation in the economy after Eid.
The Sisi administration has put privatization front and center of its policy agenda in recent days. In a pre-Eid address, President Abdel Fattah El Sisi said his administration will use privatization to unlock USD 40 bn in fresh investment from the private sector over the next four years, and urged the government to IPO several military-owned firms on the EGX before the end of the year. On Saturday, Public Enterprises Minister Hisham Tawfik said that the government will resume its privatization program in September. The government originally aimed to sell shares in up to 10 companies this year before the war in Ukraine upended global markets.
All of this comes as we remain in talks with the IMF for a new assistance package. Removing barriers to private-sector involvement in the economy has been one of the IMF's key concerns during previous loan talks. Further reforms designed to make life easier for the private sector are key as the government pushes for a third program in six years.
ALSO- We have more PMIs landing this morning, with figures for Saudi Arabia and the UAE out by 6:15am CLT (you can find the reports here). Data from Qatar will be published tomorrow.
SMART POLICY- The FRA is going to be working an extra hour each day. The Financial Regulatory Authority (FRA) is officially operating nine hours a day as of yesterday in what it says is a bid to life easier for non-banking financial services companies. The FRA's workday will now end at 5pm CLT. (Statement)
FOR TOMORROW-
Inflation figures for April are due out tomorrow: Consumer prices accelerated at their fastest rate in almost three years in March as the spillover effects from the war in Ukraine fed through to the Egyptian economy. With commodity prices still feeling the effects of the conflict, the devaluation of the EGP, and the traditional Ramadan inflationary hit, we're not expecting the figures to have been any better in April.
Egypt's foreign reserves inched up to USD 37.12 bn at the end of April, from USD 37.08 a month earlier, according to central bank figures out yesterday. FX reserves declined in March for the first time since the early days of the pandemic as the central bank deployed funds to cover portfolio outflows and imports in response to what it said were "massive sell-offs" in emerging markets triggered by the conflict in Ukraine.
FOR OUR FELLOW WORD NERDS- If you think English was quirky, you've never tried to decipher Old English, the branch of the language brought to Britain by settlers from northern Germany and Scandinavia in the fifth century. Hana Videen is one of the few people who understand Old English outside of college settings — she's been posting a word a day on her Twitter for years and has now published The Word Hord, billed as "an entertaining and illuminating collection of weird, wonderful, and downright baffling words from the origins of English." Videen's book gets a nice notice this morning in the Wall Street Journal.
THE BIG STORY ABROAD-
A school bombing and an oil ban will mark Russia's WW2 Victory Day: Today's celebrations in Russia of victory against Nazi Germany is being juxtaposed by its ongoing war in Ukraine, which as the foreign press notes will be held one day after Russian forces were accused of bombing a school and G7 countries reiterated their resolve to ban imports of Russian oil. Everyone from Reuters and the AP to Bloomberg and the Washington Post has coverage.
Spooks, politicians and business leaders alike will be paying attention to Moscow's Red Square later today as Vladimir Putin presides over the traditional military parade marking the occasion. Pundits believe Putin will use the occasion to rattle his saber at the west — and hint at what could be next in the war in Ukraine. The story is getting plenty of attention in the global business press, from the Wall Street Journal to Reuters.
MARKET WATCH-
You can practically hear the bears salivating at the prospect that the techapocalypse could gain steam and further savage listed equities. More and more US startups are trimming staff, scaling back spending, and looking up the word "profit" on Investopedia, as we've noted in recent days. Public market investors are now wondering "whether technology companies are set for a deep retrenchment or if growth is simply slowing from pandemic highs," the Wall Street Journal writes in The tech industry's epic two-year run sputters.
Saudi Aramco is cutting prices for the first time in four months: Saudi Arabia has lowered oil prices for June shipments to Asia as covid lockdowns in China hit demand, according to Bloomberg. The state-owned company will sell its Arab Light crude grade at USD 4.40, down from USD 9.35 in May. Aramco also lowered the price of almost all grades for buyers in the Mediterranean and north-west Europe, though prices for US buyers remained unchanged. Saudi oil prices reached record levels in the past two months after prices surged on the back of the Russia-Ukraine war.
LIVE FROM PLANET STARTUP-
Eight Egyptian startups are among top 45 African firms long-listed for the first edition of the AfricaTech awards, launched by VivaTech in partnership with the International Finance Corporation (IFC), according to a press release from VivaTech. The program showcases startups in fintech, health tech, and climate tech, with 15 businesses chosen from each sector from over 300 applications.
Who's in the running? Bekia | BokDoc | Chefaa | Farmtopia | Neqabty | Seavo | SUNPave | Welnes.
Egypt was among African countries showing the highest participation rates, the statement added. The final winners — one in each category — will be announced between 15-18 June in Paris.
CIRCLE YOUR CALENDAR-
A huge US "GreenTech business mission" is inbound next week. More than 40 US companies will be in Egypt during 15-17 May to kick the tires on green investment and potential business partnerships in sectors ranging from energy to healthcare, agriculture, aviation, construction and water resource management. The high-level delegation will meet with members of the business community and senior government officials.
The Central Bank of Egypt will meet to review interest rates on Thursday, 19 May.
The last of this season's earnings releases will drop by 31 May after the Financial Regulatory Authority granted listed companies a two-week deadline extension.
Check out our full calendar on the web for a comprehensive listing of upcoming news events, national holidays and news triggers.
***
WE'RE LOOKING FOR SMART, TALENTED PEOPLE to help us build some very cool new things
. Today, we run two daily publications, five weekly industry verticals, and a monthly newsletter designed to make our readers feel just a bit smarter.
We have tons more in the pipeline — come help us build new publications. We offer the chance to work in a fast-paced newsroom on a broad range of topics and in a variety of formats. Our goal is simple: To create value for our growing community of 200k readers by telling stories that matter.
We're looking for editors who want to run publications and teams, editors to help reporters craft stories and talented reporters. Egyptian and foreign nationals alike are welcome to apply. So are job-switchers: If you're an equities analyst tired of the rat race, we're a great place to come work.
Apply directly to jobs@enterprisemea.com and mention Patrick in your subject line.
Or hit this link for more information. It's worth it — trust us.
***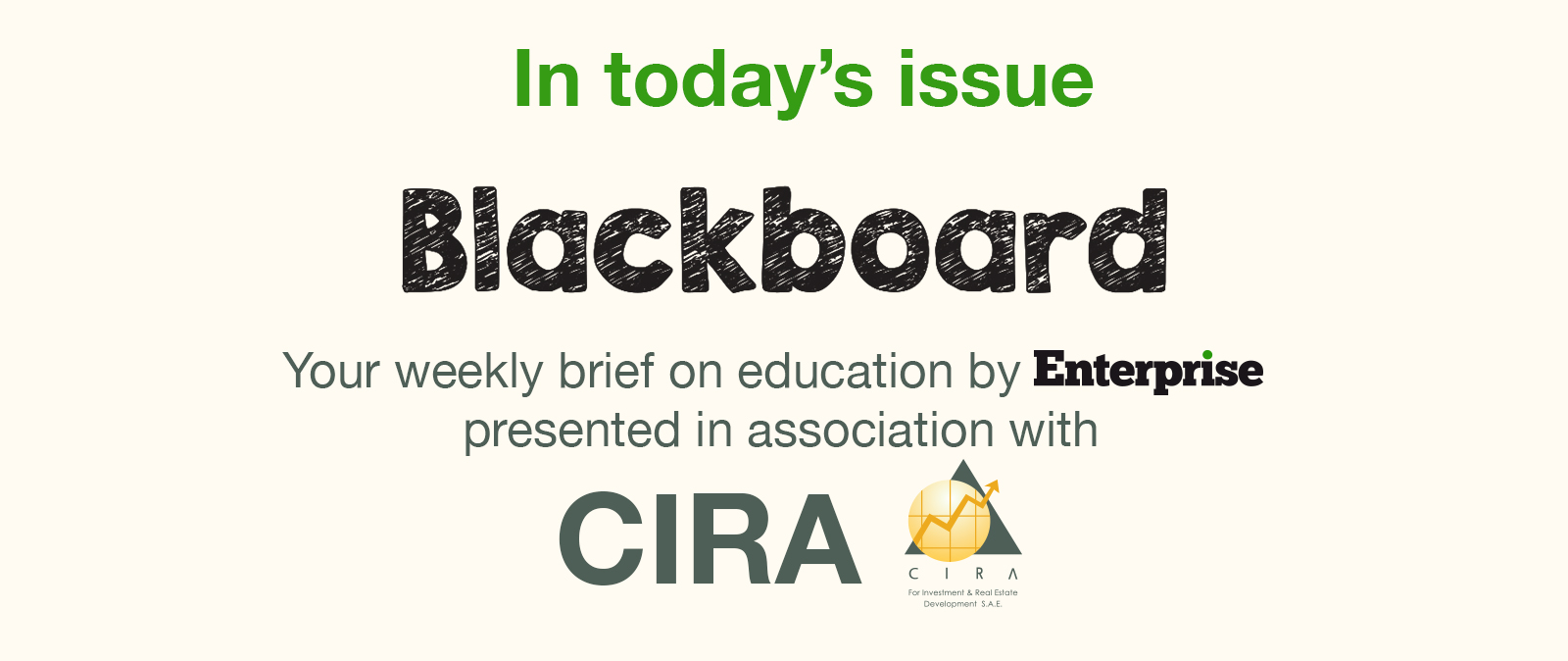 *** It's Blackboard day: We have our weekly look at the business of education in Egypt, from pre-K through the highest reaches of higher ed. Blackboard appears every Monday in Enterprise in the place of our traditional industry news roundups.
In today's issue: As inflation rears its head, what's the future of the tuition fee cap for private schools? Since 2019, private schools have faced a more stringent cap on tuition fee hikes after parents lobbied the Education Ministry to put a stop to what they said were unfair increases. Private providers are now only allowed to raise prices by 7% each year, down from 14% previously. Fast forward three years and the cap is still in place, but private schools are facing greater cost pressures as inflation rises and the EGP falls. Today, we look at how schools are responding to the costs without raising tuition beyond 7% — and whether a policy change could be on the table.