Wednesday, 27 April 2022
THIS MORNING: Banks off all next week + More Egyptians are banked than ever before
Good morning, wonderful people, and welcome to the next-to-last workday of Ramadan. It's another huge news day today, so we're going to jump straight in with this public service announcement:
PSA #1- The whole of next week will be a bank holiday to celebrate Eid al Fitr, the Central Bank of Egypt (CBE) said overnight. The country's banks will be closed from Sunday, 1 May through Thursday, 5 May. Shortened Ramadan hours will end when banks reopen for business as usual on Sunday, 8 May. With banks closing for the week, you can expect an announcement any moment now from the EGX that it is following suit.
REMINDER- The private sector won't be taking the entire week off for Eid, unlike the public sector. The private sector will officially get Labor Day (that's 1 May) and the first two days of Eid as paid vacation days, the Manpower Ministry has said. Now it's up to you (or your bosses) to decide if your company will bridge the entire week.
PSA #2- Only e-invoices will be accepted as proof companies have paid VAT on goods and services starting 1 July, the Finance Ministry said in a statement. The Tax Authority will accept paper invoices issued before companies were obligated to join the e-invoice system, as well as from companies granted exceptions by the authority.
What e-invoicing system? The Tax Authority launched a pilot for the B2B e-invoicing program with 134 companies in late 2020, before extending the system to all large taxpayers last July. All B2B invoices issued by businesses based in the Greater Cairo Area will be automated by June, director of taxpayer services at the Tax Authority Mohsen El Gayar recently told Enterprise, while all B2B and B2C invoices across the country should be fully automated by December.
More than 70k companies have registered for the e-invoicing system so far and have sent north of 200 mn e-invoices, FinMin said.
PSA #3- Some Indomie noodles pulled from the shelves over safety concerns: Indomie Egypt has 48 hours from yesterday to recall all its chicken and vegetable flavored instant noodles, as well as those with chili packets, from the Egyptian market, after the National Food Safety Authority declared them unfit for consumption due to the presence of aflatoxins and pesticide residues in unsafe quantities, state-owned news portal Ahram Gate reports. Indomie was also ordered to remove claims from its packaging that products contain vitamin B, iron, zinc, and calcium. The company has already recalled more than 770k products following the decision.
SO, WHEN DO WE EAT? You'll be breaking your fast at 6:30pm CLT this evening in the capital city, and fajr prayers are at 3:42am.
FROM THE DEPT. OF GOOD NEWS- The majority of Egyptian adults are now banked. More than 56% of Egyptian adults — nearly 37 mn people — held a bank account, mobile wallet or pre-paid card at the end of 2021, up from almost 53% the year before, according to central bank figures (pdf) released yesterday. The figure has more than doubled since 2016, when just north of a quarter of over-16s owned a "transactional" account, a definition that includes bank accounts as well as Post Office savings accounts. That includes some 16 mn women — up 171% since 2016. It's a far cry from the "two-thirds of the country is unbanked" figure that had held for a decade prior to the CBE's financial inclusion drive.
SIGN OF THE TIMES- Nearly seven in 10 payment transactions in the Middle East and North Africa will be digital in 2023. So says the MENA Fintech Association in a new report (pdf) that anticipates the rise of cashless payments to accelerate this year and the next. Digital payments are growing at a 20% CAGR, putting them on track to surpass USD 20 bn next year, more than double what was spent digitally in 2019. The report doesn't break out Egypt-specific figures.
Driving the acceleration: Greater smartphone adoption in the region, a growing number of young, tech-literate demographics, and the increasing numbers of POS devices and fintechs offering services like buy-now-pay-later (BNPL) and closed loop payments .
DATA POINT- Those 18% CDs are still being snapped up: Investors have now poured some EGP 600 bn into 18% CDs at Banque Misr and the National Bank of Egypt — that's EGP 23 bn in inflows in the past seven days, according to our math. Some EGP 410 bn is in deposits at the NBE, while the remainder is parked at Banque Misr, Al Mal reports. The CDs launched last month, following the central bank's 100-bps interest rate hike.
THE BIG STORY ABROAD this morning is the weaponization of energy in Europe, after Poland and Bulgaria announced that Russia will completely cut off gas exports to the two countries from 8am CLT today. Ukraine's government said the move hailed the beginning of Russia's "gas blackmail of Europe." Moscow earlier this month said it would demand payment in RUB for its key gas exports to "unfriendly countries" (read: pretty much all of Europe). Meanwhile, concerns that the war is escalating were further stoked by reports of military attacks in a pro-Russian breakaway region of neighboring Moldova. Reuters, the Financial Times, and Bloomberg all have more.
INFLATION WATCH-
High food and energy prices are set to stick around for years, the World Bank has warned in its latest commodities report (pdf). While the medium-term outlook will hang heavily on how long war continues in major food and fertilizer exporter Ukraine, prices are set to "remain elevated" through 2023-2024 compared with the last five years, the WB says. Energy prices had more than quadrupled by March 2022 from their April 2020 low, fertilizer prices have tripled, and food prices are up 84% — leading to "major humanitarian and economic impacts and exacerbating food insecurity and inflation in many countries," the lender writes.
ON THE BRIGHT(ISH) SIDE- Indonesia's ban on exports of palm oil is not as comprehensive as first reported. Indonesia has clarified that its export ban on palm oil only encompasses processed products like cooking and frying oil, and not crude palm oil. Indonesia accounts for some 30-40% of the world's supply of processed palm oil, so the restrictions will still have a major impact on the global edibles oil market — which is already reeling from the war in Ukraine — when they come into effect on 28 April, Bloomberg writes.
That's probably not going to be a source of comfort to Egyptian firms: UN data shows that the bulk of the palm oil imported by Egyptian companies last year was not crude. Egypt is one of the largest buyers of palm oil in the world, and Indonesia accounted for almost 90% of our supply in 2020.
CIRCLE YOUR CALENDAR-
Businesses have four days left to file their corporate tax returns. Companies with financial years ending 31 December have to file their returns by Saturday, 30 April.
Also on the final day of the month: The fixed customs exchange rate introduced last month following the EGP devaluation will be lifted. Greenbacks used for importing essential items such as basic commodities and materials used for manufacturing are currently changing hands at a fixed rate of EGP 16, a move introduced to minimize exchange rate volatility in the wake of the deval.
ITIDA has begun accepting applications for its annual Export IT program: The program is designed to encourage local IT companies to boost exports while reducing related costs. Interested companies have until 31 May to send in their applications, and can check the details here.
Check out our full calendar on the web for a comprehensive listing of upcoming news events, national holidays and news triggers.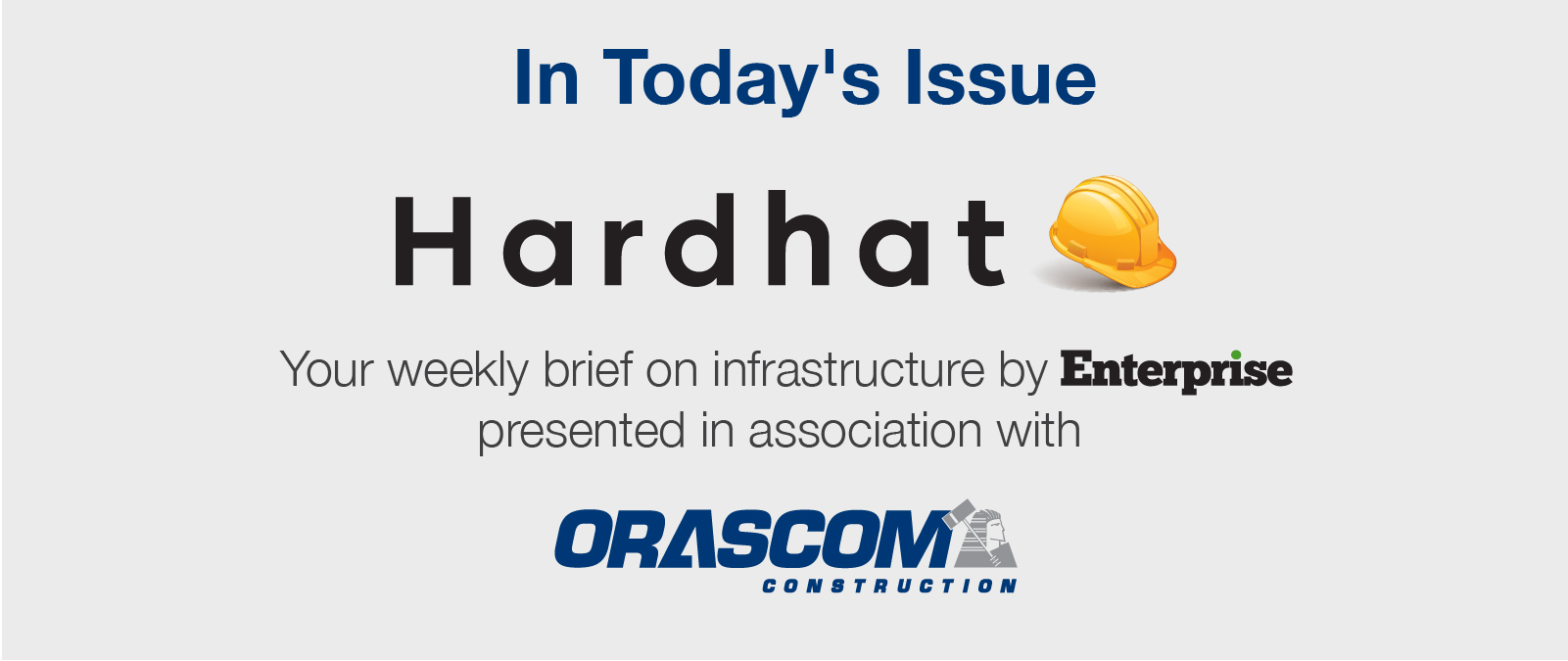 *** It's Hardhat day — your weekly briefing of all things infrastructure in Egypt: Enterprise's industry vertical focuses each Wednesday on infrastructure, covering everything from energy, water, transportation, and urban development, as well as social infrastructure such as health and education.
In today's issue: Like other infrastructure players, Egypt's real estate sector is taking a hit from rising raw and building material prices off the back of the war in Ukraine, along with higher borrowing costs, and the Central Bank of Egypt's decision to let the EGP slide against the USD, sources tell us. Still, developers with more advanced projects that have amassed land and inventory will likely be well positioned to absorb cost increases and recoup losses, they add — particularly over multi-year project cycles.