Tuesday, 26 April 2022
THIS MORNING: A brief workweek before another long holiday + Big pressures on the world's palm oil
Good morning, wonderful people, and welcome to a very short workweek. We hope your Easter / Sham El Nessim / Sinai Liberation long weekend was fantastic — and that you, like us, are looking forward to Eid.
Where did we leave things off last week? We took a publication holiday last Thursday to sleep in after celebrating our company iftar (as is our tradition each year). When we last had the privilege of writing you, the IMF had downgraded its global growth expectations (but thought Egypt would be okay-ish), CIB's new Emirati shareholder had given management the thumbs-up, and Vodafone Egypt had bought 10% of e-payments platforms Bee and Masary.
Where are we now in time and space? Let's start with some things you need to keep your eye on this week:
WATCH THIS SPACE #1- The IMF / World Bank Spring Meetings came to an end on Sunday ⁠— and there has been no word on how Egypt's talks with the Fund for a new programme are progressing. The Finance Ministry issued a boilerplate statement following talks between Mohamed Maait and IMF head Kristalina Georgieva last week that gave little away. Georgieva said ahead of the meetings that the Fund would discuss the problem of Egypt's rising debt levels.
WATCH THIS SPACE #2- Details on the state privatization program to be announced after Eid: The government is set to announce its strategy to privatize state-owned firms and boost private-sector participation in the economy at a press conference after the Eid Al Fitr holiday, Prime Minister Moustafa Madbouly said at last week's cabinet meeting, according to a statement. The "state ownership policy document" — which will act as a roadmap to reduce the state's involvement in the economy — will "empower the private sector and regulate the state's presence in economic activity to complement the governmental reforms adopted by the Egyptian state," Madbouly said. The government has previously signaled it will bring new assets to market, including fresh IPOs; sales of additional stakes in already-listed, state-controlled companies; and shares in military-owned companies.
Military firms up first? It should come as no surprise that two of these companies could be bottled-water maker Safi and filling station operator Wataniya, Sovereign Fund of Egypt chief Ayman Soliman told Bloomberg Asharq. Steps have been taken to prepare the two military-owned companies for public or private offerings before summer, he said.
WATCH THIS SPACE #3- It's bad news if you like fried foods — and for mns around the world who rely on seed oils for a big portion of their daily calories. Indonesia shocked markets on Friday when it announced a ban on palm oil exports. The country accounts for more than half of the world's palm oil, which is used in everything from chocolate to cosmetics.
Egypt is among the world's top buyers of palm oil: Indonesia supplied almost 90% of Egypt's palm oil in 2020, according to UN figures. Egypt had been forecast (pdf) to import nearly 1.3 mn metric tons of the stuff from October 2022 through September 2023.
The timing couldn't be worse: The edible oils market is already reeling from the war in Ukraine, which prior to Russia's invasion was the world's top exporter of seed oils and the global number one producer of sunflower oil. Expect Indonesia's ban to further fuel food price inflation globally, Bloomberg writes.
WATCH THIS SPACE #4- We could soon get news on which companies have been exempted from the new private-sector minimum wage. The National Wage Council has agreed on a mechanism to notify companies of the result of their exemption requests and will next week make one form available online to streamline the application process, according to a statement. Some 3k companies have so far submitted requests to be exempted from the EGP 2.4k minimum wage requirement that came into effect at the start of the year, the statement read. Nearly 40% of those applications have been reviewed. Firms requesting exemptions are required to present proof that they will incur losses or other evidence that their industry has faced disruptions.
We think any exemptions given should be time-limited and ideally non-renewable. If you can't pay your people a living wage (and EGP 2.4k falls short of that mark), does your business really deserve to exist?
WATCH THIS SPACE #5-7:
Private management of state hospitals? The Health Ministry is considering allowing private sector companies to manage and operate some public hospitals. (Al Borsa)
Saudi cabinet greenlights PIF investment in Egypt: The Saudi government has approved an agreement inked last month that would see the Public Investment Fund (PIF) invest up to USD 10 bn in Egypt's healthcare, education, agriculture and financial services sectors. The agreement had already passed the Shura Council. (SPA)
Microsoft's Brad Smith was in Cairo in early April and is now linking his visit to preparations for COP27 (watch, runtime: 1:41). Expect to hear lots more about COP in the days ahead, including news from cabinet after Eid El Fitr on what's next.
PSA #1- It looks like we'll be celebrating Eid Al Fitr starting Monday, 2 May, according to a statement from the National Research Institute of Astronomy and Geophysics. There should be an official announcement from Dar Al Iftaa on 29 Ramadan.
Reminder: Cabinet has declared all of next week off for the public sector, while the private sector is on holiday just Sunday-Tuesday. Friends outside of Egypt: Expect plenty of folks here in Omm El Donia to bridge the week.
PSA #2- All-night Tahajjud prayers are back from 27 Ramadan until 30 Ramadan (that's this coming Thursday-Sunday), the Awqaf Ministry announced in a statement. Tahajjud prayers were banned last year.
PSA #3- Businesses have less than a week to submit their corporate tax returns. Companies with financial years ending 31 December have to file their returns by Saturday, 30 April.
PSA #4- Thanaweya Amma final exams have been pushed two weeks, and will now start on 26 June instead of 11 June, Education Minister Tarek Shawki said in a presser (watch, runtime: 12:01). The minister didn't disclose any reason for the postponement. Students will be tested on pass / fail subjects — including religious education, civics, and economics and statistics — on 20 and 21 June.
SO, WHEN DO WE EAT? You'll be breaking your fast at 6:29pm CLT this evening in the capital city, and fajr prayers are at 3:43am.
---
THE BIG STORY ABROAD- Russia ups the nuclear ante after US moves the goalposts: The US hopes not only to reverse Russia's invasion of Ukraine, but also "to see Russia weakened to the degree that it can't do the kinds of things that it has done in invading Ukraine," US Defense Secretary Lloyd Austin said after an official visit to Kyiv. Russian Foreign Minister Sergei Lavrov hit back, telling state television that the risk of the Ukraine conflict sparking a nuclear WW III is "serious, real" and should not be underestimated. The New York Times, Wall Street Journal, and Reuters have more.
MEANWHILE IN FRANCE- More Macron: Emmanuel Macron will serve another five-year term as French president after he defeated far-right National Rally opponent Marine Le Pen in Sunday's runoff vote, becoming the country's first president to gain re-election in 20 years. France24 has all the details.
MACRON'S EGYPT TIE-IN: Alexandrian mezzo-soprano Farrah El Dibany sang La Marseillaise, France's national anthem, on stage immediately after Macron's victory speech (watch, runtime: 2:18) with the the Eiffel Tower in the background. El Dibany is with l'Opera National de Paris.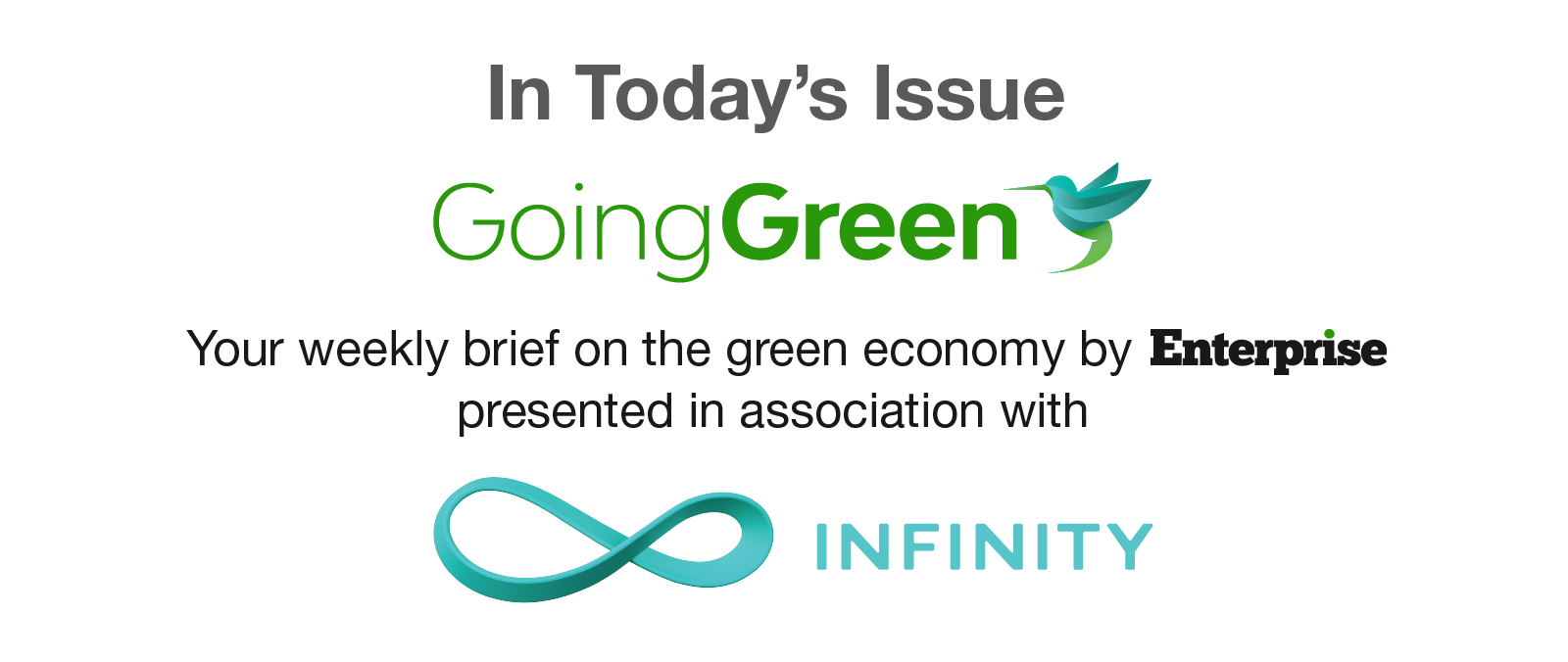 *** It's Going Green day — your weekly briefing of all things green in Egypt: Enterprise's green economy vertical focuses each Tuesday on the business of renewable energy and sustainable practices in Egypt, everything from solar and wind energy through to water, waste management, sustainable building practices and how you can make your business greener, whatever the sector.
In today's issue: The second part of our look at the final IPCC reports, the last studies to be released before COP27 in Sharm El Sheikh and the end products of a years-long assessment cycle. We take a look at what the scientists say about how the environment is set to change in the coming years and decades, and how to mitigate the worst impacts of climate change in Egypt and beyond.