Wednesday, 13 April 2022
THIS MORNING: A warm welcome to the UAE + the Pharaohs have a new coach
Welcome, friends from Abu Dhabi.
IT'S A BIG DAY FOR the private sector after Abu Dhabi wealth fund ADQ bought stakes yesterday in bold-name EGX-listed companies including CIB and fintech player Fawry in a series of block trades on the Egyptian Exchange. ADQ has previously invested in our friends at SODIC (alongside Aldar) and other household names here. ADQ deployed some USD 1.8 bn here yesterday.
ADQ's rapid scaling up of its investments in Egypt comes as part of a drive by our GCC allies to help us sort through the fallout from Russia's war in Ukraine, which has sent commodity prices skyrocketing, nuked the high-volume Red Sea tourism market, and upended the global wheat market upon which we depend.
We like Abu Dhabi's strategy: Separately, Emirati lender FAB is pursuing a majority stake in our friends at EFG Hermes, the premier financial services corporation in frontier emerging markets, and Alpha Dhabi (which already has exposure to Egypt through its stake in Aldar) is looking at how to get more exposure to Egypt. And now there's chatter in the market that another arm of ADQ is looking to buy a stake in a brandname consumer foods company.
We don't know ADQ (or FAB), but we know how they and other Emirati investors operate from talks over the years with our friends who do business with them: They're investors who put an emphasis on good governance, crisp management, aggressive growth targets, and no BS. More of this, please.
We have more on ADQ's big day in the news well, below.
---
WATCH THIS SPACE- We're getting an economic recovery task force to steer us through the storm whipped up by war in Europe. Prime Minister Mostafa Madbouly directed the ministerial economic committee (which includes cabinet ministers, CBE deputy governors, and the head of investment body GAFI) to form a task force to develop a strategy for the economic recovery from the repercussions of the ongoing war on Ukraine, according to a statement.
MEANWHILE- EgyptAir will resume direct flights between Cairo and Moscow on Friday, 15 April, according to a statement from the national flag carrier, which said it would run one flight per day between the two cities. MPs last week approved a draft law allowing the Finance Ministry to ins. EgyptAir against potential losses on flights to and from Russia, which were suspended in March due to the war.
Flights to Moscow are restarting a couple days later than planned: Online booking had previously been available for flights starting yesterday. The airline is asking customers whose earlier bookings to Moscow were canceled to call its 1717 customer service line.
DATA POINT- Investors have now poured some EGP 523 bn into 18% CDs at Banque Misr and the National Bank of Egypt. Nearly 70% went to the NBE, while the remainder went to Banque Misr, Hapi Journal reported here and here. The CDs launched three weeks ago, following the central bank's 100-bps interest rate hike.
AND- The Pharaohs have a new coach: Former football player Ehab Galal has been appointed the new coach of the men's national football team, succeeding Carlos Queiroz, who stepped down from his position by mutual agreement earlier this week, the Egyptian Football Association (EFA) announced yesterday. Galal was in the running lead the team back in 2019 but the EFA went with Hossam El Badry instead. The EFA also dismissed its technical manager, Nelo Vingada.
KUDOS (Pt II): We took note yesterday of the CEOs of Egyptian companies that made Forbes Middle East Top 50 Healthcare Leaders for 2022. Other Egyptian CEOs on the list heading companies domiciled outside Egypt included:
SO, WHEN DO WE EAT? You'll be breaking your fast at 6:21 pm CLT this evening in the capital city, and fajr prayers are at 4:00am.
THE BIG STORY ABROAD- Other than the latest in the war in Ukraine (see just below) and the reaction to a new 40-year high for US inflation (scroll on a little further), the international press is taking note of an attack on the New York subway system yesterday in which at least 10 people were shot. AP has the details.
WAR WATCH- A packed day of news on the home front means your daily update on Russia's war in Ukraine comes in bullet-point form this morning. Here's what you need to know:
MARKET WATCH-
US inflation reaches new 40-year high as Ukraine war hits home: Inflation in the US surged to 8.5% in March, its highest level since December 1981, data by the Bureau of Labor Statistics showed yesterday. Food and rent prices saw particularly large jumps during the month, while the cost of gasoline accounted for more than half of all the items' monthly increase, rising 18.3%. Inflation is being driven by both significant grow as the US economy bounces back from covid, the Wall Street Journal reports, as well as by sharp rises in oil and commodities prices on the back of the war in Ukraine.
This is (slightly) above expectations: Analysts expected the CPI to come in at 8.4%.
Markets didn't quite know what to make of it: US stocks closed marginally down, paring gains earlier in the day as traders wagered that price pressures could have reached their peak, Bloomberg reports. Rising commodity prices — including all important oil — seemed to put paid to those hopes, with international benchmark Brent crude climbing to trade near USD 105 in the early hours of this morning.
Markets are now looking to earnings releases from big banks — which will start coming in today — for their next cue on the impacts of inflation, as we noted yesterday.
COVID WATCH- iPhone maker halts production in Shanghai due to worst Covid outbreak in two years: Apple iPhone assembler Pegatron has halted production at two of its plants in China due to the strict stay-at-home measures in force in Shanghai to counter a covid outbreak, Bloomberg reports. This is major, fellow iSheep: Pegatron assembles around 20-30% of all iPhones.
There might be some light at the end of the tunnel: Authorities are beginning to lift some restrictions on neighborhoods where no new infections have been reported, after food shortages caused public outroar, the Associated Press reports.
CIRCLE YOUR CALENDAR-
Companies have one week left to file their first quarterly ESG compliance report: Listed firms and non-bank financial services companies need to submit their first quarterly ESG report by 20 April, the Financial Regulatory Authority (FRA) announced last week. The regulator is making it mandatory for corporates to publicly disclose their performance on key environmental, social and governance metrics each year when they submit their annual financial statements, starting 2023.
Reach out to Moustafa Taalab at InkankIR, our parent company, if you need some help.
Check out our full calendar on the web for a comprehensive listing of upcoming news events, national holidays and news triggers.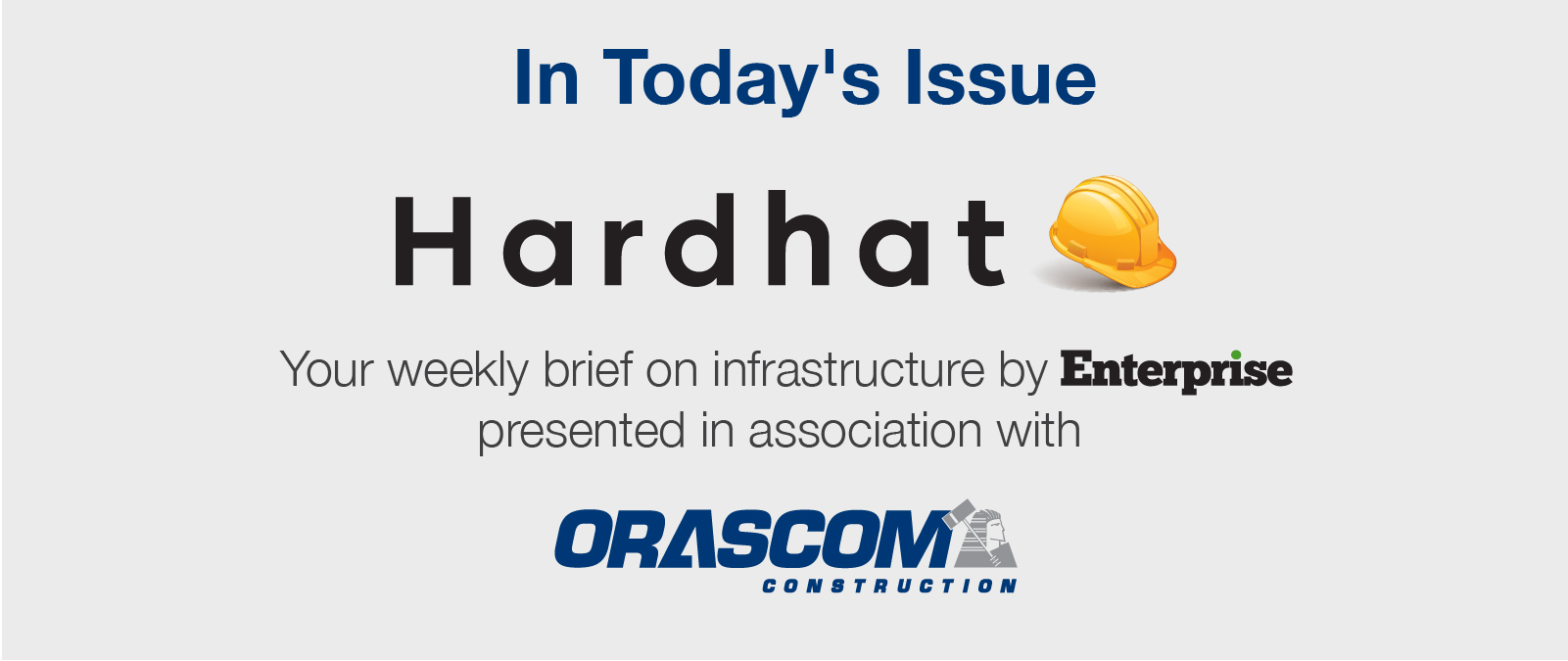 *** It's Hardhat day — your weekly briefing of all things infrastructure in Egypt: Enterprise's industry vertical focuses each Wednesday on infrastructure, covering everything from energy, water, transportation, and urban development, as well as social infrastructure such as health and education.
In today's issue: If you've found yourself lost driving on a new bridge lately, desperately trying to get a hint from your phone on where it leads or when you'll reach the next exit, you're not alone. Cairo's roadmaps are changing at speed thanks to the government's infrastructure push — and Google Maps sometimes finds it hard to keep up. In this week's Hardhat, we try to shed light on how the platform functions and why Cairo traffic routes can send it into a tailspin.