Sunday, 10 April 2022
THIS MORNING: It's inflation day + EU official in town to talk Mediterranean Green Hydrogen Partnership
Good morning, friends, and welcome to a blockbuster Sunday issue with exactly zero signs of the Ramadan news slowdown that we enjoyed for much of Thursday.
Two themes run through this morning's issue: First up: Our ongoing bid to manage fallout from Russia's war in Ukraine. The latest on that front sees the government reporting that the hit to its deficit reduction target in the current fiscal year won't be as nasty as it had feared. Meanwhile, the Central Bank of Egypt's reserves announcement notes that the bank stepped in last month to deploy "excess foreign currency reserves" to push us through a period of exceptional global stress. Egypt is uniquely squeezed by the ongoing war in Ukraine, and cabinet and the central bank continue to show significant maturity in their policy responses.
The second big theme: Investment, investment and still more investment. ADQ looks set to buy the state's stake in Abu Qir Fertilizers. The news comes after the Sovereign Fund of Egypt said last week that it expected "within days" to make public more information on ADQ's USD 2 bn in investments here. The SFE itself is rolling out fresh investment in NBFS and financial inclusion companies, the fundraising drive on Planet Startup continues apace, and Edita is committing EGP 1 bn in investment over the next several years as it fast-tracks growth plans.
***
SPEAKING OF INVESTMENT- There's probably no sector hotter than fintech. What's Next in the sector is the topic of our sitdown with the Central Bank of Egypt's Rasha Negm as well as the founders of two hot startups (Khazna and Kashat) and the VCs who have backed them (Accion and Cairo Angels).
LISTEN to part one of our talk on Apple Podcasts (listen, runtime: 44:59), Anghami or Omny — or read highlights in this morning's What's Next, below. Look for us later this morning on Google Podcasts and Spotify.
Make sure you listen to the end. That's when the CBE's Negm talks about new legislation and regulation in the works. She also gives us the inside track on what the central bank hopes will become of the exciting new "instant payment network" it launched just days ago.
***
MEANWHILE- When can we expect a decision on fuel prices? The state's fuel pricing committee was due to announce prices for 2Q at the beginning of the month, but a government source told us yesterday that it still hasn't set a date to announce a decision. The committee has met more than once since March to discuss the effect of the Ukraine war on the oil market, which sent Brent prices to as high as USD 139 a barrel last month. From what the source told us, the government is taking a 'wait and see' approach and wants to continue assessing the market, which has remained volatile since Russia invaded Ukraine in late February.
Another hike is in the cards: The source told us that the committee will raise fuel prices for the current quarter, but didn't provide further details. This would be the fifth increase in less than a year, following a succession of hikes that have raised prices by as much as 16%.
FDI WATCH- EFG Hermes has been tapped as financial advisor to the Saudi Public Investment Fund on its upcoming investment in the three Siemens-built power plants as part of its proposed USD 10 bn investment in Egypt, Al Borsa reports, citing unnamed sources.
HAPPENING TODAY-
Green hydrogen high on priority list as top European Union official comes to town for climate meetings: EU Executive Vice-President Frans Timmermans is in town today and tomorrow for climate talks centered on COP 27 — and will launch discussions on a "Mediterranean Green Hydrogen Partnership." The news comes amid a sharp expansion in global interest in our nascent green hydrogen industry. Talks will also focus on "the clean energy transition and energy efficiency, green growth models and diversification, sustainable finance, carbon markets, adaptation," the EU said in a statement.
Timmermans is meeting … everyone. He's scheduled to speak with Prime Minister Moustafa Madbouly, Foreign Minister Sameh Shoukry, Electricity Minister Mohamed Shaker, Environment Minister Yasmine Fouad, Oil Minister Tarek El-Molla and Planning Minister Hala El Said.
It's inflation day — and it's probably not going to be pretty: Consumer prices were already accelerating at their quickest rate in 31 months in February — and that was before the conflict in Ukraine / retaliatory sanctions really began to hit global commodity markets and before the devaluation of the EGP. Annual urban inflation remained just within the central bank's target range at 8.8% in February, but with prices of food and raw materials rising rapidly last month, that's not likely to last.
LEGISLATION WATCH- The Senate will discuss today new policy proposals to tackle population growth, as well as a report on the draft Unified Ins. Act and a proposal to restructure the Egyptian Supreme Council of Energy, according to Youm7. A new authority with more power to manage policy on the growing population crisis is likely in the works, as we noted last week.
COVID WATCH- Egypt saw an average of 400 new covid-19 infections per day last week, down from 559 per day the week before. We also saw a daily average of seven deaths (down from an average of eight the week before), according to Health Ministry figures released yesterday. Around 33 mn people are now fully vaccinated, and nearly 2.2 mn have had their boosters, the statement added.
SO, WHEN DO WE EAT? You'll be breaking your fast at 6:19pm CLT this evening in the capital city, and fajr prayers are at 4:04am.
---
THE BIG STORY ABROAD- Ukraine is gearing up for a redoubled attack from Russia in the east, after Russian forces withdrew from the western region surrounding Kyiv. We have all the weekend's developments in the war — including our abstention from a key UN vote kicking Russia out of the body's human rights council — in today's War Watch section, below.
The first round of the French presidential election takes place today, and Camp Macron may be looking nervously at the polls as his far right rival Marine Le Pen continues to make gains. Over the past month, the French president has seen his commanding lead in the polls dwindle to just three points as the popularity of Le Pen's National Rally has grown. Macron is still projected to defeat Le Pen in the second round (held on 24 April), but it's unlikely to be a repeat of his resounding victory in 2017. Instead, the specter of a Brexit / Trumpesque populist turn in France is now a real possibility — an outcome that would leave the EU's second-largest economy with its most radical government in decades.
CIRCLE YOUR CALENDAR-
Companies have just under two weeks to file their first quarterly ESG compliance report: Listed firms and non-bank financial services companies need to submit their first quarterly ESG report by 20 April, the Financial Regulatory Authority (FRA) announced last week. The regulator is making it mandatory for corporates to publicly disclose their performance on key environmental, social and governance metrics each year when they submit their annual financial statements, starting 2023. Reach out to Moustafa Taalab at InkankIR, our parent company, if you need some help.
PSA #2- State-backed Rowad 2030 is now accepting applicants between the ages of 22-40 for its masters program in entrepreneurship and Innovation in collaboration with the University of Cambridge and Cairo University. Learn more about the program requirements and application process here.
Check out our full calendar on the web for a comprehensive listing of upcoming news events, national holidays and news triggers.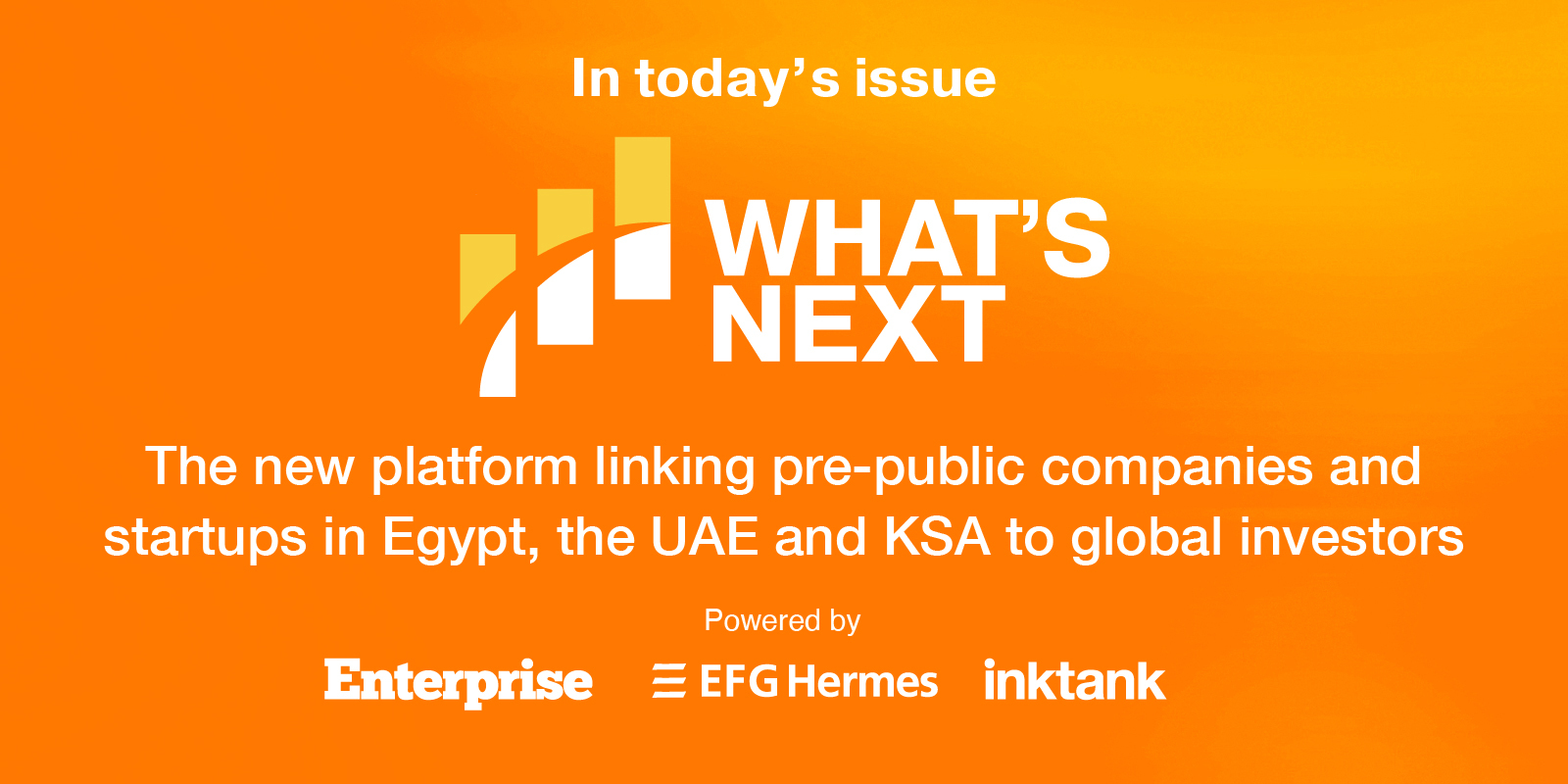 *** It's What's Next day: We have our weekly deep-dive into what makes and shapes pre-listed companies and startups in Egypt, the UAE and KSA, touching on investment trends, future sector insights and growth journeys.
In today's issue: Fintech is having its day in the sun, outgrowing all sectors when it comes to VC funding in the past couple of years. We have a deep dive this morning into where this is all going with top founders, investors — and a regulator. In this week's What's Next, you can choose to read or listen to the founders of hot startups Khazna and Kashat, two of the VCs that have backed them (our friends at Cairo Angels and Accion), along with special guest Dr. Rasha Negm, who leads on fintech and innovation at the Central Bank of Egypt.
Scroll down to What's Next to read now or go listen on Apple Podcasts.