Sunday, 3 April 2022
THIS MORNING: Ramadan Kareem on this extremely busy news day
Good morning, wonderful people, and welcome to the first workday of Ramadan. We hope the day treats you well. We have an exceptionally heavy news day for you — but first, Ramadan:
RAMADAN RECOMMENDATION #1- Choose your mosalsal now and stick to it. Need a starting point? Have a look at our Your Wealth guide to the season's most-anticipated serials. (And forgive us our sin in that roundup: Mike is the fake-lawyer character in Suits, not Harvey. We've amended the writeup accordingly.)
RAMADAN RECOMMENDATION #2- We're traditionalists. Dates and chocolate don't mix in our corner of the universe. Until, that is, we tried the Ramadan line of stuffed dates from our friends at Mōko (more on them here). We're (only slightly) ashamed to admit we thought of how to box-out the resident 14-year-old as we hoovered the better part of two boxes. Peanut in dark chocolate was our favourite, followed closely by almond (in milk chocolate), snickers (also milk chocolate) and coffee (dark chocolate). And don't feel too bad for the resident 14-year-old — what she lost on dates, she made up for in chocolate: Mōko's halawa pistache and dark chocolate mint were her favourites.
Ramadan reminders:
Shops are staying open for longer: Shops, malls, cafes and restaurants are now allowed to stay open until 2am, rather than 10pm, until the end of Eid. The decision was confirmed in the Official Gazette on Thursday.
Banks are now running on reduced Ramadan hours: Banks across the country are now only open between 9:30am and 1:30pm.
Shortened EGX trading hours: The trading day now runs10am and 1:30pm.
SO, WHEN DO WE EAT? Maghrib prayers are at 6:16pm CLT this evening, and you have until 4:21am to eat / hydrate / caffeinate.
PSA- Brace yourselves for an eight-day heat wave. Our favourite weather app sees the mercury in the capital city rising from 30°C today to 35°C tomorrow and then on to 43°C each of Wednesday and Thursday. Apple's weather app agrees, but the national weather service is guiding for a high this week fo just 36°C. Expect more seasonally appropriate temps starting some time next week.
NEWS TRIGGERS THIS WEEK-
We could get an announcement on the government's privatization plans: Ministers will meet this week to discuss which state-owned companies will be offered on the EGX this year, Planning Minister Hala El Said said last week. "We are reviewing the program in light of recent developments, and we have 10 companies that we are considering to offer with advisors, and we aim to offer four to five companies during 2022 in the energy, ins. and financial sectors," she told Bloomberg Asharq. The government had originally aimed to sell shares in as many as 10 firms in 2022, but the deteriorating global market conditions have forced it to rethink its plans.
Suez Canal Authority scales back IPO plans a bit? The agency is now planning to offer stakes of 10-15% in some of its subsidiaries via IPO on the EGX, chairman Osama Rabie told Bloomberg Asharq, down from 20% previously. Rabie said in February that the authority plans to list stakes in two or three of its companies, without disclosing an expected timeline.
Remember, there are at least three flavours of privatization sales. Ministers can consider a new listing on the EGX (which we need to add both depth and breadth to the market), offer for sale more shares of an already-listed company; or sell some or all of a company to a strategic investor in a private transaction.
---
WILL FRESH INFLOWS CONTINUE? Egyptian bonds saw net inflows of EGP 611 mn over the last week, the first time the needle moved in that direction Russia invaded Ukraine five weeks ago, Al Borsa says. The cost of insuring against losses on Egyptian bonds fell to 531 bps after the central bank's surprise rate hike and the refloating of the EGP.
Fair value for the EGP? Renaissance Capital is the latest to say that the EGP is just about at its fair value against the greenback, with Yvonne Mhango writing in a note to clients that it is "is "just shy of our fair value estimate" of EGP 18.40 / USD 1. Mhango expects the CBE to maintain exchange rate flexibility, with FX rates ending the current fiscal year at EGP 18.50 / USD 1 and the next fiscal year at EGP 19.40 / USD 1.
It's PMI week: Purchasing managers' index figures for March for Egypt, Saudi Arabia, the UAE, and Qatar will be released on Tuesday, 5 April. By that specific gauge, Egypt's private sector has been in contraction since November 2020. Headwinds intensifying last month due to the conflict in Ukraine are unlikely to have changed that.
Foreign reserves: March's foreign reserves figures will be announced some time this week.
ALSO- Inflation figures for March are expected on Sunday, 10 April, one week from today.
---
COVID WATCH- Egypt saw an average of 559 new covid-19 infections per day last week, down from 625 per day the week before. We also saw a daily average of eight deaths, according to Health Ministry figures released yesterday. Around 32.5 mn people are now fully vaccinated, and more than 2 mn have had their boosters, the statement added. It appears that we are doing better than others, with the UK announcing record covid levels with around 1 in 13 people having tested positive for the virus over the past week.
WHO accreditation to make it easier to export our vaccines: The Egyptian Medicines Authority has received accreditation from the World Health Organization for its locally-made vaccines, the authority said Thursday. The move will make it easier for Egypt to export locally-made vaccines, such as the Chinese Sinovac shot, Heba Wali, head of the state-owned vaccine maker Vacera, told us. Egypt will also eventually produce an mRNA derivative under a WHO-backed initiative designed to equip developing countries with the necessary tech to speed up the vaccine rollout. Egypt has already shipped a batch of locally-made Sinovac to Palestine and is currently in talks with several other countries, she said, without disclosing further details.
WAR WATCH- Ukraine retakes Kyiv region + apparent progress in peace talks: The weekend witnessed major developments on the frontlines and at the negotiating table in Russia's war on Ukraine:
Ukraine has regained control of the entirety of the Kyiv region, deputy defense minister Hanna Maliar said in a statement. The Russian military has withdrawn from western Ukraine to refocus its military efforts in the east after suffering heavy losses around Kyiv. (AP)
Zelensky + Putin could launch direct talks soon: Moscow negotiators have informally agreed to most of a draft peace proposal, which is now developed enough for Ukrainian President Volodymyr Zelensky and his Russian counterpart Vladimir Putin to discuss directly, Ukraine's chief negotiator told local TV. (Reuters)
The UK thinks allies could concede too much for peace: A senior British government source has said the UK is worried the US, France and Germany will push Ukraine to "settle" in eagerness to secure an early peace. (The Times)
CIRCLE YOUR CALENDAR-
Companies have exactly one week to file their first quarterly ESG compliance report: Listed firms and non-bank financial services companies need to submit their first quarterly ESG report by 10 April, the FRA said (pdf) on Sunday. The regulator is making it mandatory for corporates to publicly disclose their performance on key environmental, social and governance (ESG) metrics each year when they submit their annual financial statements, starting 2023. Reach out to Moustafa Taalab at InkankIR, our parent company, if you need some help.
Check out our full calendar on the web for a comprehensive listing of upcoming news events, national holidays and news triggers.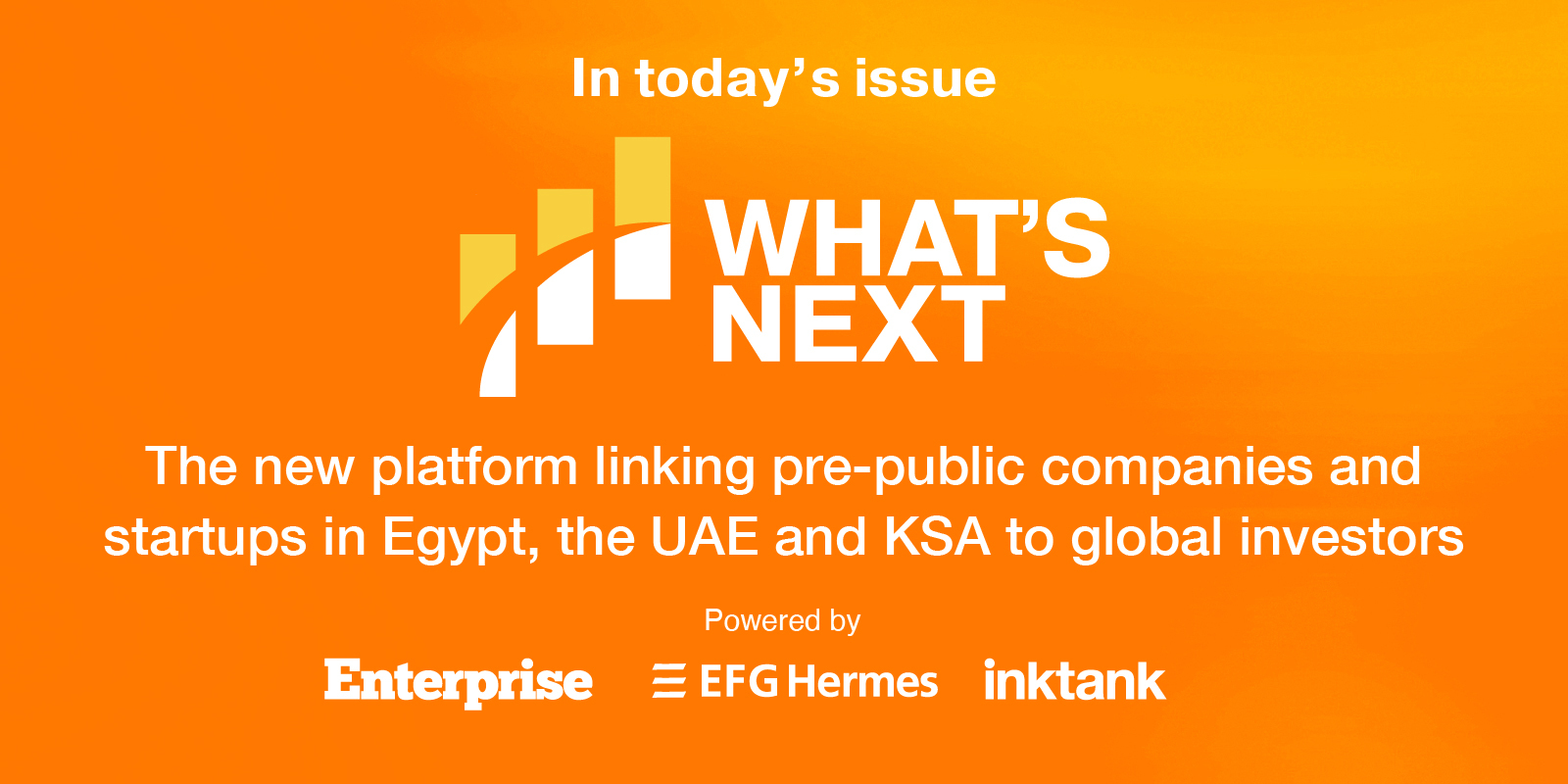 *** It's What's Next day: We have our weekly deep-dive into what makes and shapes pre-listed companies and startups in Egypt, the UAE and KSA, touching on investment trends, future sector insights and growth journeys.
In today's issue: While the global semiconductor shortage is undoubtedly a bad thing for businesses working in electronics assembly and manufacturing, it's also presented us with a silver lining: The semiconductor chip design sector is booming, and Egyptian firms are riding the wave. In this week's What's Next, we talk to semiconductor companies to judge the appetite for the local sector and the challenges they face to reach their full potential.