Sunday, 27 March 2022
THIS MORNING: Shoukry in Israel for "historic" summit + USD 200/barrel oil this year?
Good morning, friends, and welcome to the last workweek before the start of Ramadan, which begins this coming Saturday. We hope you had a relaxing weekend and are looking forward to what is already shaping up as a busy week. Though hopefully not _quite_ as busy as last week, between a snap rate hike and devaluation, a massive stimulus program, bns of USD in investment announcements, and confirmation that we're in talks with the International Monetary Fund once again.
Market watchers are pleased with how we're handling things so far, with Goldman Sachs MENA economist Farouk Soussa telling Bloomberg TV the moves should boost confidence and bring fresh inflows from foreign investors (watch, runtime: 5:56). Last week's move on the EGP will take off the board investor concern about the risk of further devaluation — and even raises "the possibility of some appreciation in the coming months," Soussa said last week.
Meanwhile, folks are continuing to throw money at NBE + Banque Misr: The new 18% CDs launched by Banque Misr and the National Bank of Egypt (NBE) attracted deposits worth a combined EGP 153 bn was invested in the four days following the Central Bank of Egypt's 100-bps rate hike, Al Mal reports. Some EGP 102 bn has been invested with NBE, while Banque Misr has seen EGP 51 bn in inflows.
PSA #1- Devaluation shouldn't affect the price of your new car if you've already signed on the dotted line. The trade and supply ministries have agreed with the Federation of Egyptian Chambers of Commerce that its members will abide by the original value of contracts signed before the EGP's depreciation and the onset of the Russia-Ukraine war, according to a cabinet statement. The Trade Ministry has received "a large number" of complaints in recent days that retailers have been hiking the price of cars, electronic gadgets and white goods for which consumers had already signed and paid deposits, Trade Minister Nevine Gamea said. Supply Minister Aly El Moselhy urged buyers to reach out to the Consumer Protection Agency, which he said would take action against unjustified price hikes.
If last week was all about the economy, the start of this week has a distinctly diplomacy bent to it:
IT'S A BIG WEEK FOR DIPLOMACY-
Egypt is taking part in another landmark Middle East summit. There are reports that Foreign Minister Sameh Shoukry will be in Israel today to join the two-day Abraham Accords summit, alongside the foreign ministers of Israel, the UAE, Morocco, Bahrain and the United States. While the Israeli Foreign Ministry made no mention of Egypt, the US State Department said yesterday that Egypt is attending, confirming reports in the Israeli press that suggested Shoukry would be involved in the talks. Jordan's foreign minister, Ayman Safadi, is also being pushed to attend, the reports said.
This comes less than a week after President Abdel Fattah El Sisi hosted Israeli PM Naftali Bennett and UAE Crown Prince Mohamed bin Zayed for three-way talks in Sharm El Sheikh that covered rising energy / food insecurity and regional geopolitical issues including the nuclear negotiations with Iran.
Another major summit on Friday brought together El Sisi with leaders from Jordan, Iraq and the UAE to discuss the economic repercussions of the Ukraine conflict.
SPEAKING OF DIPLOMACY- It's that time of the year again: AmCham's Doorknock mission is kicking off "within days," according to a cabinet statement. The typically-annual corporate diplomacy tour has been on hiatus for the past two springs due to the pandemic. AmCham delegations accompany several members of cabinet to Washington, DC, to meet with members of the US administration, Congress, think tanks, and the media in a bid to attract private sector investment and raise Egypt's profile on the Hill. Prime Minister Moustafa Madbouly recently sat down with AmCham members to discuss Egypt's priority sectors for investment, including tech, green and renewable energy, transport, water treatment and desalination, and manufacturing, specifically EV manufacturing in light of the upcoming automotive strategy.
AND- Cyprus Energy Minister Natasa Pilidou is in town this week heading a delegation of Cypriot companies to discuss business ties with ministers and Egyptian firms, according to an official statement. The delegation will be in town from 28-31 March.
TODAY IN LEGISLATIVE AFFAIRS:
The Senate will continue debating the Unified Ins. Act today, reports Ahram Online. The bill, which has been at least three years in the making, will make the Financial Regulatory Authority the primary regulator for the sector and make ins. compulsory for SMEs and freelancers, among other things.
The Senate will also discuss amendments to the law regulating NGOs in Egypt, and is set to decide on giving another one-year extension for NGOs to legalize their work in the country. If approved, the amendments will be sent over to the House of Representatives for discussion.
WATCH THIS SPACE -The Central Bank of Egypt (CBE) is working to streamline import procedures for a list of essential commodities agreed upon by the supply and finance ministries, amid pressure on imports caused by the Russia-Ukraine war, according to a cabinet statement. While the statement was scant on details, it could be that the CBE is considering exempting more goods from the new requirement for importers to submit letters of credit. We'll keep you posted as and when we hear more.
The Pharaohs are halfway to getting their revenge against Senegal and qualifying for the World Cup after edging the first leg of the World Cup playoff 1-0 on Friday night. Played in front of a 75k-strong crowd in Cairo International Stadium, the Pharaohs had to rely on an unlucky own goal in the fourth minute to hand them the advantage in the tie, which was played just six weeks after Senegal beat them on penalties in the final of the African Cup of Nations. The second leg will be played in Dakar on Tuesday night.
PSA #2- Summer (not spring) is in the air: Prepare to shed the layers this week as the Egyptian Meteorological Authority (EMA) forecasts (pdf) a gradual rise in temperatures. Our favourite weather app is forecasting a high today of 24°C in the capital city (29°C in Alexandria) rising to 35°C on Saturday, the first day of Ramadan (25°C in Alex).
PSA #3- So, when do we eat? Maghrib prayers are at 6:14pm CLT on the first day of the holy month (6:20pm in Alexandria), while you'll have until 4:15am CLT to caffeinate or otherwise consume the sohour of your choice ahead of fajr prayers (4:18am in Alexandria).
PSA #4- All individual taxpayers have until this Thursday, 31 March, to submit their 2021 tax returns to the Egyptian Tax Authority. The deadline for companies with January-December fiscal years is 30 April.
---
FROM THE DEPT. OF GOOD NEWS-
The number of women in Egypt who have bank accounts has risen 171% since 2016, the central bank said this weekend in a statement (pdf). Some 16 mn women had bank accounts at the end of 2021, compared to 5.9 mn in 2016, it said. The CBE also noted that its requirement that all banks have at least two women on their boards resulted in a 67% increase in female representation on bank boards.
MARKET WATCH-
Traders are again predicting that oil could breach the USD 200 per barrel mark this year due to Russia's growing isolation imposed by Western sanctions and a shortage of alternative supply sources, according to the Financial Times. A Europe and US-led boycott of Russian oil could cause the market to lose as many as 3 mn barrels of oil per day, while any alternative suppliers — including other OPEC+ members such as GCC countries — would need at least a year to ramp up output enough to plug the gap, traders say.
COVID WATCH-
Egypt saw an average of 625 new covid-19 infections per day last week, down from 788 per day the week before — and a daily average of eight covid-related deaths, down from 12 per day the previous week, according to Health Ministry figures released yesterday. Around 32 mn people are now fully vaccinated, and more than 1.9 mn have had their boosters, the statement added.
CIRCLE YOUR CALENDAR-
Afreximbank and the Angolan Embassy in Egypt are hosting (pdf) an Angola-Egypt investment roundtable on Wednesday at the Hilton Cairo Heliopolis Hotel. Click here to RSVP to join the discussion.
The Egypt International Mining Show (EIMS 2022) kicks off on Monday. The virtual event will wrap on Tuesday.
Check out our full calendar on the web for a comprehensive listing of upcoming news events, national holidays and news triggers.
---
IN MEMORIAM: President of the Lawyers' Syndicate Ragai Attia has passed away at the age of 84, Al Masry Al Youm reports. Attia suffered a heart attack during an ongoing trial at a Giza court. In addition to his notable career in law, Attia was the author of dozens of published books in the literary, religious, and legal fields, including The renewal of religious thought and discourse.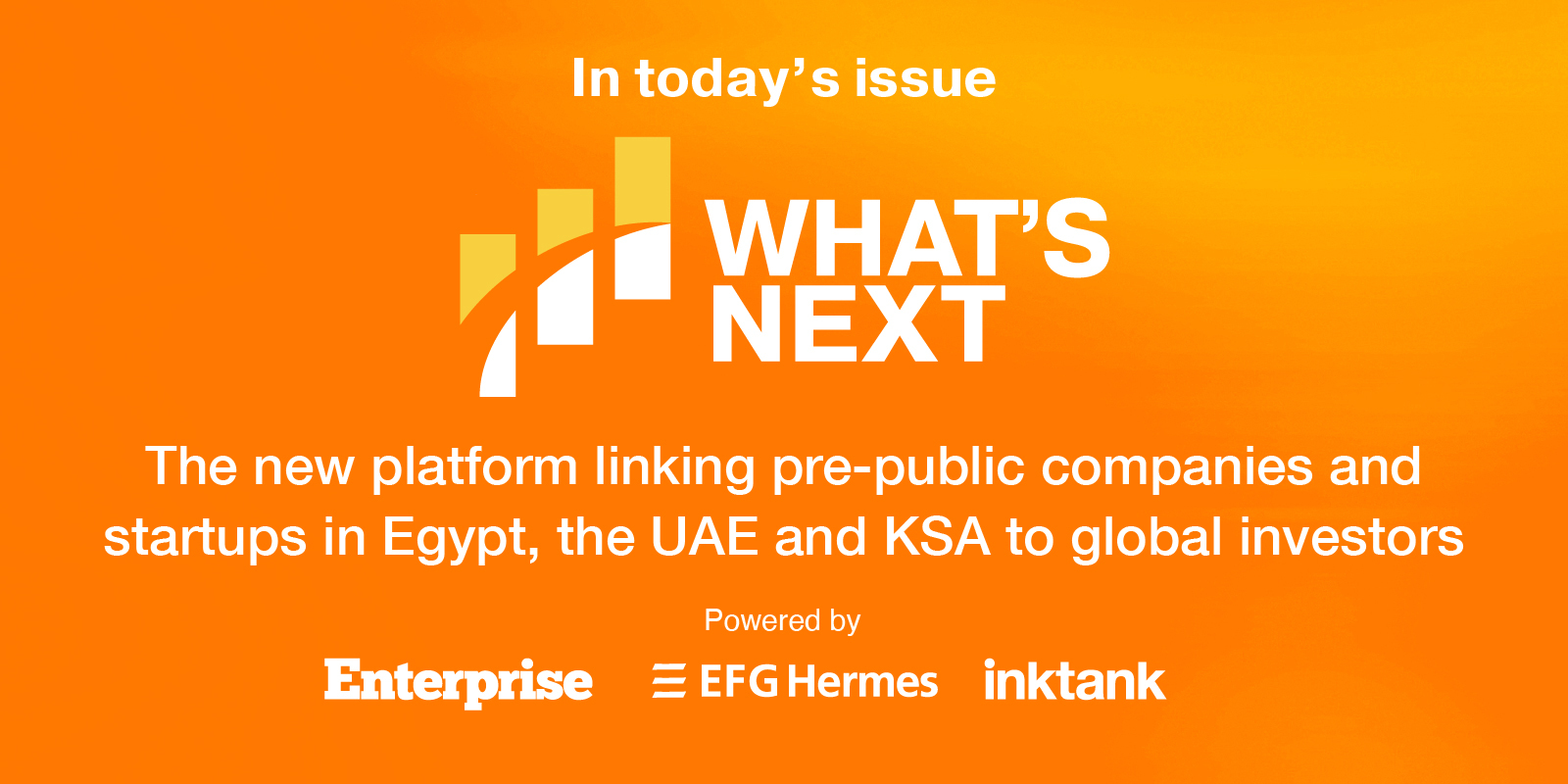 *** It's What's Next day: We have our weekly deep-dive into what makes and shapes pre-listed companies and startups in Egypt, the UAE and KSA, touching on investment trends, future sector insights and growth journeys.
In today's issue: Last week, we talked to the CIT Minister advisor on AI Sally 'Golestan' Radwan and took a deep-dive into the ministry's national strategy on the sector. Today, Radwan tells us about the practical applications of the strategy and its development.