Sunday, 6 March 2022
THIS MORNING: Goodbye Covid Watch; IMF warns of global economic impact of Ukraine war; FX reserves rise in February.
Good morning, friends, and happy Sunday to you all. This morning's issue is a bit like drinking from a fire hose, so let's jump straight in:
THE BIG STORY ABROAD THIS MORNING- The war in Ukraine and sanctions on Russia will have a "severe impact" on the global economy, the IMF said in a statement yesterday. Price shocks will likely be felt worldwide, especially in poor households where food and fuel make up a significant proportion of expenses. "The sanctions on Russia will also have a substantial impact on the global economy and financial markets, with significant spillovers to other countries," the statement said.
We have the latest on the war and its impact on Egypt in this morning's news well, below.
DATA POINT OF THE MORNING- Egypt's net foreign reserves rose to USD 40.99 bn in February, up from USD 40.98 bn in January, according to central bank data out last week.
PSA- Keep your windows closed today — there's a sand storm incoming. The Egyptian Meteorological Authority is predicting (pdf) high winds will whip up dust today in parts of Cairo, the North Coast and elsewhere across the country. The mercury will reach a high of 27°C in the capital today before things cool to a milder 21-22°C through the rest of the week. Overnight lows will range from 10-12°C through until Thursday.
---
EDITOR'S NOTE- We're discontinuing our regular Covid Watch section, ending our two-year-old count of new daily cases. The peak of this omicron-led wave is now well behind us, Egypt is making progress on vaccination that was unimaginable a year ago, and more and more holdouts are going back to (some form of) working from the office. With omicron so mild, what matters far more than new case numbers is the official death count — and that was at 10 yesterday, a fifth of what it was just a few weeks ago. (And as we all know, the official case count has always been from government labs only, so it gives us "directionality" only when you consider that the majority of tests are done at private labs.)
"But Enterprise, we're still in the middle of the pandemic," you say. Yes, we are — for the moment. Nations around the world have for some time been moving to "live with" the virus — something we did here in Egypt more than 18 months ago. The simple fact is that we're in a far better position today than at any time in the past two years when it comes to this bug (touch wood). We'll continue to monitor developments, and if there's a need, we'll bring back Covid Watch.
We will keep track once a week of the government's vaccination figures. About 50% of those eligible have now been vaccinated, Acting Minister of Health Khaled Abdel Ghaffar said during last week's cabinet meeting. The latest health ministry figures show that almost 30.4 mn people are now fully vaccinated and another 10.1 mn have received their first shot. More than 1.2 mn have now received a booster jab. Around 121.6k children aged 12-15 and around 769k 15-18 year-olds have received two shots of a covid jab, Abdel Ghaffar said.
HAPPENING TODAY-
Mansour is not heading to Stamford Bridge: CEO of Mantrac Group and Man Capital Loutfy Mansour is not considering making a bid to buy Chelsea, Mansour's spokesperson told the Guardian. The Telegraph last week reported that the business mogul was considering a takeover bid after the club's owner, Russian b'naire Roman Abramovich, announced he would sell the club amid Western sanctions imposed on Russia in the wake of its invasion of Ukraine.
The House of Representatives is holding plenary sessions today through Tuesday to discuss a handful of bills, including amendments to the law regulating real estate brokerage that would see a registry set up for licensed brokers. The changes would also regulate fees, among other moves to professionalize the largely informal sector, Youm7 reports.
Also on the agenda:
Amendments to the law on illegal migration and people smuggling that will see tougher penalties and a national coordination committee set up, Youm7 reports.
Amendments to a law regulating the safety of vessels at sea that will make it mandatory for ship owners to report the sale or rent of their units to the relevant authorities, according to Youm7.
Military Production Minister Mohamed Morsy is attending the World Defense Show in Saudi Arabia, which kicks off today and runs through 9 March. Many of the ministry's products will be on display at the Egyptian pavilion, from armored vehicles through munitions, according to a statement by the ministry yesterday.
CIRCLE YOUR CALENDAR-
US Deputy Secretary of State Wendy Sherman will be in town this Thursday and Friday, the State Department said in a statement on Thursday. Sherman will meet with Foreign Minister Sameh Shoukry and "other senior officials", as well as the head of the National Council of Human Rights Moushira Khattab.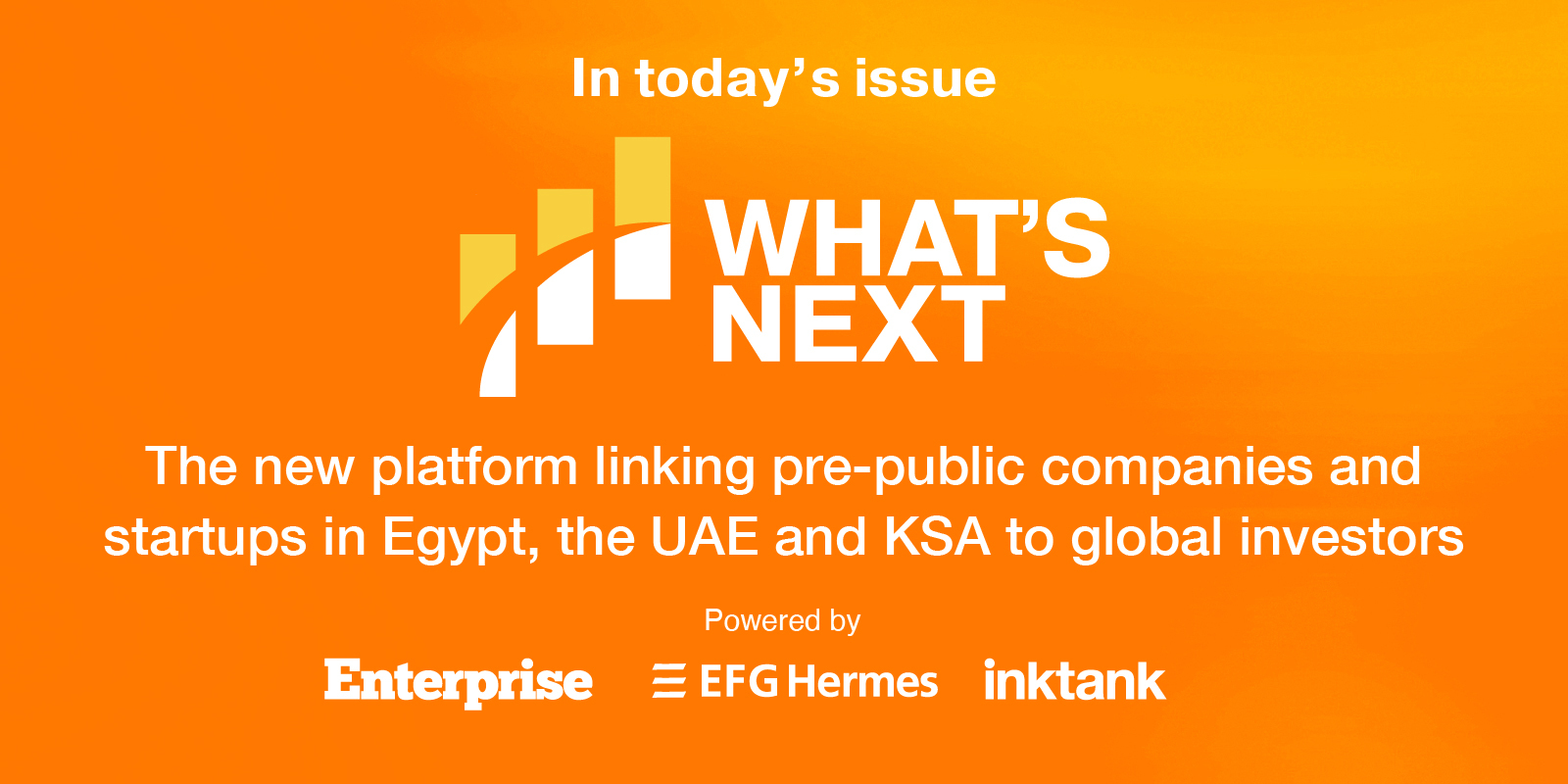 *** It's What's Next day: We have our weekly deep-dive into what makes and shapes pre-listed companies and startups in Egypt, the UAE and KSA, touching on investment trends, future sector insights and growth journeys.
In today's issue: Last week, we took a look at a recent CBE report on the recent evolution of Egypt's local fintech scene. Today, we explore what it tells us about what keeps Egypt's fintech players up at night.