Wednesday, 23 February 2022
THIS MORNING: War inches closer in Ukraine + A call from the CBE and Visa for fintech startups seeking funding
Good morning, friends. We're smiling here this morning after news that the official count of new covid-19 infections fell below the 2k mark yesterday. It's the first time in four weeks that the gauge has dipped below that mark, suggesting we're now past the peak of this wave.
Don't be fooled by this morning's unseasonably warm weather — temperatures are expected to plunge to 10° tonight across Egypt, with stormy weather expected to hit the North Coast and a slight chance of rain expected in Cairo, according to the national weather service. We're looking forward to a high today of 26°C before temps fall back to 18-20°C Thursday through Saturday.
THE BIG STORY here at home is courtesy our elected representatives, who passed yesterday a raft of bills that will give us future flow securitization and a simpler real estate registry — and close the door on a Nasserist legacy that has left property owners unable to evict businesses and government agencies leasing space under the so-called Old Rent Law. We have chapter and verse on this and more in this morning's news well, below.
YOUR MANDATORY (NOT YET) WAR DISPATCH- Western nations are slapping Russia with sanctions over Ukraine. The US, United Kingdom, Canada and many European Union countries announced separate packages of sanctions against Russia on Tuesday, hours after Russian President Vladimir Putin said he would send troops into two separatist regions of Ukraine. The Western nations' sanctions largely target the international dealings of Russian banks and high net-worth individuals, though Germany went a step further, as it put on hold the Nord Stream 2 gas pipeline with Russia.
Analysts are saying the moves are unlikely to have a major impact on Russia's "fortress" economy. Most Western nations held off on implementing the most severe sanctions in the hopes that they can still persuade Putin to call off a wider invasion. The Russian leader is sitting on more than USD 600 bn worth of foreign currency and gold reserves (handily one of the top five stockpiles in the world), giving him plenty of time to withstand sanctions.
Russian lawmakers gave Putin the greenlight to advance: The country's legislators voted unanimously to allow the use of military force abroad yesterday.
But it's still not clear just how far Putin plans to take this: Russian boots are not yet on the ground in Ukraine, though satellite imagery shows increased military build-up on the border and in Belarus. "I haven't said that the troops will go there right now," Putin said.
Putin is keeping Kyiv on high alert as it peruses a laundry list of demands that the Russian president says would be needed to end the crisis. He wants Ukraine to recognize the 2014 annexation of Crimea, promise never to join NATO, and partially demilitarize. (Chances of any of those wishes being granted are slim to none.)
The US is adamant that an invasion is coming: "To put it simply, Russia just announced that it is carving out a big chunk of Ukraine," US President Joe Biden said yesterday, "This is the beginning of a Russian invasion of Ukraine."
Ukraine is still trying to project calm: Kyiv has called up reservists but isn't yet calling for a general mobilization.
Markets, naturally enough, don't like any of this one bit: The S&P 500 slipped into correction territory on the back of yesterday's news, falling 1% — putting it down 10.3% from its January peak. The last time that happened was in March 2020 at the outbreak of a pandemic, when the benchmark index went on to fall more than 30% in the space of a month. Other US markets posted similar losses, but European indices largely closed out flat after dipping earlier in the day.
Markets also have the collective attention span of a three-month-old puppy: Asian markets are in the green this morning (with the exception of the Nikkei), and futures at dispatch time suggest that most major European and Wall Street benchmarks will follow suit later today.
And the crisis is pushing oil ever-closer to the USD-100 mark: Brent crude hit a seven-year high of more than USD 99 during trading, before falling back to close at just under USD 97.
Need more coverage? Bloomberg, Reuters, the Associated Press, the Washington Post, the Wall Street Journal, the Financial Times, and the New York Times are all following events in Ukraine as they unfold.
LOOKING AHEAD-
Expect a final decision on the Iran nuclear accord this week, according to Twitter statements by the French, Russian and UK negotiators in Vienna. The negotiators are gearing up to finalize resolutions during a Joint Commission meeting later in the week, according to an unidentified European official cited by Bloomberg.
CIRCLE YOUR CALENDAR-
ARE YOU BUILDING A FINTECH STARTUP? You might want to apply for Visa's global startup competition, the Visa Everywhere Initiative, the payments firm said in a statement (pdf) yesterday. In collaboration with the Central Bank of Egypt's new Fintech Egypt project, the local contest will see Egyptian fintech players go head-to-head for a monetary award and the chance to advance to the regional and global finals. On offer: EGP 500k for the first-place finisher and a place in the Central and Eastern Europe, Middle East and Africa (CEMEA) regional finals in June.
What you need to know: A full breakdown on the entry criteria, the application process, and the schedule is available online here. The deadline for applications in Egypt is 20 March.
MEANWHILE- Two Egyptian startups will pitch their businesses to leading tech investors at the pan-African Africa Tech Summit in Nairobi, which kicks off today. Blockchain-based communications platform Pravica and agritech startup Visual and AI Solutions (VAIS) are among the nine startups that have been selected for the two-day event, which will bring together African startups, VC and private equity investors, lenders, and global tech leaders.
Check out our full calendar on the web for a comprehensive listing of upcoming news events, national holidays and news triggers.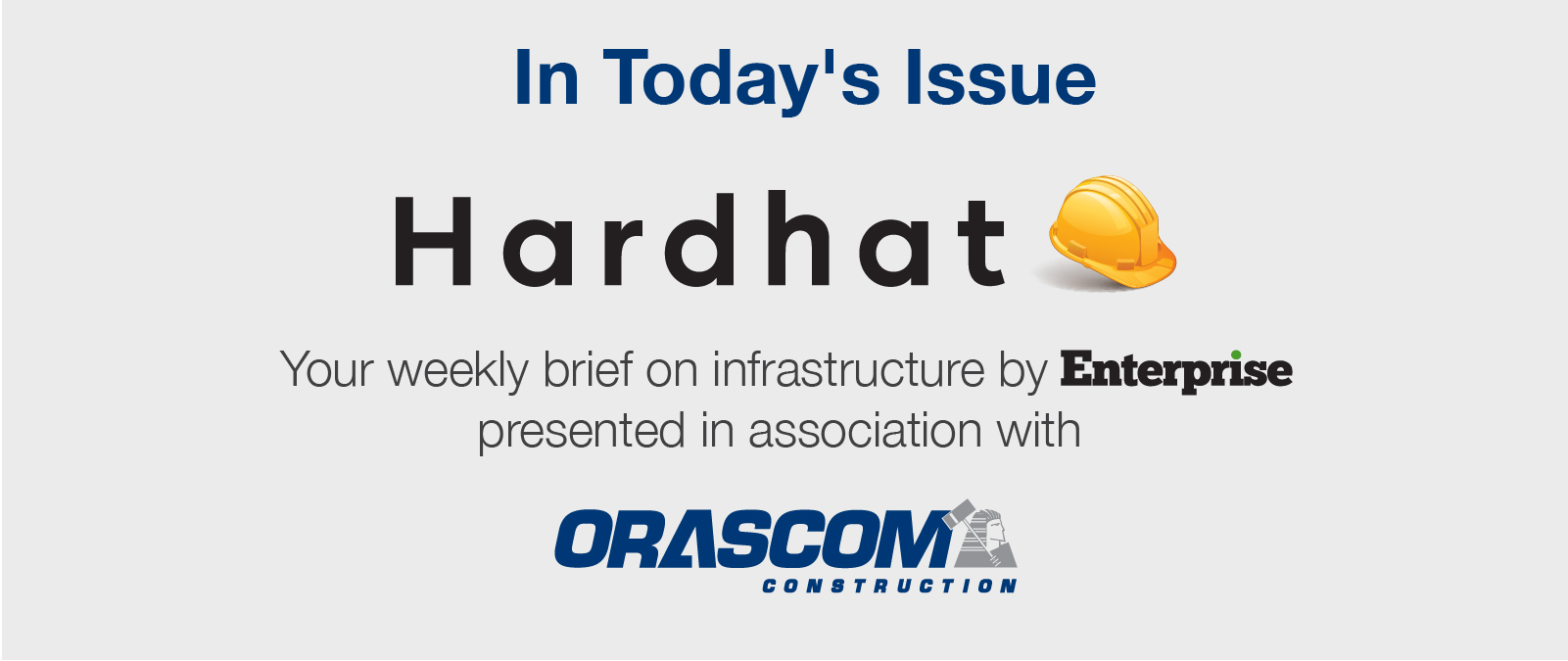 *** It's Hardhat day — your weekly briefing of all things infrastructure in Egypt: Enterprise's industry vertical focuses each Wednesday on infrastructure, covering everything from energy, water, transportation, and urban development, as well as social infrastructure such as health and education.
In today's issue: After landing contracts to design and supervise several transport and infrastructure projects in Egypt, French consulting and engineering firm Egis has plans to do more here and expand its footprint. We sat down with Egis CEO Laurent Germain, Middle East CEO Alaa AbuSiam, and Egypt Managing Director Sameh Atalla to talk about the group's goals for Egypt, including prospective projects and possible acquisitions, as well as its plans to cement its presence here.