Sunday, 20 February 2022
THIS MORNING: Old rent law up in the House + US Climate Envoy John Kerry makes a visit
Good morning, wonderful people, and welcome to another busy workweek. It's the kind of morning that sends you plenty of mixed signals.
Lots is going well here at home: A great CBE report on fintech is out, FAB's bid for our friends at EFG Hermes is ticking along, a major UAE investor is looking at Egypt, Europe wants lots of our natural gas, and we just locked in wheat away from the fields on which Russia and Ukraine are locking horns.
But the mood outside our borders is … less welcoming: Those war drums are beating louder and louder in Ukraine — and JPMorgan thinks the US Federal Reserve could go for nine quarter-point rate hikes this year.
SMART POLICY- The Central Bank of Egypt is out this morning with its inaugural Fintech Landscape Report (pdf), underscoring how quickly the nation is making progress on its ambition of becoming "a globally recognized fintech hub in the Arab world and Africa." Egyptian fintech players raised over 4x more capital in 2021 than they did the year before, the report says, with some 32 startups landing USD 159 mn against the USD 37.1 mn that 25 outfits raised the year before. We'll have a deep dive into the report next Sunday in What's Next, but fintech founders (and those dreaming of their own startups) will want to have a close look at pp. 14-15, which provides a great graphical overview of the sector and a map of just about all major players.
Critically, the CBE also includes a roadmap to where it sees room for the industry to grow by providing a clear summary of its "five pillars of fintech and innovation strategy" starting on page 21.
WHAT'S HAPPENING TODAY-
PSA- Expect a foggy commute today and tomorrow: The national weather service is forecasting morning fog on the roads leading in and out of Cairo for the first part of the week. Yesterday's stormy weather — which saw dense clouds, lightning and rain hit Cairo and Suez (watch, runtime: 0:18) and snow blanket parts of Sinai (watch, runtime: 0:09) — is now in our rearview mirror. Our favourite weather app is predicting sunny skies from and a high of 19°C today.
Look for the weather to warm up a bit through Wednesday with a daytime high of 23°C before the mercury slides below 20°C for the weekend.
The House of Representatives is back in session today. On the agenda:
The so-called "old rent law," which would, if passed, allow landlords to evict government agencies, public and private companies, embassies, and other entities leasing properties under the old rent system within five years of its being signed into law. Tenants would pay five times their current rent — with a 15% annual rent hike — in the meantime. The bill doesn't impact individuals renting residential properties under the old rent system. The House Housing Committee signed off on the bill last month.
Amendments to the Capital Markets Act. Though the House schedule is scant on detail, this could refer to a Financial Regulatory Authority proposal to allow utilities and other companies to raise capital by securitizing future cashflows, which was greenlit by cabinet in November.
Plenary sessions will run until Tuesday, when the House is set to discuss amendments to the Income Tax Act that would see property owners pay a lump sum tax when they register real estate assets that were sold before 2013. The House of Representatives' Planning and Budget Committee greenlit the amendments a few weeks ago.
US climate envoy John Kerry is in town today for a two-day visit, where he will meet with Foreign Minister Sameh Shoukry for the inaugural meeting of a US-Egypt climate working group ahead of this November's COP27 summit in Sharm El Sheikh, according to a US State Department statement. Kerry will also deliver an address at the American University in Cairo on the future of international climate action.
---
SIGN OF THE TIMES- Two Gulf countries have relaxed travel restrictions:
Kuwait: From today, fully vaccinated travelers will no longer be required to get a PCR test before traveling or on arrival to Kuwait, and will no longer need to quarantine after arrival, Kuwait's civil travel authority announced on Tuesday. A post-flight PCR test and seven-day home quarantine is still required for people who are partially vaccinated.
Bahrain: As of today, all travelers to the Gulf kingdom are no longer required to get a PCR test on arrival or undergo quarantine, Bahrain Airport said Thursday.
The annual 11-member Gas Exporting Countries Forum kicks off today and runs until Tuesday in Doha. The group, which includes Egypt, Russia, Qatar, Iran, Libya, Algeria and Nigeria and accounts for more than 70% of global gas reserves, is expected to discuss ways to ramp up production in the medium term, France 24 reports. Diplomats say expectations aren't high, given there's "next to no spare gas" available.
Russian President Vladimir Putin is not expected to show up in light of the situation in Ukraine, while Qatar has been under pressure to secure additional gas supplies to Europe in case Russia cuts the continent off.
Meanwhile, our people have been talking with Europe's people about upping gas supply to the continent. More on that in today's newswell, below.
Ethiopia powers up GERD: Ethiopia will start generating electricity from the Grand Ethiopian Renaissance Dam (GERD) for the first time today, unnamed government officials told France24. Negotiations over how to allocate the Nile's water between Egypt, Sudan and Ethiopia have been on ice since last summer, when Ethiopia completed the second filling of the dam and the international community declined to intervene in the dispute. Egypt has been making an effort to deepen African alliances in light of the dispute ever since.
THE BIG STORY ABROAD- Tensions in Ukraine could be about to snap. Two Ukrainian soldiers were killed yesterday amid escalating violence along the so-called "contact line" in Eastern Ukraine. Violations of a long-held ceasefire pact with Russia-backed separatists have ramped up in recent days, with reports of increased shelling. The sense of apprehension was heightened as Russia began strategic nuclear exercises. President Joe Biden has scheduled a National Security Council meeting for today, as US officials brief that the 150k+ troops mobilized at Russia's border are "poised to strike." Meanwhile, Germany and France joined the US and UK in calling for all their citizens to evacuate Ukraine immediately.
Ukraine urged the West to act on its threat of sanctions against Moscow before it's too late: "Some countries are committing crimes while others are indifferent, and that indifference has turned them into accomplices," said Ukrainian President Volodymyr Zelenskiy. The New York Times, Financial Times, Wall Street Journal, Reuters, Bloomberg and the Washington Post have more.
CIRCLE YOUR CALENDAR-
The Nebu Expo for Gold and Jewelry 2022 continues today at the Royal Maxim Palace Kempinski Hotel in New Cairo. The event wraps tomorrow
A call for tech startups: The Information Technology Industry Development Agency (ITIDA) and US-based VC firm Plug and Play have launched an incubator and accelerator program for digital transformation-focused startups in partnership with our friends at USAID. The newly launched "Smart Cities" innovation hub will select 20-30 Egypt-based companies for its inaugural three-month program, which starts in March. Startups can apply here before applications close on 28 February.
Check out our full calendar on the web for a comprehensive listing of upcoming news events, national holidays and news triggers.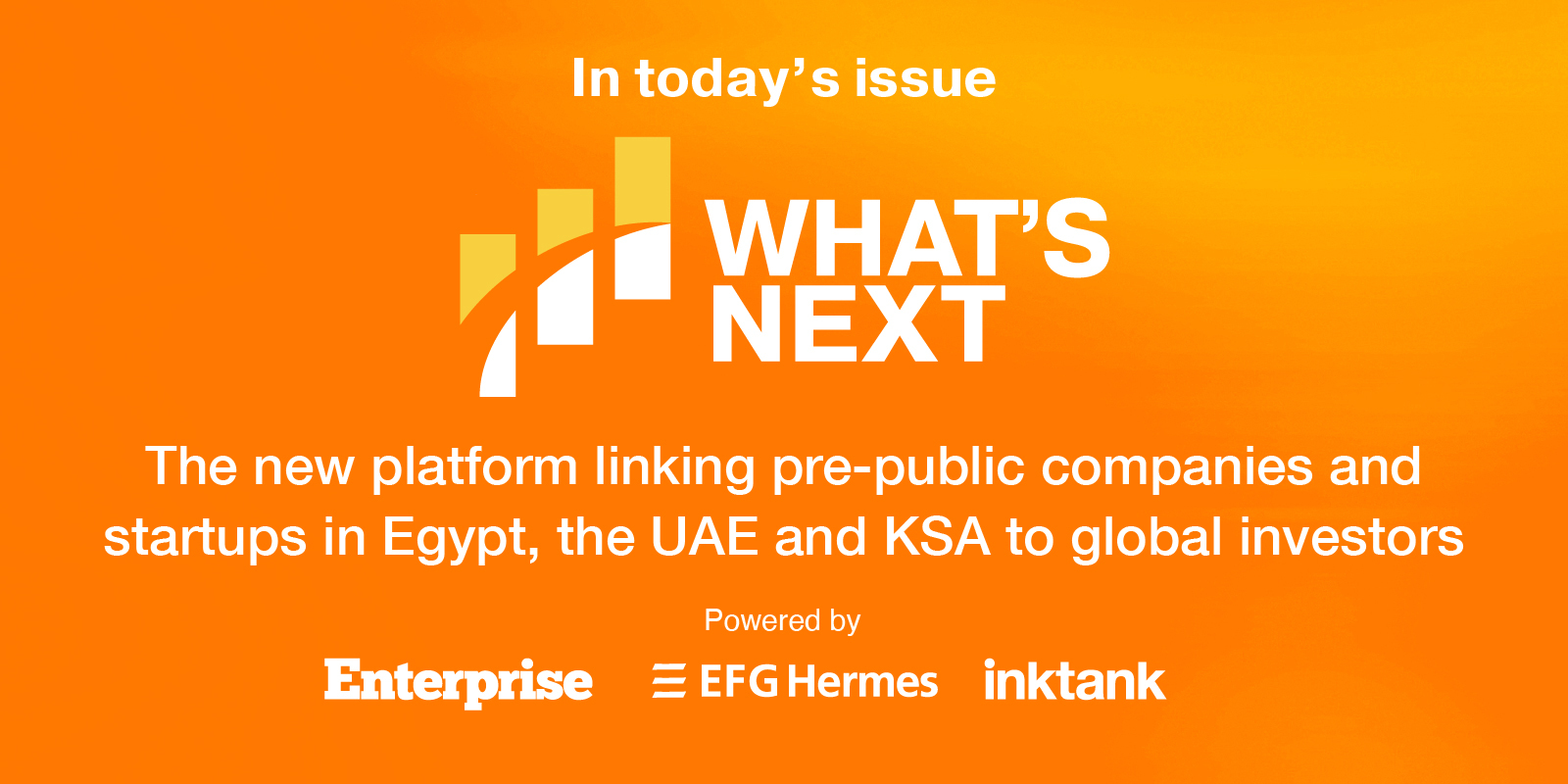 *** It's What's Next day: We have our weekly deep-dive into what makes and shapes pre-listed companies and startups in Egypt, the UAE and KSA, touching on investment trends, future sector insights and growth journeys.
In today's issue: Mobile equities trading platform Thndr made headlines earlier this month for raising USD 20 mn in its Series A investment round. We discussed the company's upcoming plans with Thndr co-founder and COO Seif Amr, who talked about where the company currently stands, how it grew its user base despite the cultural aversion to investing and how users behave on the app.