Monday, 7 February 2022
THIS MORNING: AFCON final sees Pharaohs lose to Senegal + Retail portion of Macro Group's IPO 32x oversubscribed so far
Good morning, nice people. We're still licking our wounds after the national team's loss in last night's Afcon final, so let's just get that out of the way up top, shall we?
The Pharaohs walked away with silver medals after losing in a penalty shootout that went 4-2 to Senegal, leaving much of the team in tears over the loss. The game was Egypt's fourth in a row to go into extra time. Neither team managed to get anything in the back of the net during play after Mohamed Salah's Liverpool teammate Sadio Mane missed an early penalty shot for Senegal. After defender Mohamed Abdelmonem and midfielder Mohanad Lasheen failed to land their spot-kicks, Mane netted his, bringing Senegal its first Afcon victory in history.
The Pharaohs will get a chance at redemption / revenge in the final round of African qualifiers for the World Cup in the last week of March, which will see Egypt face Senegal once again in a two-legged tie.
CORRECTION- We incorrectly stated in yesterday's EnterpriseAM that the last time Egypt reached an Afcon final was in 2010. The Pharaohs of course made it through to the final in 2017, where they lost 2-1 to Cameroon. We have since updated the story on our website.
MARKET WATCH-
The latest FX reserves figures are out: Egypt's net foreign reserves were stable at USD 40.98 bn in January against USD 40.93 bn in December, according to central bank data out yesterday.
The retail component of Macro Group's IPO was 32x oversubscribed at the close of yesterday's trading session. The subscription period closes at the end of tomorrow's session, Al Borsa reports, citing Macro co-founder and chairman Ahmed El Nayeb. The company wrapped up its private placement to institutional investors, which was 1.8x oversubscribed, last Wednesday, and is expected to start trading shares "on or around" this Thursday under the stock ticker MCRO.CA.
Refresher: Shareholders are offering up to 45.8% of the company (c. 264.5 mn shares) for sale, with 95% (c. 251.3 mn shares) earmarked for institutional investors and 5% (c. 13.2 mn shares) are available in the retail offering.
HAPPENING TODAY-
Djiboutian President Ismail Omar Guelleh will meet with President Abdel Fattah El Sisi today for bilateral talks, according to an Ittihadiya statement.
THE BIG STORY ABROAD- You guessed it — it's still Ukraine. French President Emmanuel Macron will try to get Russia to dial down tensions when he visits Moscow for talks with Vladimir Putin today, before flying on to Kyiv to meet Ukrainian leaders on Tuesday. Meanwhile, the US is still insisting that Russia could invade Ukraine "any day," a view that Russia says is alarmist —- one point on which it appears to be in agreement with Ukraine. The US and some NATO allies are pumping weapons into Ukraine via an air bridge just in case. The Wall Street Journal, Reuters, Bloomberg, the Washington Post, the New York Times and the Associated Press are, as usual, all carrying the latest developments.
Meanwhile, re: Europe's looming energy crisis: The EU is putting contingency plans in place in the event that it loses gas supply from Russia amid a relationship breakdown over Ukraine, the Financial Times reports. That could mean intervening on prices and trying to secure fresh supplies from big producers — something US President Joe Biden has already been attempting, apparently without much success. Rolling blackouts and emergency rationing could be in Europe's future if Moscow shut off supply to Europe entirely, according to some analysts.
INFLATION WATCH-
Food prices are getting out of control: Global food prices rose closer to record highs in February as supply chain disruptions, rising energy prices, poor weather and labor shortages push the world closer to a food crisis. Figures released Thursday by the UN Food and Agriculture Organization showed that February food prices were only slightly below their all-time high set in February 2011. It isn't "much of an exaggeration" to suggest that the world is heading for a global crisis, Maurice Obstfeld, a senior fellow at the Peterson Institute and former IMF chief economist, told the New York Times. High unemployment, slowing growth and weak post-covid public finances have produced "a perfect storm of adverse circumstances," he said.
CIRCLE YOUR CALENDAR-
Inflation figures are due out this Thursday, 10 February. Annual urban inflation rose to 5.9% in December from 5.6% in November. Prices are expected to continue to rise in the short term due to an unfavorable base effect along with a global increase in consumer prices — but look set to stay within the central bank's target range of 7% (±2%) by 4Q2022. The Central Bank of Egypt expects price stability in the medium term, it said last week following its monetary policy committee meeting. The government's fuel pricing committee's decision to raise fuel prices over the weekend is expected to have only a limited impact on inflation, analysts said.
The Finance Ministry is holding a public consultation on Thursday, 10 February at 5pm CLT to discuss the draft budget for next fiscal year, Al Mal quoted Finance Minister Mohamed Maait as saying. Eight groups representing a cross-section of society are set to weigh in on the FY2022-23 budget, while the ministry is also calling on business associations to participate in the dialogue. The draft bill will go to the House of Representatives for discussion and approval following the public consultations.
TOMORROW is your last day to apply- Women can now apply to join Fortune Global Women's Mentoring Program which will take place from 8-28 May 2022. The program aims to bring emerging women leaders from around the world to the US to meet and learn from the Fortune Most Powerful Women community, which includes executive women mentors from companies such as Accenture, Johnson & Johnson, and Aetna. The deadline to apply for the program is 8 February. You can begin your application by signing up here via our friends at the US Embassy in Egypt.
Check out our full calendar on the web for a comprehensive listing of upcoming news events, national holidays and news triggers.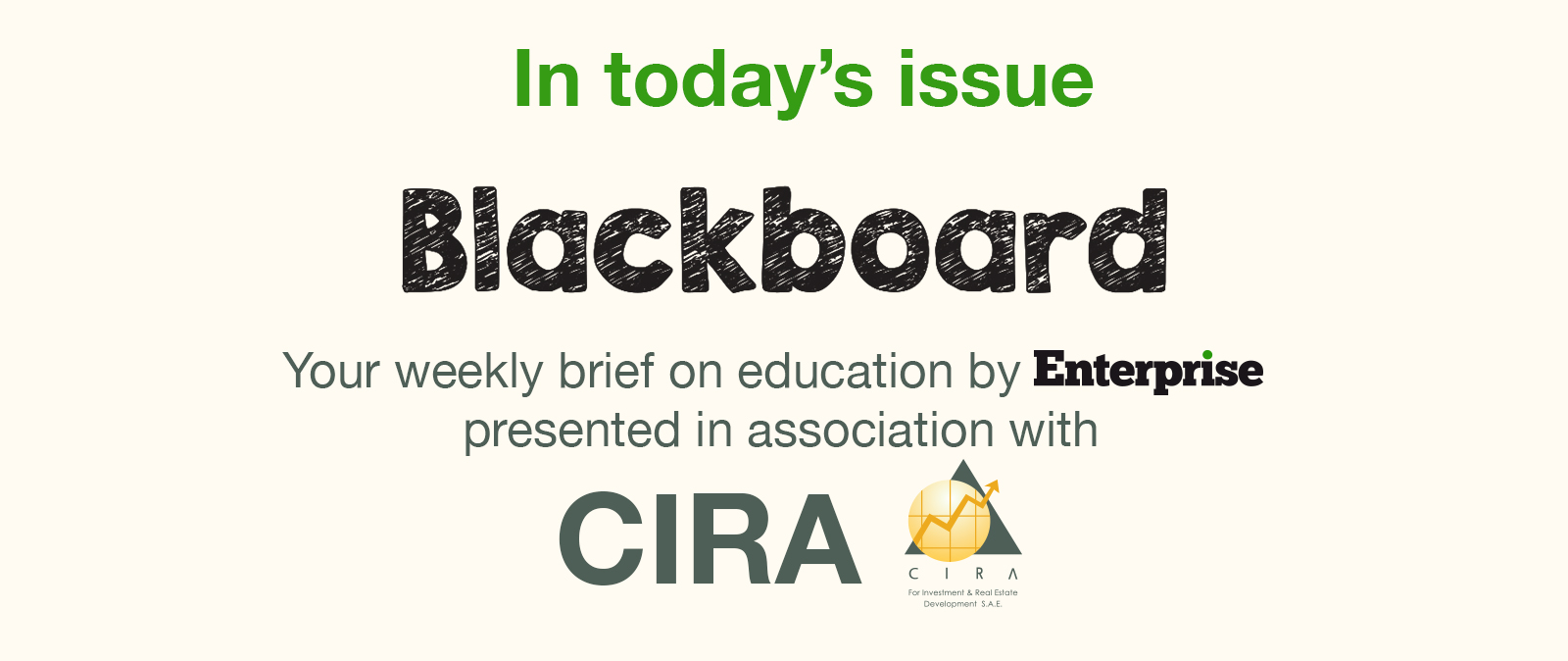 *** It's Blackboard day: We have our weekly look at the business of education in Egypt, from pre-K through the highest reaches of higher ed. Blackboard appears every Monday in Enterprise in the place of our traditional industry news roundups.
In today's issue: Education management companies are growing rapidly in Egypt, in both their number and scope, as we explored last week. Today, we look at the factors driving that growth. Key among the top benefits of education management companies is their ability to tap into know-how, access to capital, resources and high-caliber employees, which makes them well positioned to meet the growing demand for private and international education. And for a growing number of operators, they're also highly cost-effective vehicles for geographic expansion.