Sunday, 6 February 2022
THIS MORNING: Macro's retail offering 6.5x oversubscribed + the AFCON final, finally
Good morning, wonderful people, and welcome to another big news day.
Setting the tone this morning: The Central Bank of Egypt left rates on hold as it takes a wait-and-see approach on both inflation and the market impact of the US Federal Reserve's plan to hike interest rates this year. The news comes as the state's fuel price committee hiked prices at the pumps once again (oil prices are well ahead of the figure the Madbouly government has penciled into the budget)
ALSO- Macro Group's shares are due to start trading by Thursday on the EGX under the ticker MCRO.CA, Swvl just raised money from EBRD and Teklas, and the PMI was down in January despite wide optimism about doing business in Egypt in 2022. We have the rundown on all of this and more in this morning's news well, below.
WATCH THIS SPACE- The UAE's biggest Islamic bank, Dubai Islamic Bank, is mulling a move into Egypt as well as Saudi Arabia and Turkey over the next five years as part of its international expansion strategy. "These are three markets that one cannot ignore," CEO Adnan Chilwan told Bloomberg TV in an interview on Friday.
It's AFCON finals night. The Pharaohs advanced to their first Afcon final in five years, edging out hosts Cameroon on Thursday night in another cagey goalless draw that was settled at the penalty spot. Having seen off Ivory Coast in a similar fashion in the quarter-finals, the Pharaohs were well prepped for a spot kick showdown against a Cameroon side who evidently hadn't practiced their penalty kicks. Two saves by goalkeeper Gabaski and one meek shot blazed wide saw the tie go 3-1 to Egypt, setting up an Egypt v Senegal / Mohamed Salah v Sadio Mane showdown in Olembe.
The bad news: The Pharaohs will be without manager Carlos Queiroz on the touchline after he was sent off for arguing with the referee. His assistant Wael Gomaa will also be in absentia after receiving his second yellow card of the tournament.
Kick off: 9pm tonight.
PSA- All travelers to Saudi Arabia will have to present a negative PCR test taken within 48 hours before flying, regardless of their vaccination status, according to an EgyptAir statement. The new rules will come into effect at 10am CLT on Wednesday, 9 February.
---
HAPPENING THIS WEEK-
Is the automotive industry about to get a helping hand from government? It's been six years, but we could finally see some details later this month on the long-awaited package of incentives to stimulate the local car assembly industry, according to statements made by Prime Minister Moustafa Madbouly on Thursday. The strategy, which has been in the works since 2016 and has seen years of delays, revisions and overhauls, aims to grow a car assembly industry that can compete with European Union, Moroccan and Turkish imports.
The House of Representatives is holding plenary sessions today through Tuesday to discuss a handful of laws and amendments, including changes to the Real Estate Registry Act, Al Shorouk and Youm7 report. The amendments, which received the green light from the House's Legislative Committee last week, aim to simplify property registration procedures by significantly reducing the number of required documents, digitizing parts of the procedure, and putting a time ceiling on the process.
Also on the agenda:
A draft law permitting landlords to evict organizations renting non-residential properties under the "old rent" law, which also received the Housing Committee's nod in January.
An overhauled Tourism and Hotels Act set to simplify licensing rules for hotels and tourism companies, which was given preliminary approval by the House at the end of January.
Amendments to the Education Act that would see an EGP 500-1k fine imposed on parents whose children miss school without sufficient reason. The House will discuss a report from its Education Committee on why it struck down the amendments last week.
Foreign Minister Sameh Shoukry is in Addis Ababa for a two-day African Union (AU) summit, which kicked off yesterday, Cabinet said in a statement last night. Senegelese leader Macky Sall took over as AU president at the summit, which sees members discuss the ongoing pandemic, deteriorating security in Africa amid coups and insurgencies, and food insecurity. Shoukry has so far met with several diplomatic figures on the sidelines of the summit, including Palestinian Prime Minister Mohammad Shtayyeh.
---
THE BIG STORY ABROAD-
Ukraine crisis bubbles on: Though international coverage seems to have dropped a notch, most outlets are still carrying the requisite updates on just how imminent a Russian invasion of Ukraine might be. US intelligence says Putin could give the attack signal within days, according to the Washington Post, while Reuters says Russian forces are 70% assembled. The Financial Times, meanwhile, reports that the US believes "the optimum time for a Russian invasion" would be in the second half of February.
RELEVANT TO US– The Economist takes an in-depth look at what a Ukraine-induced disruption to global wheat supplies would mean for us here at home. The world's largest wheat importer, Egypt is also the largest consumer of Ukrainian wheat, last year purchasing the equivalent of around 14% of its total wheat consumption from the eastern European country.
Wheat prices last year hit their highest level in nearly a decade, and the Economist notes that prices "spiked" the last time Russia invaded Ukraine (when it seized Crimea back in 2014).
SIGN OF THE TIMES- Canada has become the latest country to signal that it is shifting to "living with the virus" as death and hospitalization rates taper — and citizens grow fed up with pandemic-era restrictions.
For our fellow iSheep: Apple is looking at an early March event at which to unveil a new iPhone SE and an updated iPad, Bloomberg's Mark Gurman reports. It will be the first event in a year that Gurman thinks will be a "record-setting" one for product launches.
MARKET WATCH-
Facebook Meta made history on the Nasdaq on Thursday for all the wrong reasons: Facebook parent Meta suffered a historic drop in its share price on Thursday after it forecast weaker-than-expected revenue growth for 2Q and admitted it had lost daily users for the first time ever in 4Q2021. The company lost more than USD 230 bn in market value as shares crashed 26%, making it the single-biggest one-day drop in the history of the US stock market and wiping USD 29 bn off Mark Zuckerberg's net worth.
Daniel Ek isn't smiling either: Spotify saw its shares fall as much as 18% ahead of Thursday's trading session after its outlook for subscriber growth fell below analyst expectations, Reuters reports. The streaming platform has been catching heat in recent weeks after its flagship podcaster Joe Rogan was accused of spreading misinformation about covid.
On the other end of the Big Tech seesaw: Amazon set the record for the biggest single-day gain in Wall Street history on Friday, as its shares soared 14%, adding USD 191 bn to its market cap on the back of strong cloud growth, Bloomberg reports.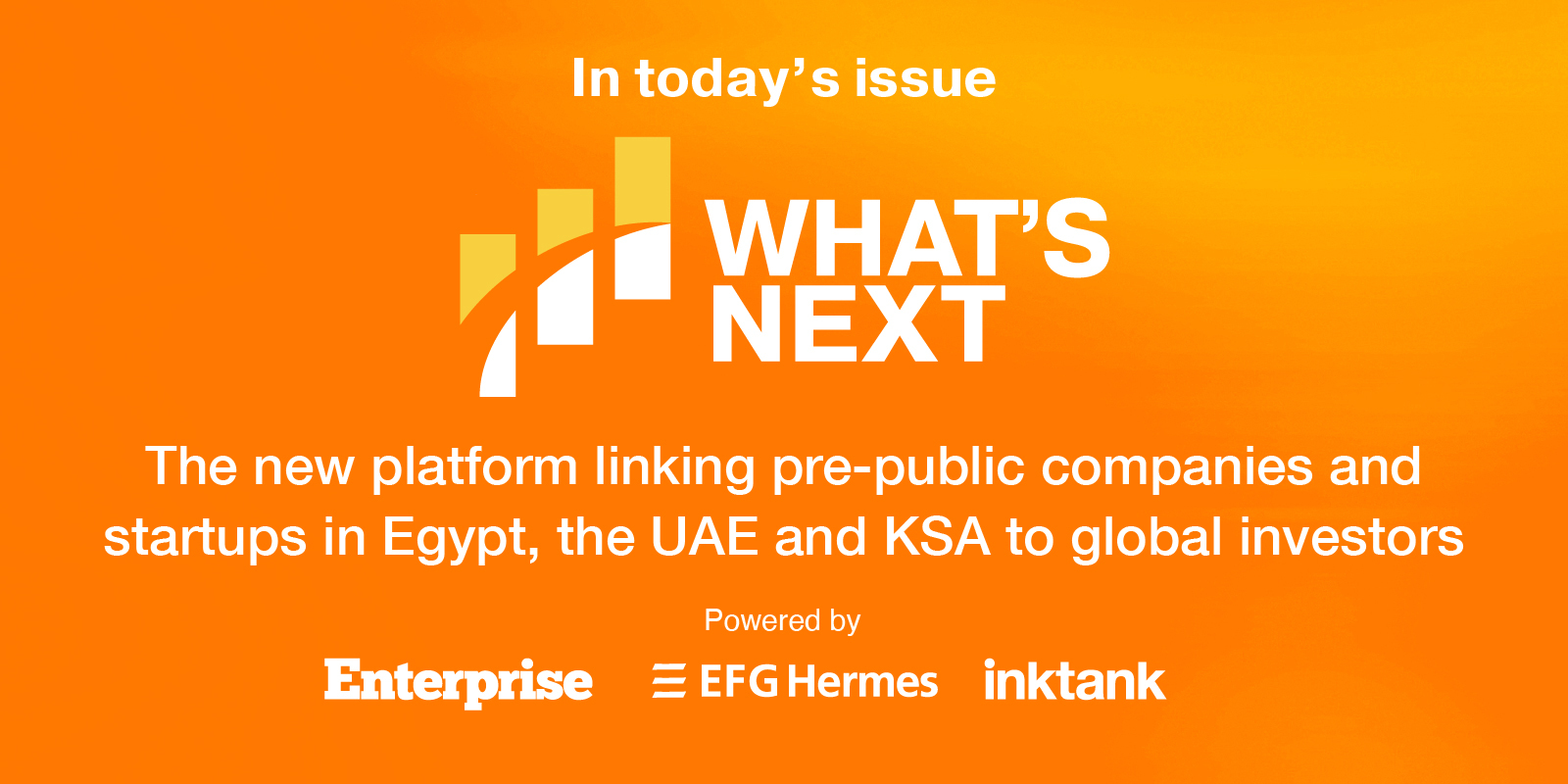 *** It's What's Next day: We have our weekly deep-dive into what makes and shapes pre-listed companies and startups in Egypt, the UAE and KSA, touching on investment trends, future sector insights and growth journeys.
In today's issue: While Egypt is fertile ground for superapps due to its largely unbanked population, wide smartphone adoption, and compelling demographics, challenges and investor concerns remain. This week, we delve deeper into the performance of these apps and the challenges they face.