Sunday, 30 January 2022
THIS MORNING: Our analyst poll rings in interest rate week + Afcon quarter-final tonight
Good morning, friends, and welcome to the last workweek of January. Hard to believe the year is 8.2% finished as of this fine, chilly morning.
It's interest rate week, which means the Central Bank of Egypt will hold on Thursday its first policy meeting of 2022. The consensus in our poll of analysts is that policymakers will hold rates steady. The meeting is the first after the US Federal Reserve signaled last week that it could start raising interest rates in March. Goldman Sachs is calling up to five rate hikes this year in the US of A, while BofA Global Research is penciling in seven 0.25 point hikes. We have the full story in this morning's Speed Round, below.
…And it's also PMI week: January PMI figures for Egypt, Saudi Arabia, and the UAE are due out on Thursday.
THE BIG STORIES ABROAD-
The threat of armed conflict in Ukraine continues to capture the attention of the world's media as we start this new week. Among the latest developments:
Britain goes for big-gun diplomacy: The UK is considering sending the biggest possible support package under NATO to defend Ukraine against a possible Russian attack, Reuters reports. Boris Johnson said a mass deployment that would double troop numbers and include arms could be on the cards, ahead of his visit to the region later this week.
US and UK intelligence officials believe a Russian strike is imminent — but the Ukrainian government refuses to be alarmed, with officials dismissing reports that Russia is ready to invade as "psychological warfare," according to the Financial Times, the Washington Post, and the New York Times.
Sanctions the Biden administration has threatened to deploy if Russia does invade Ukraine could bring the Russian economy to its knees — but could easily backfire on the US, the New York Times reports.
The brief reprieve from Erdonomics may have been just that: Turkish President Recep Tayyip Erdogan vowed to continue cutting interest rates on Saturday, claiming that lower inflation will follow, Bloomberg reports. His comments come after the country's central bank left interest rates on hold at its latest meeting, leading to hopes that Erdogan's widely derided policy of severe rate cuts meant to bring down inflation — which has seen the TRY plunge and prices soar to a 19-year high in the country — had been put on pause. Also on Saturday, it was announced that Erdogan had replaced the head of the country's national statistics institute, following reports of tension over inflation data, the Financial Times reports.
WHAT'S HAPPENING TODAY-
AFCON- Egypt face Morocco in Afcon quarter-final clash: The Pharaohs face their biggest test of Afcon yet when they meet their North African rivals in tonight's quarter-final. The team booked its place in the last eight on Wednesday by inching past Ivory Coast via a penalty shoot-out after a goalless draw. The game saw Egypt continue its run of unconvincing performances, with a mis-firing front line that has only netted twice this tournament but a stable defense that has now kept clean sheets for three consecutive games. The victors of tonight's match will face hosts Cameroon— who last night knocked Gambia out of the tournament with a 2-0 victory — in Wednesday's semi-final.
Kick off: 5:00pm.
Tonight's match could also decide the fate of Al Ahly: The club could be forced to play their first fixture in FIFA's Club World Cup in the UAE on 5 February without six of the team's best players, who will be busy playing for the Pharaohs should they advance, Reuters notes.
Morocco will finally lift its ban on international flights starting 7 February, the official Moroccan news agency (MAP) reported. The country banned all flights into the country in late November after the emergence of the omicron variant.
Correction 30th January 2022: A previous version of this story incorrectly stated that Egypt / Morocco will face Burkina Faso in the semi-finals of Afcon 2021.
CIRCLE YOUR CALENDAR-
PSA FOR (EARLY STAGE) FOUNDERS- Today is your last chance to apply for the spring 2022 cycle of EGBank's Mint Incubator. The incubator offers two tracks: A sector-agnostic track for startups at the MVP stage and a fintech track that accepts early-stage startups both at the ideation and MVP stages. Main founders must be between 16-35 years old. You can apply here.
OPEC+ will meet this Wednesday, 2 February: The cartel is expected to agree to another gradual oil production increase, hiking supply by 400k bbl / day in March. Planned production increases by the cartel have so far failed to meet the recovery in demand as several member countries struggle to up their output. The tightening of the oil market has pushed prices to a seven-year high this month. Some analysts say Brent could breach the USD 100 / bbl mark this year unless supply is increased.
The Cairo International Book Fair continues today at the Egypt International Exhibition Center. The event runs through to 7 February.
Check out our full calendar on the web for a comprehensive listing of upcoming news events, national holidays and news triggers.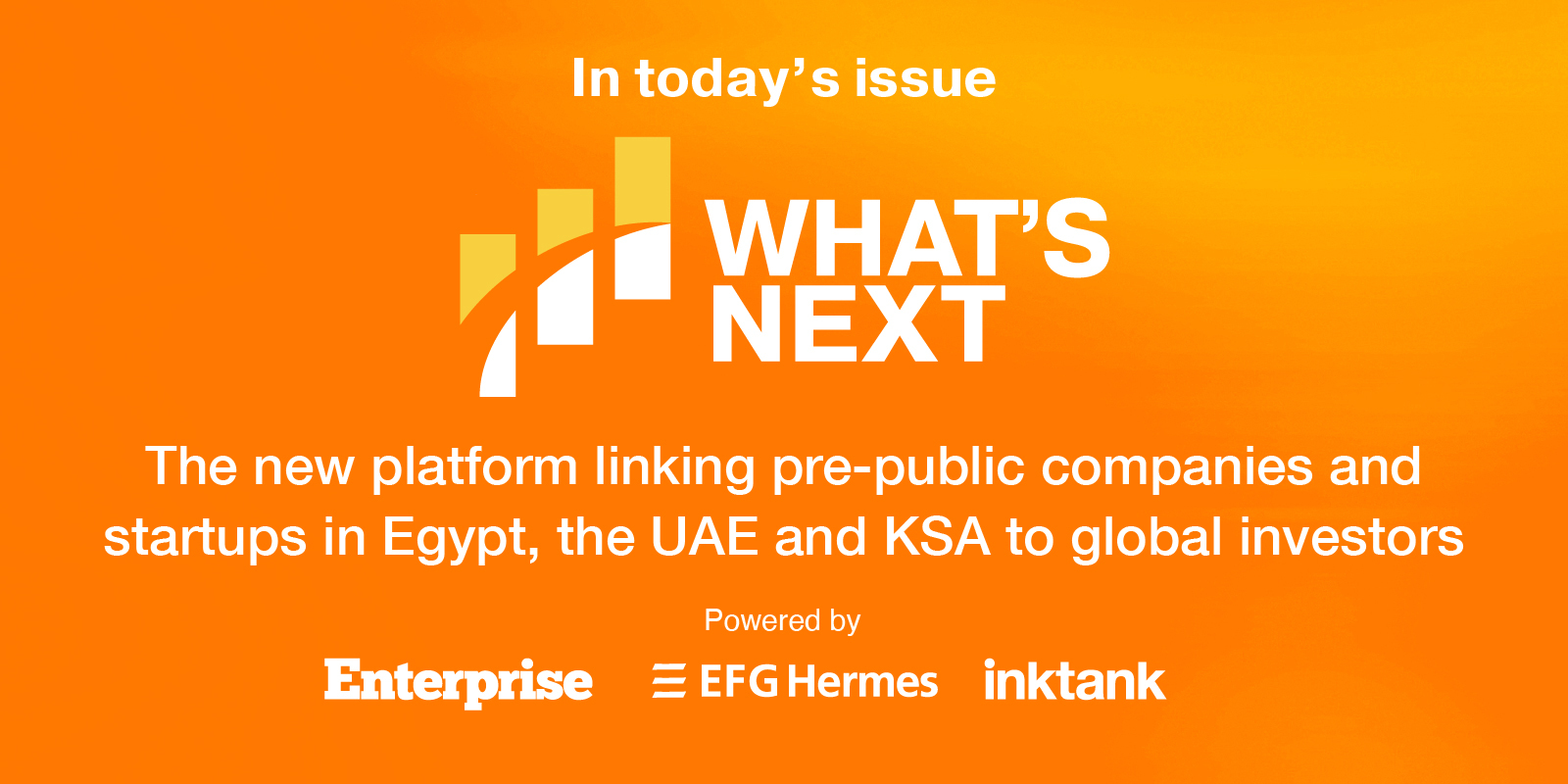 *** It's What's Next day: We have our weekly deep-dive into what makes and shapes pre-listed companies and startups in Egypt, the UAE and KSA, touching on investment trends, future sector insights and growth journeys.
In today's issue: We look into so-called superapps: why they are on the rise, how can they accelerate financial inclusion, and what is the Egyptian market like?