Tuesday, 25 January 2022
THIS MORNING: US Chamber of Commerce COP27 conference continues; Wild day in US stocks; IMF outlook out today; Fed meeting starts today.
Good morning, wonderful people, and happy hump day. What are you doing this morning to stay warm? Most of us here at Enterprise World Headquarters believe this is the coldest winter any of us have lived through in our fair country, and it seems we're not alone: Many readers we've spoken with in the past few days share the sentiment.
PSA #1- If you think it's cold this morning, wait for tomorrow. Our favorite weather app is telling us to expect a daytime high of just 11°C on Wednesday along with stiff winds and a chance of up to 5 mm of rain.
Complaining about the weather aside: It's a busy news morning here and abroad, including word from loyalty services provider Dsquares that it is not planning to SPAC, contrary to a report by Al Shorouk that we noted yesterday. And yesterday was another wild day on Wall Street, as shares clawed their way back from a steep selloff earlier in the day. You can practically hear the bears salivating. We have chapter and verse on these stories and more below.
*** DID YOU MISS THE RESULTS OF OUR 2021 ENTERPRISE READER SURVEY? The emergence of the delta and omicron variants, supply chain issues, and surging commodity prices did little to put a damper on business, with the vast majority of you saying 2021 was a good year. Optimism is the prevailing sentiment as we push ahead with 2022, with most respondents signaling plans to increase investments this year and suggesting they see their companies faring better than the competition. Tap / click here to see the full results.
We'll be announcing on Sunday the names of eight readers who we're inviting to breakfast when this current wave of the pandemic eases. And speaking of the pandemic: There's growing optimism among some global health officials that omicron could indeed mark " plausible hope for stabilization and normalization." In other words: It may signal that things are starting to wind down.
PSA #2- It's a four-day workweek: The Manpower Ministry confirmed that the private sector will be taking this Thursday off in observance of the 25 January Revolution / Police Day. The central bank and Prime Minister Moustafa Madbouly have in recent days announced that banks and the public sector will have the day off — and banks closing means the EGX will be following suit.
WHAT'S HAPPENING TODAY-
It's the second and final day of a virtual conference on this year's COP27 climate summit in Sharm El Sheikh. Day 2 will see sessions on water security, renewable energy and green technology, attended by representatives of American multinationals, US policymakers and Egyptian cabinet ministers. The event is being hosted by the US Chamber of Commerce in association with AmCham. Check out the full agenda here.
The headlines coming out of Day 1:
US climate envoy John Kerry warned that the world is "in trouble" and urged governments to step up their efforts to reduce emissions. (Reuters)
Egypt will use this year's summit to promote the role of public-private partnerships in the green transition, Prime Minister Moustafa Madbouly said. (MENA)
Egypt wants to take a lead role mobilizing finance and distributing clean tech to other developing countries, said foreign minister and COP27 president Sameh Shoukry. (Reuters | Ahram Online)
Nahr Elkhair Development and Investment's shares are set to start trading on the EGX today after the bourse gave the green light yesterday. The company will directly list its shares on the bourse, without selling shares to investors, according to Al Shorouk.
The IMF's World Economic Outlook Update will be published today. The report was scheduled to be released last week, but its publication was pushed to give it time to incorporate the latest omicron-related developments.
The report will come out a few hours before the US Federal Reserve sits down for its first Open Market Committee meeting of 2022. The two-day meeting is widely expected to see the Fed confirm that it will make the first in a series of 0.25-percentage-point interest rate hikes in March, as the US central bank looks to curb rising inflation. The Central Bank of Egypt will follow with its own Monetary Policy Committee meeting next Thursday, 3 February.
The presidents of Egypt and Algeria will meet today. Expect regional issues including Libya and Palestine to be high on the agenda, according to last night's talk shows.
---
THE BIG STORIES ABROAD-
Geopolitical tensions are continuing to rise in eastern Europe as the US + Nato mobilize military forces to counter Russia. The US has put 8.5k troops on alert and Nato is sending ships and fighter jets to eastern Europe in response to Russia's military build-up on the Ukrainian border. The story is everywhere this morning from Reuters and the AP to the Financial Times and the Wall Street Journal.
It's still not clear where Europe stands: Though the US and Nato have been pressing for a united front among Western nations, it's far from certain what actions Berlin and Paris are prepared to support, given the economic and security risks involved. Yesterday, Germany again refused to follow the US and UK in shipping arms into Ukraine, while EU foreign policy chief Josep Borrell suggested that Washington and London were "dramatizing" the situation by evacuating the families of diplomats in Kiev. And while the EU threatened Moscow with "massive sanctions" yesterday, there were no details about what actions it could take.
How could conflict in the Donbas impact Egypt's food security? We have answers in this morning's news well, below.
Helping us remember the (much) bigger picture today: Nasa's super-powerful new telescope has arrived in position, roughly 1 mn miles from Earth, a month after it was launched into space, the US space agency announced yesterday. The James Webb Space Telescope is around 100x more powerful than its predecessor, the Hubble telescope, and is expected to provide us with a glimpse of some of the earliest moments of the universe — and maybe even help answer the question "Are we alone in this universe?" The story is getting coverage everywhere from Reuters and the AP to the Washington Post and the Wall Street Journal.
(MUCH) CLOSER TO HOME- Hariri will sit out Lebanon's upcoming elections: Saad Al Hariri, former Lebanese prime minister and current leader of the country's largest Sunni political party, yesterday announced he was stepping away from politics and would not stand in the country's May parliamentary elections, Reuters reports. Hariri also called on his Future Movement party to boycott the polls. Lebanon yesterday began virtual talks with the IMF on potential funding to help it claw its way out of a deep economic crisis.
MARKET WATCH- It was a wild day's trading in the US yesterday as benchmark indexes made a stunning recovery from a heavy morning sell-off to close in the black. Reeling from anticipated interest rate hikes in the US and rising geopolitical tensions in Europe, the S&P 500 fell as much as 4% early in the session — putting it in correction territory — while the tech-heavy Nasdaq continued its downward spiral, at one point nearing -5%. Cue the dip-buyers, who stepped in early in the afternoon and led the market to an extraordinary reversal that saw the S&P close 0.3% in the black and the Nasdaq gain 0.6%. Bloomberg and the Financial Times have more.
Asian markets aren't impressed with the US rally this morning: Shares across the continent are in the red in early trading this morning, as are European futures which suggest that yesterday's hefty sell-off will continue into today. Meanwhile in the US, stocks are currently on course to reverse yesterday's hard-fought gains in early trading, with futures pointing to the S&P 500, Dow Jones and Nasdaq all opening in the red.
Could earnings seasons halt the tech slide? Investors will be hoping that US tech giants avoid Netflix's dismal earnings release and provide some market uplift when they publish their financials this week. Microsoft is up today, Meta / Facebook and Tesla publish tomorrow, and it's Apple's turn on Thursday. Google parent Alphabet (1 February) and Amazon (3 February) aren't expected to report until next week.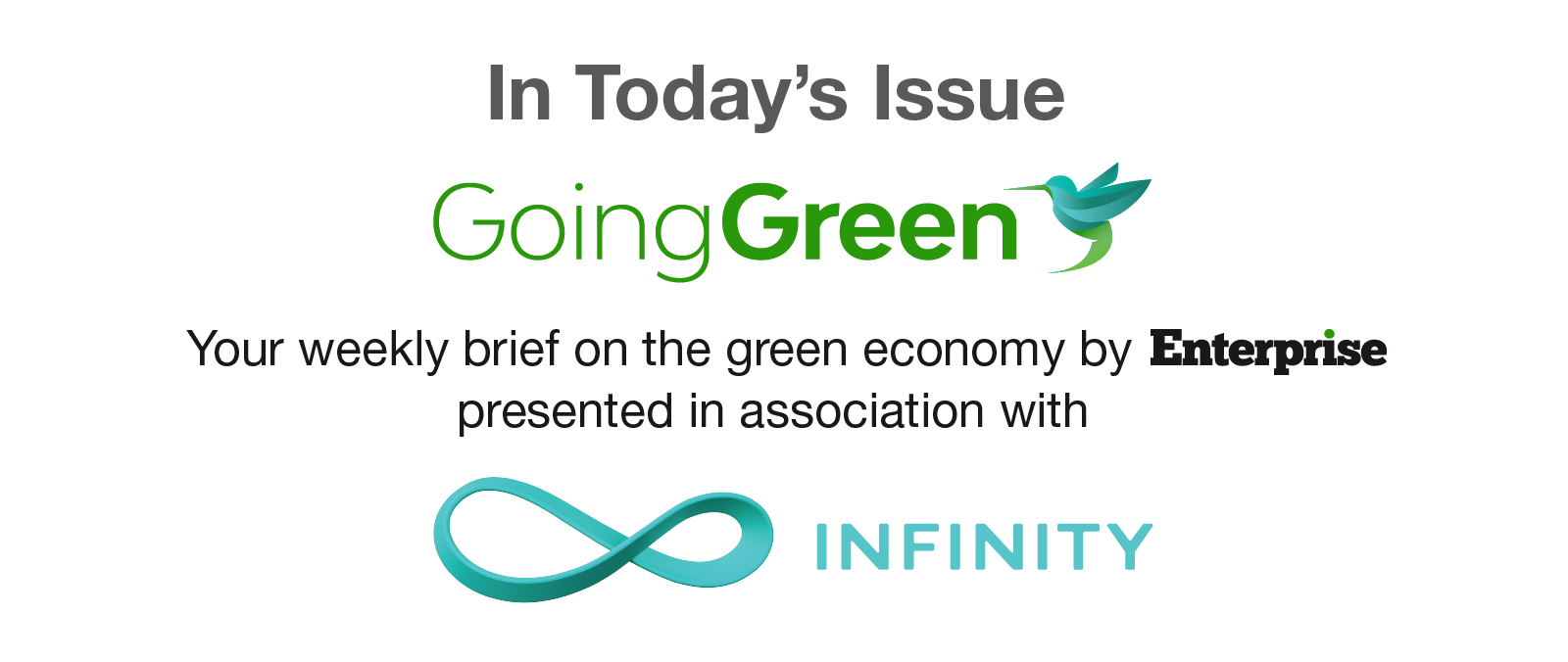 *** It's Going Green day — your weekly briefing of all things green in Egypt: Enterprise's green economy vertical focuses each Tuesday on the business of renewable energy and sustainable practices in Egypt, everything from solar and wind energy through to water, waste management, sustainable building practices and how you can make your business greener, whatever the sector.
In today's issue: Egypt's bike-sharing program Bicicletta will debut on Egypt's streets in March, after years in the making. The project gives us an alternative, environmentally-friendly means of public transport in Cairo, starting first with Downtown and Zamalek, before eventually expanding throughout the country.