Monday, 24 January 2022
THIS MORNING: Algerian prez in town today; ESG investing isn't always ESG; Tensions continue to rise over Ukraine; Asia shares fall ahead of Fed meeting
It's a crazy morning for capital markets nerds — in the best possible way. We have two IPOs inching toward the finish line, the EGX looks about to get its first SPAC, and the folks at Fawry and Misr Capital are doing a fintech-based money market fund. Coming on the heels of Fawry's announcement about a capital increase and possible US share listing? We can't remember a January this exciting in years.
Wait, what's a fintech-based MMF? Think of it as Fawry doing distribution (retail investors can buy in at any of the company's PoSes or branches) while Misr Capital handles management. We have chapter and verse on all of that in this morning's news well.
PSA- It's a four-day workweek for banks: The Central Bank of Egypt confirmed yesterday that the nation's banks will be closed on Thursday in observance of Police / Revolution Day, which falls on this Tuesday, 25 January. Prime Minister Moustafa Madbouly confirmed over the weekend that public sector workers will take the day off. Expect the EGX to follow suit shortly with its own announcement — if banks are closed, the stock market cannot trade.
THE BIG STORY ABROAD- The information war between the US / UK and Russia over Ukraine is continuing this morning, as the two sides continue to trade accusations of coup-plotting and disinformation while Washington mulls pouring more military hardware into eastern Europe. The story dominates the world's front pages this morning. In brief:
Meanwhile, a senior French embassy official reached out yesterday to say that it is "incorrect" that France is "somehow advocating for a separate dialogue on Russia." The official pointed to an NPR interview of Emmanuel Bonne, the top diplomatic advisor to French President Emmanuel Macron. Bonne was recently in Washington for talks with his US counterpart, Jake Sullivan, on the crisis in Ukraine.
ALSO- Coming off of a week-to-forget, where next for financial markets? Down, if Asian markets this morning are of any indication. Shares in China, Hong Kong and South Korea are in the red in trading today, though the Nikkei and Australia's ASX are the outliers and have seen early gains.
European shares look set to follow suit later today: Stock futures are down across the board this morning. US futures are currently pointing to early gains but if volatility continues in Europe, you can expect that to change.
On everybody's minds: The US Federal Reserve will have its first policy meeting of 2022 on Tuesday and Wednesday, where it is widely expected to confirm that March will see the first in a series of 0.25-percentage-point interest rate hikes in a bid to curb rising inflation, the Financial Times reports. The Fed has penciled in three rate hikes in 2022 and an end to its asset purchase program in March, but some have suggested that the central bank could lay the groundwork to hike rates more aggressively and end asset-buying immediately at this week's meeting.
WHAT'S HAPPENING TODAY-
Algerian President and Defense Minister Abdelmadjid Tebboune is in Egypt for a two-day visit starting today, the Algerian presidency said last night. The statement didn't provide any information about the president's schedule.
Lebanon will begin virtual talks today with the IMF over a potential USD 69 bn financial rescue package, official sources told Reuters, as the country seeks to secure funding sometime in January or February to help claw its way out of a deep economic crisis that has been compounded by political instability and corruption scandals.
FOR TOMORROW-
Nahr Elkhair Development and Investment's shares will reportedly start trading on the EGX tomorrow. The company will directly list its shares on the bourse, without offering shares to investors via subscription, according to Al Shorouk.
MORNING MUST READ-
So you're an ESG investor, huh? You're still helping to pollute the planet, James Mackintosh tells us in a piece in the Wall Street Journal that highlights the tension between shareholder value and the normative economics of ESG investing.
This isn't a signpost to go all-in cynical on ESG: Mackintosh makes a point of telling us straight up that ESG isn't a complete waste of time. The trouble, he says, is that ESG investors want to have their cake and eat it: they want to stop environmental degradation, improve working conditions and treat suppliers fairly — as long as it doesn't hurt their bottom lines. And even when successful — like when they force the sale of a dirty power plant or mine? Well, the point is that "selling off assets or shares by itself does nothing to save the planet, because someone else bought them. Just as much oil and coal is dug up and burned as before, under different ownership."
While shareholder value continues to take priority, ESG will remain an investment trend that's better for making investors feel good about themselves than it is for the planet, Mackintosh argues.
But Enterprise, don't you like ESG investing? We think it's very possible to make a buck and do good for the planet (and all of us who dwell on it) at the same time. But there are critiques that need to be heard and considered, and the WSJ is beating the drum loudly on this one: It sent out an alert to subscribers that Mackintosh's column is the "first in a series" of pieces that will look critically at ESG.
Meanwhile, in Brussels: The European Commission could face a lawsuit over its designation of nuclear power and natural gas as "green investments," the Financial Times reports. Austria and Luxembourg are threatening to pursue a lawsuit if the EU's controversial green taxonomy is approved in its current form, while Spain could opt for its own framework that excludes nuclear and gas. Designed to reduce greenwashing in the financing industry, the rules have been received with controversy since coming out earlier this month. The taxonomy is currently under review and could become law by the summer unless a supermajority of EU countries or the bloc's parliament moves to block it.
CIRCLE YOUR CALENDAR-
Startups have until next Sunday, 30 January to apply for the spring 2022 cycle of EGBank's Mint Incubator. The incubator offers two tracks: A sector-agnostic track for startups at the MVP stage, and a fintech track that accepts early-stage startups both at the ideation and MVP stages. Main founders must be between 16-35 years old. You can apply here.
The Cairo International Book Fair starts on Thursday at the Egypt International Exhibition Center. Members of the public will be allowed to enter without providing proof of vaccination, the Culture Ministry said last week. The two-week event runs through to 7 February.
Check out our full calendar on the web for a comprehensive listing of upcoming news events, national holidays and news triggers.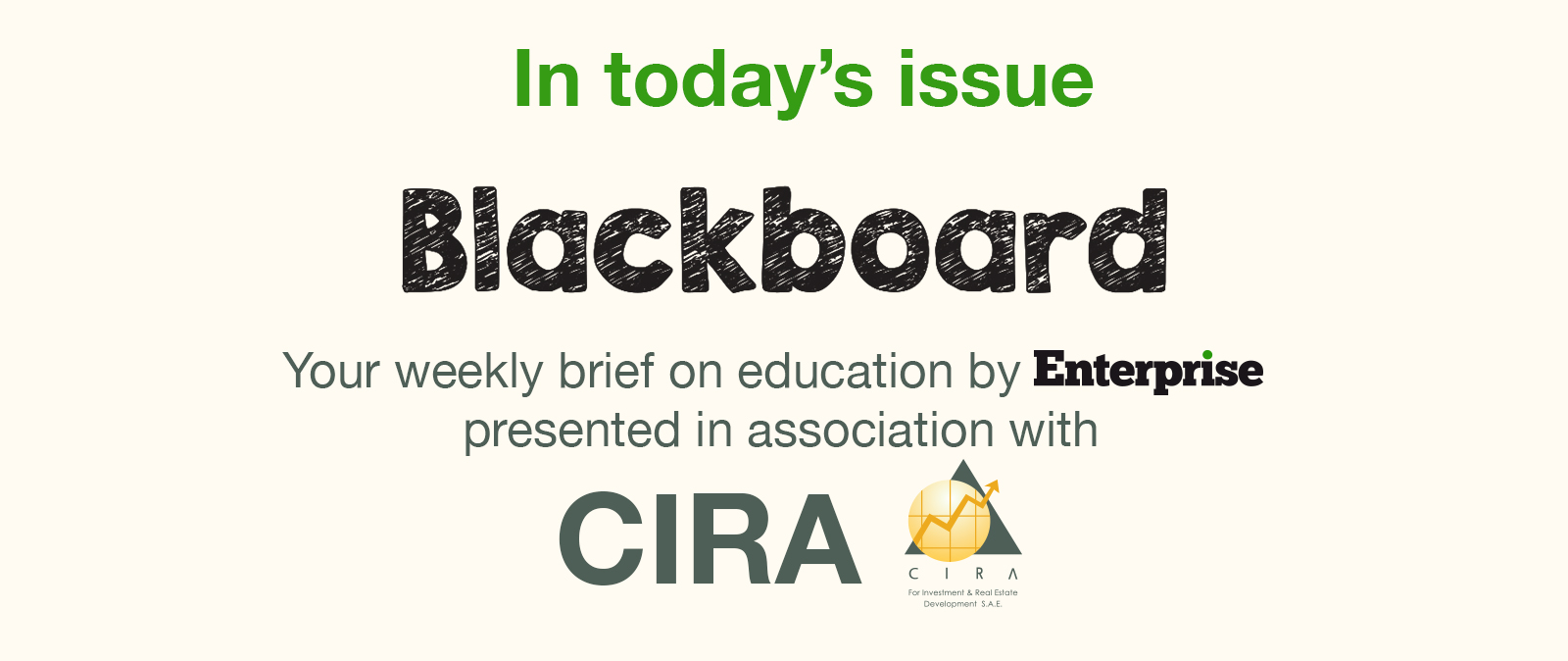 *** It's Blackboard day: We have our weekly look at the business of education in Egypt, from pre-K through the highest reaches of higher ed. Blackboard appears every Monday in Enterprise in the place of our traditional industry news roundups.
In today's issue: We talk with British Council Egypt Country Director, Elizabeth White, British Council Egypt Head of Science, Shaimaa ElBanna, and British Council CEO, Scott McDonald, about the new climate change grants being awarded by British Council Egypt to promote partnerships between universities and higher education institutions in Egypt and the UK. 11 grants are being awarded, each worth GBP 35k. Applications are currently under review, with successful applicants due to be notified during the week beginning 13 February.