Sunday, 23 January 2022
THIS MORNING: A horrible week for stocks and BTC could get even worse amid saber rattling between Moscow and the west
Good morning, nice people, and welcome to a chilly first day of the workweek.
Our big story this morning: The results of our 2022 Reader Poll, our first since just after the pandemic kicked off — and our largest ever in terms of participation. Thank you all for helping everyone in our community not just get a better sense of where our collective head is at, but also for helping many of us refine our plans for the year.
The big finding in the poll: Y'all are very optimistic about 2022. We have the rundown on the results in this morning's What's Next (below) or you can tap or click here now to go see the full results on the web.
We're going to announce later this week the names of eight readers who we'll be inviting to join us for breakfast when this omicron wave subsides. A dozen more of you will be getting Enterprise mugs in which to consume your morning coffee.
SPEAKING OF this wave of the pandemic: The number of new daily cases hit its highest level yesterday since June 2020, meaning the official count of daily cases has doubled so far this month. The silver lining: The death toll has not doubled in tandem.
ALSO this morning: Unvaccinated travelers to Egypt can now enter using a negative PCR, rapid antigen or rapid molecular ID Now test taken no more than 72 hours before arrival, the Health Ministry announced in a statement on Thursday. The previous requirement allowed only a PCR test. We have more in today's news well, below.
HAPPENING THIS WEEK-
Nahr Elkhair Development and Investment's shares will start trading on the EGX on Tuesday, Al Borsa and Al Shorouk reported last night.
Looks like there won't be an IPO after all: Sources told Al Shorouk that the company will not be required to offer shares to investors via subscription and will instead directly list its shares on the bourse on Tuesday. The company has set a reference price of EGP 0.25 per share for what now appears set to be a technical listing.
PSA #1- We can probably all look forward to a four-day workweek this week as the nation takes Thursday off in observance of 25 January. Prime Minister Moustafa Madbouly confirmed yesterday that public sector workers will take the day, though we're yet to hear from the EGX, the Central Bank of Egypt or the Manpower Ministry.
PSA #2- Expect up to 5mm of rain and high winds on Wednesday with a high of 13°C, setting up a chilly (but crisp) Thursday.
---
THE BIG STORY ABROAD- UK accuses Russia of coup-plotting in Kiev: The UK has the front pages of the Western media to itself this morning after the Foreign Office took the extraordinary step of accusing Russia of plotting a coup in Ukraine, going so far as to name Moscow's alleged replacement for pro-Western president, Volodymyr Zelensky. The UK presented no evidence for its claims but appears to have had the backing of the US. EU leaders are yet to respond to the allegations. In the West, the Foreign Office's statement is front-page news everywhere from Bloomberg and Reuters to the New York Times and the BBC. Russian state news agency Tass carries the response from the Kremlin, which accused the UK of spreading misinformation.
The UK's allegations came following another weekend of saber-rattling and "diplomacy" between the US and Russia over Ukraine. The Russians announced new global naval drills, while the US and UK began funneling arms into Ukraine, all while talks between US and Russian officials made little headway: Russia doesn't want Nato forces in Ukraine and the US doesn't want to talk about it.
Division in the ranks: France and Germany both signaled over the weekend that they'd prefer not to get sucked into an armed confrontation with another nuclear armed power and made moves to reduce tensions. Berlin refused to go along with Washington's plan to export arms to Ukraine and blocked Estonia from doing so. Meanwhile, French president Emmanuel Macron called on European countries to enter separate talks with Moscow without the US (much to the chagrin of US officials).
And that seems to be what is happening: Officials from Russia, Ukraine, France and Germany will meet in Paris (without the US) later this week in a bid to dial back the tensions and end the frozen conflict between the Ukrainian government and Russian separatists in the east of the country, Reuters reports.
Global markets had their worst week in over a year as a drop in tech stocks spilled over into other sectors, the FT reports. The tech-heavy Nasdaq was the biggest loser, falling 7.6% last week — its biggest drop since the pandemic's onset in March 2020 — as investors fled the high-risk growth stocks. Losses were accentuated by a 22% drop in Netflix shares on Friday as the company warned of slowing subscriber growth in its latest earnings release. The Nasdaq is down nearly 12% since the beginning of the year and is on course to record its worst month since the 2008 financial crisis, according to Bloomberg. Meanwhile, both the Dow Jones and the S&P 500 posted a third straight week of losses, with the S&P 500 down 5.7% for the week, CNBC reports.
Warren Buffett gains on Cathie Wood amid the upset in equities: The apparent growth-to-value rotation in the stock markets has led Warren Buffett's Berkshire Hathaway fund to nearly overtake Cathie Wood's tech-focused Ark fund in the post-pandemic performance table, the Financial Times reports.
Expect more movement in tech stocks amid big earnings reports this week: Microsoft is up on Tuesday, followed by Tesla on Wednesday and Apple on Thursday, the Wall Street Journal reports.
BTC dropped to a six -month low as risk-off sentiment grew, Bloomberg reported. The digital asset dropped 12% to below USD 36k on Friday, its lowest level since July, bringing the aggregate crypto market's loss since the asset class began to fall in November to USD 1 trn. This marks the second-largest ever decline in dollar terms for both BTC and the wider market, according to Bespoke Investment Group analysts.
Russia could deal another blow to the crypto market: The world's third-largest BTC miner has proposed a blanket ban on crypto trading and mining. Russia's central bank said digital currencies pose a threat to citizens' wellbeing and financial stability and likened the assets to a pyramid scheme in a report (pdf) published on Thursday.
Though the Fed could be more open to digital currencies: The US Federal Reserve issued a digital banking discussion paper (pdf) of its own on Thursday, kicking off a debate on the pros and cons of introducing a federal digital currency and inviting the public to submit comments over the next 120 days.
NOT ENOUGH DOOM AND GLOOM FOR YOU?
The global economy will face an "obstacle course" in 2022 as the pandemic and geopolitical tensions drive inflation amid record debt levels, IMF head Kristalina Georgieva said on the fifth and final day of the online Davos conference, the Financial Times reports.
Covid has written us one hell of a check: The pandemic will likely have cost the global economy around USD 12.5 tn by 2024, Georgieva said.
Georgieva called on countries with high USD-dominated debt to act quickly: The IMF managing director said that anticipated Fed rate hikes "could throw cold water on what for some countries is already a weak recovery," adding that "If you have currency mismatches, now is the moment to address them."
CIRCLE YOUR CALENDAR-
Startups can apply until 30 January for the spring 2022 cycle of EGBank's Mint Incubator. The incubator offers two tracks: a sector-agnostic track for startups at the MVP stage, and a fintech track that accepts early-stage startups both at the ideation and MVP stages. Main founders must be between 16-35 years old. You can apply here.
The Cairo International Book Fair starts on Thursday at the Egypt International Exhibition Center. Members of the public will be allowed to enter without providing proof of vaccination, the Culture Ministry said last week. The two-week event runs through to 7 February.
Check out our full calendar on the web for a comprehensive listing of upcoming news events, national holidays and news triggers.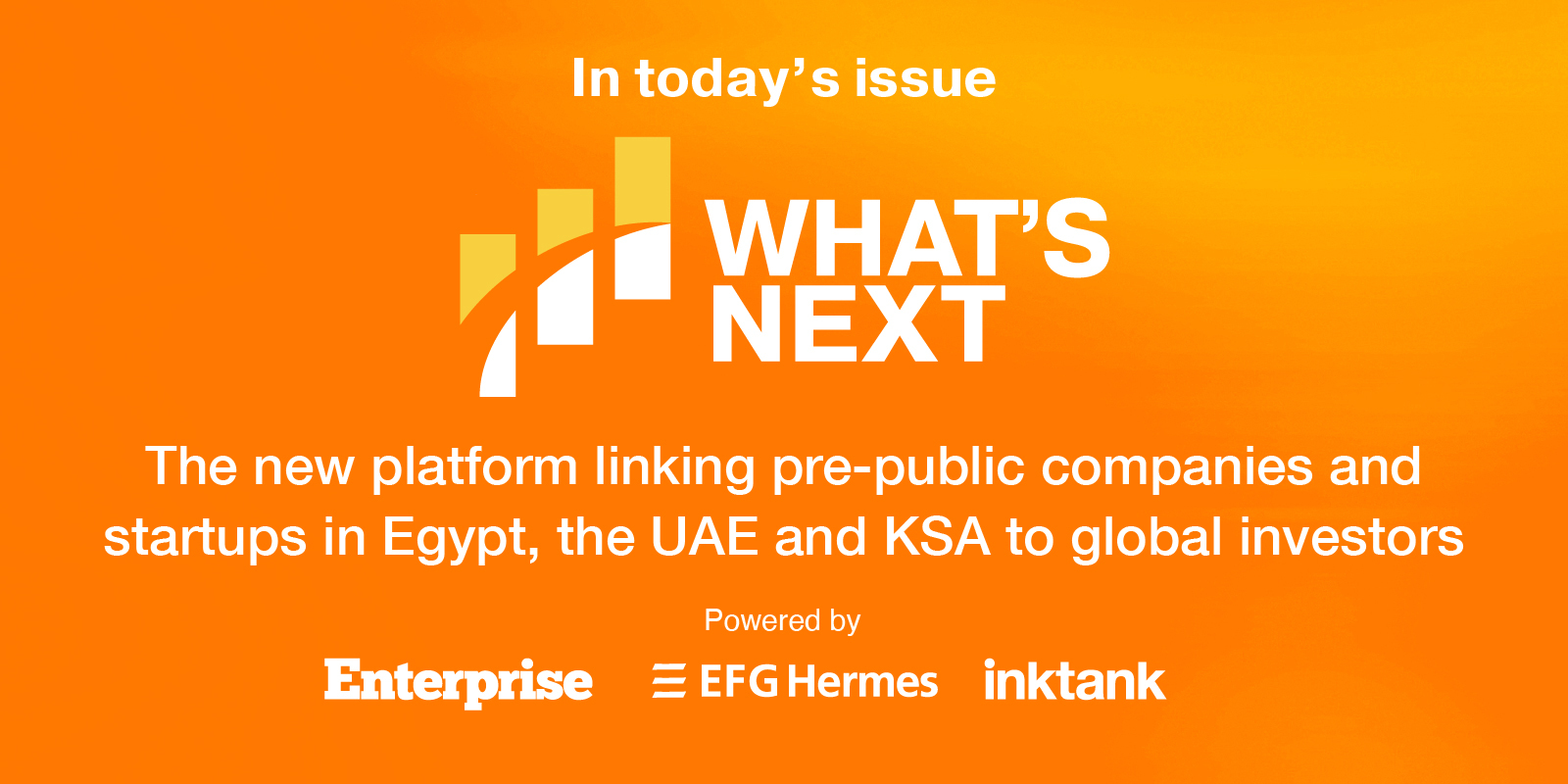 *** It's What's Next day: We have our weekly deep-dive into what makes and shapes pre-listed companies and startups in Egypt, the UAE and KSA, touching on investment trends, future sector insights and growth journeys.
In today's issue: The results of the Enterprise 2022 reader poll are out: You spoke and we listened and from what you've told us, your 2021 has been a year of recovery and a far cry from the doom and gloom of 2020. Most of you cannot wait to get the ball rolling in 2022, with the overwhelming majority feeling that business conditions will improve further.
We want to thank all of you for participating in this and we cannot wait to discuss these sentiments with some of you in person during our breakfast.