Wednesday, 12 January 2022
THIS MORNING: World Bank sees slowdown in developing economies; Powell downplays rate hike impact; Egypt lose Afcon opener; Chimera launches new ETF
Good morning, wonderful people, and happy almost-THURSDAY. We have plenty of good news on the economic front today — and an encouraging sign that the nation's sukuk market may be starting to wake up. Less good: The Pharaoh's lackluster performance at Afcon last night.
Egypt's Afcon campaign got off to a dismal start yesterday: The Pharoahs lost 1-0 to Nigeria in their opening game of the tournament. Leicester City striker Kelechi Iheanacho put the West African side ahead on the half-hour mark, with a lovely top-corner finish on the half volley. Despite having the lion's share of possession, the Pharaohs were toothless in attack, registering only two shots on target over the 90 minutes, and will have to improve in their next game against Guinea-Bissau if they want to progress to the next round. The other tie in Group D between Sudan and Guinea-Bissau finished goalless.
MEANWHILE- It's day three of the World Youth Forum in Sharm El Sheikh. You can check out the full agenda for the forum here (pdf).
THE BIG STORIES ABROAD- Powell downplays economic impact of incoming rate hikes: Federal Reserve chair Jay Powell has sought to calm nerves about the bank's plan to raise interest rates this year, telling senators yesterday that efforts to fight inflation can be done without inflicting harm on the economy. Speaking at his confirmation hearing, Powell reiterated the dangers posed by rapidly rising prices but characterized the end of pandemic-era stimulus as a return to normalcy rather than a hawkish turn towards ultra-restrictive policy. Powell, who was renominated by the Biden administration to lead the Fed for a second term, is trying to navigate a tricky course between calming inflation, which last year reached multi-decade highs, and minimizing damage to the economy.
The story is everywhere in the global business press this morning: Reuters | Financial Times | Bloomberg | Wall Street Journal.
Powell's words pleased the financial markets, leading US stocks to rebound and calming the sell-off in the bond market.
Yesterday's rally is continuing in Asia this morning, where indexes across the region are solidly in the black. Futures indicate that shares in the US and Europe will open in the green later today.
READ THIS- China is putting the brakes on its loans to Africa, the Financial Times writes in its Big Read as controversy continues over what some in Africa (and the west) call its "predatory" lending — and one day after Sri Lanka asked Beijing to restructure its debt payments.
Another day, another covid record in the US: Covid hospitalizations in the US have reached record highs, rising to more than 145k yesterday as the omicron variant sweeps across the nation. The story is all over the US press from the Washington Post and the Wall Street Journal to CNN and CNBC.
???? FROM THE DUMPSTER FIRE that is our social media on this fine winter morning:
And from The Strobist himself (aka David Hobby): Twitter explained in 15 seconds.
MARKET WATCH-
World Bank projects slowdown in global growth this year: The World Bank is projecting a 1.4 percentage-point slowdown in global GDP growth to 4.1% in 2022. Global growth surged to 5.5% in 2021, according to the WB's latest semi-annual economic outlook — far stronger than the 4% expected this time last year. But the boom isn't set to last, with the bank downgrading its 2022 forecast by 0.2 percentage points on the back of covid-19 flare-ups, supply bottlenecks, and decreased fiscal support. Growth will slow further to 3.2% in 2023, according to the report.
And developing economies are in for a "hard landing": The World Bank is predicting a "pronounced slowdown" among developing countries as pandemic support is withdrawn and low vaccination rates prolong the pandemic. Growth will slow to 3.4% this year, down from an estimated 5.1% in 2021, while an "unprecedented" increase in debt could leave EMs particularly exposed, prompting bank president David Malpass to call for "a concerted effort to mobilize external resources and accelerate debt relief."
What about Egypt? We have all the details on the bank's forecasts for Egypt and MENA in this morning's news well, below.
---
Our friends at Abu Dhabi-based investment firm Chimera Capital have just launched their fifth exchange-traded fund, they said in a press release (pdf). The sharia-compliant ETF — which will be listed on the Abu Dhabi exchange — tracks the performance of the 30 most-liquid sharia-compliant, Saudi-listed equities, allowing investors to capitalize on Saudi Arabia's "attractive economic fundamentals." Chimera's ETFs have attracted inflows of AED 300 mn in under 18 months, the release notes.
Background: Chimera is run by CEO Seif Fikry (LinkedIn), an Egyptian veteran of the regional capital markets scene and founder of the region's first UCITS-compliant ETF. The investment firm is a significant backer of Nasdaq-bound transportation play Swvl and recently closed its first VC fund at USD 75 mn. A unit of Chimera Capital also recently bought 25% of Sawiris vehicle Gemini Global Development, which owns Ora Developers Egypt.
Dubai's PMI rose in December to its highest level since June 2019 to sit at 55.3, up from 54.5 in November, according to IHS Markit's purchasing managers' index survey (pdf). The growth was driven by a robust uptick in new orders amid easing travel restrictions and Expo 2020.
CIRCLE YOUR CALENDAR-
Calling seed-stage fintech startups: You have until Tuesday, 15 February to apply to Orange Ventures' seed challenge for a shot at EUR 500k. To qualify you need to have a seed-stage fintech business that has raised less than EUR 1 mn so far. You can apply here.
South Korean President Moon Jae-in is due in town from 20-21 January on an official visit, during which he will meet President Abdel Fattah El Sisi. Bilateral ties and how to deepen cooperation on environmentally-friendly businesses are high on the agenda, according to Youm7 and the Korean press. Egypt is the last leg of a Middle East tour that will also take Moon to the UAE and Saudi Arabia.
Check out our full calendar on the web for a comprehensive listing of upcoming news events, national holidays and news triggers.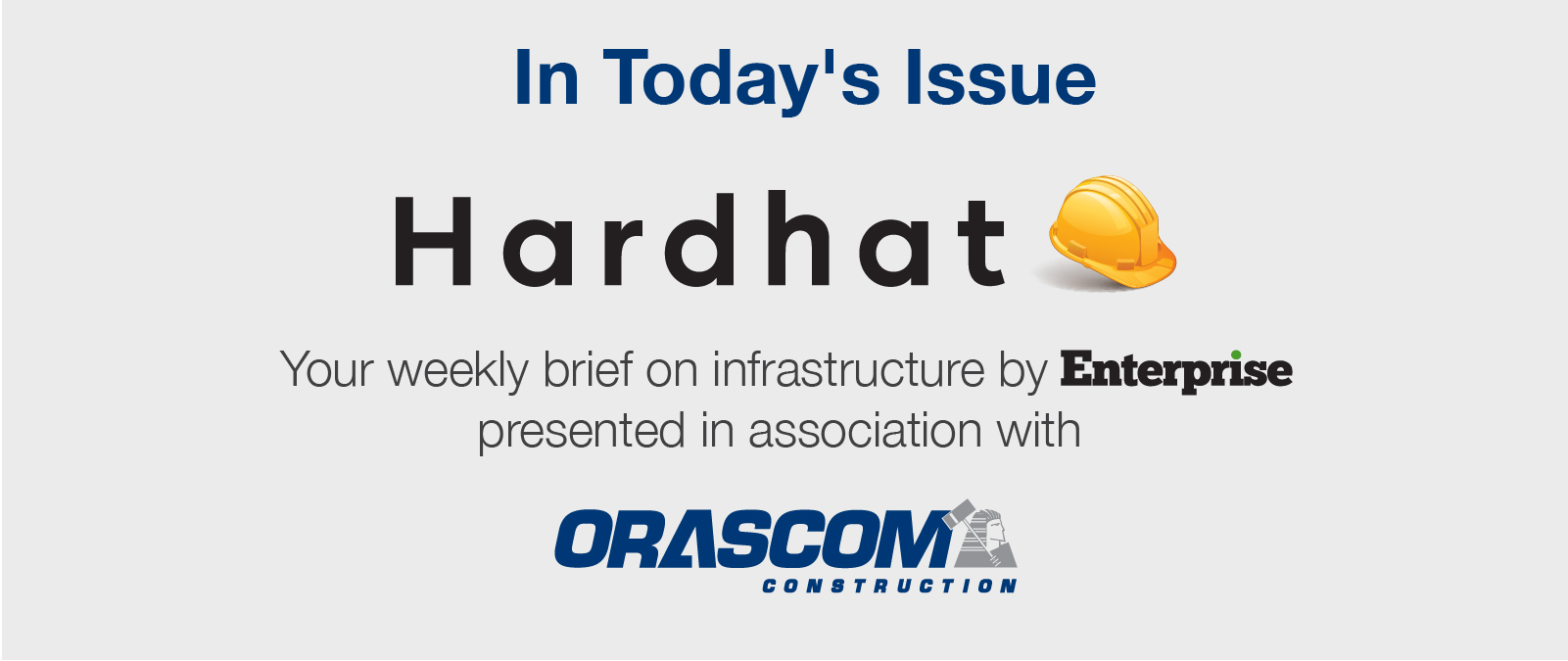 *** It's Hardhat day — your weekly briefing of all things infrastructure in Egypt: Enterprise's industry vertical focuses each Wednesday on infrastructure, covering everything from energy, water, transportation, urban development as well as social infrastructure such as health and education.
In today's issue: Water is big on the government's radar amidst the threat of GERD and climate change. The year ahead promises a continuation of the push to secure our water supply for drinking and agriculture through the building of several wastewater treatment and desalination plants across the country. Egypt is also attempting to mitigate the impact of a number of challenges that could stifle our progress in the water sector such as the supply chain crisis and heightened inflation.