Tuesday, 21 December 2021
THIS MORNING: EV incentives could be coming + go eat at Sando Haus on the Walk of Cairo
Good morning, friends, and happy hump day. It's still crisp out there — 8°C in the capital city as we hit "send" on this morning's edition. Our favourite weather app is calling for a high today of 18°C, so bundle up, grab yourself a cup of coffee or hot chocolate, and let's get this show on the road:
Your spell of easy commutes are over: Expect traffic to be as congested as usual this morning as schools are back in session in Cairo and Alexandria after having been closed yesterday due to bad weather conditions. El Beheira appears to be the only governorate where classes will remain suspended today to wait out the rest of the storm.
The stormy weather prompted authorities to close eight ports — Ain Sokhna, Port Said West, Port Said East, Al Arish, Port Tawfiq, Al Zayteyat, Sharm El Sheikh, and Adabiya — until conditions improve, Reuters reports.
A solution for Alexandria's drainage issues is in the works: Plans to split Alexandria's rain drainage system from the city's main sewage network, which would help increase capacity for containing rainwater in events of heavy rainfall on the city, will soon be drawn up, cabinet said in a statement. The order from Prime Minister Moustafa Madbouly came following a meeting yesterday to discuss solutions for infrastructure issues facing the coastal city, including the rapid flooding of streets during storms and following heavy rainfall, which has led to several days of school closures.
***
WANT TO HAVE BREAKFAST WITH US? Every year, we ask our readers to weigh in on what you expect for the year ahead in our Enterprise Reader Poll. Take a few minutes to give us your take on the outlook for your business and industry, whether you're planning fresh investments and new hires, and how your business fared in the year past. We'll share the results with the entire community in early January to help you shape your view of the year.
We'll be inviting eight readers who take the poll to breakfast in 2022 and another dozen of you will get your very own Enterprise mug in which to enjoy your morning beverage of choice.
***
WHAT'S HAPPENING TODAY-
WATCH THIS SPACE- Electric vehicle production could be in line for some "incentives" from the government, Finance Minister Mohamed Maait said at a business event yesterday, Al Shorouk reports. Maait signaled that the incentives could be part of a wider package of measures for the automotive industry, which Prime Minister Moustafa Madbouly signaled earlier this month could finally see the light before the year is out. These incentives, known as the automotive strategy, could include customs reductions on a sliding scale based on the percentage of domestic components used.
Swvl and Magalix are holding a virtual fireside chat titled Stories of Women in the Tech Field tonight at 7pm. Connect to the event here.
🥪 Is there anything better than a warm sandwich and a hot cup of coffee on a cold winter day? We think not — which is why we're chuffed that Sahel staple Sando has opened in the capital city. Nada Amin, a top-ranked research analyst at EFG Hermes in another life, created the brand with her brother and now serves Japanese-inspired sandwiches from their new location on the Walk of Cairo (gate two), with delivery to Zayed and Smart Village. Check them out at Sando.Haus on IG.
Our favourites: Tiger's treat and the samurai sando. Throw in a "kawaii" for good measure — Sando's take on a classic PB&J.
THE BIG STORY ABROAD is news that the omicron variant now accounts for nearly 75% of all new cases in the United States, underscoring how fast this particular bug spreads. The story leads the front pages of the global business press, from the FT to the WSJ and Axios.
Nato is ready to talk things out with Russia: Nato allies are "resigned" to the need to open dialogue with Russia despite the "impossibility" of many of Moscow's demands in hopes of defusing tensions over Moscow's military build-up on its border with Ukraine, the Financial Times reports.
SIGN OF THE TIMES- Investors poured USD 30 bn into crypto this year, Fortune reports, saying that's more than all the previous years combined. Bloomberg has more.
MARKET WATCH-
It was a rare good day for the TRY yesterday, which posted the strongest one-day gain since 1983 after Turkish President Recep Tayyip Erdogan announced measures to shore up the currency that has taken a beating from Erdogan's insistence on cutting interest rates, Bloomberg reports. After falling to a fresh record low of 18.36 against the greenback earlier in the day, the TRY soared 47% from its intraday low. The announced measures include a vow that the government will compensate TRY deposit holders for their losses from TRY volatility if the currency's "declines against hard currencies exceed interest rates promised by banks."
Except … not so much? The TRY is down so far today in early trading in Asia, Bloomberg reports.
Not having a good day: Oil, which plunged on its worst day this month, with WTI futures for January closing down 3.7%, trading at around USD 68 / bbl on the back of growing concerns over the Omicron variant's spread, ramped up covid-19 restrictions and the derailment of US President Joe Biden's Build Back Better spending initiative, according to Bloomberg.
CIRCLE YOUR CALENDAR-
PSA- Property owners have until Friday, 31 December to pay the second installment of their annual real estate taxes without incurring a late fee. The first installment was due between 1 January and 30 June. Homeowners whose primary residence is valued at less than EGP 2 mn are exempt from paying the tax.
Check out our full calendar on the web for a comprehensive listing of upcoming news events, national holidays and news triggers.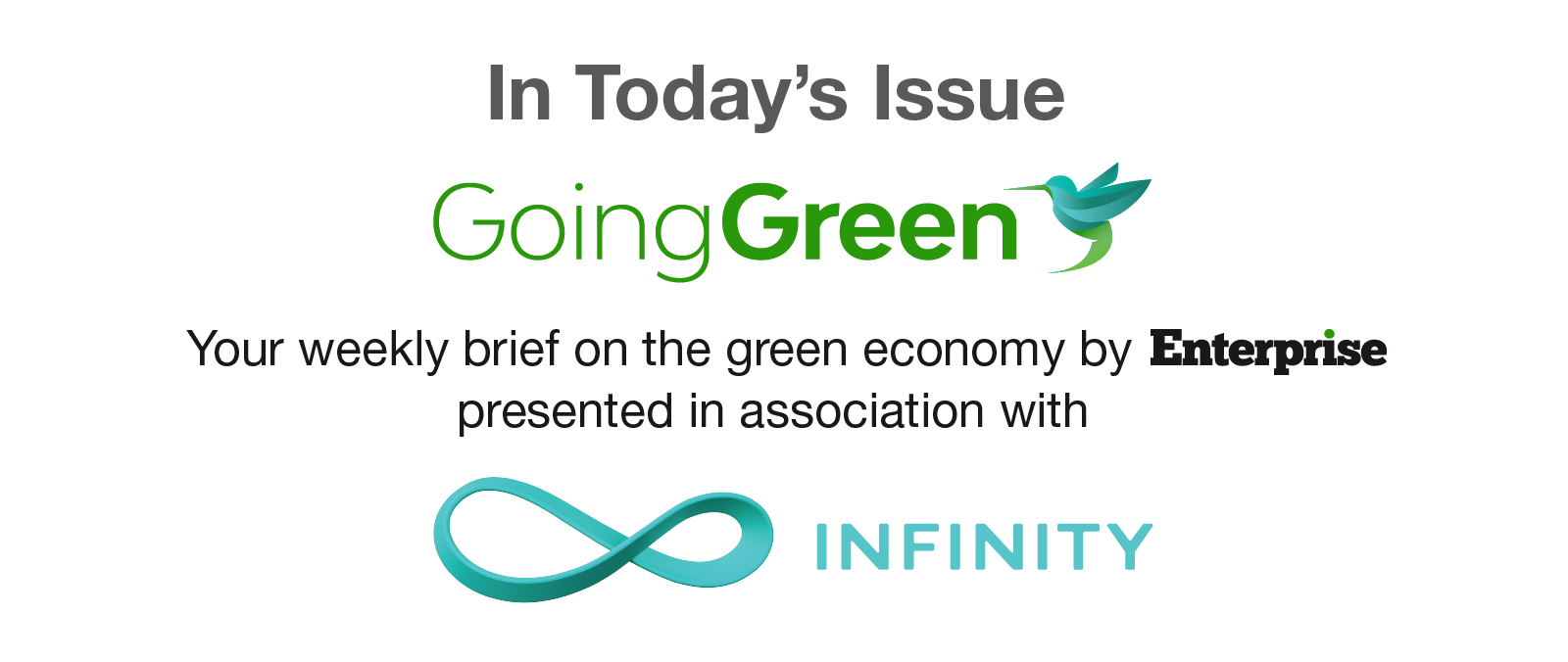 *** It's Going Green day — your weekly briefing of all things green in Egypt: Enterprise's green economy vertical focuses each Tuesday on the business of renewable energy and sustainable practices in Egypt, everything from solar and wind energy through to water, waste management, sustainable building practices and how you can make your business greener, whatever the sector.
The green economy in 2021: Part I. 2021 saw Egypt demonstrating its commitment to using greener forms of energy generation, announcing several big renewables projects, kickstarting the process of converting thousands of vehicles to run on natural gas, and moving forward with plans to locally produce electric vehicles. Progress was somewhat stunted by the global economic backdrop, which was characterized by supply chain snarls and soaring commodities prices.