Wednesday, 10 November 2021
THIS MORNING: It's inflation day; UK to relax quarantine rules for people with Sinovac, Sinopharm jabs.
Good morning, friends, and welcome to almost-THURSDAY, where the weekend is nearly in sight after a very, very busy week indeed.
Three big stories are vying for your attention this morning here at home, including a suggestion that Vodafone's South African unit going after Vodafone Egypt in a bid that resurrects what would be Egypt's largest-ever acquisition. Meanwhile, high-level talks between Egypt and the United States have wrapped up, we have a bunch of startup news, and we've pulled together your guide to the very, very long list of transportation infrastructure investments and contracts announced at TransMea this week.
And right on cue… A train derailed on the North Coast yesterday after colliding with a truck, the National Railways Authority said in a statement. No injuries were reported among the passengers, but the statement appears to suggest the train driver sustained serious injuries.
THE BIG STORY ABROAD- The running theme in the global front pages this morning: corporate break-ups in various forms. Whether that's the news that GE is splitting itself into three separate companies, the pressure being put on Apple to open its App Store to other payment providers or the slow-motion car crash at Evergrande, which is yet again staring default in the face as another bond payment comes due.
WHAT'S HAPPENING TODAY-
It's inflation day: The Central Bank of Egypt and state statistics agency Capmas are set to release inflation figures for October today. Egypt's headline inflation rate has been slowly ticking up in recent months — but jumped almost a full percentage point in September, hitting a 20-month high of 6.6% on the back of rising food and energy prices.
We'll go out on a limb and say that food and energy price inflation has not topped out, especially now manufacturers are seeing their gas bills rise by up to 28% and fuel prices rose again last month. Fertilizer and chemical producers may raise their prices by as much as 20%, a move that would (a) fuel further food price inflation and (b) put more pressure on manufacturers' operating margins. Throw in the global supply chain bottlenecks that last month contributed to causing input and output prices to accelerate at their quickest pace in over three years and, well…
High interest rates to the rescue: The central bank has left interest rates on hold this year. At 8.25% in a global environment of historically-low interest rates, investors have remained interested in the Egypt carry trade and inflation does not eat too far into their returns, even as it has crept up over recent months.
Things could change in the coming months: Though Egypt continues to boast the highest real interest rates in the world, further rises in inflation could soon start to make the EGP less attractive, especially as other countries begin to roll back covid stimulus and raise rates. The key country to watch here is the US, where the Fed is now planning to fully phase out its gigantic bond-buying programme by next June and soon after could start to tighten rates. But other emerging markets could also become more competitive with the EGP carry trade should inflation force central banks into a more aggressive tightening cycle.
---
PSA- Travelling to the UK is going to get easier for us in less than two weeks: From 22 November, the British government will add Sinovac, Sinopharm and India's Covaxin to its list of approved vaccines, meaning you won't have to quarantine for 10 days by default after arrival, the Department of Transport said Monday. Currently, the UK only accepts the Oxford/AstraZeneca, Pfizer-BioNtech, Moderna and the Johnson & Johnson jabs. All travelers under the age of 18 will also be allowed to enter the UK without self-isolating on arrival.
What you'll need to do: Everyone who is fully vaccinated with an approved jab no longer needs to take a pre-flight PCR test. Instead, you'll take either a lateral flow or a PCR test on your second day in the country. Test negative and you'll avoid quarantine; test positive and you'll need to self-isolate for 10 days.
Yo, Canada, France — you two awake back there? The UK joins the United States in explicitly saying "If the vaccine you took is good enough for the World Health Organization, it's good enough for us." Other nations, including two of our favourite countries, are lagging. Canada, for example, doesn't recognize as vaccinated anyone who has taken two shots of Sinovac or Sinopharm, while France requires visitors to have at least one jab of an mRNA vaccine on top of Sinovac or Sinopharm to count as vaccinated.
Another sign of warming ties with Doha: EgyptAir yesterday opened a new office in the Qatari capital, the Egyptian Foreign Ministry said in a statement. Egypt's national flag carrier resumed flights to Qatar in January following the signing of the Al Ula Accords, which finally restored diplomatic ties between the two countries and brought an end to the four-year blockade of Qatar by Egypt, KSA, the UAE and Bahrain. This came a day after billboards advertising Al Jazeera were spotted in Cairo, raising speculation that the Qatari news channel could be making a comeback in Egypt after eight years of exile.
CIRCLE YOUR CALENDAR-
CIB Chief Sustainability Officer Dalia Abdel Kader will moderate a panel today in Scotlan on climate change and the reduction of carbon emissions. Environment Minister Yasmine Fouad and Planning Minister Hala El Said are both expected to be in attendance.
Anghami SPAC merger deadline is almost here: Tomorrow is Anghami's deadline to pull the trigger on a merger with blank-check firm Vista Media Acquisition Company and list on the Nasdaq. The company had previously extended the deadline in August.
Check out our full calendar on the web for a comprehensive listing of upcoming news events, national holidays and news triggers.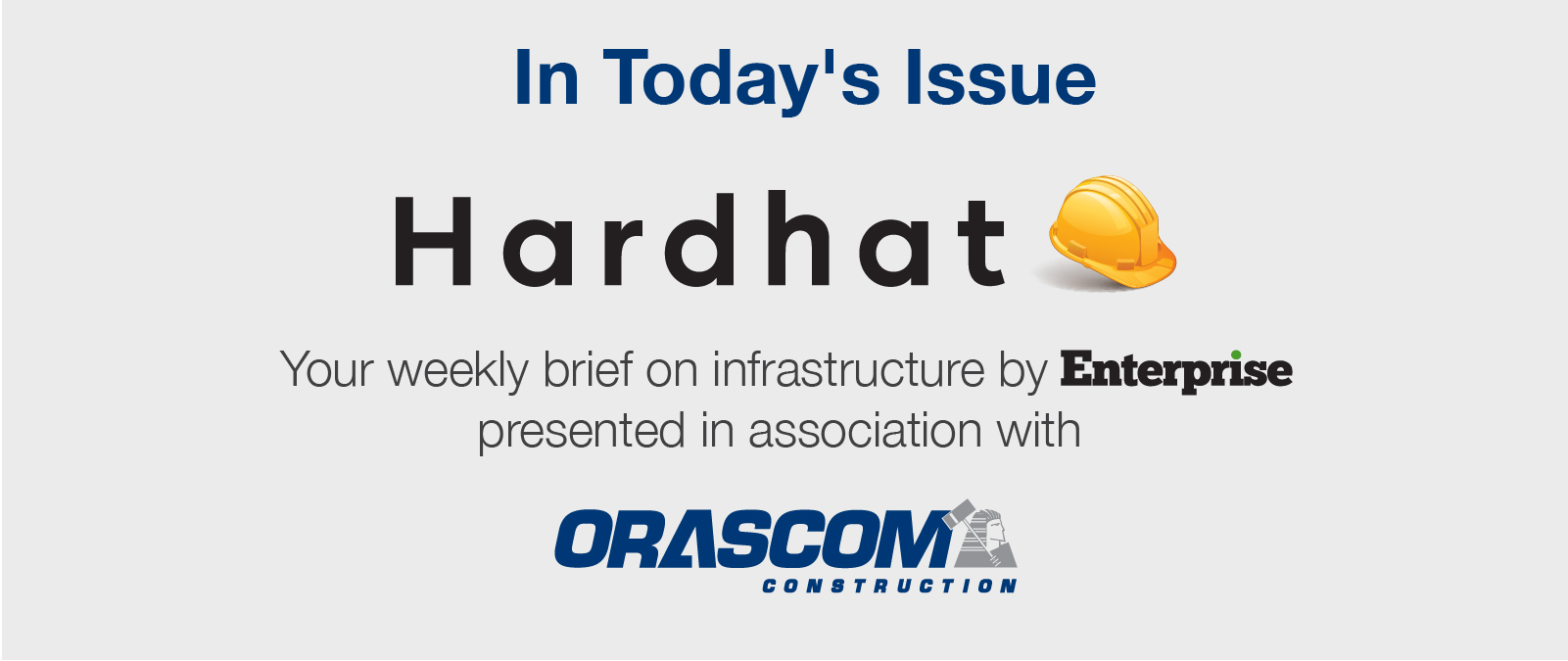 *** It's Hardhat day — your weekly briefing of all things infrastructure in Egypt: Enterprise's industry vertical focuses each Wednesday on infrastructure, covering everything from energy, water, transportation, urban development, as well as social infrastructure such as health and education.
In today's issue: The first two days of the TransMea transport conference saw Egypt signing a total of 21 agreements with local and international companies. The agreements span the country's railway projects, Cairo Metro, as well as maritime and inland logistics infrastructure — but the historically underfunded Cairo Metro was the star of the show.