Monday, 8 November 2021
THIS MORNING: Egypt-US diplomatic talks start in Washington today; Public school fees can now be paid digitally.
Good morning, nice people, and welcome to a very busy news day that will likely accelerate as the day grinds on. We expect a lot of Egypt news to be coming out of Washington today and tomorrow as Egyptian diplomats kickstart a strategic dialogue with top State Department officials in DC.
THE BIG STORIES ABROAD- There's no single story capturing the attention of the global press as we wake up this morning.
The Wall Street Journal's front page sounds a note of caution, with a piece reminding us that it's not all going to be plain sailing even as global growth figures recover from the shock of the pandemic. Accelerating inflation, continued supply chain disruption, rising interest rates, and a wobbly Chinese economy will all pose serious challenges to the global economy in the coming months, with some analysts not expecting supply chains to begin normalizing until the end of 2022.
Elon Musk has found another way of courting publicity after asking his Twitter followers whether he should sell down a 10% stake in Tesla in response to proposals to tax unrealized gains. He's promised to abide by the result. With almost 60% of respondents voting yes, Musk will presumably now be offloading shares worth more than USD 20 bn — and paying the tax that goes with it. The FT and Bloomberg have more.
WHAT'S HAPPENING TODAY-
Shoukry in DC for high-level talks: Foreign Minister Sameh Shoukry will hold talks with US Secretary of State Antony Blinken during the two-day US-Egypt Strategic Dialogue, which kicks off today, the Egyptian Foreign Ministry and the US State Department said in separate statements over the weekend. The meetings, which will also be attended by senior officials from USAID and the Department of Defense, will cover "international, regional, human rights and bilateral cooperation on economic, judicial, security, educational and cultural issues," the State Department said.
Here's what we expect from the meeting: GERD, US military assistance, Israel-Palestine and the coup in Sudan will likely all be at the top of the priority list. Add to that the situation in Libya (more in Around the World, below) ahead of the talks in Paris this week — and US-backed plans to ship Egyptian gas to Lebanon — and there's plenty to keep the two sides busy. More here.
Ahead of the meeting: Shoukry sat down for talks with the US envoy to Iran "to exchange views on the situation in the Middle East," the Foreign Ministry tweeted last night, without providing further information.
This week on the Egyptian conference circuit: Today is Day Two of four at transport conference TransMea 2021 and the 2021 Cairo ICT exhibition, both of which are taking place at the Egypt International Exhibition Center.
PSA- Public school fees can now be paid digitally: The Education Ministry launched an e-payment service for public school fees, in collaboration with state-owned e-Finance and fintech startup KlickIt, according to local press reports. Parents can now pay school fees using debit and credit cards, a move which aims to decrease the use of cash and promote financial inclusion, a joint statement from e-Finance and Klickit said.
CIRCLE YOUR CALENDAR-
Inflation: Inflation figures for October will be released this Wednesday, 10 November.
Public sector workers have until next Monday, 15 November to get vaccinated or risk not being allowed into their workplaces.
The two-day Africa Fintech summit kicks off next Tuesday, 16 November. The summit looks at innovation in the fintech ecosystem, venture capital and other forms of investing, and will also discuss the rise of healthtech.
The British are coming: British royal family members Prince Charles and the Duchess of Cornwall will be in town next Thursday and Friday, 18 and 19 November.
Calling all Egyptian entrepreneurs aged 23-35: You have a little over two weeks to apply for the acceleration exchange program Meet Silicon Valley for a chance to travel to California for a 10-day program to meet with tech executives and investors. The program is being implemented by Injaz Egypt and TechWadi with the support of the US Embassy in Egypt, and the deadline for applications is 23 November.
Check out our full calendar on the web for a comprehensive listing of upcoming news events, national holidays and news triggers.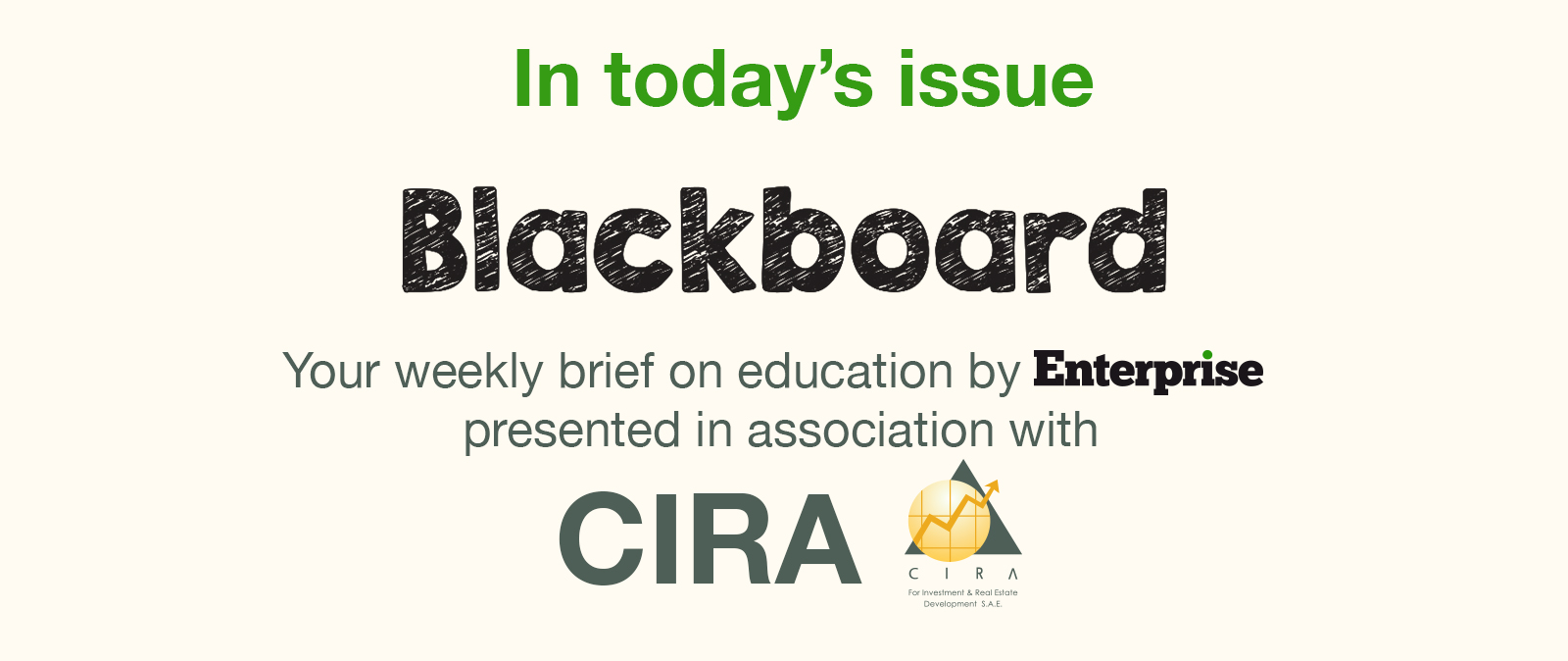 *** It's Blackboard day: We have our weekly look at the business of education in Egypt, from pre-K through the highest reaches of higher ed. Blackboard appears every Monday in Enterprise in the place of our traditional industry news roundups.
In today's issue: Unlike the US or UK, scholarships at the K-12 level aren't popular in Egypt. We've found a few K-12 private schools offering academic or non-academic scholarships, but they appear to be in the minority. Instead, the norm is to offer financial aid under a charitable model as and when necessary — usually to existing students, to mitigate financial hardship.