Monday, 1 November 2021
THIS MORNING: A new month; COP26 summit starts today; El Sisi arrives in Scotland; Senate to discuss EGX capital gains tax.
Good morning, wonderful people, and welcome to an exceptionally busy news day here in Egypt, with everything from a little help from our friends (in the form of KSA's deposit at the central bank) to the liberalization of gas prices, a tax drawback system for tourists and a share buyback program at education outfit Taaleem.
THE BIG STORY ABROAD- COP26 begins today — and if the Rome G20 Summit is anything to go by, we face an uphill battle to reach a global consensus. The two-day summit in Rome finished yesterday with little agreement among the 20 largest economies about how to limit global warming to 1.5°C, a target which scientists say is vital if we are to prevent serious ecological damage and fundamental changes to the planet's climate. G20 nations are trying to find consensus over how best to achieve the 2015 Paris climate goals, which aims to reach net-zero emissions by the middle of the century, but beyond agreeing to end funding for new coal-fired power stations leaders offered little in the way of concrete pledges.
Higher stakes as COP26 begins: The disappointing conference in Rome raises the pressure on world leaders to find a breakthrough at the COP26 summit, which begins today in Glasgow. Representatives from more than 100 countries are attending the two-week conference, which is being billed by some as a crucial moment that could determine whether or not we're able to achieve the Paris climate goals.
President Abdel Fattah El Sisi yesterday arrived in Scotland for the summit, according to a statement from Ittihadiya.
There isn't a news organization out there that doesn't have the summit on its front page this morning: Reuters | AP | Bloomberg | Washington Post | NYT | FT | WSJ | CNBC.
WHAT'S HAPPENING TODAY-
It's the start of a new month today. Here are dates for some key news triggers as we enter November:
PMI: November's purchasing managers' indexes for Egypt, Saudi Arabia and the UAE will land on Wednesday, November 3;
Foreign reserves: October's foreign reserves figures will be out sometime during the first week of November;
Inflation: Inflation figures for October will be released on Wednesday, 10 November;
There's no MPC meeting this month — the central bank will next meet on 16 December to review interest rates for the final time this year. The CBE has yet to issue its MPC calendar for 2022.
Gov't stipulated minimum charges at the nation's hotels come into effect today: All five-star hotels must now charge a minimum of USD 40 per night, while four-star establishments must charge at least USD 28 per night, according to minimum rates set by the government in April. Putting a floor under pricing has been on policymakers' agendas since 2017.
The Egypt Energy exhibition on power and renewable energy gets underway today. The three-day event will include speeches and discussions on the global energy outlook, the future of clean energy, financing green economy projects, and the future of connectivity with network management capabilities.
Egypt will take over the chairmanship of the African Union's Peace and Security Council today, succeeding Mozambique, the Foreign Ministry said yesterday. Egypt will chair the committee for the month of November and will focus on the fight against extremism and terrorism, the statement said.
CIRCLE YOUR CALENDAR-
Will the Fed announce a taper this week? All eyes are on the Fed ahead of its two day meeting starting tomorrow, in which it is widely expected to announce the winding down of its USD 120 bn a month asset purchase program instituted at the start of the pandemic to stimulate the economy. Fed chief Jay Powell had previously said the central bank could begin scale back its program in November, while policymakers signalled that they could move to raise interest rates next year. Rising US rates could spell challenges for emerging market assets — including Egypt's — as investors are tempted to sell-down riskier debt in favor of higher-yielding US treasuries.
---
TAX WATCH- Senate to weigh in on EGX capital gains tax: The Senate will meet in the coming two weeks to discuss the capital gains tax on stock market transactions, which will be introduced at the beginning of 2022 to the chagrin of the securities industry. Al Borsa reported last night that a committee in the upper house of parliament will convene to discuss the 10% tax, which has attracted criticism from fund managers and figures in the financial sector.
We're still waiting to hear from the House: Lawmakers discussed the tax in the House of Representatives yesterday in a session attended by Finance Minister Mohamed Maait and representatives from the EGX, the Financial Regulatory Authority and GAFI. Until now, there has been radio silence on what was said.
The tax: The 10% tax will be imposed on net portfolio earnings at the end of the tax year, after deducting brokerage fees. Foreign investors in the bourse won't pay a dime, as the new rules apply only to people and companies residing in Egypt.
We could soon find out this week which commodities will be traded on Egypt's long awaited commodities exchange when it launches early next year. Supply Minister Ali El Moselhy told Al Borsa last week that we should expect an announcement following a meeting set for this coming week with EGX boss Mohamed Farid and head of the Internal Trade Development Authority Ibrahim Ashmawy.
Also happening this month:
The French-Egyptian Business Forum is set to take place in the Suez Canal Economic Zone.
Egypt will host another round of talks to reach a potential Egyptian-Eurasian trade agreement, which officials hope will make it possible for Egypt to boost its exports to the Russia-led bloc that includes Armenia, Belarus, Kazakhstan and Kyrgyzstan.
Check out our full calendar on the web for a comprehensive listing of upcoming news events, national holidays and news triggers.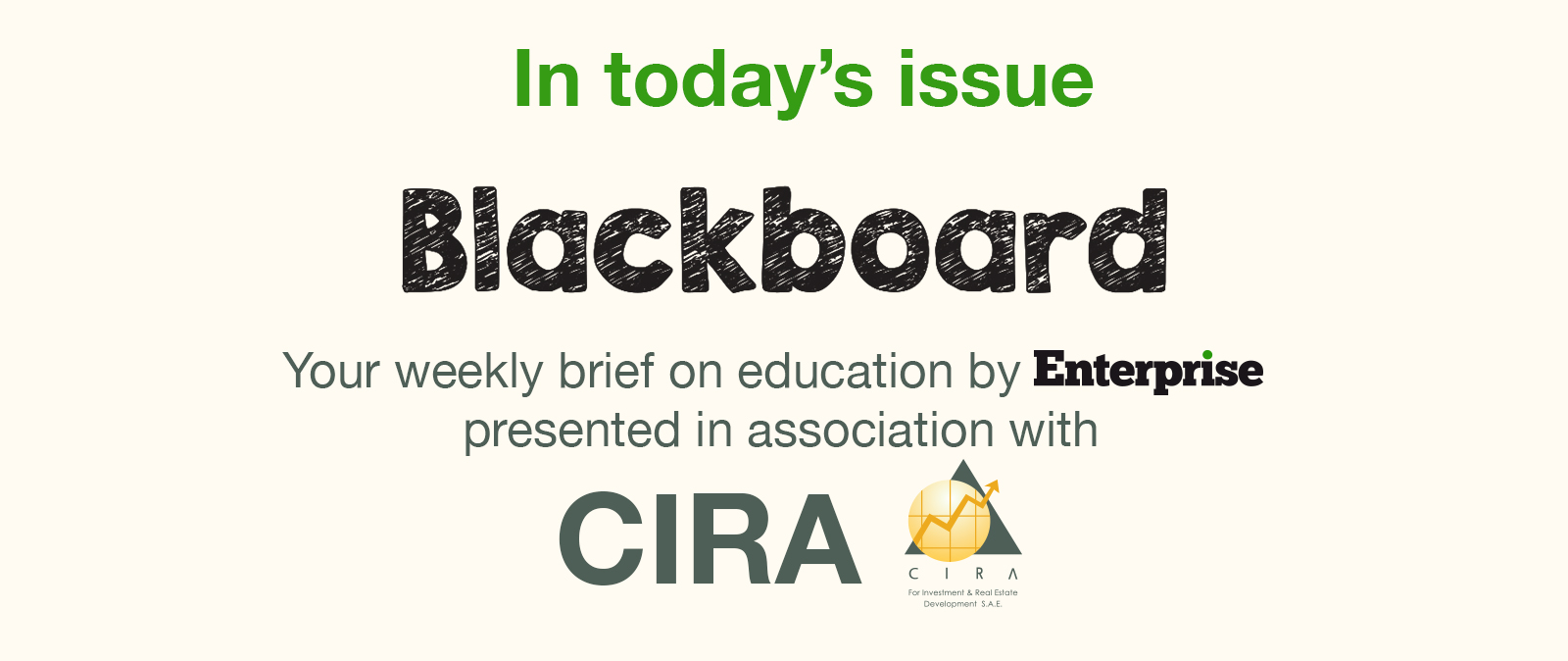 *** It's Blackboard day: We have our weekly look at the business of education in Egypt, from pre-K through the highest reaches of higher ed. Blackboard appears every Monday in Enterprise in the place of our traditional industry news roundups.
In today's issue: Public-private joint venture collaborations set up to invest in large-scale education projects have seen a surge in popularity this year. The most recent partnership of this kind is the new company set to be launched by Al Ahly Capital Holding and CIRA, the companies announced last week. But what makes these partnerships so appealing for the private sector? Today, we talk to three private sector education operators, who tell us the scale, stability and long-term nature of these investments allows for the provision of high-impact and affordable education.