Wednesday, 27 October 2021
THIS MORNING: Health Minister Hala Zayed in stable condition + Senate to talk about the capital gains tax next week
Good morning, friends. We suggest it would be nice if you had a good thought for Health Minister Hala Zayed, who is reportedly in stable condition after suffering a heart attack yesterday, according to broadcaster MBC (watch, runtime 1:45). The minister is reportedly being treated at the Wadi El Nil hospital. The Health Ministry had made no official statement on her condition as of dispatch time, but Presidential Health Advisor Mohamed Awad Tag El Din told Masrawy that Zayed's condition was improving and that she would soon be discharged.
The covid-19 vaccination drive that Zayed is leading has so far seen 24 mn citizens get jabbed, Tag El Din said in separate remarks yesterday amid signs that we may be reaching the peak of the fourth wave of the pandemic.
BIG NEWS FOR TRADERS- Maait to discuss CGT with Senate next week: The upper house of parliament's economy and finance committee will hold a meeting with the finance minister next week to discuss the implications of a capital gains tax on EGX transactions, according to Al Mal. Committee members held a meeting yesterday as part of a series of discussions on the feasibility of the CGT, which they argue could be counter to Egypt's long-term goal of becoming more investor-friendly. The 10% tithe would hit the net realized portfolio gains each tax year of domestic investors on the EGX and is set to come into effect as of 2022, after years of delays. Many, from fund managers to figures in the securities industry and MPs have voiced concerns about the timing of the tax's introduction and have asked for its postponement yet again.
WHAT'S HAPPENING TODAY-
The two-day Intelligent Cities Exhibition & Conference takes place today and tomorrow at the Intercontinental Cairo Citystars.
Today is the last day for grassroots community leaders aged 25-38 to apply for the US State Department's Community Solutions Program. Applications can be submitted here.
GASC is likely to be buying European wheat for the foreseeable future, as weak harvests in other major export hubs are seeing grain traders flocking to the bloc, Bloomberg reports. Wheat grown in Europe is projected to hit record sales by the end of this month, on the back of both the poor harvest and as Russia, the world's largest exporter, is being slowed down by its export tax. Egypt's latest pivot to Romanian wheat demonstrates this shift. Our state grain buyer, GASC, is the largest wheat importer in the world, and has been reliant on supplies from the Black Sea region.
Big Surprise: Not enough is being done to combat climate change. Combined commitments by countries to curb carbon emissions still put the planet on track to heat up by 2.7°C before the turn of the century, a United Nations report out yesterday ahead of next week's COP26 conference in Glasgow said, according to Reuters. Naturally, many eyes will turn to China, the world's biggest energy consumer, in the coming years. Beijing was out yesterday with a new climate change plan that promises to hit peak emissions before 2030 and then aim for net zero emissions by 2060, while expanding hydropower and energy storage, the Financial Times reported. China wasn't the only major power to release a climate blueprint ahead of COP26, with laggards Australia and Saudi Arabia also announcing plans this week.
And Big Oil is also about to have its best cashflow in more than a decade, with data from Bloomberg showing that the biggest oil and gas majors — including Royal Dutch Shell and Total — are due to post some USD 29 bn in FCF, the largest amount since 2008. Shareholders are waiting to see whether they'll be raking in dividends, or whether the extra dough will be put towards further oil and gas exploration.
ALSO- Retail brands we (as a country) seem to like: Carrefour topped this year's YouGov's Retail Rankings in Egypt, followed by Souq.com and its parent company Amazon.com. Aswaq Fathallah Markets and HyperOne round out the top five. Also in the top 10 are home-grown brands Awlad Ragab, B.Tech and Kazyon.
THE BIG STORY ABROAD- Google parent company Alphabet and Microsoft blew past analyst expectations as they reported their 3Q2021 earnings. The story leads the front pages of the Financial Times and Wall Street Journal, and we have more in Planet Finance, below.
The latest from Sudan: Sudanese Prime Minister Abdalla Hamdok was released from custody, according to the Facebook page of Sudan's cabinet, though the whereabouts of some 20 government ministers who had been detained by security forces since the beginning of an ongoing military takeover in the early hours of Monday morning remains unknown. Flights to and from Khartoum airport have been temporarily halted until Saturday 30 October, the country's civil aviation authority told Reuters.
US Secretary of State Antony Blinken spoke with Hamdok according to a State Department readout released overnight in which Blinken "welcomed [Hamdok's] release from custody and reiterated his call on Sudanese military forces to release all civilian leaders in detention and to ensure their safety.
CIRCLE YOUR CALENDAR-
It's almost the end of October. Here are dates for some key news triggers next month:
PMI: November's purchasing managers' indexes for Egypt, Saudi Arabia and the UAE will land on Wednesday, November 3.
Foreign reserves: October's foreign reserves figures will be out sometime during the first week of November.
Inflation: Inflation figures for October will be released on Wednesday, 10 November.
The Middle East Angel Investment Network's Angel's Oasis retreat runs tomorrow and Friday in El Gouna, with separate pricing for in-person and virtual attendance.
BOOK LAUNCH- Justo a Tiempo, a memoir penned by our friend ​​Maria Laura Sanchez Puerta (Morning Routine) about her family's battle against cancer. Sanchez Puerta, who is the World Bank's human development program leader in Egypt, is launching her memoir on Sunday, 7 November at Osana in Maadi. Argentinian Ambassador Eduardo Varela and Cairo University Professor Rasha Abboudy will also be speaking at the event.
Women entrepreneurs have until 6 November to apply to a new accelerator program launched by NGO Nahdet El Mahrousa offering up to EGP 200k in grants, mentorship, and other business support. Founders and social enterprise leaders working in ICT, creative industries, or on projects that support gender equality are eligible to apply. The program, Rabeha, was launched in partnership with UN Women Egypt, the Egyptian National Council for Women, Global Affairs Canada, and other partners. You can apply here.
GIZ and KfW are launching a call for green project proposals: Companies and public bodies working on projects related to the green economy transformation can as of 30 November submit proposals to the KfW Development Bank and GIZ's Investing for Employment facility, which will see co-financing grants ranging from 1 mn to 10 mn EUR awarded to to each project, the GIZ said in a press release (pdf). The facility will award grants to projects that contribute towards job creation. You can find out more about the facility and the application process here.
Check out our full calendar on the web for a comprehensive listing of upcoming news events, national holidays and news triggers.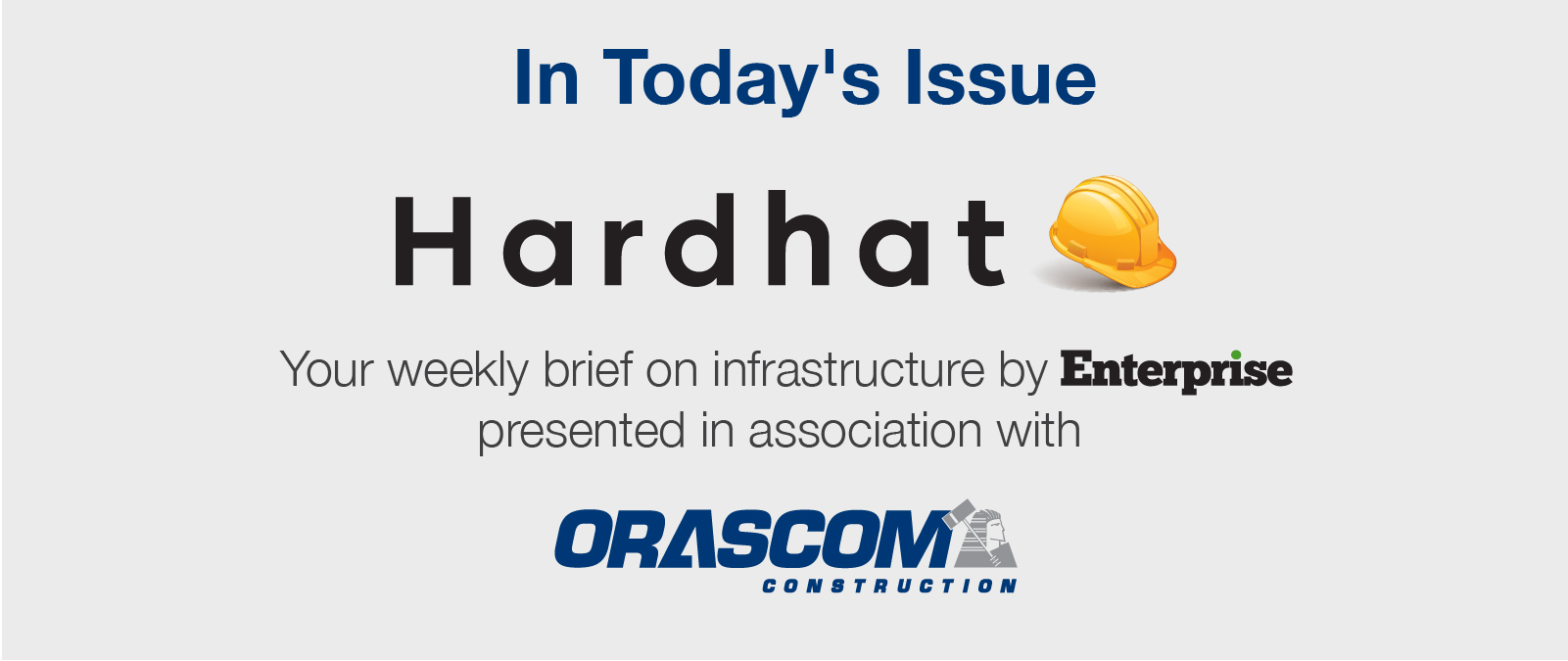 *** It's Hardhat day — your weekly briefing of all things infrastructure in Egypt: Enterprise's industry vertical focuses each Wednesday on infrastructure, covering everything from energy, water, transportation, urban development as well as social infrastructure such as health and education.
In today's issue: Water infrastructure has been a key priority for the government in recent years. With the fourth edition of Cairo Water Week entering its final days, we recap what's been happening on the water-saving front just as President Abdel Fattah El Sisi finally signs into law the long-awaited Water Resources Act.