Monday, 18 October 2021
THIS MORNING: Senate to discuss CGT, oil keeps climbing + New Apple and Google gadgets
From the biggest IPO we've seen in years to government incentives for the private sector and progress on a closely watched fintech bill, it's a really busy newsday in a city that is looking forward to the last long weekend of 2021.
And it's just going to get busier through Wednesday morning. Here's how it's all looking:
The CGT could soon be on the Senate's radar: Senator Ahmed Samir Zakaria has joined the chorus of voices speaking out against the 10% capital gains tax, saying in an official letter (pdf) to Senate Speaker Abdel Wahab Abdel Razek that the proposed levy threatens Egypt's long-term goal to become more investor-friendly. Zakaria proposed running a series of meetings to discuss the feasibility of the capital gains tax in the upper house of parliament.
What's the CGT? The 10% tithe would hit the net realized portfolio gains each tax year of domestic investors on the EGX. After years of delays, Finance Minister Mohamed Maait has said the tax will come into effect on 1 January 2022. Many, from fund managers to figures from the securities industry and MPs have voiced concerns about the timing of introducing the tax, asking for it to be postponed after having been already pushed several times. Some are also suggesting replacing it with another levy, or scrapping it entirely to protect a still-recovering EGX. A related drive could put the tax on the agenda of the House Planning and Budget Committee.
SMART POLICY- The government is aiming to increase the number of prepaid water meters installed in homes to 16.6 mn by 2030, in a bid to reduce water waste, cabinet said in a statement.
THE BIG STORY ABROAD- It's all about China this morning. The Financial Times' exclusive that China launched a hypersonic missile that stunned the US intelligence community is still leading the FT's front page — and is now being referred to by the commentariat as a "Sputnik moment" for the United States (readers will remember we flagged the missile story yesterday). Meanwhile, China's 3Q growth figures are out, and they're grim: Growth slowed sharply to 4.9% thanks to the twin energy and supply chain crises. The story leads the front pages everywhere from CNBC to the Wall Street Journal and Reuters.
Oil prices have hit new highs around the world, with Brent crude (the international benchmark) touching a high we haven't seen since October 2018 and WTI (the US price) reaching a peak unseen since October 2014.
Qatar smells opportunity, saying it has begun construction on up to four giant new natural gas liquefaction facilities it expects will help it raise its annual production of LNG to 110 mn tonnes a year from 77 mn currently, Qatargas, the world's largest LNG producer, said yesterday. The gas-rich Gulf nation said last week that it had maxed out its production capacity despite high demand from other countries amid the ongoing energy crisis. The statement doesn't make clear when the new facilities are set to start operations, but it could be years depending on when construction begins / began.
WHAT'S HAPPENING TODAY-
EBRD Vice President of Banking Alain Pilloux is in town through Wednesday for a series of high-level meetings (pdf).
i-Sheep PSA: A Mac revamp and new AirPods are among new tech expected to be unveiled at Apple's launch event today. You can catch a livestream here; it kicks off tomorrow at 10 am PDT, or 7 pm CLT for the folks tuning in from home. Bloomberg's Mark Gurman has the rundown on everything you can expect.
Google will debut its new Pixel phones (the 6 and the 6 Pro) tomorrow night at the same time (watch here).
MARKET WATCH- Investors should brace themselves for a wave of market volatility that is bound to kick in as soon as the Fed begins to roll back its massive crisis-era stimulus, Mohamed El Erian, the Allianz chief economist and Queens' College president, said on Fox News yesterday (watch, runtime: 9:10). "I worry a little bit that this wonderful world we've been living in of low volatility … may come to a stop with higher volatility, but a lot depends on behavioral changes," El Erian said.
High inflation here to stay? The market sage also dispelled the US Federal Reserve's much-challenged narrative that high inflation is transitory. "We should look forward to another year at least of high and persistent inflation," he says, adding that the two main problems, inflation and supply chain bottlenecks, are only partially due to transitory reasons.
CIRCLE YOUR CALENDAR-
Fall conference season is still going strong. Among the exhibitions and business events here and throughout the region:
Entrepreneurs in Egypt: You have one month to apply for the acceleration exchange program Meet Silicon Valley, which will take a group of entrepreneurs to California for a 10-day program to meet with tech executives and investors. The program is being implemented by Injaz Egypt and TechWadi with the support of the US Embassy in Egypt. Startup founders must be between the ages of 23 and 35 to be eligible for the program. The deadline for applications is 15 November, and you can check out the full criteria and program details here.
(Much) further down the road: A conference and exhibition on MENA healthcare is coming to Egypt in June 2022, head of the Egyptian Authority for Unified Procurement Bahaa El Din Zidan said last week, according to Ahram Online.
Check out our full calendar on the web for a comprehensive listing of upcoming news events, national holidays and news triggers.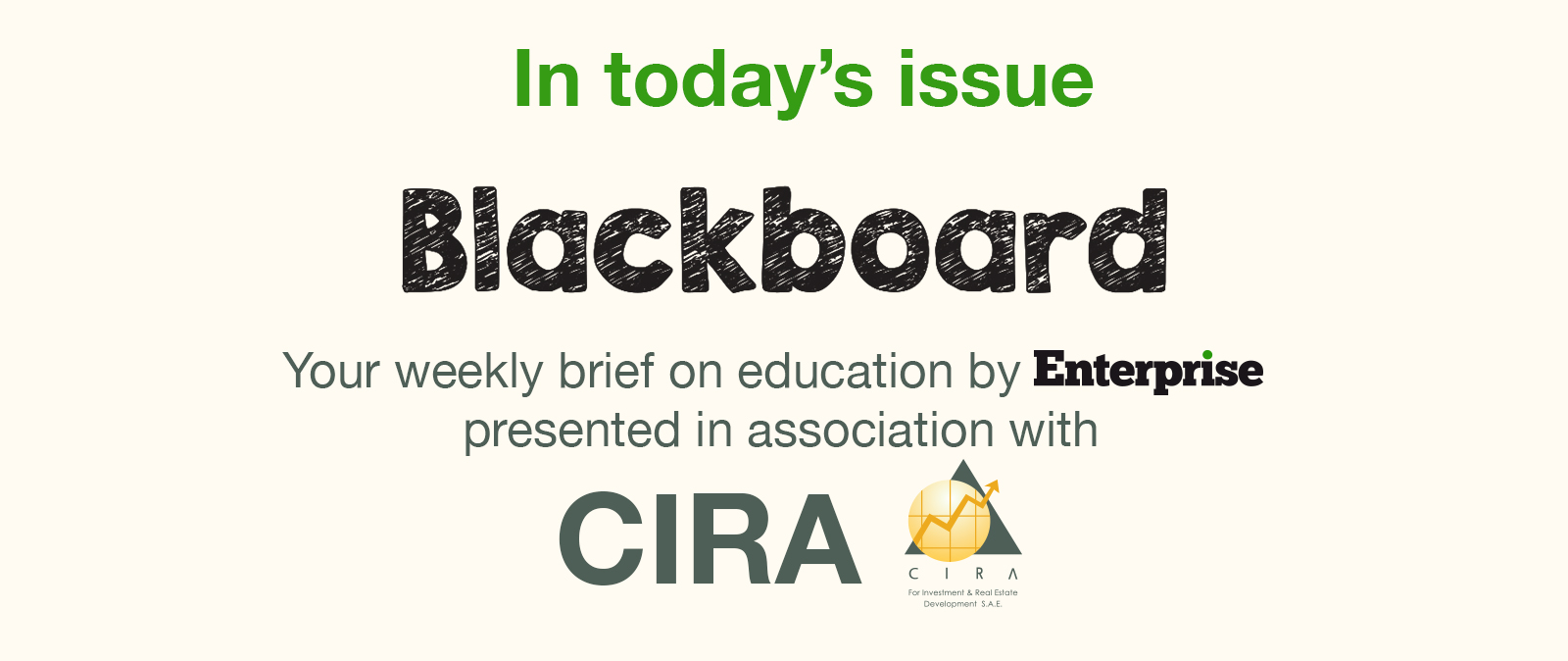 *** It's Blackboard day: We have our weekly look at the business of education in Egypt, from pre-K through the highest reaches of higher ed. Blackboard appears every Monday in Enterprise in the place of our traditional industry news roundups.
In today's issue: Egyptian universities were well represented in the newly-published QS 2022 World University Rankings: Arab Region. This continues a trend we identified last week, of more Egyptian universities being featured in prestigious ranking systems, with private universities in particular seeing notably higher levels of representation. The Times Higher Education rankings put a bigger emphasis on teaching, research and citations, while QS heavily weights academic reputation, employer reputation and faculty/student ratios. We take a look at how Egyptian universities fared in the QS rankings, compared to other ranking systems, and examine how important these rankings actually are to universities.