Wednesday, 29 September 2021
THIS MORNING: The stock sell-off accelerated yesterday + Asian markets are following suit this morning; White House natsec advisor in Cairo today.
We don't literally ring a bell around here every time a company announces it will IPO on the Egyptian Exchange, but that doesn't mean we're not doing it in our heads. So welcome to the folks at Abu Auf parent company AUF, which said yesterday it would offer up to 49% of the company for sale in a market debut expected in 2Q2022. We have chapter and verse in this morning's Speed Round, below.
The Abu Auf news is a great way to bid farewell to Q3, which comes to an end at COB tomorrow. Anyone else both delighted to see the back of 2021 (given it's 2020 with better clothing and new lipstick) and amazed it has passed so fast?
THE BIG STORY THIS MORNING is not in Egypt, but abroad as market watchers take stock of yesterday's carnage on Wall Street. The bears are looking for signs that their dreams have (at last) come true, while the bulls are churning out pablum designed to reassure each other that their crazy-long ride really isn't coming to an end.
US shares had their worst day yesterday since May as the S&P 500 shed 2%, with the Financial Times suggesting that "the prospect of the world's leading central banks moving more aggressively to stamp out inflation rattled financial markets on Tuesday." We have the scoop in this morning's Planet Finance, below.
How are markets doing this morning? Not great. Major indexes across Asia are in the red, with the Nikkei down 2.5%, Shanghai off 1.2% and the Hang Seng also in the red. The Kospi is down nearly 2.0%. Futures suggest a mixed open in Europe later this morning — and that traders on Wall Street may try to stage a comeback, with the Nasdaq, S&P and Dow all looking to start the day lightly in the green.
Don't worry, bears: US lawmakers will give you plenty to chew over in the days to come, with Treasury Secretary Janet Yellen telling Congress yesterday that the US risks running out of money by 18 October if politicians don't raise or suspend the federal government's borrowing limit. The story is getting plenty of coverage on the front pages of the Wall Street Journal and the Financial Times and also leads the front page of the New York Times.
"A dangerous man": US Senator Elizabeth Warren's broadside against US Federal Reserve Chairman Jerome Powell yesterday hardly cheered the traders — needless to say, the Fed boss is more their cup of tea than is Warren. Warren said Powell was "a dangerous man to head up the Fed" ahead of his potential reappointment for a second term, citing Powell's track record on financial regulation as the reason why she won't be supporting his renomination. Powell faced unusually tough questioning on the Hill yesterday, Reuters notes.
MEANWHILE- How to solve the China Evergrande problem? Step #1: Find a big rug. The cash-strapped company — simultaneously billed as China's largest real estate developer, the world's most-indebted company and the potential trigger of Beijing's "Lehman moment" — is about to sell a USD 1.5 bn minority stake it owns in a Chinese bank to a state-owned company. The Wall Street Journal interprets this as "an indication that authorities in the country are moving to contain the fallout from the property giant's financial difficulties." But that doesn't mean that foreign bondholders, who are mulling next steps after Evergrande missed an interest payment, are going to see a penny of the proceeds from the sale, Reuters writes: The USD 1.5 bn transaction is designed to minimize Evergrande's impact on a big Chinese bank.
** IN CASE YOU MISSED IT — catch up quick on the top stories from yesterday's edition of EnterprisePM:
HAPPENING TODAY-
White House National Security adviser Jake Sullivan is in Cairo today for talks with Egyptian officials, a spokesperson for the National Security Council said in a statement yesterday. On the agenda: Egypt's role promoting "security and prosperity" between Palestinians and Israel, upcoming elections in Libya, and security in the Horn of Africa. Israeli Prime Minister Naftali Bennett travelled to Sharm El Sheikh earlier this month for talks with President Abdel Fattah El Sisi. Bennett's national security adviser will meet with Sullivan on 5 October, the statement said.
Human rights will also be part of the conversation: Sullivan will "affirm the importance of human rights in the context of the overall strategic relationship" today, the statement said. The visit comes a few weeks after the Biden administration said it would hold back a portion of Egypt's annual military aid until the Sisi administration acts to improve the nation's human rights record. Since then, the president has announced a new human rights strategy and charges have been dropped against another four NGOs accused of receiving illicit foreign funding — one of the conditions attached to the aid named by a US official earlier this month.
Sullivan's visit comes as part of a Middle East tour that earlier this week took him to Saudi Arabia and the UAE. He yesterday met with Saudi Crown Prince Mohamed bin Salman and other senior Saudi officials to discuss the ongoing war in Yemen, Reuters reports.
ALSO TODAY-
Conference season resumes today with ITIDA's DevOpsDays Cairo 2021.
The Cairo International Fair opens tomorrow at the Cairo International Conference Center, running through 8 October.
The Egypt Projects 2021 construction expo also opens tomorrow at the Egypt International Exhibition Center and wraps on Saturday, 2 October.
Dubai's Expo 2020 starts Friday, 1 October. The event, which takes place somewhere on the planet once every five years, runs for six months and will be open seven days a week. You can learn more here.
ALSO HAPPENING THIS WEEK-
Winter retail opening hours in effect from Thursday: Shops and malls will close one hour earlier at 10pm (11pm on Thursdays, Fridays and national holidays) while cafes and restaurants will shutter at midnight rather than 1am. As during the summer, essential services such as grocery stores, supermarkets and pharmacies are exempt from the rules and can open and close their doors when they want.
CIRCLE YOUR CALENDAR-
PSA #1- Next week is a short work week. You can expect to have a three-day weekend 7-9 October in observance of Armed Forces Day, which is on 6 October. Folks whose workdays are tied to banks and the market can expect confirmation from the Central Bank of Egypt and EGX early next week.
PSA #2- We're probably also looking at a long weekend starting Thursday, 21 October in observance of the Prophet's Birthday, which is formally Monday, 18 October.
PSA #3- Your commute is going to get worse at the end of next week. Public schools are back in session for the fall term on Saturday, 9 October.
We're inching closer to the end of 3Q2021 and the beginning of another month. Here are some of the key dates coming up in October:
MPs and senators are returning from recess to start the new legislative session: The House of Representatives will reconvene on Saturday, 2 October and the Senate will be back in Session Tuesday, 5 October.
PMI: September's purchasing managers' indexes for Egypt, Saudi Arabia and the UAE will land on Tuesday, 5 October.
Foreign reserves: September's foreign reserves figures will be out sometime during the first week of October.
Inflation: Inflation figures for September will be released on Sunday, 10 October.
IMF + World Bank meetings: The IMF and the World Bank will hold their annual meetings during the week beginning 11 October.
Interest rates: The Central Bank of Egypt will meet to review interest rates on Thursday, 28 October.
A little further out: The Middle East Angel Investment Network is hosting its Angel Oasis in El Gouna on 27-29 October, with separate pricing for in-person and virtual attendance.
Check out our full calendar on the web for a comprehensive listing of upcoming news events, national holidays and news triggers.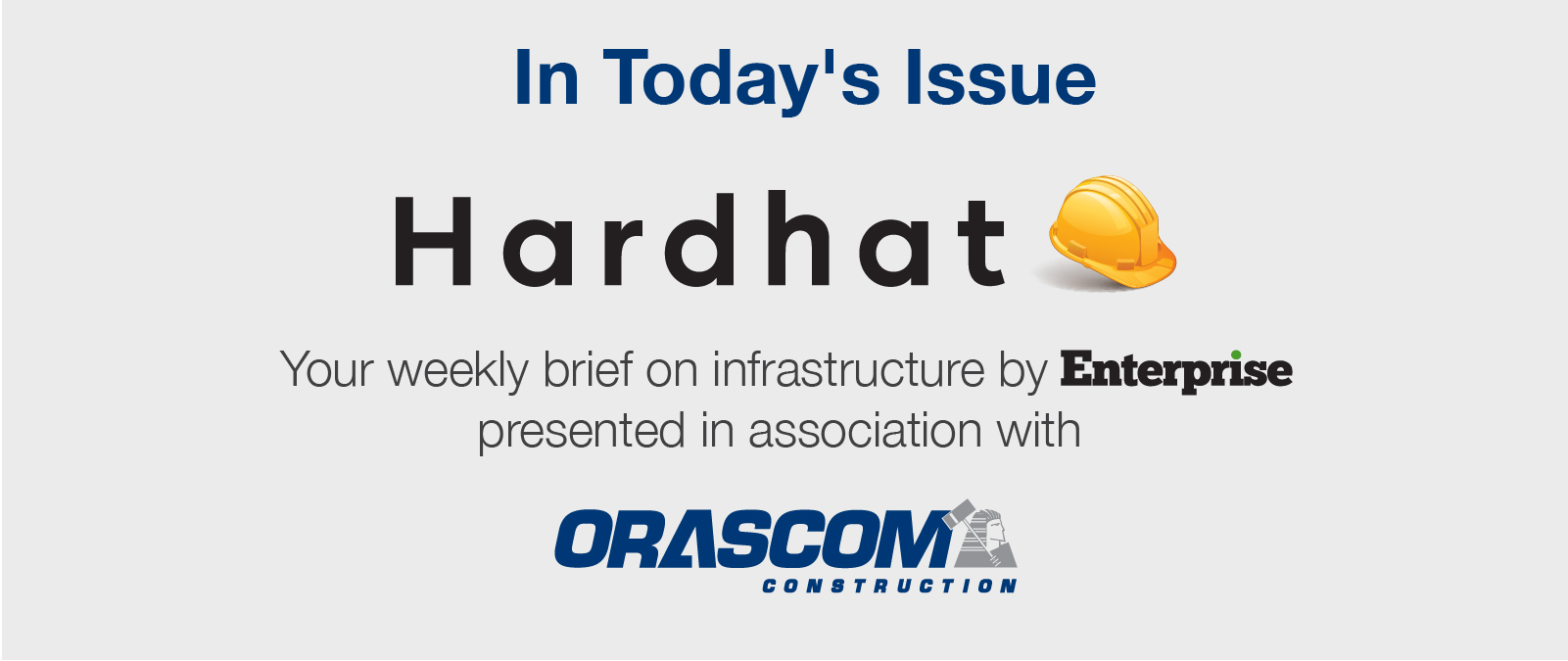 *** It's Hardhat day — your weekly briefing of all things infrastructure in Egypt: Enterprise's industry vertical focuses each Wednesday on infrastructure, covering everything from energy, water, transportation, urban development and as well as social infrastructure such as health and education.
In today's issue: The world's largest water treatment plant opened earlier this week in Egypt. In this week's project profile, we take a look at the Bahr El Baqar wastewater plant, which will process 5 mn cubic meters of water every day and help irrigate 475k feddans of reclaimed agricultural land.