Tuesday, 28 September 2021
THIS MORNING: Oil prices at three-year high; High-stakes negotiations on Capitol Hill; China power crisis;
Good morning, wonderful people, and welcome to a Hump Day issue that feels a lot like the (relative) calm before the storm. It's a brisk but not hectic news morning, with the biggest story being covid, covid and still more covid: walk-in vaccination clinics are real, digital vaccination records are coming to Egypt, and university students can now get jabbed within 24 hours of registering.
There's also lots of interesting news from planet startup, where Cairo-headquartered Flat6Labs has hit second close on its Tunisia fund and state-owned banks have announced the launch of an EGP 1 bn fintech fund.
Expect the news cycle to pick up pace today through Thursday as companies look to get news out before the House of Representatives comes back into session — and starts dominating newsflow — this weekend.
THE BIG STORIES TODAY are all abroad, where we note that EM bonds are seeing outflows thanks to events in China — where, incidentally, a looming power crisis threatens an even more interesting winter for a world waking up to the notion that supply shortages are going to be more than a transient thing.
We have more on all of these stories below.
BIG STORY #1- As expected, Republican lawmakers in the US are pushing the government towards default, last night refusing to back a Democratic bill that would have raised the debt ceiling and prevented a government shutdown when the new fiscal year begins on 1 October. If Congress can't agree to raise the debt ceiling by Thursday, the government will enter a partial shutdown and be on its way to default as soon as mid October, threatening a financial catastrophe as the country's economy recovers from the pandemic.
The Federal Reserve is weighing in: Two Fed officials warned yesterday that the central bank would be powerless to prevent an "extreme kind of reaction in markets" that would be triggered by a shutdown and called for bipartisanship to raise the debt ceiling. Everyone from Reuters and the AP to the Wall Street Journal and the New York Times has this on their front pages this morning.
BIG STORY #2- Straight to voicemail: US Treasury Secretary Janet Yellen has not returned calls from IMF chief Kristalina Georgieva, sources familiar with the matter told Bloomberg, amid accusations that Georgieva pressured staff to manipulate data in order to boost China's business-climate rating. An IMF ethics committee is reviewing the allegations, which Georgieva has strongly denied. The results of the review will likely be decisive for the IMF head's fate.
Is Georgieva the victim of "anti-Beijing hysteria"? That's the contention of US economist Jeffrey Sachs, who in a Financial Times opinion piece describes her treatment by US officials and lawmakers as "McCarthyite" and implores the IMF not to "capitulate" by forcing her out.
Whatever happens, it's going to make for an awkward atmosphere at the IMF and World Bank meetings next week.
BIG STORY #3- WATCH THIS SPACE- What happens when the world's largest manufacturer has a power crisis at the height of a global supply crunch? Nothing good, we'd bet. But this is what we're now faced with, as power shortages in China shutter factories across the country, Reuters reports. Manufacturers supplying some of the world's biggest companies — including Apple and Tesla — are having to wind down production as surging coal prices leaves the country facing a shortfall in electricity. The news isn't good for China, but it could be worse for the rest of the world, which was already facing supply shortages of a growing list of goods — all at the same time as rising inflation, trade disruptions, and rising post-lockdown demand put pressure on global supply chains.
---
** IN CASE YOU MISSED IT in yesterday's edition of EnterprisePM:
The EGX30 was down 1.4% yesterday as global energy shortages and supply chain disruption dominate the conversation in the local business press and market watchers sound the alarm.
Architects are designing homes to be cooler: Architects around the world are trying to combat the wicked cycle, instead introducing new building techniques that lower temperatures indoors without using ACs.
SPACs were so 2020: A significant rise in redemptions indicates that blank-check firms are starting to lose their appeal among investors.
HAPPENING THIS WEEK-
White House National Security adviser Jake Sullivan will visit Cairo this week as part of a brief Middle East tour that will take him to Saudi Arabia and the UAE, sources with knowledge of the matter tell Axios.
Today is the deadline to register for the AUC Business School's Private Equity Diploma.
Winter retail opening hours in effect from Thursday: Shops and malls will close one hour earlier at 10pm (11pm on Thursdays, Fridays and national holidays) while cafes and restaurants will shutter at midnight rather than 1am. As during the summer, essential services such as grocery stories, supermarkets and pharmacies are exempt from the rules and can open and close their doors when they want.
Conference season continues this week:
ITIDA's DevOpsDays Cairo 2021, takes place tomorrow, 29 September.
The Cairo International Fair opens on Thursday, 30 September at the Cairo International Conference Center. It runs through 8 October.
The Egypt Projects 2021 construction expo also opens on Thursday at the Egypt International Exhibition Center and wraps on Saturday, 2 October.
Dubai's Expo 2020 opens on Friday, 1 October. The event, which takes place somewhere on the planet once every five years, runs for six months and will be open seven days a week. You can learn more here.
CIRCLE YOUR CALENDAR-
PSA #1- Next week is a short work week. You can expect to have a three-day weekend 7-9 October in observance of Armed Forces Day, which is on 6 October. Folks whose workdays are tied to banks and the market can expect confirmation from the Central Bank of Egypt and EGX early next week.
PSA #2- We're probably also looking at a long weekend starting Thursday, 21 October in observance of the Prophet's Birthday, which is formally Monday, 18 October.
PSA #3- Your commute is going to get worse at the end of next week. Public schools are back in session for the fall term on Saturday, 9 October.
We're inching closer to the end of 3Q2021 and the beginning of another month. Here are some of the key dates coming up in October:
MPs and senators are returning from recess to start the new legislative session: The House of Representatives will reconvene on Saturday, 2 October and the Senate will be back in Session Tuesday, 5 October.
PMI: September's purchasing managers' indexes for Egypt, Saudi Arabia and the UAE will land on Tuesday, 5 October.
Foreign reserves: September's foreign reserves figures will be out sometime during the first week of October.
Inflation: Inflation figures for September will be released on Sunday, 10 October.
IMF + World Bank meetings: The IMF and the World Bank will hold their annual meetings during the week beginning 11 October.
Interest rates: The Central Bank of Egypt will meet to review interest rates on Thursday, 28 October.
A little further out: The Middle East Angel Investment Network is hosting its Angel Oasis in El Gouna on 27-29 October, with separate pricing for in-person and virtual attendance.
Check out our full calendar on the web for a comprehensive listing of upcoming news events, national holidays and news triggers.
MARKET WATCH-
Oil prices hit a three-year high yesterday as concerns that the escalating global gas crunch could impact the crude market grew, the FT says. Brent crude hit its highest level since September 2018 at USD 79.60 per barrel, continuing its rally after OPEC this month forecast 2021 demand to exceed 2019 levels. Brent has already risen 50% since the start of the year, and Goldman Sachs analysts now tip it to hit USD 90 before the end of the year, according to Bloomberg.
Fed taper talk sees yields rise: Yields on US 10-year treasuries climbed to three-month highs yesterday as investors dumped US government debt in anticipation of a tapering of monetary stimulus later this year. Yields briefly topped the key 1.5% level for the first time since June before closing at 1.49% in response to last week's Federal Reserve meeting when policymakers signalled they could tighten policy in November and raise rates in 2022.
Tech stocks under pressure: Rising yields isn't a great sign for tech stocks, which are vulnerable to sell-offs in the bond market due to their low dividends and current overstretched valuations, one analyst told Bloomberg.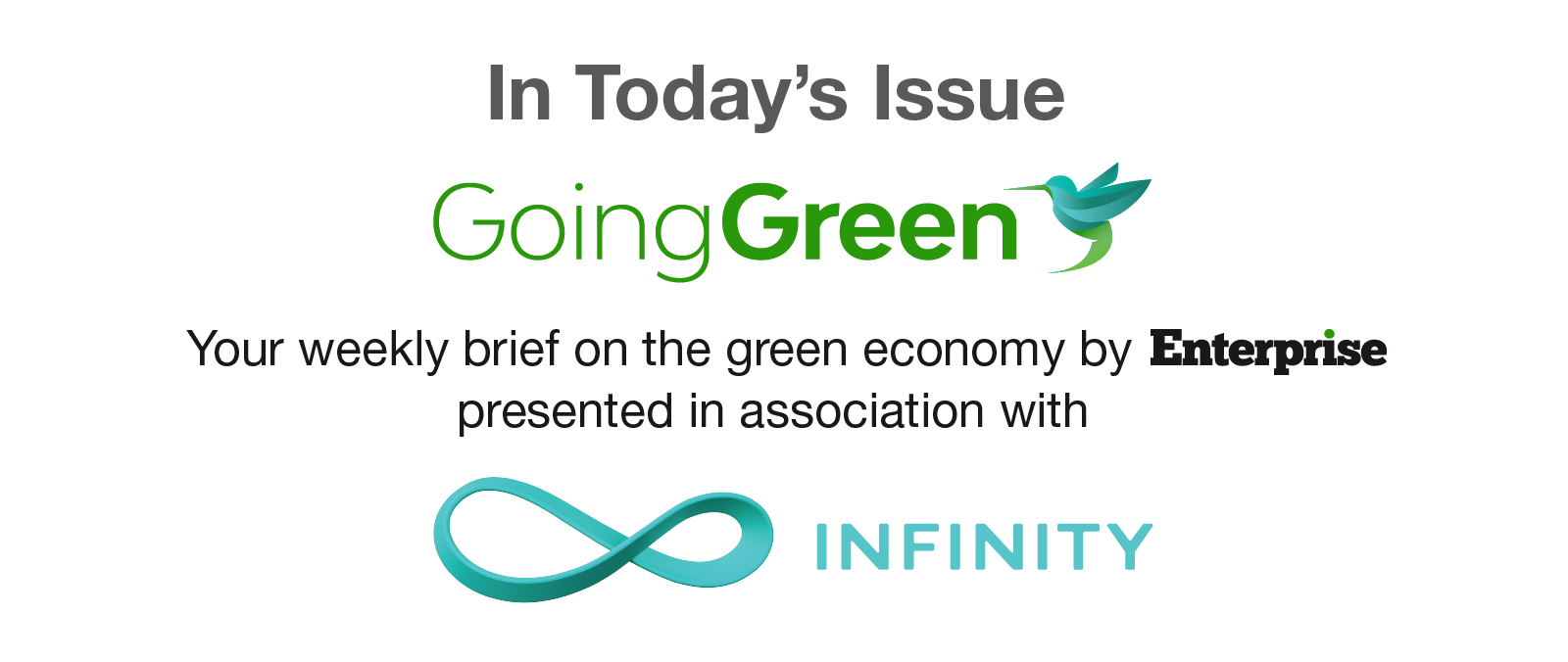 *** It's Going Green day — your weekly briefing of all things green in Egypt: Enterprise's green economy vertical focuses each Tuesday on the business of renewable energy and sustainable practices in Egypt, everything from solar and wind energy through to water, waste management, sustainable building practices and how you can make your business greener, whatever the sector.
In today's issue: 2021 has seen global commodities prices soar to record highs on pent-up post-lockdown demand and continued supply chain disruptions, prompting speculation from some quarters that the world may be seeing the start of a new supercycle. Today, we ask how the commodities boom is impacting local solar companies, who are reliant on metals like copper and aluminum to deliver projects. Companies tell us that in order to cope with the new reality, they have increased their prices, delayed projects, or absorbed the costs and accepted squeezed margins.