Monday, 27 September 2021
THIS MORNING: 3Q is almost over; Your commute is going to get worse at the end of next week; oil prices, German elections + Washington drama lead the front pages.
Good morning, nice people, and welcome to a particularly busy Monday — normally the quietest news morning of the week. Here at home, business leaders have clearly shaken the last of the Sahel sand out of their shoes — and we're all girding to see what fun the House of Representatives has in store for us when it goes back into session on Saturday.
It's also shaping up to be a busy week abroad as oil prices rise, shortages of (just about everything?) spread, Beijing tries to ward off its "Lehman moment," and the US grapples with high-stakes legislation worth USD tns.
BUT FIRST- Travellers to Egypt will now receive a welcome text message from the Tourism Ministry, according to a ministry statement. The program, launched in cooperation with the Communications Ministry, will see tourists arriving at Egyptian airports receive an SMS letting them know the ministry's hotline and national emergency numbers.
ALSO- If you have little kids, you're really going to really want to read this morning's Blackboard, our weekly vertical on the business of education in Egypt. It looks at the pressure faced by nurseries in the world of covid — they're clearly the most vulnerable sector in Egypt's education industry.
THE BIG STORIES INTERNATIONALLY- There's a lot going on. For starters: Oil in the US is now topping USD 75 per barrel thanks to a "global energy crunch." Meanwhile, preliminary results show the left-leaning Social Democratic Party leading in Germany's federal election, but it could be months before we know who will ultimately cobble together a coalition that makes clear who Angela Merkel's successor will be.
How bad has covid been for us all? It sparked the biggest decline in life expectancy since the Second World War, with men in the United States suffering the biggest setbacks: They're dying, on average, two years earlier, according to an Oxford study. The news leads the front pages of both the Financial Times and Reuters.
And you can expect some drama in Washington this week as "a slew of high-stakes deadlines collide on Capitol Hill … setting up potentially chaotic negotiations against the backdrop of expiring government funding and the threat of a possible US default." With the US government set to run out of money just after midnight on Friday, the Wall Street Journal notes that Democratic leaders are trying to shepherd two complicated legislative packages: a roughly USD 1 tn bipartisan infrastructure bill and a sprawling healthcare, education and climate package" worth some USD 3.5 bn.
SIGN OF THE TIMES- Nearly a third of BP's filling stations in the UK are running on empty thanks to "panic buying." Drivers queued for hours in some cases to fill their tanks "after oil firms reported a lack of drivers was causing transport problems from refineries to forecourts."
** IN CASE YOU MISSED IT from yesterday's edition of EnterprisePM:
The gender gap: Efforts to reduce gender inequality in Egypt are going sideways, with women becoming more economically disempowered and continuing to enjoy less personal freedoms than men, according to the World Economic Forum's latest global gender report.
Banque Misr has confirmed it is seeking a syndicated facility of c. USD 1 bn — its largest ever such facility — from a syndicate of 22 banks from 11 countries. We first covered last week the initial reports the bank was seeking the finance. Shahid Law is legal counsel for Banque Misr on the transaction.
China continues to feed the bears: China could be headed for an electricity crisis that could potentially wreak as much havoc on markets as the Evergrande fiasco.
HAPPENING THIS WEEK-
Winter retail opening hours in effect this week: Shops and restaurants will have to close a little earlier from the end of this week when winter opening hours come into effect this coming Thursday. Shops and malls will close one hour earlier at 10pm (11pm on Thursdays, Fridays and national holidays) while cafes and restaurants will shutter at midnight rather than 1am. As during the summer, essential services such as grocery stories, supermarkets and pharmacies are exempt from the rules and can open and close their doors when they want.
White House National Security adviser Jake Sullivan will visit Cairo this week as part of a brief Middle East tour that will take him to Saudi Arabia and the UAE, sources with knowledge of the matter tell Axios.
Tomorrow is the deadline to register for the AUC Business School's Private Equity Diploma.
Conference season continues this week:
ITIDA's DevOpsDays Cairo 2021, will take place on Wednesday, 29 September.
The Cairo International Fair opens on Thursday, 30 September at the Cairo International Conference Center. It runs through 8 October.
The Egypt Projects 2021 construction expo also opens on Thursday at the Egypt International Exhibition Center and wraps on Saturday, 2 October.
Dubai's Expo 2020 opens on Friday, 1 October. The event, which takes place somewhere on the planet once every five years, runs for six months and will be open seven days a week. You can learn more here.
YOUR FALL CALENDAR-
PSA #1- Next week is a short work week. You can expect to have a three-day weekend 7-9 October in observance of Armed Forces Day, which is on 6 October. Folks whose workdays are tied to banks and the market can expect confirmation from the Central Bank of Egypt and EGX early next week.
We're inching closer to the end of 3Q2021 and the beginning of another month. Here are some of the key dates coming up in October:
MPs and senators are returning from recess to start the new legislative session: The House of Representatives will reconvene on Saturday, 2 October and the Senate will be back in session Tuesday, 5 October.
PMI: September's purchasing managers' indexes for Egypt, Saudi Arabia and the UAE will land on Tuesday, 5 October.
Foreign reserves: September's foreign reserves figures will be out sometime during the first week of October.
Inflation: Inflation figures for September will be released on Sunday, 10 October.
IMF + World Bank meetings: The IMF and the World Bank will hold their annual meetings during the week beginning 11 October.
Interest rates: The Central Bank of Egypt will meet to review interest rates on Thursday, 28 October.
PSA #2- Your commute is going to get worse at the end of next week. Public schools are back in session for the fall term on Saturday, 9 October.
A little further out: The Middle East Angel Investment Network is hosting its Angel Oasis in El Gouna on 27-29 October, with separate pricing for in-person and virtual attendance.
Check out our full calendar on the web for a comprehensive listing of upcoming news events, national holidays and news triggers.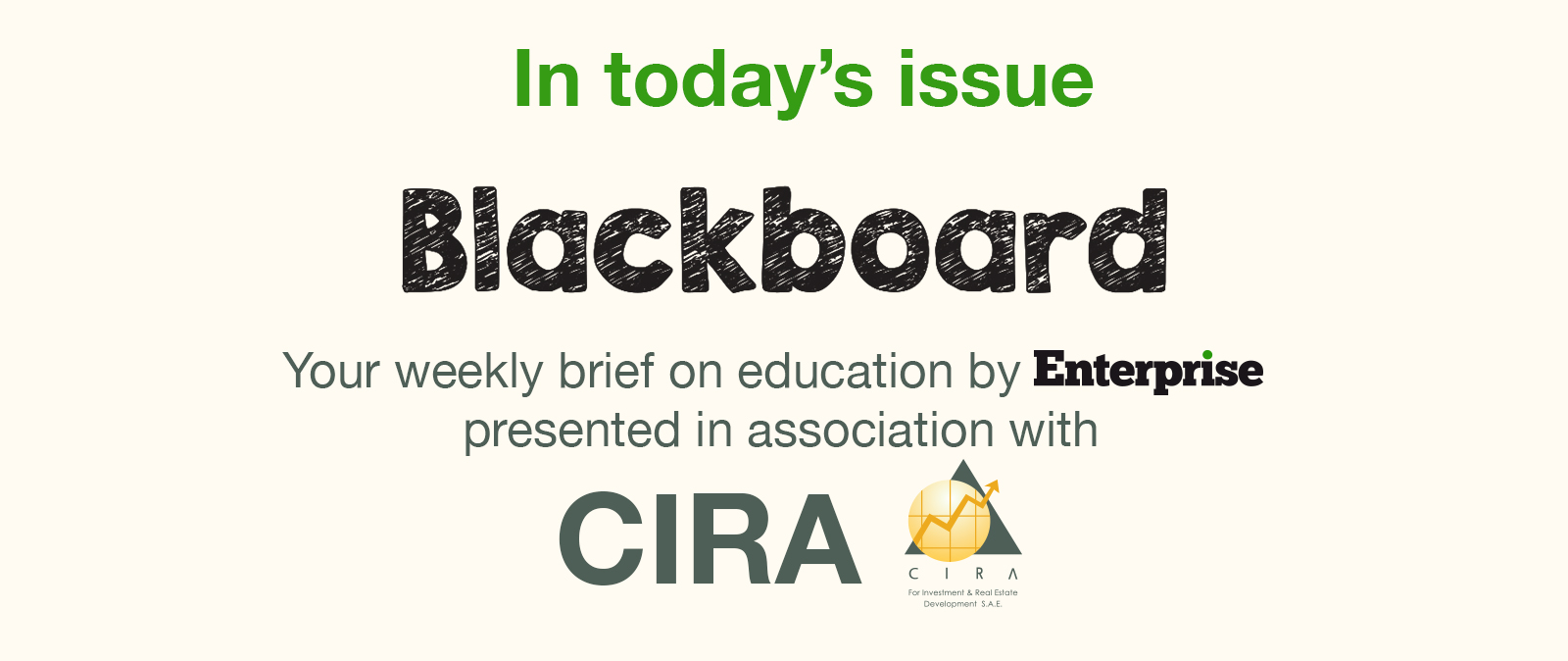 *** It's Blackboard day: We have our weekly look at the business of education in Egypt, from pre-K through the highest reaches of higher ed. Blackboard appears every Monday in Enterprise in the place of our traditional industry news roundups.
In today's issue: Covid-19 has hit Egypt's nurseries hard, with a large number having to close permanently since March 2020, while others battle to stay open in the face of increased expenses and operational changes. Those that remain open are taking measures to reduce risks to staff and children, but face a number of challenges — including staffing issues and financial strain, sources tell us.