Monday, 6 September 2021
THIS MORNING: Conference season is back with a vengeance; DiDi to launch in Egypt next week; 2021 is on track to be a record year for global M&A.
Good morning, wonderful people, and happy Labor Day to our readers in Canada and the United States. It's a really busy early fall morning here in Omm El Donia, so we're going to jump right in:
WHAT'S HAPPENING TODAY-
Fall conference season is back with a bang this week, with many of the gatherings taking place in person:
It's day two of the Arab Labor Conference, which is running through to 12 September at the InterContinental CityStars Hotel in Heliopolis. Government officials, ambassadors, trade union reps and business owners' association delegates from 21 Arab countries are participating in the gathering.
It's also the second day of the Arab Security Conference at the Nile Ritz-Carlton in Downtown Cairo. The cybersecurity conference will run until tomorrow.
Also taking place this week:
It's Labor Day in the United States and Canada. Wall Street and Bay Street are closed today, but will be back to trading tomorrow.
NEXT WEEK-
Another new entrant to Egypt's ride-hailing market will launch next week: Chinese ride-sharing app DiDi will start operating in Egypt next week, a company representative told Enterprise. The company will launch in Alexandria before expanding to other areas of the country. It is currently in the process of hiring drivers and is promising not to charge commission in their first month.
THE BIG STORIES INTERNATIONALLY-
The Taliban are still getting the front-page treatment: Reuters reports that a key opposition figure has agreed to enter talks to end fighting with the Taliban, while the Wall Street Journal takes a detailed look at the Biden administration's thinking (or lack thereof) on the withdrawal from Afghanistan.
US covid job benefits expire: The Associated Press, Washington Post, and Bloomberg are both focusing on the expiry of covid-era jobless benefits for US workers.
*** IN CASE YOU MISSED IT-
EGX has implemented its new closing share price calculation mechanism: The new "pre-close" auction system came into effect yesterday in a move designed to improve accuracy, increase trading volumes and boost foreign inflows into Egyptian shares.
El Sisi talks vaccines for minors, covid-19 fourth wave: Egypt could start providing vaccines to children under the age of 18 at schools once the vaccine gets approved for use by minors in Egypt, the president said at a charity event yesterday.
When whales walked on land: The new discovery of a four legged whale fossil in Egypt's Western Desert could help us understand how the mammals evolved from living on land to the sea.
MORNING MUST READ-
M&A goes wild: Global transactions are booming and are on course to smash annual records with almost USD 4 tn agreed just eight months into the year, the Financial Times reports. August, generally a quiet month for M&A, saw agreements worth USD 500 bn, surging from USD 289 bn in the same month last year, and USD 275 bn in August 2019.
Fuelling the boom: The salmon-colored paper says that super-low interest rates, strong corporate earnings, and the "return of animal spirits to corporate boardrooms" are behind the bumper figures. The pickup in dealmaking has been evident across a broad range of sectors, with tech leading the way: M&As in the sector account for 21% of all transactions so far this year, marking a heyday not seen since the dot-com boom at the turn of the century. Bankers and lawyers are raking in the dough as a result.
Enter CNBC, with a word of caution: We may also be looking at a record-breaking fall IPO pipeline on Wall Street as companies line up to take advantage of current market conditions, the broadcaster says. The catch? "There's a huge amount of froth in the marketplace right now much like we've seen in other important tops of the market that only became obvious in hindsight."
CIRCLE YOUR CALENDAR-
Key news triggers remaining in the first two weeks of September:
Foreign reserves: The central bank will release foreign reserves figures for August sometime this week.
Inflation: Inflation data for August will drop at the end of this week.
Interest rates: The Central Bank of Egypt will meet to review interest rates on Thursday, 16 September.
House Speaker Hanafi Gebali will head a parliamentary delegation to the Fifth World Conference of Speakers of Parliament, taking place on 7-8 September in Vienna. Topics on the agenda include gender equality, the effects of covid-19 on democracy, and terrorism.
Check out our full calendar on the web for a comprehensive listing of upcoming news events, national holidays and news triggers.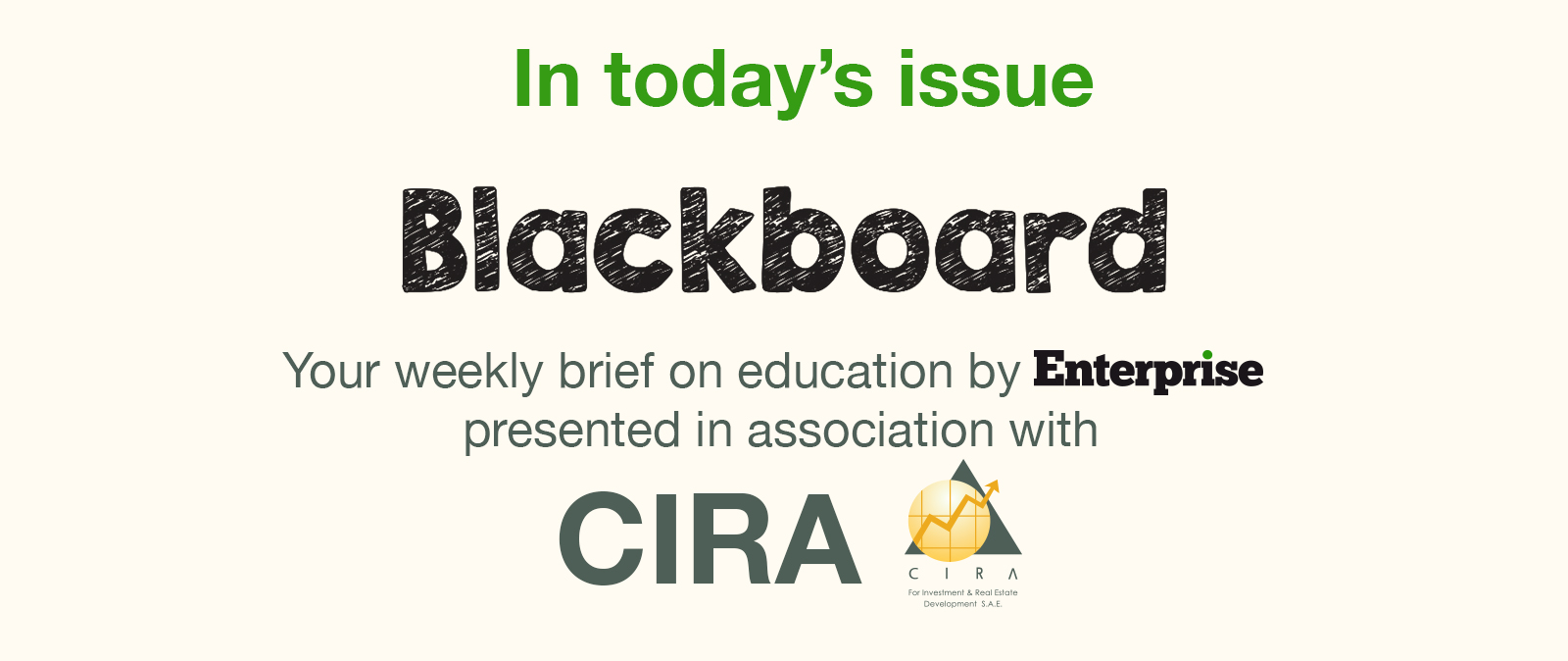 *** It's Blackboard day: We have our weekly look at the business of education in Egypt, from pre-K through the highest reaches of higher ed. Blackboard appears every Monday in Enterprise in the place of our traditional industry news roundups.
In today's issue: Egypt is seeing soaring demand for K-12 private school education, but expansion remains heavily Cairo-focused. For many operators, expanding beyond the capital just isn't worth it due to the high land costs and potentially lower revenues. But those that do venture into the governorates say there's a strong business argument for doing so, including meeting substantial demand, facing low competition, and having the chance to develop Egypt's education system. We talk to education providers about why they see expansion beyond Cairo as a smart move, and how they're going about it.