Monday, 30 August 2021
THIS MORNING: Hurricane Ida slams into New Orleans + the salacious among us are waiting for the start of the Theranos trial tomorrow
Good morning, wonderful people, and happy Monday to you all. With the mercury no longer routinely testing 40°C and the last weekend of summer coming up, we can already feel the pace of news accelerating as we head into fall.
THE BIG STORY here at home this morning: We're officially in an earnings recovery, with EGX stalwarts Cleopatra Hospitals and Orascom Construction reporting blockbuster earnings yesterday. We have chapter and verse in this morning's Earnings Watch, below.
Tomorrow is the last day of August. Here are the key new triggers coming up during the first half of September:
PMI: August's PMI figures for Egypt, KSA and the UAE will land on Sunday, 5 September.
Foreign reserves: The central bank will release foreign reserves figures for August sometime next week.
Inflation: Inflation data for August will drop either next week.
Interest rates: The Central Bank of Egypt will meet to review interest rates on Thursday, 16 September.
WHAT'S HAPPENING TODAY- Foreign Minister Sameh Shoukry is in Algeria for a ministerial-level meeting of Libya's neighbors. Shoukry and colleagues will chew over prospects for a political settlement between Tripoli's unity government and eastern Libyan leader Khalifa Haftar, according to a statement yesterday.
TWO BIG STORIES INTERNATIONALLY are vying for your attention this morning.
FIRST- Afghanistan has been pushed down the front page of most global media outfits after a once-in-a-generation hurricane named "Ida" slammed into New Orleans, leaving the entire city without power. The state of Louisiana is being battered by sea swells, heavy rains and flooding 16 years after Hurricane Katrina pummeled the area. The story leads front pages everywhere from the Wall Street Journal and Bloomberg to the New York Times and Reuters.
SECOND- Tomorrow is the US deadline to pull its troops out of Kabul, and the news from Afghanistan is that the United States preemptively launched a drone strike against a vehicle the Daeshbags planned to use in another attack against Kabul Airport. The news comes as the Taliban say foreigners + Afghans with visas will be able to safely leave the country even after US troops leave tomorrow. The US said in a joint statement with Canada, its European allies and dozens of other countries Sunday that the Taliban will allow safe passage out of Afghanistan to all foreign nationals and Afghan citizens with travel documents from another country. The story leads the front page of the Financial Times and gets prominent play from Reuters.
The business story the scandal-mongers among us are following: Theranos founder Elizabeth Holmes is going with the "Svengali" defense, alleging that her ex-boyfriend (and co-accused) Ramesh "Sunny" Balwani made her do it. Recently unsealed documents suggest Holmes is going pin her defense on a claim that Balwani used [redacted] and emotional abuse to get her to do his bidding. The story is getting lots of ink from Reuters and the Wall Street Journal. John Carreyrou, who broke the Theranos story at the Journal back in 2015 and literally wrote the book on it, predicted in his new podcast on the case that this is the road Holmes and her lawyers would likely go down. Look for the case to be back in the headlines tomorrow when Holmes' trial begins.
CIRCLE YOUR CALENDAR-
OPEC+ is meeting on Wednesday, and oil producers are widely expected to proceed with plans to undo oil production cuts as oil prices recover, according to a Bloomberg survey.
Egypt hosts Digi Sign Africa this week: The three-day advertising and digital printing exhibition gets underway at the Cairo International Convention Centre on Wednesday, 1 September.
Cypriot prez visiting this week: President Nicos Anastasiades arrives in Cairo on Saturday, 4 September for a joint Egypt-Cyprus summit.
South Korea's Defense Minister will be in town this week. The two-day visit by Suh Wook is the first of its kind to Egypt by a Korean defense minister. Suh's meetings will include a sit-down with President Abdel Fattah El Sisi before the Korean minister moves on to Oman, the Korea Times reports. The expectation is that Suh's visit will help lay the groundwork for a visit to Egypt by Korea's president in early 2022.
Check out our full calendar on the web for a comprehensive listing of upcoming news events, national holidays and news triggers.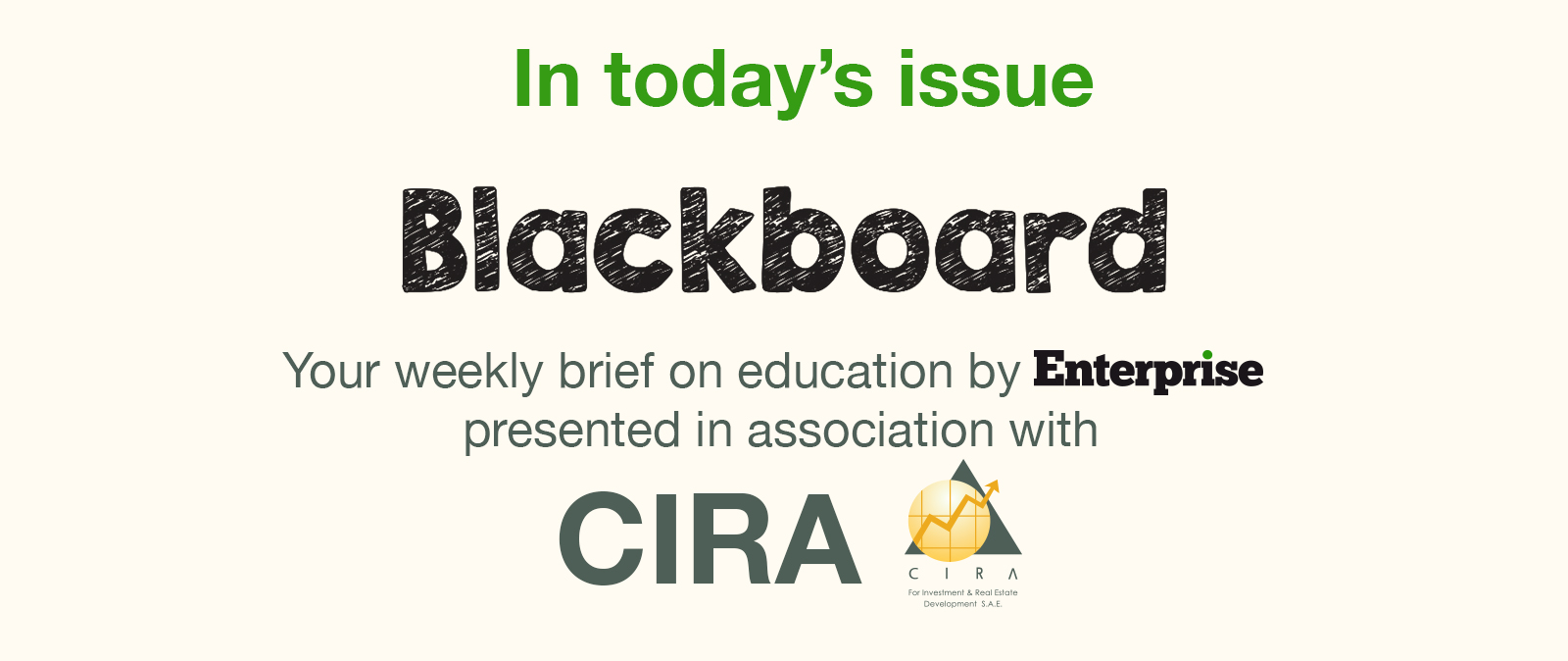 *** It's Blackboard day: We have our weekly look at the business of education in Egypt, from pre-K through the highest reaches of higher ed. Blackboard appears every Monday in Enterprise in the place of our traditional industry news roundups.
In today's issue: Last week, we saw international K-12 schools working hard to comply with the government directive that all staff and students aged 18+ be vaccinated ahead of the new academic year. Today, we take our question to private universities, and look at how ready they are to bring fully-vaccinated staff and students back on campus.