Wednesday, 23 June 2021
THIS MORNING: Day 2 of CIB World Tour Finals; Next-Gen Windows coming tomorrow; No Coke for Mohamed;
Good morning, wonderful people and welcome to the next-to-last business day of the week. We have a very policy-focused issue for you this morning, as the tl;dr suggests, but don't despair if your inner Mr. Burns needs to be thrown a bone: We have a long look at the state of the real estate market in this morning's Hardhat, and the news is good for folks who are homeowners or mulling an investment in real estate.
Also of perennial interest to our readers: Egypt remains one of the most affordable cities in the world for expats, as you'll read in this morning's news well.
SIGN OF THE TIMES- Morgan Stanley will not let unvaccinated clients or staff into its New York offices starting in mid-July, writes the Financial Times, which picked up a copy of an internal memo that says the "vast majority" of the bank's staff have been jabbed.
FROM THE DUMPSTER FIRE that is our Twitter feed:
So Mohamed or Omar can't have a Coke in Amreeka? We're thinking Coca-Cola wasn't expecting this? But should have? Like, printing names on cans and making them available for purchase is one thing. You control the feedstock. But when you propose letting people write whatever they want, and then constrain them? Good luck.
Why is Cuba's covid-19 vaccine named Abdala? Seriously. Also: It's allegedly 92.28% effective.
It's nearly mid-year, so how about you get serious about that "New Year's resolution" you made to get into shape and maybe improve your overall health? It may not help you look better in a swimsuit before you set foot on the beach in Sahel, but it could pay dividends by the end of the season. Not sure where to get started? We heartily recommend Tim Ferriss' A simple 2021 reboot — My short letter to a friend who wants to get in shape.
Sound smart: The literal "middle of the year" is… 2 July when it's not a leap year. It's the first day of the second half of the year in mathematical, if not financial, terms. 182 days before it, and 182 days after.
WHAT'S HAPPENING TODAY-
It's day two of the CIB PSA World Tour Finals 2020-2021 at Mall of Arabia. Up today: In the men's draw, world no.1 Ali Farag plays fifth-seed Mohamed El Shorbagy and last year's victor Marwan El Shorbagy faces Mostafa Asal. In the women's, world no.1 Nour El Sherbini will play Salma Hany while Nouran Gohar plays France's Camille Serme. The tournament runs until 27 June. Tickets are currently on sale for the final two days on TicketsMarche.
HAPPENING THIS WEEK-
Microsoft will release its "next generation" of Windows tomorrow. You can expect Windows 11 to come with a new (similar to Windows 10X) and a new app store experience, writes the Verge. The upgrade will likely be available without charge to folks who are on Windows 10 now, the site says.
The IMF's board will meet Friday to discuss a new USD 650 bn SDR allocation, which will allow it to provide more post-covid relief to emerging and low-income nations and support the global recovery from the pandemic, Bloomberg reported, quoting two unnamed sources familiar with the matter. Having already got backing from both the Biden administration and G7 nations, the proposal to issue new special drawing rights (SDRs) will be reviewed by the 24-member board during a meeting at the weekend, and could be tabled for a final approval by all 190 IMF member countries if there are no objections or requests for changes. IMF chief Kristalina Georgieva expects procedures for the plan's approval to conclude in mid-August, according to the business information service.
What's happening with our final IMF tranche? Finance Minister Mohamed Maait suggested a few weeks ago that we could see the USD 1.6 bn tranche paid out at the end of this month, but the IMF's executive board doesn't appear to have plans to discuss the disbursement before the beginning of July.
More GERD diplomacy? Intelligence chief Abbas Kamel will be in Washington this week for talks, according to an unconfirmed report out of Washington, DC.
*** CATCH UP QUICK with the top stories from yesterday's edition of EnterprisePM:
Your electricity bill is going up on 1 July: Residential electricity bills are going up by as much as 26% at the start of the new fiscal year as the government pushes ahead with its plan to gradually phase out electricity subsidies by 2025.
Slow vaccine rollout could dent our tourism recovery: A slow vaccine rollout means we could lose out on a second summer tourist season, with travel restrictions from the likes of the US, UK, and EU likely to stay with us until the start of 2022, Capital Economics said in a research note.
KSA classifies Egypt as "very high risk": Saudi Arabia's Public Health Authority is advising residents against travelling to Egypt and 10 other Arab countries in the same classification due to covid-19.
MORNING MUST READS-
Covid-19 is exacerbating wealth inequality across nations: Wealth inequality rose across the board in 2020, with ultra-low interest rates, a boom in the equity markets, and rising house prices making the rich even richer, according to Credit Suisse's 2021 Global Wealth Report by Credit Suisse Group. The richest 1% in nations including the US, China and India saw their wealth share rise last year, with the world's 500 richest people adding USD 1.8 tn to their combined net worth, according to the Bloomberg Bn'aires Index.
And that's a trend that is set to continue on the corporate front, with US companies expected to still pay lower taxes than their foreign peers despite President Joe Biden's proposal to raise the corporate income tax, according to analysis by Reuters. US companies paid an average tax rate of 16% last year, compared to an average of 24% paid by 200 overseas competitors. If Biden's planned 28% rate was imposed on the US firms' same earnings, they would have paid effective rates averaging 21% — below the average rate imposed on their rivals, the analysis showed. US corporations may still end up paying less than competitors, given that the Reuters estimates did not consider tax breaks, and given that Biden's new tax plan would also charge foreign companies with US operations higher income tax.
CIRCLE YOUR CALENDAR-
The Clean Energy Business Council (CEBC) MENA are holding a webinar titled Energy Efficiency in the MENA region: Status and Outlook on 6 July at 3:30pm. The session will focus on energy efficiency developments and provide recommendations for businesses and policymakers. Later on next month, CEBC will also host the webinar Women Entrepreneurs in Clean Energy on 21 July at 3pm in cooperation with the initiative, Women in Clean Energy MENA and WiRE.
The British Egyptian Business Association (BEBA) is organizing a virtual education week from 5-6 July with three seminars planned. The first, taking place at 10am on 5 July, will discuss skills-based learning while the future of investment in education will be the topic on the table at 12:30pm the same day. On 6 July, a talk on the digitalization of education in Egypt will be held at 12pm.
Check out our full calendar on the web for a comprehensive listing of upcoming news events, national holidays and news triggers.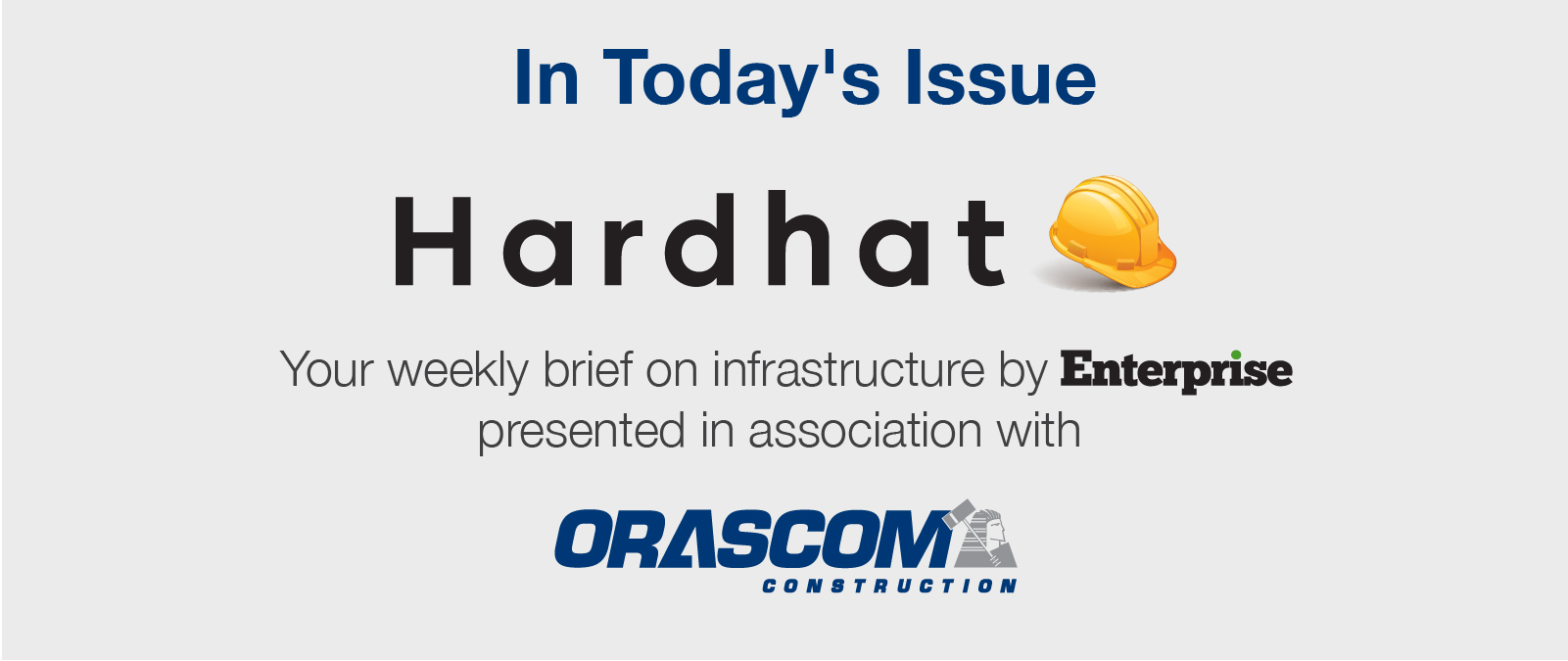 *** It's Hardhat day — your weekly briefing of all things infrastructure in Egypt: Enterprise's industry vertical focuses each Wednesday on infrastructure, covering everything from energy, water, transportation, and urban development as well as social infrastructure such as health and education.
In today's issue: Between office, residential and retail spaces, Egypt's real estate market has been hit hard by covid. But almost a year has since passed, and plenty appears to have happened to turn the market around, with the real estate outlook for 2025 looking quite rosy. We took a deep-dive into Savills' report on the real estate sector in Egypt to know what to expect in the coming four years.