Monday, 21 June 2021
THIS MORNING: Greek PM in town today; Asian stocks fall on Fed meeting; Europe/US expected to follow later today.
Happy first day of summer, everyone, and welcome to the longest day of the year. It's a brisk news morning here in Egypt even if things are a bit sleepy abroad, so let's jump right in:
WHAT'S HAPPENING TODAY-
Greek PM Kyriakos Mitsotakis is in Cairo today for talks with President Abdel Fattah El Sisi, and Prime Minister Moustafa Madbouly, Greek media reported yesterday.
It's shaping up to be a rocky day in the global markets: Asian markets fell heavily this morning on the first trading day of the week as concerns that the Federal Reserve may hike rates in 2023 continue to send tremors through global stocks. The Nikkei was seeing the biggest losses ahead of dispatch, down 3.5%, with Taiwan and Australia also heavily in the red. This follows heavy losses in Europe and the US last week, as investors reacted to the news that the Federal Reserve may look to unwind its bond-buying programme and raise rates in response to the strengthening US recovery and rising inflation. Stock markets across Europe and the US are expected to fall when trading begins later today.
Here at home, the EGX held up comparatively well, closing down just 0.7% yesterday on moderate volumes.
No single story has captured the attention of the global press on this fine morning:
The 'new' US economy: The New York Times and the Washington Post are both spotlighting the changed economic realities wrought on the US by the pandemic.
HK crackdown: Reuters leads with the news that Hong Kong authorities are closing down a pro-democracy newspaper owned by jailed businessman Jimmy Lai.
Canada's not ready to open yet: Bloomberg reports that Canada is refusing to open its border with the US until 75% of its citizens are fully vaccinated.
** CATCH UP QUICK on the top stories from yesterday's edition of EnterprisePM:
e-Finance looks at potential fintech acquisitions as planned IPO approaches: The state-owned firm is looking at businesses licensed to provide financial services such as e-payments, ins. and microfinance, and is planning an expansion into Africa using the proceeds from its upcoming IPO.
Compass Capital makes MTO on ANFI: Private equity firm Compass Capital has submitted a mandatory tender offer to acquire up to 100% of Alexandria National Company for Financial Investments (ANFI) for EGP 5.72 per share.
SCA says it finally has a good compensation offer: The Suez Canal Authority (SCA) has received a "suitable" compensation offer from the owners of the Ever Given, as a hearing by the Ismailia Economic Court was postponed to 4 July to give both sides more time to negotiate.
WHAT'S HAPPENING THIS WEEK-
The 2020-2021 CIB PSA World Tour Finals get started in Cairo tomorrow. The squash tournament will run through Saturday, 27 June.
Your morning commute is about to get a bit better: School's out for public school students this week, who will attend the last day of the 2020-2021 academic year on Thursday, 24 June.
The African Development Bank's annual meeting takes place this week (virtually, of course), running 23-25 June
A TIP OF THE HAT THIS MORNING TO our good friends at CIB and EFG Hermes, who are in line to potentially take home some hardware from the African Banker awards, which are to be announced during the AfDB meeting. CIB is up for African bank of the year and sustainable bank of the year, while EFG is among the finalists for the investment bank nod and a financial inclusion award. Banque Misr could also take home a gong as a finalist in the investment bank category and joins EFG as a finalist for a number of transaction-specific awards. You can see the full list of finalists here.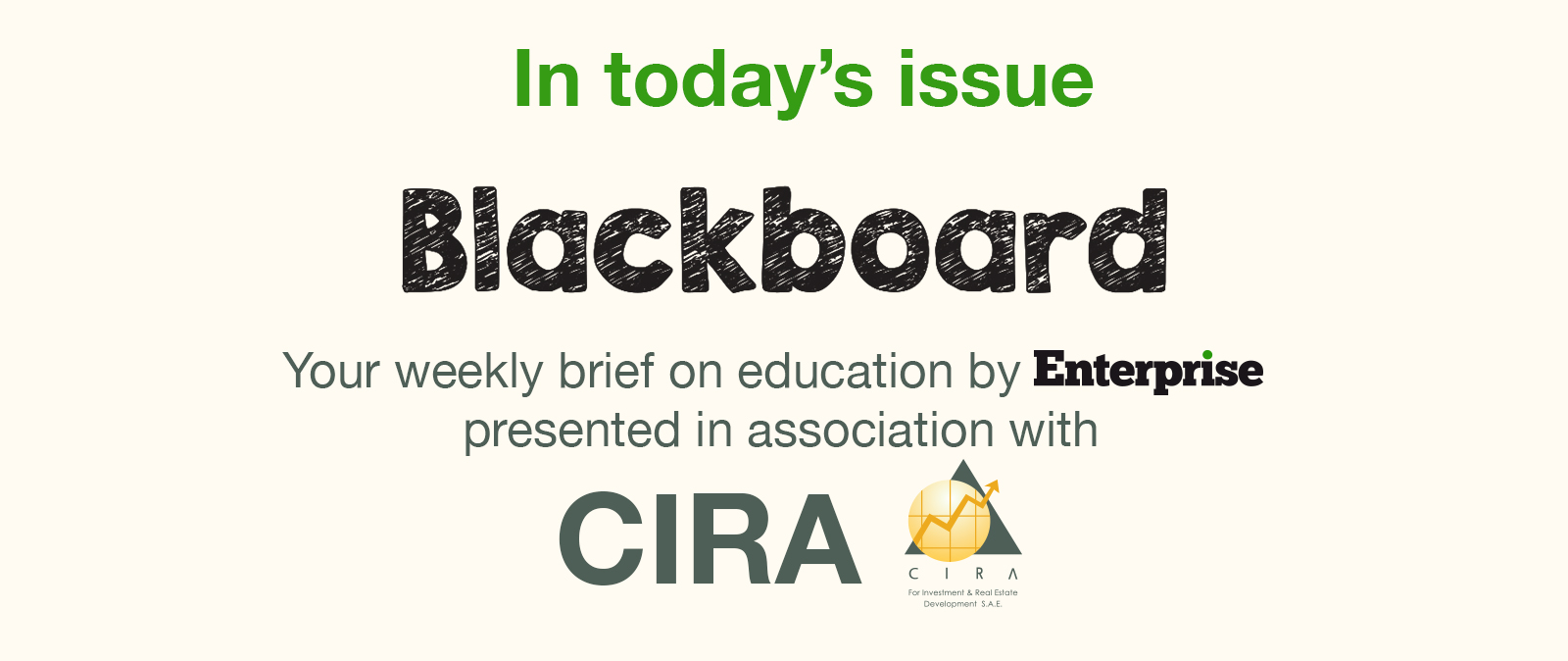 *** It's Blackboard day: We have our weekly look at the business of education in Egypt, from pre-K through the highest reaches of higher ed. Blackboard appears every Monday in Enterprise in the place of our traditional industry news roundups.
In today's issue: The Higher Education Ministry ran a comparison between the status of higher education in Egypt in 2014 and 2021 – and boy, do these numbers tell a story. Hint: all stats point upwards, with more students, universities, faculties, faculty members, published academic papers and university hospitals.