Wednesday, 16 June 2021
THIS MORNING: Franklin Templeton overweight on Egypt; It's Fed day; Enjoy your morning joe.
Good morning, wonderful people. You know it's something of a slow news day when the United Nations plays a role in our lead story. Think of it as a welcome breather after what has so far been a very busy news week. We'll be back later this afternoon to see whether that holds for the day.
It's slow beyond our borders, too. Perhaps the biggest news in the global business press is that Lina Khan is going to be running the US Federal Trade Commission. The 32-year-old professor helped redefine how lawmakers in the US and around the world view antitrust cases in the digital age with her paper Amazon's Antitrust Paradox. Her thinking resonates as far abroad as Egypt, as we discussed back in February. Now positioned as a "critic of Big Tech," her swearing-in yesterday is being positioned as a win for "progressives" in the Democratic party. The story leads the global business press, from the Financial Times to Reuters and far beyond.
THE BIG STORY THIS AFTERNOON is sure to be the "summit" in Geneva between US President Joe Biden and Russia's Vladimir Putin, which the Wall Street Journal is framing as a "showdown between two leaders who have long been at odds." The New York Times has picked up on Biden calling Putin a "worthy adversary" — and notes that where superpower summits used to focus on nukes, they now dwell on cyberweapons.
FROM THE DEPT. OF GOOD NEWS-
Asset manager Franklin Templeton is overweight on Egypt: Sustained GDP growth in a contractionary climate and a stable currency together support a positive outlook on Egypt, MENA managing director Basel Khatoun said at a virtual seminar earlier this week, Zawya reports. Despite liquidity challenges, contained inflation combined with "strong fundamentals" and "solid international reserves" have supported the investment bank's optimism on Egypt, Khatoun added. Please come back, fund and portfolio managers. We miss you.
STOP WORRYING and enjoy your morning Joe. After decades of pseudo-scientific vilification, coffee is getting a clean bill of health from researchers who now say folks who drink three to five cups a day are 15% less likely to die early from all causes — and have better mental health to boot. Caffeine and dozens of other substances in your morning brew appears to help protect you from "heart disease, Type 2 diabetes, depression, suicide, Parkinson's disease, gallstones, cirrhosis, liver cancer, melanoma and prostate cancer," writes the NYT's inimitable health reporter Jane Brody. (We really do take issue with her comment about French press and "artery-damaging" LDL cholesterol, but that's an argument for another morning.
ECB mulls taking lid off bank dividends: The European Central Bank (ECB) will revisit a cap it had imposed on bank dividends at a board meeting on 23 July as it looks to roll back pandemic regulations that had sought to preserve capital reserves and prevent high payouts to shareholders, Bloomberg reports.
Sound familiar? Banks in Egypt were barred from paying out dividends on 2020 returns under a CBE directive earlier this year designed to bolster liquidity in the banking system.
WHAT'S HAPPENING TODAY-
It's day two of the Fed meeting: Don't expect a change in policy when the Fed's Open Market Committee wraps up its two-day meeting later today. Still, Fed chair Jay Powell may give some clues about when the central bank may begin to unwind its stimulus. The Fed has insisted that the recent rise in inflation will only be temporary and not serious enough to warrant a rise in interest rates.
One crucial part of US financial markets wants the Fed to act: Money market funds are coming under increasing pressure as a stimulus-fuelled buying frenzy in the US treasury market causes short-term yields to approach negative territory, the Financial Times reports. Some, who are worried that a funding crisis in the USD 4 tn industry could destabilize the financial system, are calling for the Fed to raise short-term rates.
TOMORROW- It's interest rate day here at home: All 11 analysts and economists surveyed in our poll are calling another hold when the CBE's Monetary Policy Committee meets tomorrow as inflation hit its highest level all year in May with the global commodities boom beginning to hit the domestic economy. A Reuters poll out yesterday found a similar consensus, with all 18 surveyed analysts predicting a hold.
CLARIFICATION on Elsewedy's appetite for acquisition- We picked up a story in Acuris' Mergermarket yesterday suggesting that industrial giant Elsewedy Electric is looking to close acquisitions of three companies "with equity worth USD 100 mn per transaction." We have updated the story to clarify that Elsewedy is looking at targets with a value up to USD 100 mn — or more if it makes strategic sense — at the request of a senior company official. Elsewedy is reportedly eying companies in the technology, cable, and electric equipment spaces and will remain in acquisition mode in 2022. None of the three potential acquisitions has yet been finalized.
*** CATCH UP QUICK with the top stories from yesterday's edition of EnterprisePM:
Khazna, Masria Digital Payments, ADIB partner to launch salary advance card: Underbanked employees and gig workers will be able to instantly access their wages in advance through "Khazna Card," which gives users 24/7 instant access to their earned wages in advance upon submitting a request through the Khazna app.
Waste Management Act's exec regulations in cabinet's hands: The bill will set up a new state agency responsible for waste management, and should be approved within the next 6-8 weeks.
CIRCLE YOUR CALENDAR-
The EFG Hermes and Saudi Exchange Virtual Investor Conference is ongoing until 17 June, according to a press release (pdf). The event will see execs from 61 companies meet with more than 450 international investors from over 190 institutions.
Entrepreneurs in the tourism sector have until 20 June to apply for the six-month Tourism Recovery Program launched by Enpact and the TUI Care Foundation and supported by GIZ, according to a press release (pdf). Some 100 startups will be eligible for direct support to the tune of EUR 9k each. The program also aims to create an international network of tourism business to expand cooperation between Egypt, Germany, and other European countries. You can apply here.
Check out our full calendar on the web for a comprehensive listing of upcoming news events, national holidays and news triggers.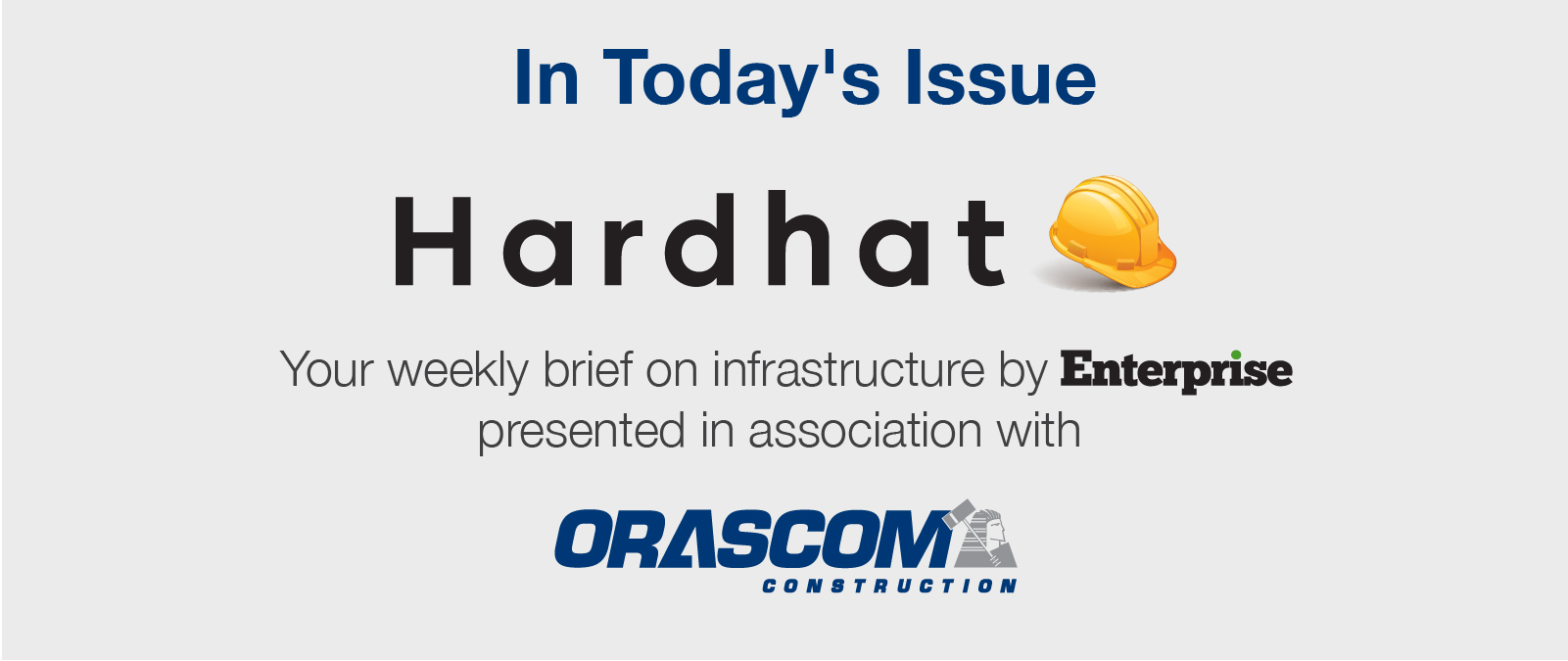 *** It's Hardhat day — your weekly briefing of all things infrastructure in Egypt: Enterprise's industry vertical focuses each Wednesday on infrastructure, covering everything from energy, water, transportation, and urban development, as well as social infrastructure such as health and education.
In today's issue: What sort of growth and trends took place in Egypt's digital infrastructure in 2020? The Digital 2021: Egypt report by Data Reportal offers a comprehensive look. Trends like growing social media use and e-commerce accelerated in 2020, and there were also interesting new developments, like increased adoption of smart home devices. But Egypt still lags behind in some key areas, like financial inclusion.