Monday, 31 May 2021
THIS MORNING: Egyptian digital vaccine passports; Justice Ministry app available on iOS; Netanyahu is fighting for his political life.
Good morning, everyone, and welcome to the last day of May. We may not be relaxing today as are our friends in the US and UK (it's a holiday weekend for both) but it won't be long before many of us start thinking about WFH from Sahel — or of leaving the office a bit early on Thursday afternoon (and coming in just a bit late on Sunday morning) so that we can make the drive to the coast.
It's a moderately busy news morning, with the biggest development coming in the covid file, where the official count of new daily cases continues to trend downward. In parallel, access to vaccines continues to improve. We have more in this morning's news well, below.
Speaking of covid: We're going to soon have our very own digital covid passport to store proof of vaccination as well as to schedule a time to go get jabbed, Cabinet spokesperson Nader Saad told Kelma Akhira's Lamees El Hadidi (watch, runtime: 4:23) last night. The digital certificates will be authenticated by the foreign and immigration ministries and will meet the requirements of countries that require proof of vaccination status as a condition of entry, Saad said.
This comes amid a global move to demand digital covid passports. Greece was the first European Union country to unveil a covid passport as the country looks to save this summer's tourist season and Ireland has followed suit, saying it will issue covid passports to nationals and accept them from visitors arriving from the UK and United States. Debate over a covid passport remains controversial in some quarters of the US, but Canada looks set to issue some form of covid document, and the UK has said that it will not require them to be used for domestic events.
Also going online: The Justice Ministry's registry (notary) office, where iPhone users can now use an app to locate their nearest office and use their national ID number to book appointments, according to a statement. The app has been available to Android users for a while and has now rolled out for iPhone aficionados.
THE BIG STORY INTERNATIONALLY- Is the end finally nigh for Netanyahu? Efforts to force embattled Israeli Prime Minister Benjamin Netanyahu from power went up a notch yesterday after far-right settler leader Naftali Bennett threw his weight behind centrist Yair Lapid, who is currently trying to cobble together a governing coalition following a fourth indecisive election. Bennett, a former advisor to Netanyahu, is positioned as the powerbroker who may call the shots over whether the country heads to yet another election or a fragile coalition of liberals and ultranationalists take over from Netanyahu's long-reigning Likud party.
The story is dominating the front pages of the international press, with everyone from Reuters and the AP to the New York Times and the Washington Post
The timing of is certainly interesting given an intense Egypt-led diplomatic effort yesterday to bring about a long-term ceasefire between Israel and Hamas — and potentially restart direct peace talks between Tel Aviv and Ramallah. A fall of the Netanyahu government will almost certainly have major implications for Egypt's ambitions to restart talks between the PA and Israel and rebuild Gaza, particularly if Naftali Bennett is anywhere near the levers of power in Tel Aviv. We have full coverage of yesterday's diplomatic blitz in the news well, below.
---
***CATCH UP QUICK with the top stories from yesterday's edition of EnterprisePM:
Iron and Steel mining spinoff begins trading on the EGX: The company's shares are now trading separately from Egyptian Iron and Steel under the ticker ISMQ. Shares closed the day at EGP 1.81 a piece, giving the company a market cap of nearly EGP 1.8 bn.
Speed Medical quits bidding war for Alex Medical: The company bailed on a consortium of Saudi's Tawasol Holdings and Sherif El Akhdar's LimeVest which had been gunning for 100% of Alex Medical, saying it would focus instead on new investments that it could consolidate on its balance sheet.
Orascom Pyramids to invest EGP 200 mn in new Giza sound and light show: The revamp — which will include new equipment, office spaces, and retail outlets — is expected to cost EGP 350 mn on completion.
HAPPENING TODAY- Egypt will today host a virtual edition of Trescon Global's World AI Show: Held with support from the Information Technology Industry Development Agency (ITIDA), the conference will bring together AI experts, business leaders and tech heads to discuss how the latest trends in advanced technologies will impact the Egyptian economy. You can register for the event here.
CIRCLE YOUR CALENDAR-
Here are some of the key news triggers this upcoming month as we bid farewell to May:
PMI: May's purchasing managers' index for Egypt, Saudi Arabia and the UAE will be out on Thursday, 3 June.
Foreign reserves figures for May will be out early next week.
May inflation data will be released next week.
Interest rates: The Central Bank of Egypt will meet Thursday, 17 June to review rates.
The FIG World Challenge Cup in Artistic Gymnastics for men and women will take place in Egypt on 3-6 June.
Check out our full calendar on the web for a comprehensive listing of upcoming news events, national holidays and news triggers.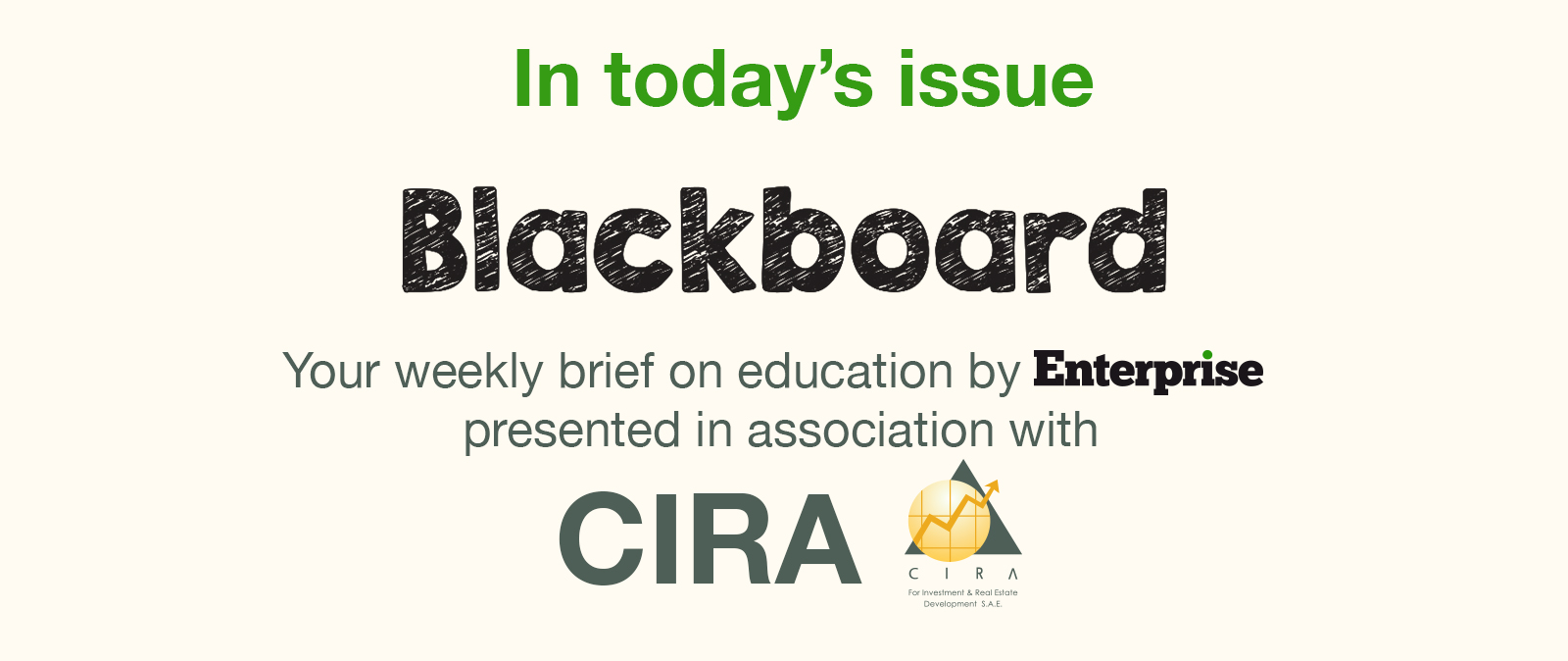 *** It's Blackboard day: We have our weekly look at the business of education in Egypt, from pre-K through the highest reaches of higher ed. Blackboard appears every Monday in Enterprise in the place of our traditional industry news roundups.
In today's issue: The popularity of adaptive learning software — which incorporates basic AI tech — has grown steadily in recent years, with all of Egypt's international schools now using adaptive learning to some degree to supplement their teaching. Egypt's international schools have come to rely on automation for basic functions, communication and data collection, we reported last week. But can adaptive learning replace human teachers? Absolutely not, sources say.