Monday, 10 May 2021
THIS MORNING: Why rising inflation in the US may be bad for Egypt + more progress on vaccine availability as the pre-Eid news slowdown begins
Good morning, wonderful people, and welcome to a shockingly slow news day. It's slow enough, in fact, that it begs the question of whether the traditional pre-Eid news slowdown has started a day early.
THE BIG STORY here at home this morning? It's a tie between two yawners: The IMF expects to wrap its latest review of our progress on economic reforms by the end of June, and we have another batch of AstraZeneca due in today. We have more on both stories in this morning's news well, below.
Actually, isn't that a sign of progress? The notion that the arrival of 1.7 mn doses of a covid jab — where not long ago we had zero — is a "yawner" is a sign that whatever kinks remain in the global vaccine distribution pipeline, Egypt is getting something right. Room for cautious optimism (to use the hoary old phrase) if nothing else.
THE BIG STORY ABROAD this morning is the ransomware attack on a US pipeline that carries almost half of the fuel consumed by the East coast of America. Officials there have declared a state of emergency "in a bid to keep fuel supply lines open as fears of shortages rose." The story, which broke yesterday, still leads the front pages of the Financial Times, Reuters and Bloomberg.
HAPPENING TODAY + TOMORROW-
It's inflation day: Capmas and the Central Bank of Egypt should release inflation figures for April today.
The Arab League will meet in Cairo today or tomorrow to discuss the violence in Jerusalem. There are conflicting reports on whether the meeting is scheduled for today or Tuesday: Al Shorouk cites Palestine's Assistant Foreign Minister Omar Awadallah as saying the meeting is happening today, while the Arab League's Assistant Secretary-General Hossam Zaki said it's slated for Tuesday, as we note in Last Night's Talk Shows, below. The Arab foreign ministers will discuss Israeli forces' aggression against Palestinians in Jerusalem, including at the Al Aqsa Mosque and in East Jerusalem's Sheikh Jarrah neighborhood. At least 269 Palestinian civilians were injured over the course of two days of violence. Egypt has also summoned Israel's ambassador to Cairo Amira Oron for talks.
Meanwhile, an Israeli Supreme Court hearing originally scheduled for today on the forced displacement of Palestinians from their homes in Sheikh Jarrah has been postponed amid the violent clashes and international outcry, Times of Israel reports. The date for the postponed hearing must be set within 30 days, the court decreed. Evictions are to stop in the meantime, it said.
***CATCH UP QUICK on the top stories from yesterday's edition of EnterprisePM:
Private-sector involvement in Egypt's railways: Three foreign companies are bidding to help manage our ailing railway network.
Expect more guests at Cairo + Sharm hotels this year: Colliers International has revised upwards its 2021 outlook for hotel occupancy in Cairo and Sharm El Sheikh.
Locally-made vaccines incoming this summer: State-owned Vacsera will locally manufacture 2 mn doses of China's Sinovac vaccine by end of June — and it will be available without charge.
** So, when do we eat? We sit down to eat at 6:38pm, and we'll have until 3:26am to eat and hydrate.
WATCH THIS SPACE #1- Why rising inflation in the US could be bad news for us here in Egypt. There are signs that everything from "fresh fruit to freezers" is costing more in the United States, the Wall Street Journal warns. Consumers are having to "pay sharply higher prices for goods and services as the economy strains to rev back up and the pandemic wanes," the newspaper notes. The news comes less than a week after US Treasury Secretary Janet Yellen — a respected former chair of the US Federal Reserve — walked back earlier comments that suggested the US Fed might have to hike interest rates sooner than expected to "stop the economy from overheating as President Joe Biden's spending plan boosts growth."
So what's the Egypt angle? Our central bank has been striking a careful balancing act since the pandemic began. On the one hand, it has signaled it would like to gradually lower rates to encourage companies to invest in growth — and to prompt consumers to put deposits to work in the economy. On the other hand, it wants to maintain our position as the world's most attractive carry trade, which has been key to keeping the exchange rate in check as tourism has slumped thanks to the pandemic. If the Fed raises rates, it's going to put pressure on Egypt to follow suit to protect the carry trade.
WATCH THIS SPACE #2- Qatar is in the news today after the country announced the arrest of the country's well-respected finance minister, Ali Sharif Al-Emadi, amid allegations he "misused public funds," Bloomberg said, calling the move "unprecedented." Qatar is also getting digital ink around the region this morning for its plan to lift covid measures in four phases starting 28 May and ending 30 July.
CIRCLE YOUR CALENDAR-
The virtual BIT Milano tourism expo kicked off yesterday and runs through this Friday, 14 May. Egypt's Tourism and Antiquities Ministry is participating in the exhibition to talk with Italian tour operators in a bid to bring more Italian tourists to Egypt, according to a ministry statement.
Africa-based startups have until 26 May to sign up for France's AFD Digital Challenge, an annual startup competition (pdf) by the French Development Agency (AFD). This year, the competition involves startups finding solutions to curb the carbon impact of economic activities or promote sustainable economic activity and the use of natural resources. The 10 startups chosen will receive an "acceleration pack," a package of technical and financial support worth EUR 20k.
The IMF will complete by the end of June a second review of targets set under Egypt's USD 5.2 bn standby loan. The loan was approved in June 2020.
Check out our full calendar on the web for a comprehensive listing of upcoming news events, national holidays and news triggers.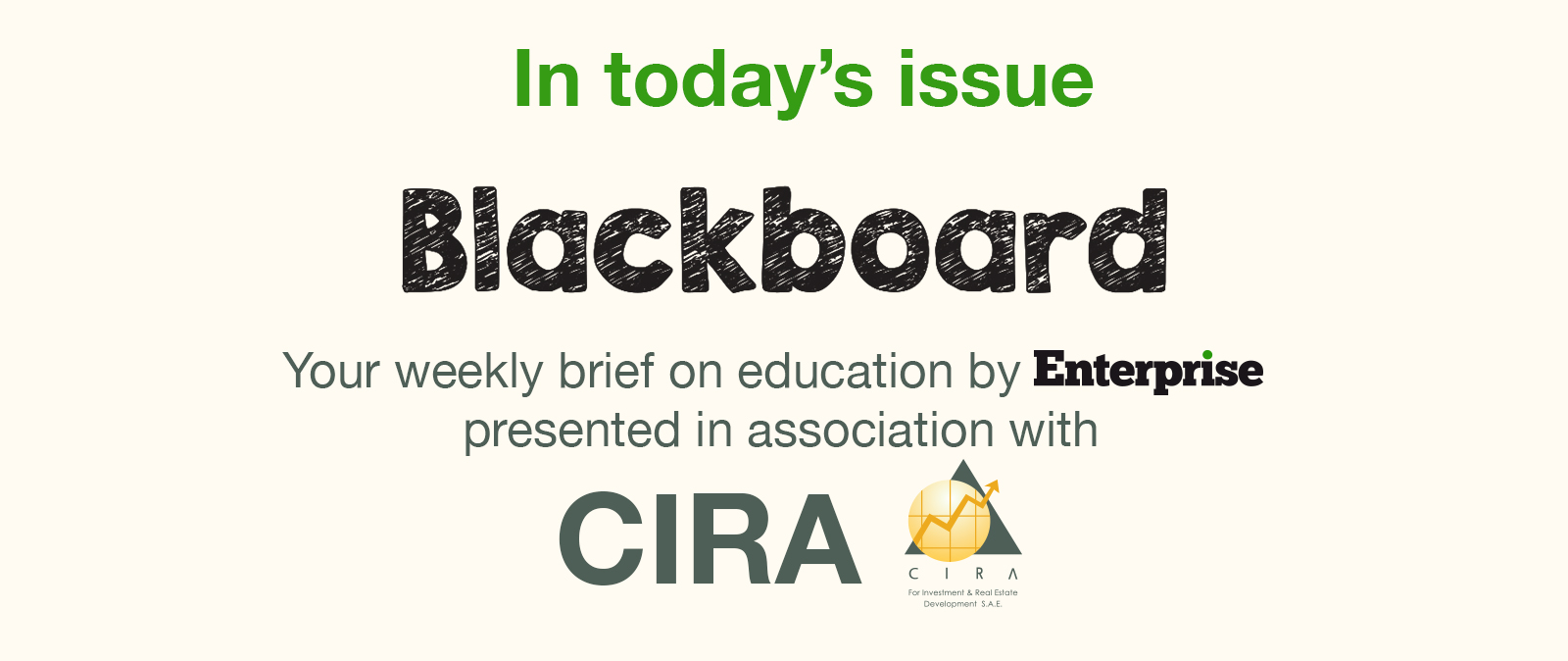 *** It's Blackboard day: We have our weekly look at the business of education in Egypt, from pre-K through the highest reaches of higher ed. Blackboard appears every Monday in Enterprise in the place of our traditional industry news roundups.
In today's issue: The pandemic looks to have been great for executive education — a branch of education focused on training the next generation of business leaders and executives. But what is the market like in Egypt, and how it is being deployed?