Monday, 12 April 2021
Ramadan starts tomorrow; Lavrov in town today; Iran alleges "nuclear terrorism"
Ramadan Kareem, y'all: Dar Al Ifta confirmed last night that Tuesday will be the first day of Ramadan. We wish all of you a fantastic, relaxing month with family and friends.
So, when do we eat? Maghreb prayers are at 6:21pm in the capital city tomorrow. You'll have until 3:59am to finish sohour tonight.
As a reminder: Bank hours will run 9:30am-1:30pm through the holy month (9am to 2pm for staff), while the EGX is also on shorter hours, with the opening bell at 10am and last trades by 1:30pm.
***CATCH UP QUICK on the top stories from yesterday's edition of EnterprisePM:
Macro IPO postponed until fall: Macro Group has pushed back plans for an April IPO on the EGX despite strong appetite from international institutional investors, due to concerns about "the market's capacity to absorb multiple offerings" following Taaleem's debut on the bourse last week and as IDH plans to pull off the country's first technical listing. The decision came after the company consulted regulatory authorities, it said.
Economic reform program 2.0: Planning Minister Hala El Said has revealed more details about the second round of the government's economic reform program.
Operation Mogamma Facelift: The Sovereign Fund of Egypt expects to ink contracts by 3Q2021 with a private sector partner to repurpose the Mogamma Tahrir.
WHAT'S HAPPENING TODAY-
Russian Foreign Minister Sergey Lavrov is in town today for talks with President Abdel Fattah El Sisi to discuss the latest developments on the stalled GERD talks. Lavrov's visit comes after expectations that Russian President Vladimir Putin would visit Egypt sometime in March did not materialize. The latest round of ministerial negotiations between Egypt, Sudan, and Ethiopia over the dam last week ended in yet another stalemate.
Resuming Russian flights to Red Sea resorts also high on the agenda: "We are looking forward to having flights from Russia to the Egyptian tourist areas resumed," Shoukry told Russian news agency Tass ahead of the meeting. "We have done our utmost to reach the top security level at Egypt's airports and in the resorts." Russia has maintained a ban on direct flights to Red Sea resort towns since the Metrojet crash in the Sinai in 2015.
Meanwhile, Egypt and Sudan are getting closer on more levels: Finance Minister Mohamed Maait is in Khartoum for a second day. He's meeting with central bank officials as well as the Sudanese ministers of transport, finance, and planning as part of Egypt's efforts to strengthen bilateral relations and support Sudan's economic development, according to a cabinet statement.
THE BIG STORY INTERNATIONALLY-
An Iranian nuclear facility has been sabotaged in an act Tehran has labelled "nuclear terrorism." The head of the country's nuclear authority said the underground Natanz enrichment facility had suffered a blackout, a day after the government announced it had begun tests on a new advanced centrifuge that could allow it to enrich uranium more quickly. This comes a few days after world powers met in Vienna for talks focused on bringing Iran back into compliance with the 2015 nuclear pact and persuading the US to drop the Trump administration's economic sanctions. Everyone from the NYT and the AP to Bloomberg and the BBC has the story.
CIRCLE YOUR CALENDAR-
Amendments to the VAT Act will be shipped back to the House Planning and Budgeting Committee in a few weeks after public consultations on the amendments wrap up, committee undersecretary Mostafa Salem told us. The Finance Ministry has been sitting down with industry players, including representatives from Coca Cola, PepsiCo, and Nestle for their comments on the amendments, including applying the 14% tax to the rent and purchase of commercial and administrative properties, imposing VAT on crackers and some sweets, and removing the tax on imports of strategic commodities.
Among the other deadlines and events you need to have your eye on this month:
EBRD President Odile Renaud-Basso could visit Egypt later this month, Al Masry Al Youm reported this weekend following a meeting with Egypt's ambassador to the UK Tarek Adel. This would be her first official visit to Egypt since she was appointed to head the bank in November.
More information on the new construction licenses + building code will be made public by this Thursday, 15 April to explain the details of the new system that will hand out construction licenses.
"Summer hours" will come into effect for retail stores and restaurants as of 17 April. This means retail shops can close at 11 pm (instead of 10 pm during the winter), while cafes and restaurants can stay open until 1 am (instead of midnight currently). We have more details on the winter vs. summer hours here.
The Central Bank of Egypt will meet to discuss interest rates on Thursday, 29 April.
Check out our full calendar on the web for a comprehensive listing of upcoming news events, national holidays and news triggers.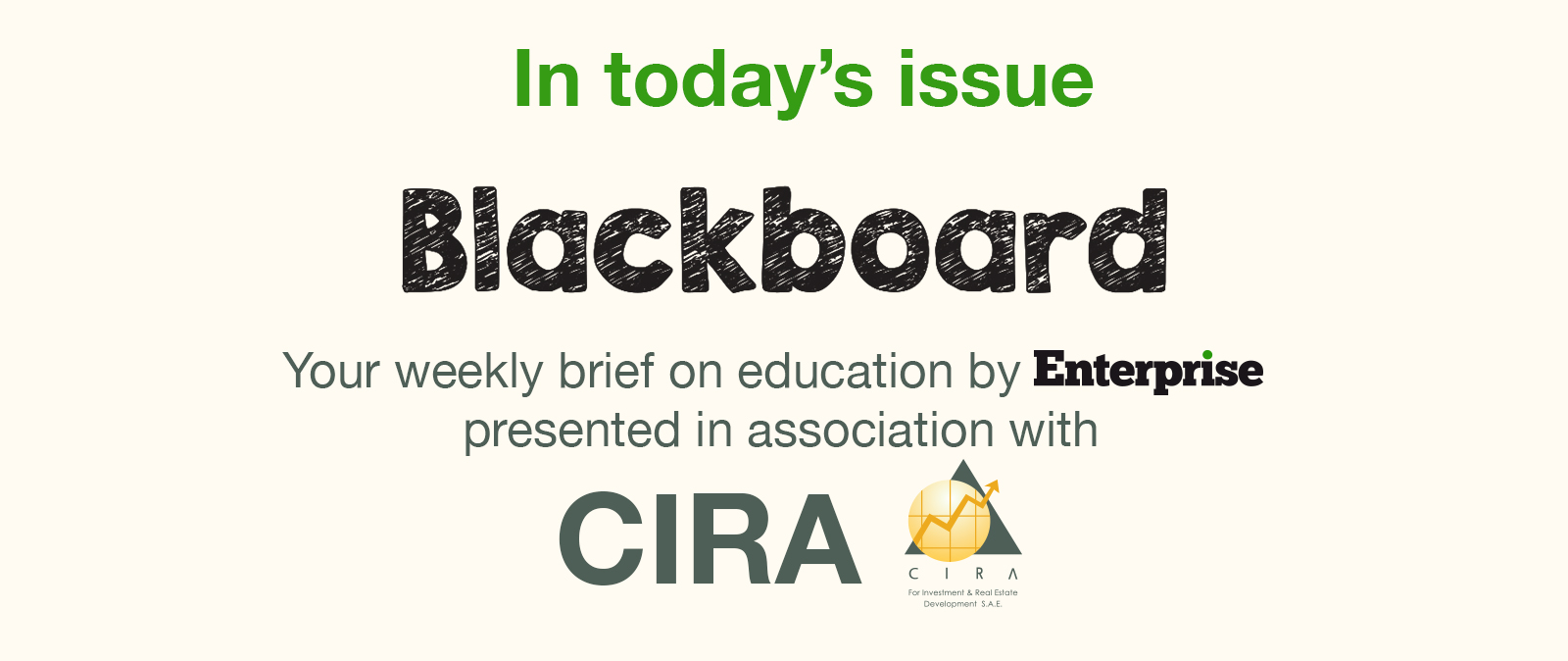 *** It's Blackboard day: We have our weekly look at the business of education in Egypt, from pre-K through the highest reaches of higher ed. Blackboard appears every Monday in Enterprise in the place of our traditional industry news roundups.
In today's issue: Egypt's startup ecosystem ― like those throughout the world ― is closely linked to universities. Institutional support is a core factor driving our entrepreneurship movement. Since the first university-based startup incubator was founded in 2013, similar programs have been launched inside and outside Cairo, and more universities are leading general awareness-raising about entrepreneurship and teaching it as an academic discipline. Today we look at how university programs are fostering entrepreneurship and supporting students to launch their own startups.