Tuesday, 23 March 2021
What we're tracking on 23 March 2021
Good morning, friends, and welcome to Tuesday. It's a brisk news morning for you today, with news from across a wide spectrum of industries and a quiet day on the government affairs and regulation fronts.
The two biggest stories of the day are out of the healthcare sector: Consumer healthcare giant IDH has gotten regulatory approval to move ahead with a technical listing on the EGX. And on the covid front, there now appears to be a chance we're going to manufacture Sinovac's vaccine here in Egypt, although talks appear to be at a reasonably early stage. Sinovac is not the same as the Sinopharm jab we're deploying now in the first phase of vaccine rollouts here in Egypt, as we explain below, and has a lower efficacy rate.
WHAT'S HAPPENING TODAY-
Prime Minister Moustafa Madbouly will be in Amman today to attend a meeting of the Joint Jordanian-Egyptian Higher Committee, which will discuss economic, commercial, and investment ties. according to Jordan's Petra news agency.
AUC Venture Lab is hosting a virtual roundtable event today to discuss Up-Fuse's growth from local startup to internationally-recognized social enterprise. Find out more here (pdf).
MARKET WATCH-
The EGX is now in the red for the year to date after the EGX30 fell 2.5% yesterday on reasonably low turnover (at just under EGP 940 mn, it's about 36% below the trailing 90-day average). The benchmark index is now down 2.8% YTD after having spent most of the time since 1 January solidly in the green.
The details of Egyptian Iron and Steel's liquidation will be announced in the coming days, the local press reported, citing sources it claims have knowledge of the decision. The company is being liquidated in a two-year process that includes spinning off its mining operation to create a new entity, Iron and Steel for Mines and Quarries, which is supposed to be listed on the EGX this month.
PSA- The hot, dusty weather is set to continue again today in much of Egypt, with the sandy conditions lasting at least until tomorrow morning, according to a warning from the national weather service. We're looking at a high this afternoon of 32°C, but the mercury could cool tomorrow to 22°C (with a chance of high winds) setting up a nice weekend, according to our favourite weather app.
*** CATCH UP QUICK with the top stories from yesterday's edition of EnterprisePM:
Other things we're watching this morning:
THE BIG STORY ABROAD as we kick off this workday: We aren't the only ones who love investing in massive infrastructure projects to build (and support) the economy of tomorrow: The Biden administration has put together a "multipart infrastructure and economic package" that will cost somewhere between USD 3 tn and USD 4 tn. (Yes, tn with a "t".) "The first proposal would center on roads, bridges and other infrastructure projects" and include plenty of climate-change initiatives, the WSJ notes. A second wave would focus on education, including universal prekindergarten and offering access to community college education without charge.
The story is getting tons of digital ink this morning and leads the front pages of the Wall Street Journal (which says the program is worth about USD 3 tn) and Reuters (which pegs it at USD 4 tn). It's also at the top of the page on Bloomberg, which notes that "China has already been spending big on road, rail and airports" and that previous US presidents have struggled to deliver on investments in infrastructure. Fortune also has the story.
MEANWHILE: 2021 has jumped the shark. Need proof? Look no further than the Financial Times' lead story this morning: WeWork tells investors it lost USD 3.2 bn last year as it woos them for Spac [transaction].
CLOSER TO HOME: Our friends at Kashat, one of Egypt's hottest fintech startups, concluded a private seed-extension round in December led by the Cairo Angels, co-founders Karim Nour and Sumair Farooqui (LinkedIn) tell us. Both Kashat and Cairo Angels declined to specify a ticket size, but said the transaction was the Angels' largest investment in its decade-long history. The news comes a day after the company, Egypt's first FRA-regulated nano-finance player, integrated with e-payment platform Fawry. Kashat has already integrated with Vodafone Cash and Aman, and the Fawry hookup will give customers more cash-in and cash-out venues thanks to Fawry's sprawling national network. Kashat was recently named one of the country's top fintech players by Daily Finance and launched a national nano-finance campaign in January.
CORRECTION- 26 April 2021
An earlier version of this story incorrectly spelled Farooqui.
CIRCLE YOUR CALENDAR-
The Real Gate real estate exhibition will kick off on Thursday and run until Saturday at the Egyptian International Exhibition Center.
Head to Sharm for a startup gathering: Investors, entrepreneurs and policymakers will gather in Sharm El Sheikh for the Startup Festival on 28-29 March 2021. More than 80 startups will participate in the exhibition, which will feature panel discussions and workshops. The gathering will also unveil who is taking home hardware from the "Egypt Entrepreneurship Rally Competition." The gathering is organized by the Arab Academy for Science, Technology & Maritime Transport, and companies that have graduated from AAST's supply chain and logistics as well as youth incubators have the chance to pitch their ideas to investors.
The National Museum of Egyptian Civilization is set to open on 3 April in El Fustat. Local and international visitors alike will have to pay less for admission for the first two weeks to explore the museum's central hall, according to a cabinet statement. Meanwhile, the Royal Mummies Hall will be ready for visitors starting 18 April. The museum is designed as a celebration of Egyptian civilization from prehistory to the present day.
Check out our full calendar on the web for a comprehensive listing of upcoming news events, national holidays and news triggers.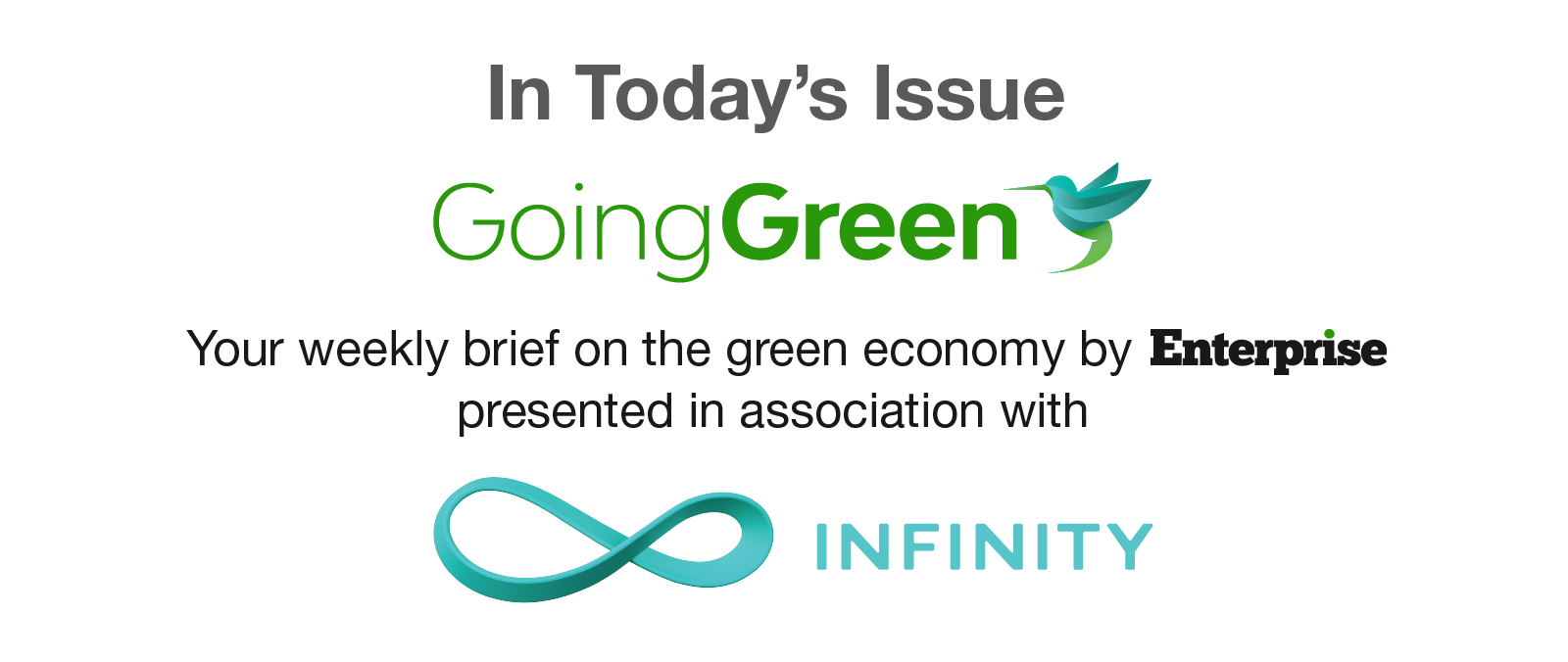 *** It's Going Green day — your weekly briefing of all things green economy in Egypt: Enterprise's green economy vertical focuses each Tuesday on the business of renewable energy and sustainable practices in Egypt, everything from solar and wind energy through to water, waste management, sustainable building practices and how you can make your business greener, whatever the sector.
In today's issue: In keeping with this week's theme of shining a spotlight on startups in various sectors that we cover, we look at startups that are addressing environmental issues as their core focus.